No documents in the Vatican's website nor news reports support the claim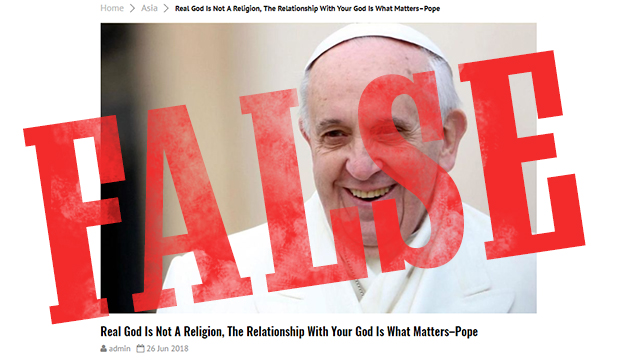 Claim: Pope Francis supposedly defended President Rodrigo Duterte's most recent tirade against the Catholic Church saying "real God is not a religion." He also supposedly advised people to "not drag the church into politics."
In a June 26 post, blog radio-bbc.com ran the headline, "Real god is not a religion, the relationship with your god is what matters – Pope."
The post was shared in 8 Facebook pages and groups, and one Reddit group, all of which accounted for a total of 1,288 interactions and 645,471 followers as of June 30.
A similar claim in video format has also been published in at least 4 video-hosting websites by "Cebu and Davao Journey." Its channel on YouTube has a following of 33,000 users and is active in uploading misleading pro-Duterte newsbits. 
Rating: FALSE
Radio-bbc.com is an imposter site of the official website of the British Broadcasting Corporation (BBC) whose real urls are http://www.bbc.com/ and http://www.bbc.co.uk.
The facts: Rappler has checked the Pope's letters, messages, speeches, homilies, and Vatican's news and found none supporting the claim that Pope Francis defended Duterte's remark.
You can visit the Pope's website at w2.vatican.va/content/vatican/en.html and Vatican's media at www.vaticannews.va/en.html.
The post claims that on June 26, Pope Francis said he has "no problems with Duterte's words" and that "the real God is about to have a relationship with your God. Let him serve his God."
The first block was concluded with the Pope ordering Catholic authorities to probe "church leaders who are engaging in petty politics and those who are benefiting from the drug business."
Meanwhile, the second block of the post's text is a word-per-word copy of a June 25 CNN Philippines article entitled, "Duterte: My God is not your God."  The copied article is a report on Duterte's remarks after his "God is stupid" comment on June 25.
Since Duterte made that comment, Rappler has checked 4 church-related hoax stories. (READ: 10 tips on how to spot fake news from Facebook), including one alleging that condoms were found on a priest's wallet, another on a supposed video of a priest in the slay of a single mother, Pope Francis supposedly praising to Duterte, and a fake verbal exchange between Duterte and Manila Archbishop Luis Antonio Cardinal Tagle. — Miguel Imperial/Rappler.com
This blog post has been sent by numerous readers. Keep us aware of suspicious Facebook pages, groups, accounts, websites, or articles in your network by contacting us at factcheck@rappler.com. Let us battle disinformation one Fact Check at a time.