Senator Nancy Binay's media team says it did not issue such statement. The quote is fabricated.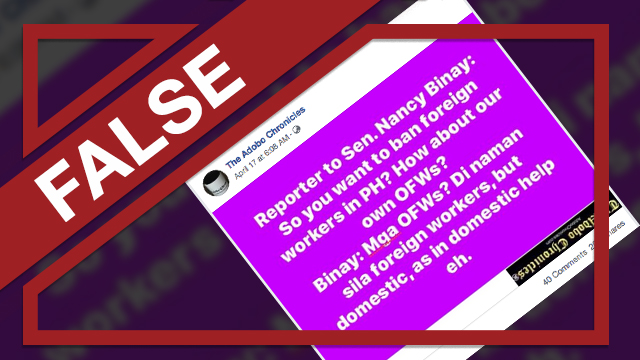 Claim: Reelectionist Senator Nancy Binay supposedly made a statement saying overseas Filipino workers (OFWs) are not foreign workers but "domestic help."
The Facebook page Adobo Chronicles posted the alleged quote as a status on April 17.
An unnamed reporter purportedly interviewed Binay about her stand on banning foreign workers in the Philippines. She was asked, "How about our OFWs?"
She responded, "Mga OFWs? Di naman sila foreign workers, but domestic, as in domestic help eh." (OFWs? They're not foreign workers, but domestic, as in domestic help.)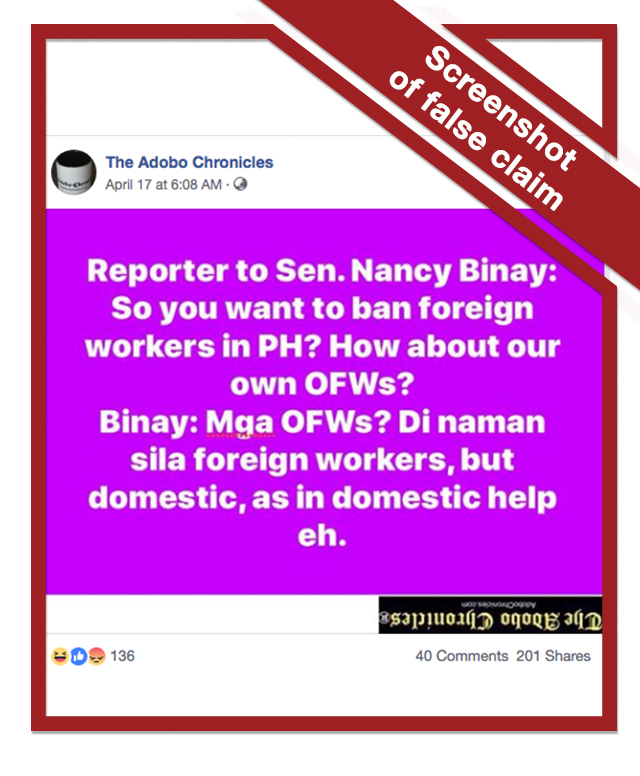 On its separate blog post dated April 16, the Adobo Chronicles claimed that they had an exclusive interview with the senator where she allegedly released the statement.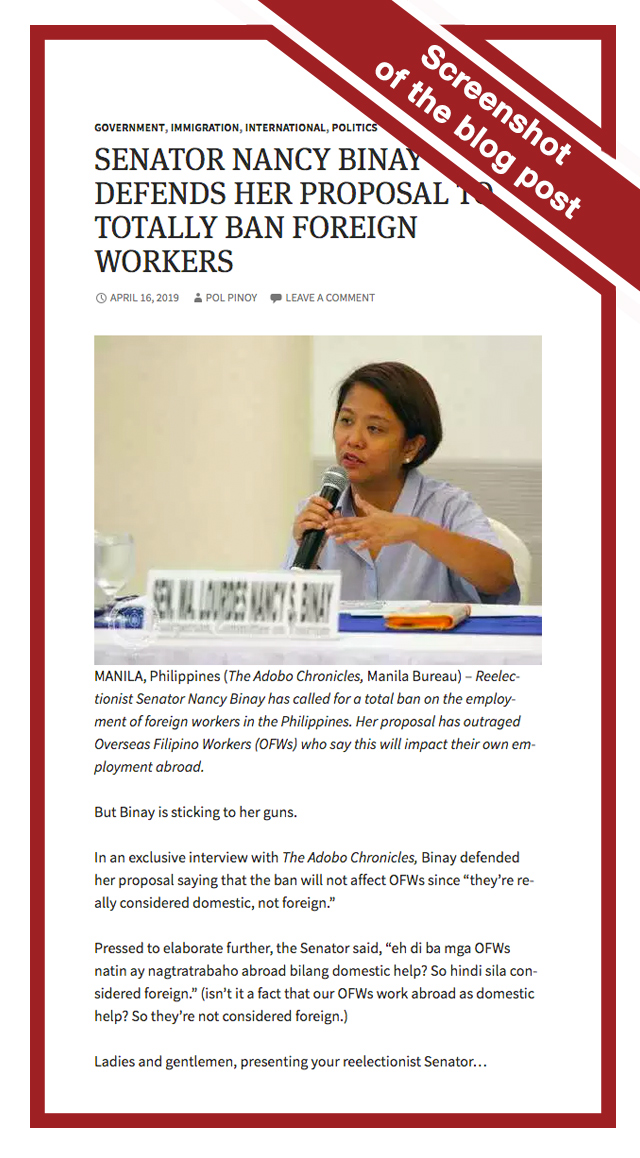 The Facebook post was spotted on Crowdtangle with 201 shares, 136 reactions, and 39 comments.
The Facebook page had almost 17,000 followers since it was created in 2013. 
They also included the following disclaimer which cannot be easily noticed by ordinary readers:
"Statements and paragraphs in our posts that are in italics represent the facts. The rest [is] fiction." 
Rating: FALSE
The facts:  The article is from a "satire" website. Binay did not release such statement. The quote was fabricated. 
The media team of the senator told Rappler via Facebook messenger that the senator did not issue such statement nor was she interviewed by the Adobo Chronicles. They said that she would not say anything against the OFW as she advocated for their betterment during her tenure in the Senate.
The headline of the blog post is also misleading. The context of the statement stemmed from the senator's call to ban Chinese workers in the country, not foreign workers. 
The following is the exact statement of the senator based on her interview with DWCM Aksyon Radyo Pangasinan anchor Ike Palinar dated April 7:
"Ang panawagan ay total ban sa pagpasok ng mga Chinese laborer at construction workers. (We are appealing for a total ban of entry among Chinese laborer and construction workers). Our duty is to protect our own workers and provide job security for them – but sadly, we're opening our labor market to non-Filipinos."  
What she said about Filipino workers was that their interest must be protected. 
"Kawawa naman tayo. Yung mga trabaho na dapat para sa mga kababayan natin eh napupunta lang sa ibang lahi (We're pitied. The jobs that must be for our countrymen are given to foreign workers.)"
Despite being a satirical blog site, many were misled.



Articles from news sites such as GMA, ABS-CBN, Manila Bulletin, and Inquirer also contain the same statement but without the questionable quote. (READ: WATCH: Say what? Don't be fooled by false quotes – here's how) 
Binay's media team also urged the public to be wary of the sources of misleading statements — especially during the election campaign when fake news is prevalent. (READ: SATIRE VS FAKE NEWS: Can you tell the difference?)— Glenda Marie Castro/Rappler.com
If you suspect a Facebook page, group, account, a website, or an article is spreading false information, let Rappler know by contacting us at factcheck@rappler.com. Let us battle disinformation one Fact Check at a time.