(UPDATED) The ballot used in the video does not have a QR code, which official ballots have. Further, the vote counting machines can only read opaque marks, not UV marks.
(UPDATED)
Claim: A video that has been making the rounds on Facebook shows a 2019 election ballot that is "pre-shaded" with ink that can only be seen under a UV light.
In the video, a person who is out of the frame, shines a UV light on a ballot to reveal what appear to be marks beside the names of senatorial candidates running under Otso Diretso.
The person also demands an explanation from the Commision on Elections (Comelec).
The video was first flagged by Facebook Claim Check on Thursday, May 2, as posted by the page RMN Tacloban. Their video has since been taken down.
However, it has been reposted by Facebook pages like PhilNetizen, Maskro TV, and users like Rene Andrew and Jess Montemayor. These reposted videos have garnered around 116,000 shares collectively. 
It has also been shared on YouTube on the channels Lisa Manoban PH, Pinoy Big Brother Otso Videos, HALALAN 2019, King Christian Pajaron, and Sanen Daoa.
Screenshots of the video are also being shared thousands of times.
Rating: FALSE
The facts: The "ballot" in the video is not an official ballot because it has no QR codes. Further, the vote counting machines (VCMs) can only count opaque marks, not UV marks. 
At a May 2 press conference, Comelec Executive Director Jose Tolentino said that unlike the ballot shown in the video, official ballots have QR codes.
"It was obviously a staged video because the ballot that was used did not have the QR code. Mag-stage lang sila, mali pa ang ginamit na balota," he said. (They just had to stage it, and yet they still used the wrong ballot.)
Tolentino also said that the VCMs for the 2019 elections do not count UV marks as votes.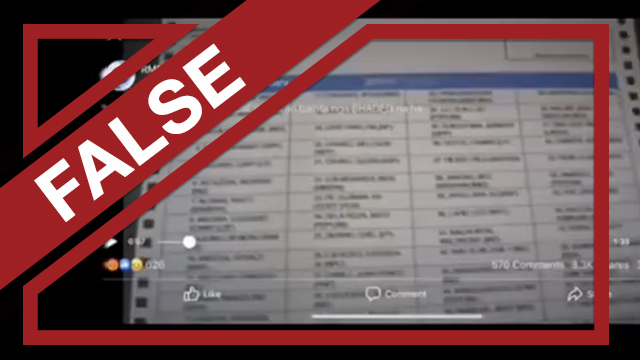 Representatives of the Parish Pastoral Council for Responsible Voting (PPCRV) and National Citizen's Movement For Free Elections (Namfrel) also confirmed that the VCMs cannot read UV ink marks as votes. 
PPCRV IT Director William Yu told Rappler that ballots have UV marks for security and not for counting voting results.
For counting results, he said, the machines only read black marks. "So if there is another color – for example a UV mark – that won't be read," Yu said in a mix of English and Filipino. "So actually, only the opaque marks will be counted."
Yu said that PPCRV was able to see for themselves that the machines only read UV marks for security purposes, and only count black opaque marks as votes at the local source code review. The local source code review makes the code to be used in the automated elections system available for review by third parties.
Yu also pointed out that the person in the video did not insert the ballot into a machine to prove that the marks were counted. Since the ballot faces are available for download on the Comelec website, anyone can print one out and put marks on it, he said.
Meanwhile, Namfrel Treasurer Lito Averia said that in order for the VCMs to count UV ink marks as votes, their hardware needs to be changed.
He said, in a mix of English and Filipino: "As it is, the VCM is designed with a scanning bar that uses strong LED light. Not a black light or UV light. The frequency lengths of UV light and LED light are different. Scientifically, they're different."
Lawyer Hubert Guevara, who previously served as source code reviewer for the Nationalist People's Coalition, also told Rappler he tried to make UV ink marks on the ballot during the source code review, but the machine did not read them. – Vernise L. Tantuco/Rappler.com
Editor's note: This fact check was originally rated "misleading." This has been corrected.
Keep us aware of suspicious Facebook pages, groups, accounts, websites, articles, or photos in your network by contacting us at factcheck@rappler.com. Let us battle disinformation one Fact Check at a time.