Overseas Filipino workers do not receive cash at the airport upon their departure and arrival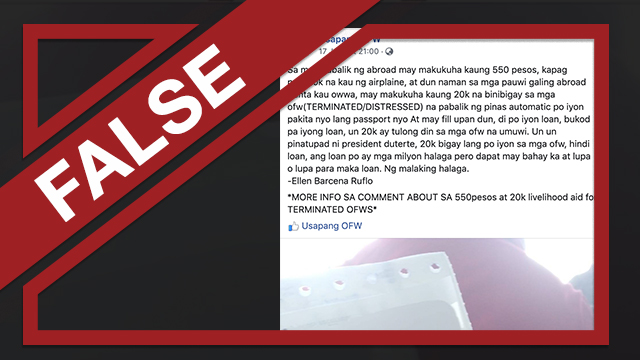 Claim: On Monday, June 17, Facebook page Usapang OFW quoted one Ellen Barcena Ruflo as saying that President Rodrigo Duterte approved the distribution of monetary aid to departing and reintegrating overseas Filipino workers (OFWs). She said that this was done through the Manila International Airport Authority (MIAA) and Overseas Workers Welfare Association (OWWA), respectively.
The post had an attached photo of a passenger holding a plane ticket and passport, together with P550.
Ruflo claimed that departing OFWs will receive P550 upon entering an airplane, while terminated or distressed OFWs returning to the country will receive P20,000 as livelihood aid from the OWWA. She said that the money can be claimed upon the presentation of a passport and completion of a form.
She added that people with a house and lot or who own land will be able to avail of a loan worth millions of pesos.
In the comments, Usapang OFW linked to articles about a terminal fee refund for OFWs and an OWWA program that provides P20,000 livelihood aid to terminated OFWs.
The post had 8,184 reactions, 14,552 shares, and 6,031 comments as of writing. This post was spotted through Facebook Claim Check, a tool that detects potential hoaxes on the social media platform.
Rating: FALSE
The facts: Departing and arriving OFWs do not receive aid in cash at the airport.
On October 2014, the Department of Transportation and Communication implemented the International Passenger Service Charge (IPSC), also known as the airline terminal fee, which added an extra P550 to every airline ticket sold.
OFWs were eligible for an IPSC refund upon the presentation of their Overseas Employment Certificates (OECs) because of the Migrant Workers Act of 1995 (RA 8042), as amended by RA 10022.
Under this law, OFWs were exempted from paying any travel tax and airport fee with proof of entitlement from the Philippine Overseas Employment Administration (POEA).
In March 2017, the Department of Transportation-Manila International Airport Authority (MIAA), together with 40 airline companies, signed a Memorandum of Agreement (MoA) waiving the automatic collection of the IPSC at the Ninoy Aquino International Airport. The MoA was initiated to comply with President Duterte's directive about a revised integration project for OFWs.
Thus, departing OFWs from April 2017 onwards do not receive refunds of airline terminal fees anymore.
With regard to the P20,000 allegedly given to returning OFWs, a similar OWWA-led program, "Balik-Pinas! Balik Hanapbuhay!" was linked to the promised P20,000 for reintegrating OFWs. However, the aid that this program provides is non-cash assistance and is exclusively for OWWA members.
OWWA's Balik-Pinas! Balik Hanapbuhay! was launched in 2013. 
OWWA released a statement on May 6 on their official Facebook page denying the claim.
OWWA's statement reads: "Hindi po totoo ang kumakalat na post sa Facebook tungkol sa pamimigay ng OWWA ng pera sa airport. Wala pong programa o serbisyo ang OWWA na ganoon." (The viral Facebook post about the distribution of money from OWWA at the airport is not true. The OWWA provides no such program or service.) – Joshua Maximo/Rappler.com
Keep us aware of suspicious Facebook pages, groups, accounts, websites, articles, or photos in your network by contacting us at factcheck@rappler.com. Let us battle disinformation one Fact Check at a time.