The kidnapping complaint against former senator Antonio Trillanes IV is still pending resolution
At a glance
Claim: Former senator Antonio Trillanes IV will be imprisoned for kidnapping.
Rating: FALSE
The facts: The kidnapping complaint against Trillanes is still pending resolution.
Why we fact-checked this: The video containing this claim has gained 58,059 views, as of writing.
Complete details
A video uploaded by YouTube channel "PH – EU Öfficial" on May 20, 2021, falsely claimed former senator Antonio Trillanes IV would be imprisoned for kidnapping.
The video was entitled "TRILLANES MlNALAS! BALIK KULUNGAN SA KAS0NG KlDNAPPlNG NO BAIL AT TINANGGALAN NG AMNESTY!" (Trillanes suffers bad luck! Back to jail due to a kidnapping case, no bail, and his amnesty revoked!)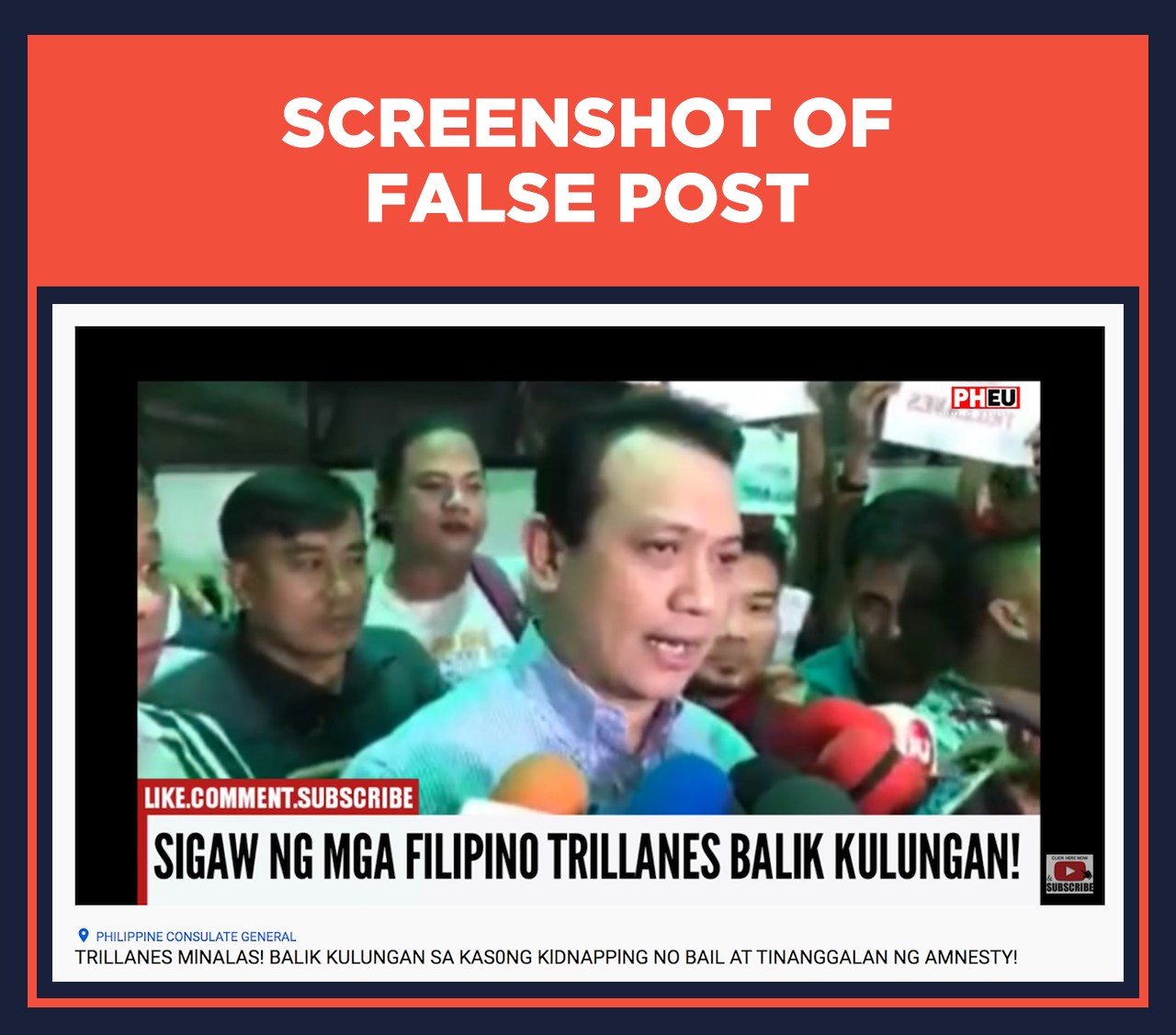 It has gained 58,059 views, as of writing.
This claim is false.
Prosecution lawyer Honey Delgado of the Office of the Prosecutor General as well as Trillanes' staff have confirmed to Rappler that the kidnapping complaint against the former senator is still pending resolution.
Among other clips, the video contained audio of a PTV video report uploaded on September 27, 2019, entitled, "DOJ summons Trillanes over kidnapping raps," as well as a clip from a press conference by Justice Secretary Menardo Guevarra on September 4, 2018.
In August 2019, the Philippine National Police Criminal Investigation and Detection Group filed a kidnapping complaint against Trillanes and three others, accusing them of kidnapping 43-year-old Guillermina Arcillas.
Trillanes denied ever meeting Arcillas, though he said she volunteered to be a witness in the International Criminal Court case against President Rodrigo Duterte. She failed the vetting done by Trillanes' office. 
In the event of an indictment, the kidnapping case would be non-bailable.
Trillanes' amnesty was revoked by Duterte in September 2018 through Proclamation No. 572, declaring it "void ab initio."
In March 2021, the Court of Appeals closed the rebellion case against Trillanes without invalidating Duterte's proclamation.
Rappler recently debunked other false claims regarding Trillanes, one saying Guevarra confirmed he would be jailed again, and another saying Duterte ordered his imprisonment. – Loreben Tuquero/Rappler.com
Keep us aware of suspicious Facebook pages, groups, accounts, websites, articles, or photos in your network by contacting us at factcheck@rappler.com. Let us battle disinformation one Fact Check at a time.