This is AI generated summarization, which may have errors. For context, always refer to the full article.
Cases and deaths related to COVID-19 continue to get recorded globally. A coronavirus vaccine can create immunity against the virus.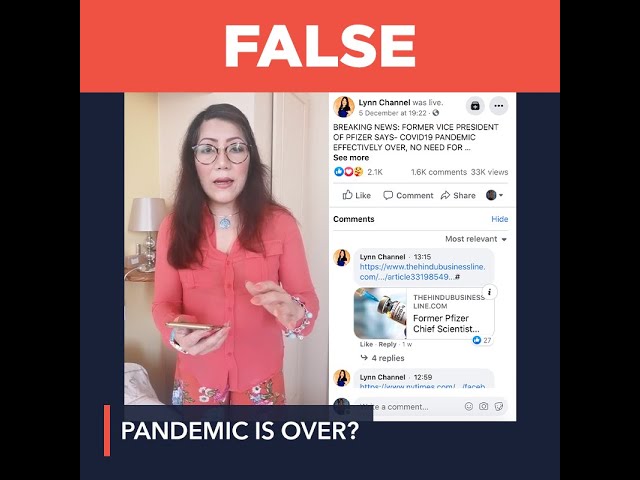 At a glance:
Claim: The COVID-19 pandemic is over and a vaccine for the disease is no longer needed.
Rating: FALSE
The facts: Cases and deaths related to COVID-19 continue to get recorded globally. A coronavirus vaccine can create immunity against the virus.
Why we fact-checked this: The page "Lynn Channel" on Facebook posted a video with this claim, and the video has around 2,000 reactions, 1,500 comments, and 3,800 shares as of writing.
Complete details:
A video on the Facebook page "Lynn Channel" claim that the COVID-19 pandemic is over and there is no need for a vaccine against SARS-CoV-2, the virus that causes the disease.
The video, posted by user Lynn Agno, was published on December 5 has around 2,000 reactions, 1,500 comments, and 3,800 shares as of posting.
An article with a similar claim, from the Indian publication National Herald, was also shared by the Facebook page "Dante Maravillas BLOG" on November 28. The blog's post has 239 reactions, 19 comments, and 195 shares as of December 15, while the National Herald's post has 35,512 Facebook interactions, according to social media monitoring tool CrowdTangle.
These claims are false.
The COVID-19 pandemic is ongoing, and vaccination can help protect people from the disease.
In the video, page owner Lynn Agno shared claims about COVID-19 from former Pfizer employee Michael Yeadon. The National Herald article cited the same person.
Agno quoted an article by Yeadon that was published in a blog called "Lockdown Sceptics." He wrote: "There is absolutely no need for vaccines to extinguish the pandemic. I've never heard such nonsense talked about vaccines. You do not vaccinate people who aren't at risk from a disease."
However, the World Health Organization's weekly epidemiological update on COVID-19, which was published on December 8, stated that, from November 30 to December 6 alone, there were around 4 million new cases and over 73,000 deaths globally. In the same report, the WHO recommended vaccination as one of the strategies that could be used to bring an end to the COVID-19 pandemic.
The US Centers for Disease Control and Prevention attests that an approved vaccine for COVID-19 can be used to develop immunity against the disease without getting sick. The CDC added that all vaccines help the body create T-lymphocytes and B-lymphocytes that can fight certain viruses.
Agno said that Yeadon "has been working at [Pfizer] for 16 years," but his LinkedIn profile shows that he left the company in 2011.
Agno also shared a snippet of a recording of comments made by pathologist Roger Hodkinson during a "community and public services" meeting in Alberta, Canada. In the meeting, Hodkinson said that COVID-19 "should be thought of as nothing more than a bad flu season."
This is also false. COVID-19 is deadlier than the flu.
A briefer from John Hopkins Medicine stated that, although the exact mortality rate of COVID-19 is still being estimated, it is currently substantially higher than the death rate of most flu strains. The WHO estimates that there are around one billion cases of flu each year and about 290,000 to 650,000 flu-related deaths. In contrast, COVID-19 has caused over 65.8 million reported cases and 1.5 million deaths since the pandemic began, according to the last WHO update on the disease.
Agno said that Hodkinson was supposedly the former chairman of the Royal College of Physicians and Surgeons of Canada, but the organization clarified that Hodkinson was never their chair.
Rappler and other fact checkers have called out Agno for spreading rumors before. Below is a list of Rappler's fact checks on Agno:
– with reports from Margarita Gonzalez and Vernise Tantuco/Rappler.com
Keep us aware of suspicious Facebook pages, groups, accounts, websites, articles, or photos in your network by contacting us at factcheck@rappler.com. Let us battle disinformation one Fact Check at a time.