It is impossible to compare anyone's IQ to that of Albert Einstein because there is no evidence that he ever took an IQ test
Claim:
The IQ of 11-year-old Filipino Mia Golosino is higher than Einstein's.
This claim was made on the website lightfeed.net and was first shared on Facebook on Saturday, October 17. It was posted on the Facebook pages "OMG News," "BBM FOREVER," "BongBong Marcos United," and "Business and Lifestyle." The post on "OMG News" has gotten 11,600 shares, 1,300 comments, and 131,200 reactions as of posting.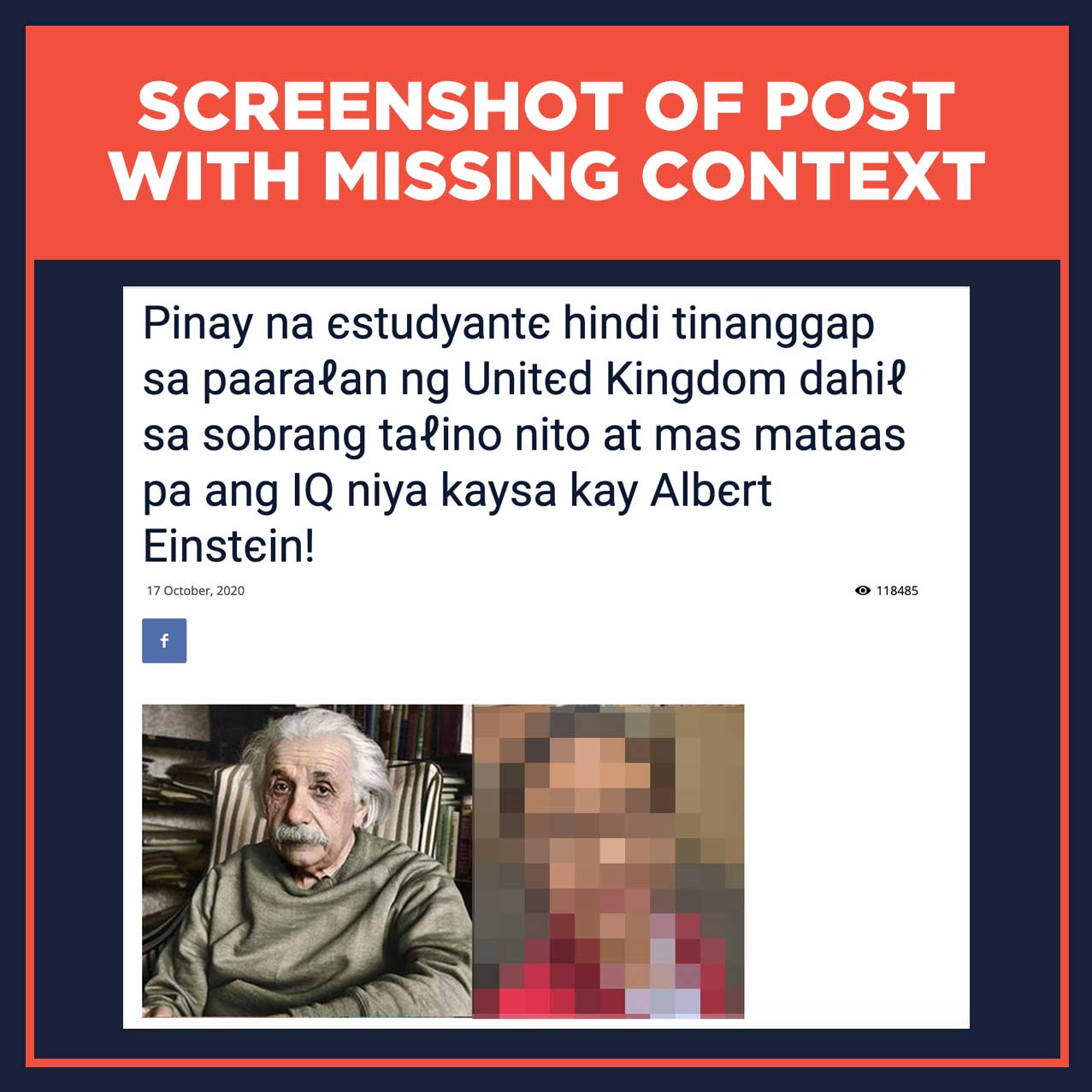 Rappler spotted this claim through Facebook's Claim Check tool, which alerts 3rd party fact checkers about potentially misleading claims on the social media platform.
Rating: MISSING CONTEXT
The facts:
There is no evidence that Einstein took an IQ test, which makes it impossible to compare his IQ to anyone else's.
This was confirmed by Mensa in an email to Rappler about a similar claim in July 2019. Mensa is an international organization made up of people whose IQ is in the top 2% of the population.
Mensa said that the alleged IQ of Einstein was estimated long ago by an unknown person based on his achievements. These estimates are inaccurate because it isn't known which test he was rated on and different tests have different measurement scales.
Mensa accepts individuals who score in the top 2% of any recognized IQ test. Because there is a different scoring system for each test, the scores are converted to percentiles to see where a person's IQ falls in comparison to the rest of the population.
For example, Mensa UK offers two separate industry-standard tests, the Cattell III B, which has a lot of verbal reasoning, and the Cattell Culture Fair III A. Culture Fair is more suitable for those whose first language is not English or who have language processing problems like dyslexia.
On the Cattell III B, the top 2% score is 148 or over, and an adult can get a maximum IQ of 161. On Culture Fair, the top 2% score is 132 or over, and an adult can get a maximum IQ of 183.
"An IQ of 150 is a meaningless claim unless you know the actual test which was used," the Mensa website says on comparing IQ test scores.
Golosino did get a score of 162 on her Mensa test as the claim said. This is according to reports in 2017. A picture of her letter from Mensa, published on Metro.co.uk on May 7, 2017, showed that she received this score on the Catell III B scale, placing her in the top 1% of of the population. – Vernise Tantuco/Rappler.com
Keep us aware of suspicious Facebook pages, groups, accounts, websites, articles, or photos in your network by contacting us at factcheck@rappler.com. Let us battle disinformation oneFact Check at a time.