While the law says donated blood is free, it allows blood banks to collect fees associated with donor screening and education, collection, and testing, among other things. The health department sets the fees.
At a glance
Claim: The public needs to pay for blood obtained from donations to the Philippine Red Cross, which is therefore earning money from these operations.
Rating: MISSING CONTEXT
The facts: Blood donations are free. However, beneficiaries still pay the PRC because there are costs associated with donor screening and education, collection, testing, component preparation, storage, and quality assurance. Processing fees are charged to recover costs. This is allowed under the law, and the rates are set by the Department of Health.
Why we fact-checked this: President Rodrigo Duterte made this claim in a televised address on September 16. Since he said this, netizens have been sharing their opinions about PRC on social media, saying it has turned into a business and discouraging others from donating blood.
Complete details
In a national address on September 16, President Rodrigo Duterte mentioned said that the public needs to pay for the blood that they receive from the Philippine Red Cross (PRC).
Duterte said: "Mahilig kayo magpa-bloodletting – isang batalyon na pulis, isang batalyon na army. Tapos ang mga tao diyan kung kailangan, bumili. Ang mahirap diyan o mayaman, gusto ng dugo sa Red Cross, nagbabayad!"
(You always call for bloodletting – a battalion of policemen, a battalion of army [donating]. And yet, when people need blood, they have to buy. Whether poor or rich, if they need blood from Red Cross, they pay.)
He said bloodletting activities are done in order to help Filipinos obtain blood supply when they need it, insuating beneficiaries should get them for free: "Magbabayad ka maski mahirap ka. Eh ang purpose nga magpa-bloodletting ka is may maibigay kang tulong sa kapwa mo Pilipino."
(You will have to pay even if you're poor, and to think the purpose of bloodletting is to offer help to fellow Filipinos.)
Senator and PRC chief executive Richard Gordon chairs the Senate blue ribbon committee and is leading the Senate's investigation into the government's pandemic purchases. Pharmally Pharmaceutical Corporation, whose contracts are being questioned by senators, has links to Duterte's friend and former economic adviser, Chinese businessman Michael Yang.
Since the senators started tracing connections between Pharmally, Yang, and Duterte's appointees who worked for his special assistant and now-Senator Bong Go, the President has been slinging accusations at Gordon and the PRC.
Since Duterte spoke about having to pay for blood from PRC, netizens have shared their opinions and reactions about PRC on social media, saying it has turned into a business and discouraging others from donating blood.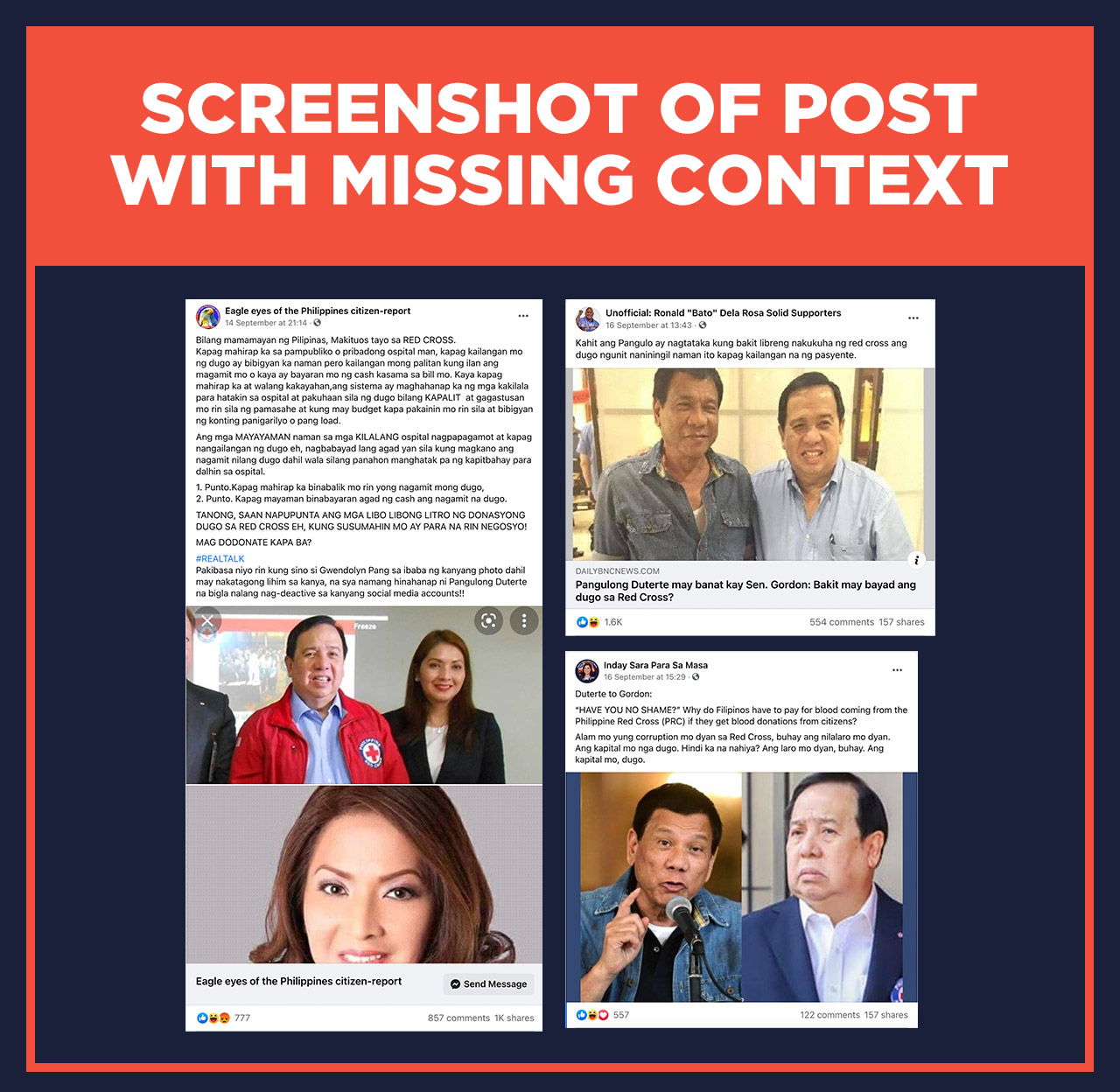 This claim is missing context.
Section 8 of the Republic Act 7719, also known as the National Blood Services Act of 1994, states that blood banks and centers shall operate on a non-profit nature: "All blood banks/centers shall operate on a non-profit basis: Provided, that they may collect service fees not greater than the maximum prescribed by the Department [of Health] which shall be limited to the necessary expenses entailed in collecting and processing of blood."
The Department of Health (DOH) website says, "While donated blood is free, there are significant costs associated with collecting, testing, preparing components, labeling, storing and shipping; recruiting and educating donors; and quality assurance."
The maximum allowable service fees for whole blood and blood components have since been updated through DOH AO 2015-0045. The fees were increased in accordance with the current wages, price of reagents, blood bags, and other supplies. The fees according to this AO are:
Whole blood: P1,800
Packed red blood cells: P1,500
Other blood components (platelet concentrate, fresh frozen plasma, cryoprecipitate, and cryosupemate): P1,000
DOH AO 2015-0045 also states that it shall cover all blood service facilities in the Philippines, be they under the national government, private entities, local government units (LGU), and the PRC.
It says this fee covers serological tests to prevent transfusion transmissible infections (TTIs), which blood product that is released must first undergo. It also covers screening tests for hemoglobin, blood typing, and vital signs.
Moreover, AO 2015-0045 states that no other fees shall be collected from the patient or the relatives of the patient other than the ones stipulated.
PRC offers the "Blood Samaritan Program" for legitimate indigent patients who need a blood transfusion; this covers the costs of the blood processing fees. The funds of this program are derived from financial donations of individuals, companies, and organizations that aim to support the blood needs of the indigents. – Jefson Romeo Felix/Rappler.com
Jefson Romeo Felix is a volunteer of Rappler's fact-checking mentorship program. This fact check was reviewed by a member of Rappler's research team and a senior editor. Learn more about Rappler's fact-checking mentorship program here.
Keep us aware of suspicious Facebook pages, groups, accounts, websites, articles, or photos in your network by contacting us at factcheck@rappler.com. Let us battle disinformation one Fact Check at a time.