The Manila City Prosecutor's Office dropped the charges for lack of evidence
At a glance
Claim: Manila City Mayor Isko Moreno was arrested in 2013 over illegal gambling charges.
Rating: MISSING CONTEXT
The facts: Although Moreno and five other Manila city councilors were arrested for illegal gambling in 2013, the justice department dismissed the charges over lack of probable cause.
Why we fact-checked this: The post collected over 2,600 reactions and 1,300 shares just five hours after it was posted.
Complete details
Facebook page "Lapu-Lapu" on September 22 posted a montage of Isko Moreno's photos with the caption, "So the rumors are true, sugarol jud diay kang daku. #BINGO." (So the rumors are true, you are a big gambler. #BINGO.)
The montage included a screenshot of a 2013 Philippine Daily Inquirer article and two photos of the arrest originally posted by GMA News and ABS-CBN News.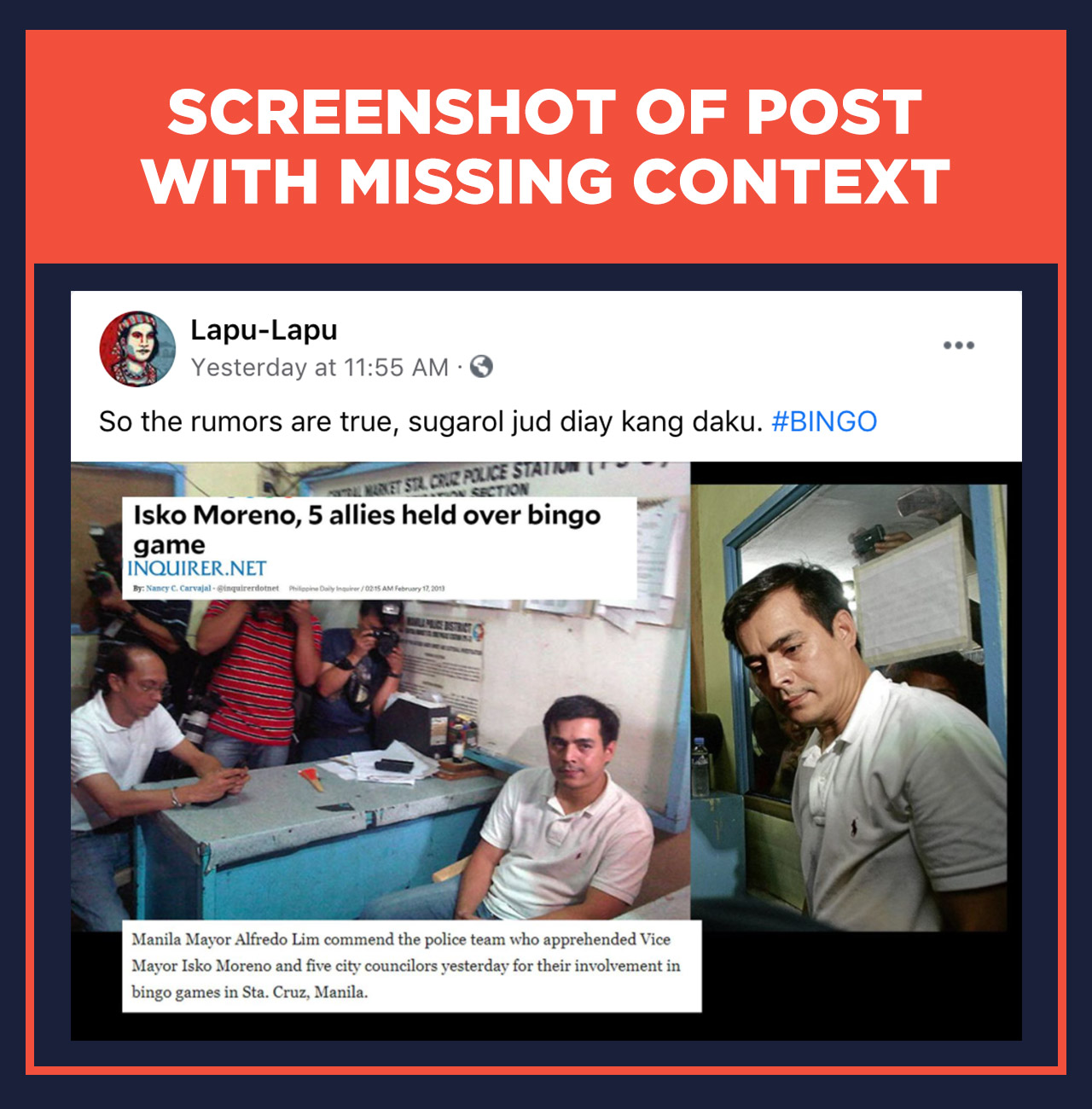 The post lacks context.
Although Moreno was arrested in 2013 over illegal gambling raps, the Manila City Prosecutor's Office dismissed these charges due to lack of evidence.
The then-Manila vice mayor and five city councilors were arrested on February 16, 2013, for allegedly sponsoring a bingo game in Sta. Cruz, Manila, without city permits.
Moreno and his fellow defendants said in a counter-affidavit submitted to the justice department that no wager was involved in the bingo games they hosted.
"No wager was involved in the bingo games that was sponsored, it was purely done as a form of 'parlor games' for entertainment purposes without any cost to our constitution and that the bingo card was given for free," the counter-affidavit said.
He was released on February 17, 2013, after the Manila City Prosecutor's Office dropped the charges due to insufficient evidence.
"According to Chief Fiscal [Elaine] Cerezo, we are being released on the basis of insufficiency in evidence. Sa madaling salita, napatunayan namin na kami ay hindi lumabag sa batas at kulang ang ebidensya," Moreno said in an interview with DZMM on the day of his release.
(In other words, we've proven that we did not violate the law and [the illegal gambling accusations] lack evidence.)
The post has 4,300 reactions and 2,400 shares, as of writing. – Tatiana Maligro/Rappler.com
Tatiana Maligro is a Rappler intern. This fact check was reviewed by a member of Rappler's research team and a senior editor. Learn more about Rappler's internship program here.
Keep us aware of suspicious Facebook pages, groups, accounts, websites, articles, or photos in your network by contacting us at factcheck@rappler.com. Let us battle disinformation one Fact Check at a time.