The vessels were commissioned in 2015 as part of the Aquino administration's Maritime Safety Capability Project.
At a glance
Claim: A post by Jay Sonza implies that President Rodrigo Duterte is responsible for the delivery of 10 multi-role response vessels (MRRVs) from Japan.
Rating: MISSING CONTEXT
The facts: While the last two MRRVs were delivered in 2018, the 10 MRRVs were commissioned during the term of the late former president Benigno Aquino III.
Why we fact-checked this: This claim was emailed by a reader and flagged by Claim Check, a tool that monitors dubious content on Facebook. Sonza's post has garnered over 11,000 reactions and 7,900 shares, as of writing.
Complete details
On August 15, former broadcaster and talk show host Jay Sonza uploaded photos of the Coast Guard's multi-role response vessels (MRRVs) with the caption, "Our Coast Guard never had it so good until the old man from Davao came to run this government."
The photos of the MRRVs had been originally posted by the Philippine Coast Guard's Facebook page on October 11, 2017.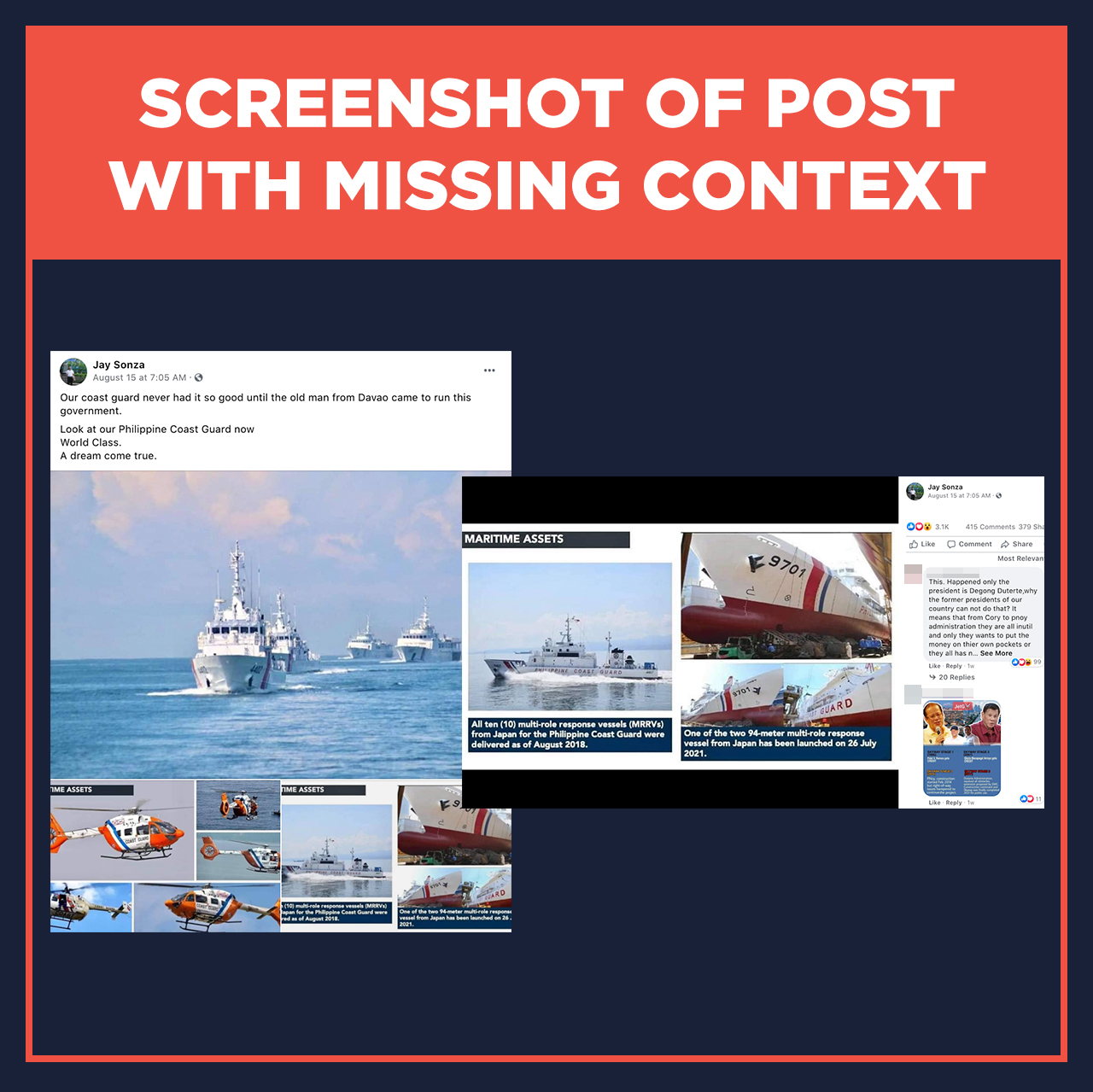 Sonza's post is missing context.
Although the delivery of 10 44-meter MRRVs was completed during Duterte's term, they were commissioned during the Aquino administration.
The 10 MRRVs are part of the Aquino administration's Maritime Safety Capability Project and are covered by a P7.9-billion loan from the Japan International Cooperation Agency as part of the Japanese Official Development Assistance (ODA) loan project.
Aquino and then-Japanese prime minister Shinzo Abe signed the ODA in December 2013.
During the turnover of BRP Tubbataha – the first of the 10 MRRVs – to the Coast Guard in August 2016, Transportation Secretary Arthur Tugade clarified that the MRRVs were secured before Duterte's term. "It is a project of the past administration. We just want to say that 'ayaw namin ng nagnanakaw ng kalabaw (we don't want to be one to steal credit),'" he said.
According to a press release by the then-Department of Transportation and Communications, manufacturer Japan Marine United Corporation (JMU) was awarded the project as early as April 2015. Delivery of these vessels was to follow a staggered schedule from 2016 to 2018.
Aquino-time transportation and communications secretary Jun Abaya said the vessels would enhance the PCG's search-and-rescue operation and maritime law enforcement.
As of writing, Sonza's post garnered over 11,000 reactions and 7,900 shares. Sonza's Facebook account has over 290,000 followers.
Rappler has fact-checked multiple other posts by Sonza:
– Tatiana Maligro/Rappler.com
Tatiana Maligro is a Rappler intern. This fact check was reviewed by a member of Rappler's research team and a senior editor. Learn more about Rappler's internship program here.
Keep us aware of suspicious Facebook pages, groups, accounts, websites, articles, or photos in your network by contacting us at factcheck@rappler.com. Let us battle disinformation one Fact Check at a time.