The Philippine Army says Pacquiao was given the rank of lieutenant colonel even without a baccalaureate degree because his honorary doctorate degree in humanities given by the Southwestern University in Cebu was considered instead
At a glance
Claim: Senator Manny Pacquiao was commissioned in 2011 as a lieutenant colonel after he submitted a fake diploma.
Rating: MISSING CONTEXT
The facts: According to former Philippine Army spokesperson Colonel Harold Cabunoc, Pacquiao was able to attain the rank of lieutenant colonel even without a baccalaureate degree because they instead considered his honorary doctorate degree in humanities given by the Southwestern University in Cebu.
Why we fact-checked this: The video containing the claim has gained 109,302 views, 2,200 likes, and 1,067 comments, as of writing.
Complete details
A video uploaded on July 6, 2021, by YouTube channel "Robin Sweet Showbiz" claimed that Senator Manny Pacquiao was promoted in 2011 as a lieutenant colonel after he submitted a fake diploma.
As of writing, the video has garnered 109,302 views, 2,200 likes, and 1,067 comments.
The video was entitled, "PANIBAGONG BAHO NI MANNY KABABAYAN NYA MISMO NAGSIWALAT! DI NAKAYANAN KASINUNGALINGAN NI MANNY (Another dirty secret by Manny was revealed by his fellowman! [He] was not able to withstand Manny's lies)."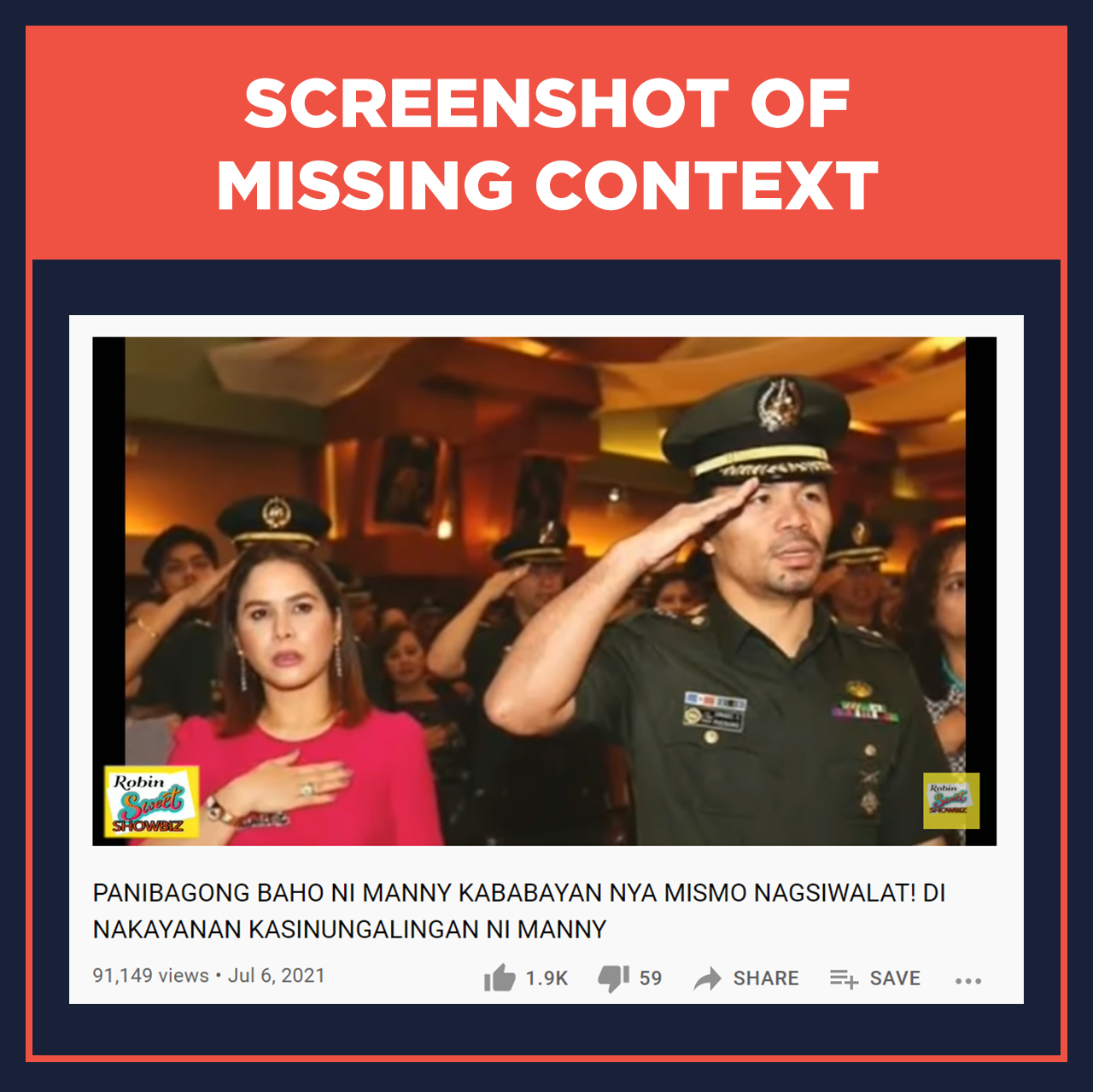 The narration in the video says: "Noong 2011, na-promote si Manny Pacquiao bilang isang lieutenant colonel ng AFP (Armed Forces of the Philippines)…. 2019 siya grumaduate sa University of Makati at nagkaroon na ng kanyang college degree. Ibig sabihin, 2011 ay hindi pa ito college degree holder. Gayong bago ka maging isang officer ng AFP ay dapat isa kang college degree holder…anong diploma ang kanyang ipinrisinta noong 2011 gayong 2019 na siya naka-graduate daw. Isa na namang bang fake diploma ang kanyang ipinasa?"
(In 2011, Manny Pacquiao was promoted as a lieutenant colonel in the AFP. He graduated from the University of Makati in 2019 and received his college degree then. This means that in 2011, he was not yet a college degree holder. One must be a college degree holder to be an AFP officer. What kind of diploma did he present in 2011, when in fact, he only graduated college in 2019? Is it another fake diploma?)
This claim is missing context.
Under Section 44 of Republic Act 7077 or the Citizen Armed Force or Armed Forces of the Philippines Reservist Act, "elected officials and presidential appointees may be commissioned in the Reserve Force subject to the existing AFP rules and regulations."
According to a GMA News article published on December 3, 2011, former Philippine Army spokesperson Colonel Harold Cabunoc said that, based on Circular Number 4, General Headquarters (GHQ) AFP, dated July 5, 2010, Pacquiao could be commissioned as a lieutenant colonel because he was a congressman of Sarangani from June 30, 2010, to June 30, 2016.
Meanwhile, Cabunoc also said in an ABS-CBN interview on October 15, 2011, that the Army considered Pacquiao's honorary doctorate degree in humanities conferred by the Southwestern University of Cebu City on February 18, 2009, in giving Pacquiao the rank of lieutenant colonel despite having no college degree.
In a statement carried by several media outlets on October 14, 2011, Cabunoc said the commissionship of Pacquiao as a lieutenant colonel was recommended by the Army and then-chief, Lieutenant General Arturo Ortiz, under whom Pacquiao previously served as a reserve senior master sergeant in 2009.
Ortiz based the recommendation on the endorsement by Colonel Regidor dela Cruz, the former commander of the Regional Community Defense Force in Metro Manila, and his other subordinates.
The commissioning of Pacquiao was signed by Paquito Ochoa, the executive secretary during the administration of then-president Benigno Aquino III. It was confirmed under the authority of the president and made effective on September 21, 2011. (LIST: These celebrities are also reservists in the AFP)
However, Dr. Clarita Carlos, defense and security expert and former president of the National Defense College of the Philippines (NDCP), told ABS-CBN on October 15, 2011, that the honorary doctorate degree of Pacquiao was an insufficient document to appoint him for a higher position in the Army.
"An honorary degree – as the term suggests, honorary – it does not confer skills, knowledge, and competencies. Kaya nga honorary, 'binibigay sa iyo nang hindi ka naghirap eh…. Hindi maganda ito. Bakit? Dahil mayroon kang national champion? That's the problem with us, ang sense of proportion natin, sobrang baluktot," said Carlos.
(That's why it's honorary because it was given without you working hard for it…. This is not good. Why? Because you have a national champion? That's the problem with us, our sense of proportion is totally distorted.)
On December 6, 2017, Pacquiao announced in an Instagram post that he "successfully defended [his] Commandant's paper to [be] promoted to a full colonel."
Rappler has previously fact-checked the YouTube channel "Robin Sweet Showbiz" on its false claims about senators sued for treason and 1Sambayan releasing a presidential survey. – Nicole Anne Perez/Rappler.com
Nicole Anne Perez is a Rappler intern. This fact check was reviewed by a member of Rappler's research team and a senior editor. Learn more about Rappler's internship program here.
Keep us aware of suspicious Facebook pages, groups, accounts, websites, articles, or photos in your network by contacting us at factcheck@rappler.com. Let us battle disinformation one Fact Check at a time.