COVID-19 PCR tests are specific to SARS-COV-2, the virus that causes COVID-19. They do not detect other RNA viruses.
Claim:
COVID-19 polymerase chain reaction (PCR) tests are unable to distinguish COVID-19 from other illnesses, such as measles, ebola, or even a common cold.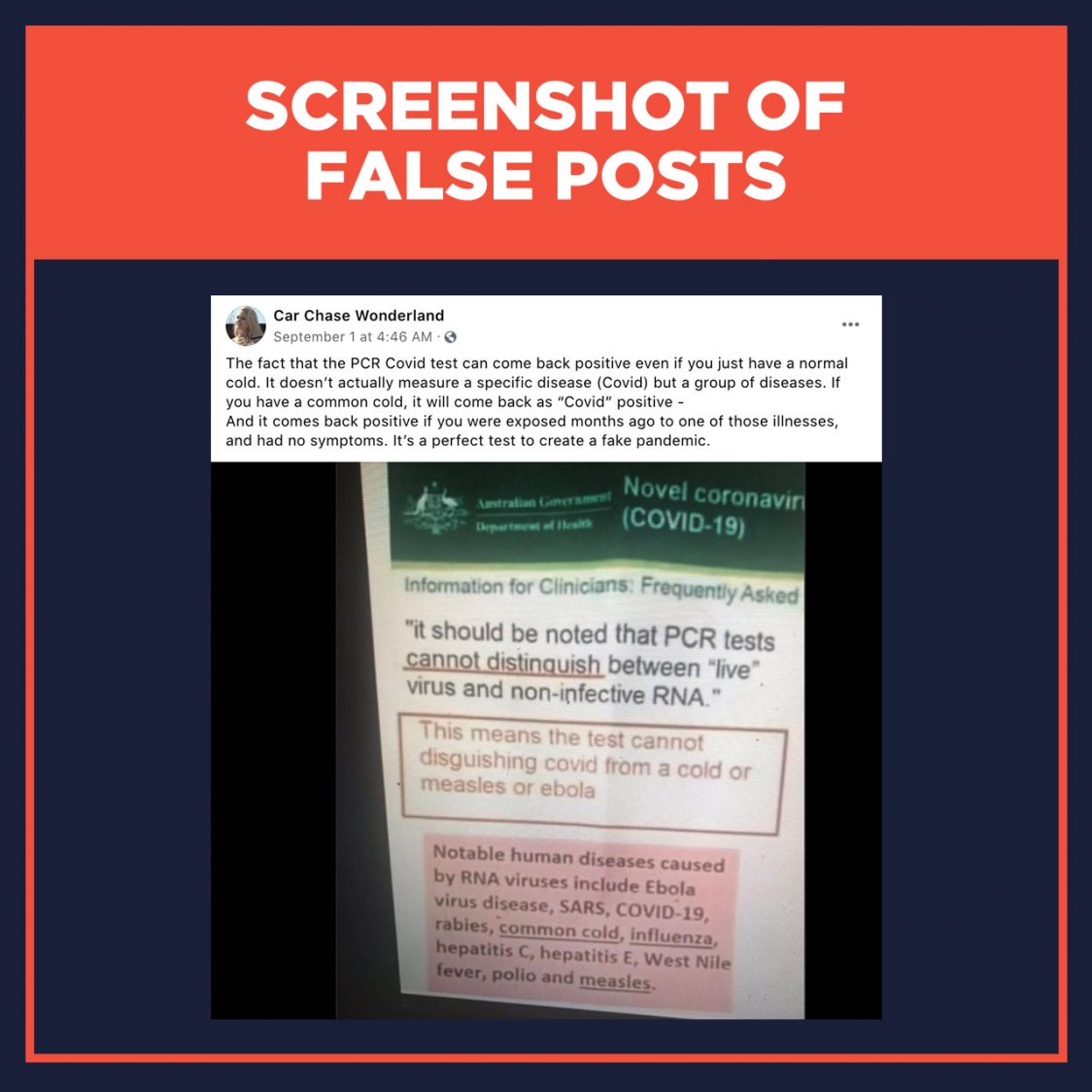 This post was spotted by the Rappler fact check team on Facebook. Posts containing this claim were also spotted through social media monitoring tool CrowdTangle.
Rating: FALSE
The facts:
COVID-19 PCR tests are specific to SARS-COV-2, the virus that causes COVID-19. They do not detect other RNA viruses that cause diseases like measles and ebola virus disease.
The photo attached to the claim cited a line from a factsheet for clinicians released by the Australian Department of Health, which reads, "It should be noted that PCR tests cannot distinguish between 'live' virus and non-infective RNA." The photo then added the text, "This means the test cannot distinguishing (sic) covid from a cold or measles or ebola." It also listed other diseases caused by RNA viruses.
The line on PCR tests being unable to distinguish between live and non-infective RNA was taken out of context. It was lifted from the section of the factsheet labeled, "Can reinfection occur?"
In a fact check by Agence France-Presse, a spokesperson from the Australian Department of Health said, "The social media post contains selectively chosen information taken out of context from the Department of Health factsheet for Clinicians, along with complete inaccuracies… The factsheet is actually dealing with COVID-19 positive people continuing to test positive after the infectious period has passed. It is true that the PCR may still result in a positive test, because of remaining non-infectious viral load within the patient."
The spokesperson added that the test for SARS-COV-2 will not detect other pathogens, and tests for other pathogens will not detect SARS-COV-2.
Real-time reverse transcription polymerase chain reaction (RT-PCR) tests are used for detecting RNA-based viruses like SARS-COV-2. While it is true that RT-PCR tests cannot detect if viruses are still live, they are designed to detect specific viruses only.
In a phone interview with Rappler, Pia Bagamasbad, associate professor at the National Institute of Molecular Biology and Biotechnology, University of the Philippines Diliman, explained that COVID-19 RT-PCR tests only detect the sequences unique to the SARS-COV-2 virus, which cannot be found in other RNA viruses.
Bagamasbad said that for every virus, a unique primer detects the unique sequence or genetic material for that virus.
"[RT-PCR tests] can be designed to detect a specific virus by using primers – or a reagent that's used in the reaction – that are capable of detecting sequences unique to a virus. It has the capacity to be able to differentiate one virus from the other, although they're all RNA-based," Bagamasbad said.
RT-PCR tests are considered the gold standard for COVID-19 testing. – Pia Rodrigo, Loreben Tuquero/Rappler.com
Keep us aware of suspicious Facebook pages, groups, accounts, websites, articles, or photos in your network by contacting us at factcheck@rappler.com. Let us battle disinformation one Fact Check at a time.