The photo of Arroyo surfing was taken in 2005, years before both Aquino and Duterte assumed the presidency
Claim:
A photo shows former president Gloria Macapagal Arroyo surfing during President Rodrigo Duterte's term, in contrast to a photo of her in a wheelchair during the term of former president Benigno "Noynoy" Aquino III.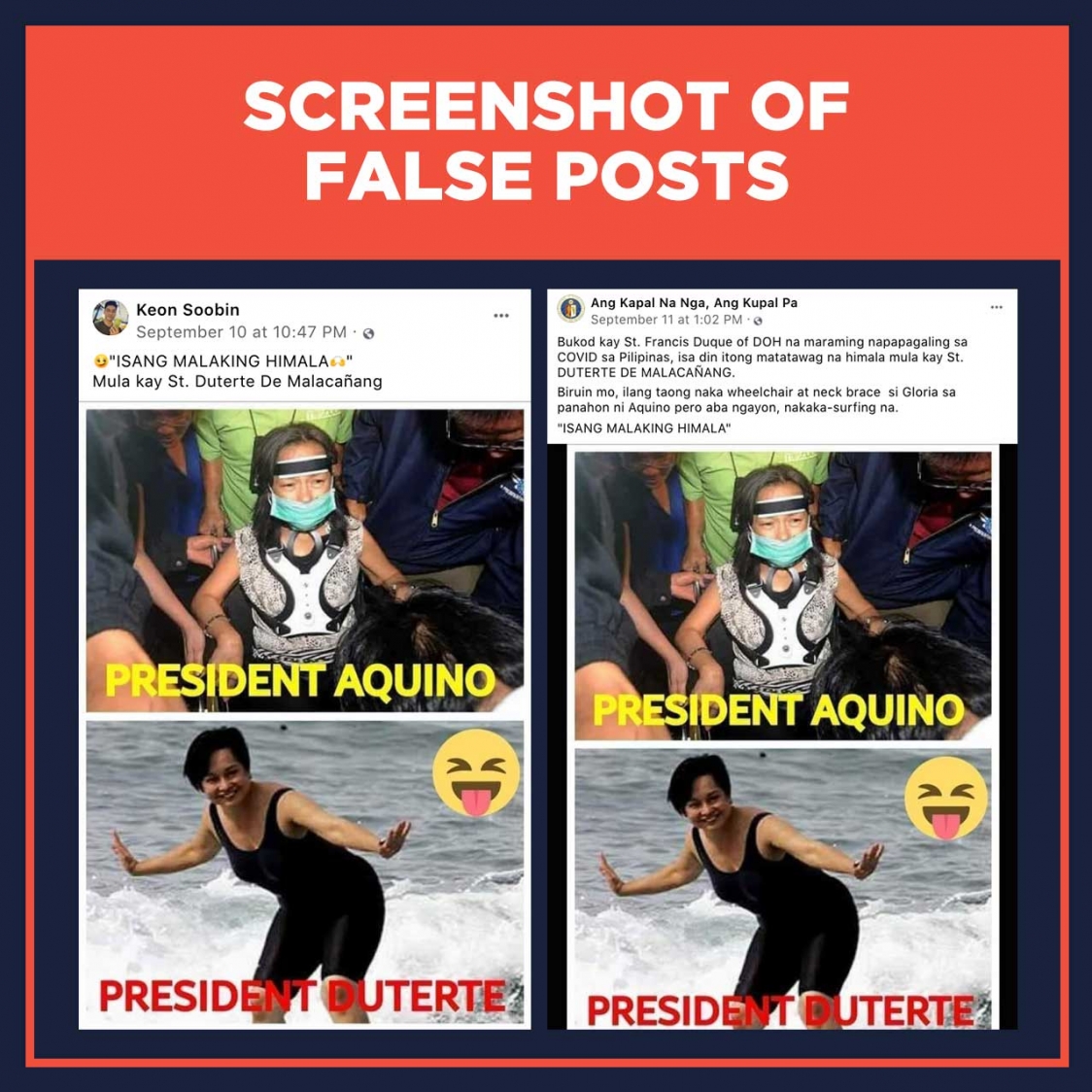 This claim was sent to Rappler for verification. It was also spotted through social media monitoring tool CrowdTangle.
Rating: FALSE
The facts:
The photo of Arroyo surfing was taken in 2005, years before both Aquino and Duterte assumed the presidency.
At least two posts contained a graphic comparing the two photos of Arroyo. One labeled the photo of Arroyo in a wheelchair with "President Aquino" and the one of her surfing with "President Duterte." The posts contain similar captions, specifically the text, "Himala mula kay St. Duterte De Malacañang." (Miracle from St. Duterte of Malacañang.)
Through reverse image search and search using keywords, Rappler found that the photo of Arroyo surfing was released by Malacañang in December 2005, during her second term as president.
On Agence France-Presse (AFP), the caption of the photo reads, "Philippine president Gloria Arroyo attempts to ride a surfboard at a surfing camp in the town of San Juan, La Union province, 27 December 2005. Arroyo is currently on holiday as she takes a rest from political fighting in Manila."
Meanwhile, the photo of her in a wheelchair was taken in November 2011, well into Aquino's term. The AFP caption for this photo, taken by Noel Celis, reads in part, "Former Philippine President and congresswoman Gloria Arroyo (C) arrives at the Manila International Airport in Manila on November 15, 2011. The Philippine government blocked ex-president Gloria Arroyo from leaving the country, after she dramatically turned up at Manila airport wearing a neck brace, insisting she must face graft charges."
Rappler has fact-checked multiple claims drawing false comparisons between the terms of Aquino and Duterte, which also made use of photos taken out of context. – Loreben Tuquero/Rappler.com
Keep us aware of suspicious Facebook pages, groups, accounts, websites, articles, or photos in your network by contacting us at factcheck@rappler.com. Let us battle disinformation one Fact Check at a time.