1Sambayan initially included Manila Mayor Isko Moreno in its list of nominees for president and vice president, but Moreno chose to be omitted
At a glance
Claim: Manila Mayor Isko Moreno was removed from 1Sambayan's list of nominees for president and vice president.
Rating: MISSING CONTEXT
The facts: 1Sambayan's lead convenor Antonio Carpio said that Moreno asked to be taken out of the list. The coalition respected Moreno's decision and omitted his name from the list.
Why we fact-checked this: The video with this claim garnered 18,682 views, 720 likes, and 417 comments, as of writing.
Complete details
A video uploaded on June 12 by YouTube channel VIRAL PH NEWS claimed that the 1Sambayan opposition coalition removed Manila Mayor Isko Moreno from their list of nominees for president and vice president. As of writing, the video has 18,682 views, 720 likes, and 417 comments.
The video says, "Ngunit si Mayor Isko Moreno na sinabi nilang kasama rin sa kanilang nominees noon ay bigla nilang tinanggal at hindi na isinali. Tila napaasa si Mayor Isko sa kabila ng kanyang pagsabay at pakikiisa sa prinsipyo ng 1Sambayan, ang atakihin ang Duterte gaya ng kanyang ginawang pagpaparinig sa posibleng pagtakbo ni Mayor Sara nitong mga nakaraang araw lang."
(However, Mayor Isko Moreno, who was initially among their nominees, was suddenly removed from the list. Mayor Isko was seemingly given false hope by 1Sambayan despite having the same principles to criticize Duterte, such as Moreno's indirect statements during the past few days toward Mayor Sara's possible presidential run.)
The title of the video read, "MAYOR ISKO TRINAYDOR NG 1SAMBAYAN! TODO ATAKE SA DUTERTE PERO DI PALA ISASALI SA NOMINEES!" (Mayor Isko was betrayed by 1Sambayan! He kept criticizing Duterte, but he wasn't included among the nominees!)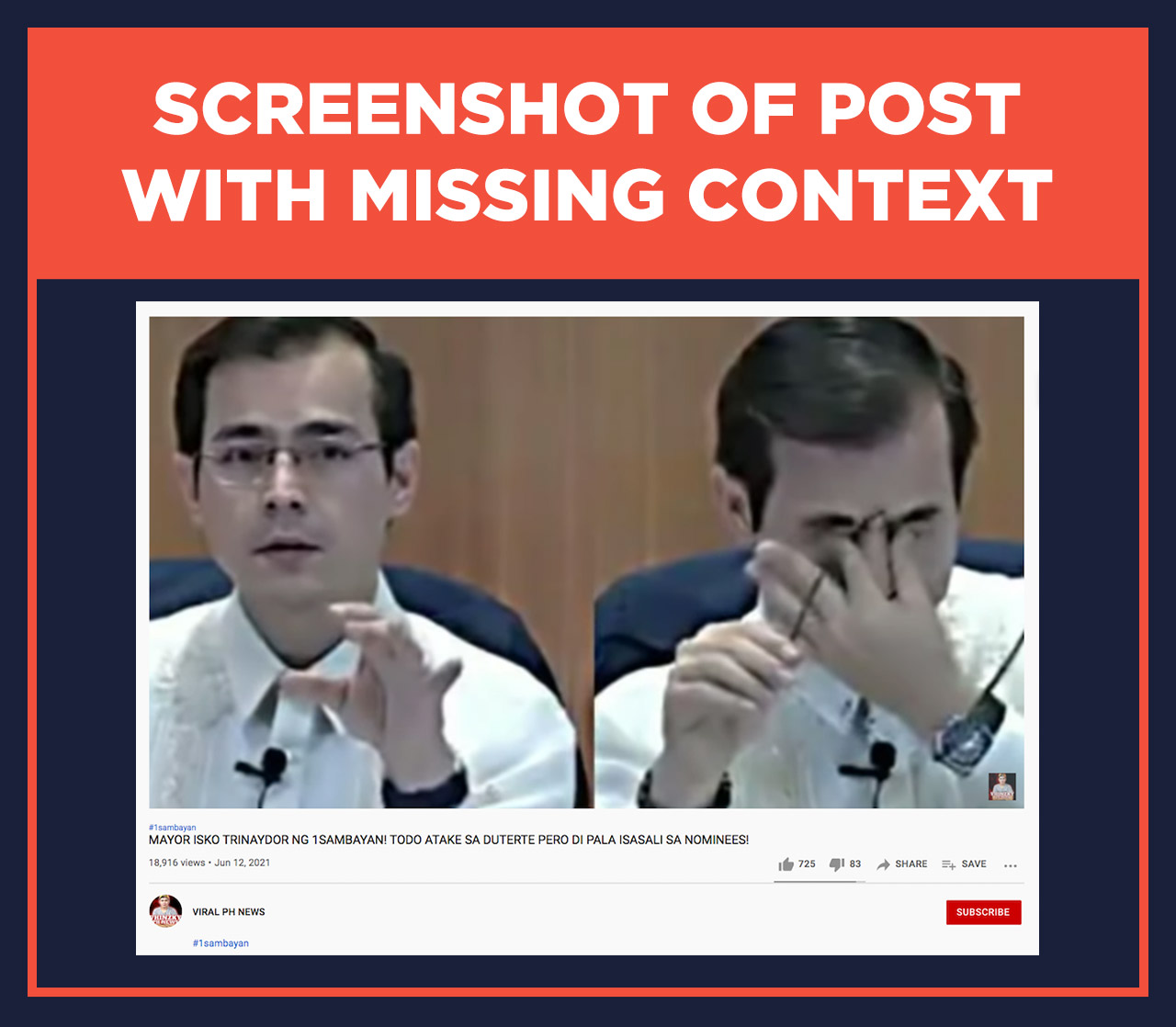 The claim is missing context.
1Sambayan initially included Moreno in its list of nominees, but before 1Sambayan's announcement on Saturday, June 12, Moreno sent a letter to the coalition, stating his decision to be excluded from the list of nominees. He said he was focusing on the COVID-19 vaccination of Manila residents. (READ: Isko Moreno, Nancy Binay, Vilma Santos beg off from 1Sambayan nomination)
1Sambayan's lead convenor and former Supreme Court associate justice Antonio Carpio said that Moreno chose to be omitted from the list, and the coalition respected his decision.
"We initially included him because he was also interested. We have talked to him and he said he was interested, but the other day he wrote us, saying that he wanted his name taken out of the list of nominees, possible candidates for president, and of course we respect that. So we have removed his name as a possible candidate for president or vice president upon his own request," said Carpio during the coalition's virtual program on June 12.
After a number of their nominees begged off from the selection process, 1Sambayan issued a statement, saying they expected that some of them may have yet to firm up their decision on what whether to run for a higher position. (FAST FACTS: Opposition 1Sambayan's nominees for president, vice president) – Nicole Anne Perez/Rappler.com
Nicole Anne Perez is a Rappler intern. This fact check was reviewed by a member of Rappler's research team and a senior editor. Learn more about Rappler's internship program here.
Keep us aware of suspicious Facebook pages, groups, accounts, websites, articles, or photos in your network by contacting us at factcheck@rappler.com. Let us battle disinformation one Fact Check at a time.