The UNHRC did not defend Duterte's anti-drug campaign, nor criticized the opposition senators
At a glance:
Claim: The United Nations (UN) supports President Rodrigo Duterte's war on drugs. It also slammed opposition senators for saying the campaign caused extrajudicial killings (EJKs) in the country.
Rating: FALSE
The facts: The UN Human Rights Council (UNHRC) did not say it supports Duterte's anti-drug campaign. It also did not mention Hontiveros nor Pangilinan in its latest resolution.
Why we fact checked this: Facebook's monitoring tool flagged the video containing this claim for containing potentially false information. It was viewed at least 125,000 times.
Complete details:
A video posted by Facebook page Trending Viral Balitang Pinas claimed that the UNHRC sided with Duterte and defended his government's campaign against illegal drugs. It also said that the UNHRC slammed opposition senators Risa Hontiveros and Kiko Pangilinan, and junked their claims of EJKs in Duterte's war on drugs.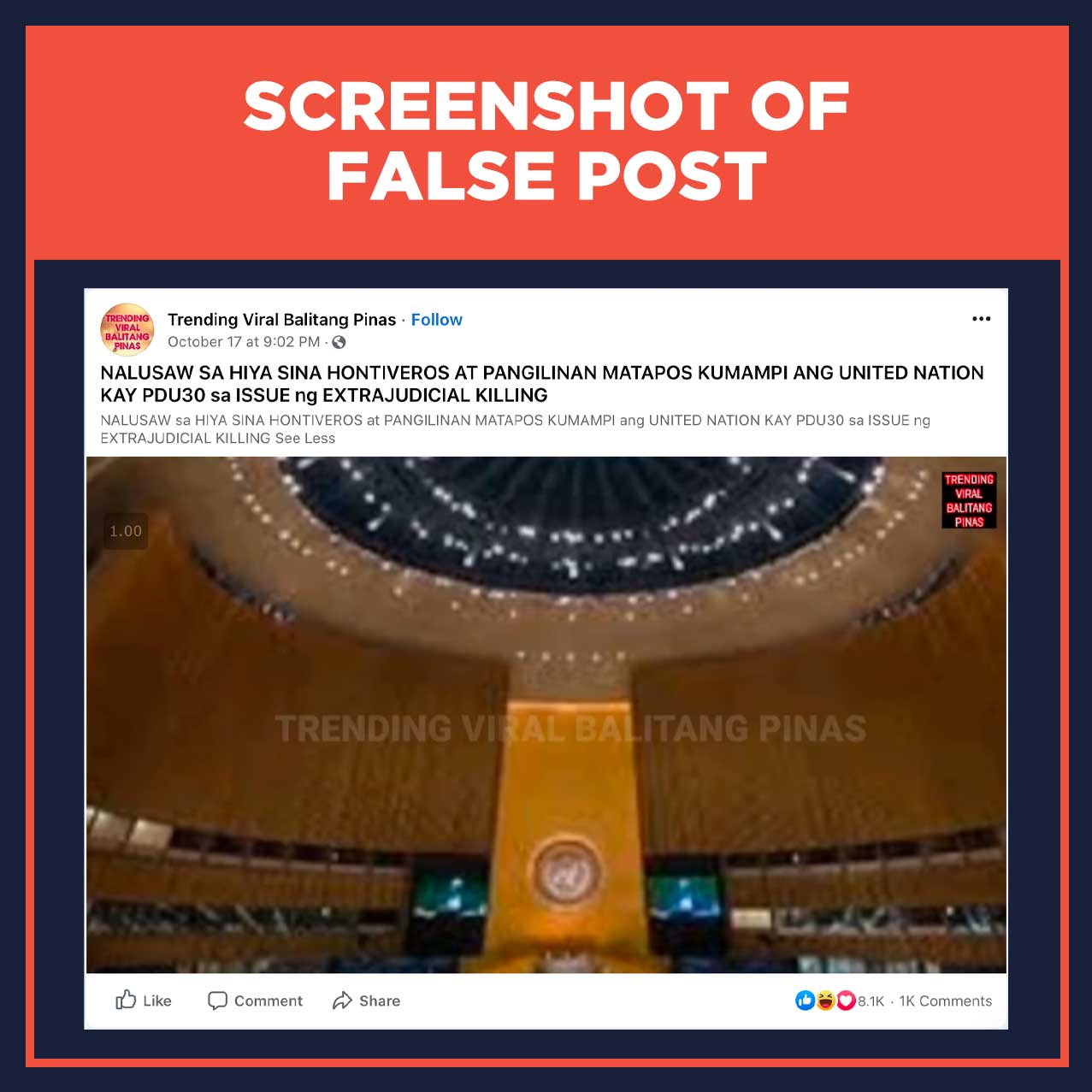 Citing the resolution released on October 7, the video said: "Ito'y matapos ngang magkaroon ng official statement ang UNHRC na tila walang nilabag si Pangulong Duterte sa kanyang kampanya kontra droga (This comes after the UNHRC released a statement saying that President Duterte did not violate any laws in his campaign against illegal drugs)."
This claim is false.
The video cited a news report from the Philippine News Agency as its source of information. But the article did not say that the UNHRC supports Duterte's anti-drug campaign, nor absolved him of any wrongdoing related to the alleged EJKs in the country. It also did not mention Hontiveros and Pangilinan.
Instead, the PNA report discussed how the UNHRC adopted a resolution that offers "technical assistance" to the Philippine government to address the human rights situation in the country.
The UNHRC adopted the resolution on October 7. Though it fell short of launching an independent investigation on the EJKs in the country, the resolution did request for the office of UN rights chief Michelle Bachelet to do continuous monitoring of the Duterte government. The resolution also underlined the need for the Duterte government to "ensure accountability for the violations and abuses."
As of writing, the video had over 125,000 views, 3,000 shares, 8,100 reactions, and 1,000 comments. Claim Check, Facebook's monitoring tool, flagged the video for containing potentially dubious information.
Rappler debunked a similar claim earlier this month, which claimed that the UNHRC said there are no EJKs in the Philippines. This was also rated false because UNHRC's resolution did not deny that there were EJKs in the country. – Pauline Macaraeg/Rappler.com
Keep us aware of suspicious Facebook pages, groups, accounts, websites, articles, or photos in your network by contacting us at factcheck@rappler.com. Let us battle disinformation one Fact Check at a time.