This is AI generated summarization, which may have errors. For context, always refer to the full article.
(UPDATED) 'Mas lugi pa nga kami kasi naghihintay kaming barilin eh. Naghihintay kami na may action kami bago kami gumalaw eh,' says a precinct commander in Manila
This compilation was migrated from our archives
Visit the archived version to read the full article.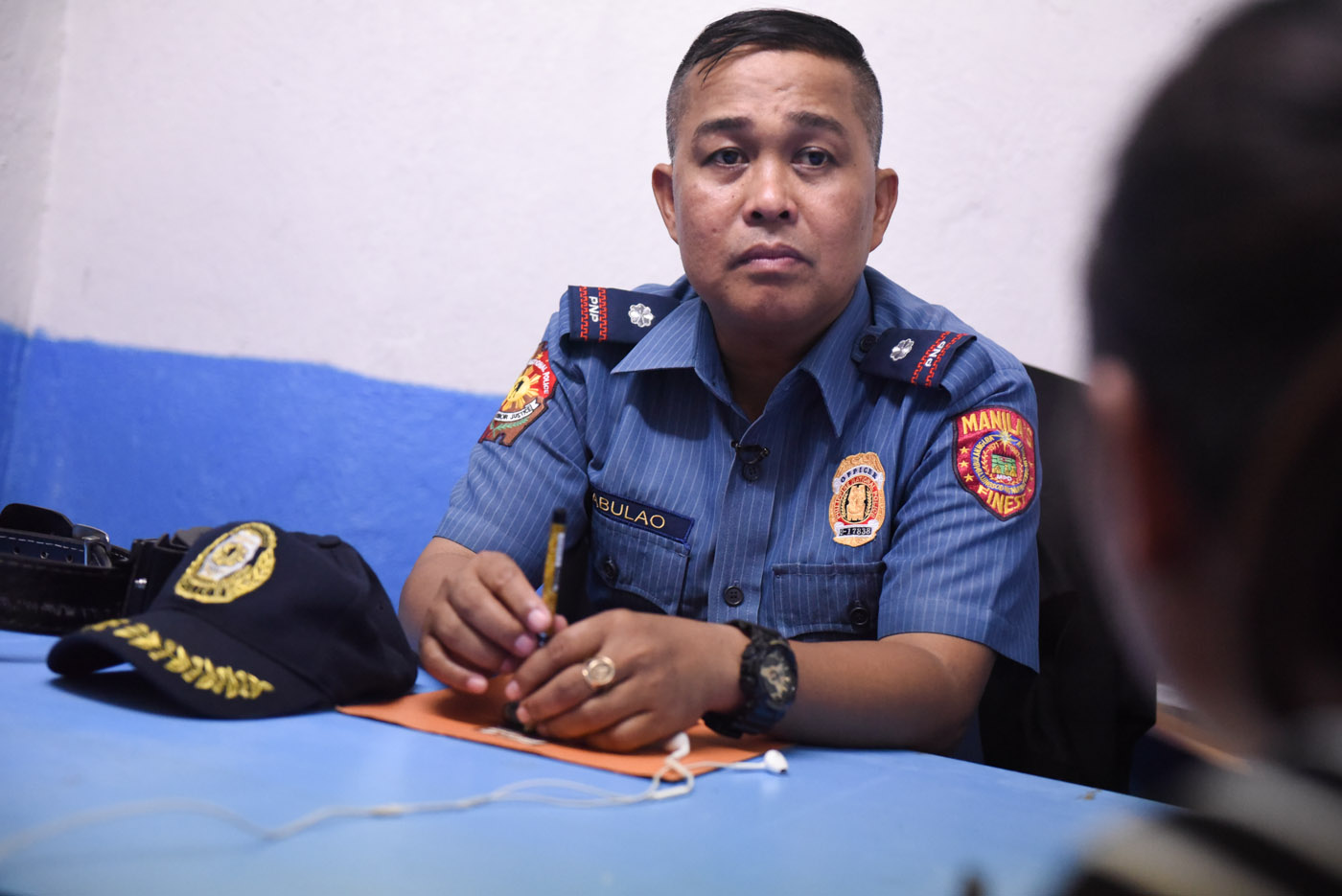 MANILA, Philippines (UPDATED) – Police Chief Inspector Paul Sabulao calls a tiny room inside the Adriatico Police Community Precinct (PCP) in Malate, Manila, as his office. 
He had just moved there in early August as precinct commander from the Arellano PCP, and he had the walls repainted a bright blue and white. 
In that room, as his 57-member team waits for their next assignment for the night, Sabulao defended the Philippine National Police (PNP) as it stands at the frontline of President Rodrigo Duterte's war against crime and illegal drugs.
"Actually, nakakatakot din ito para sa parte namin. Kaya lang, ito 'yung aming trabaho, so niri-risk talaga namin 'yung buhay namin sa 'Oplan Tokhang' na 'to. Kasi 'yung iba dun, talaga namang may mga baril," Sabulao told Rappler. 
(This is also scary for us. But this is our job, so we risk our lives under the "Oplan Tokhang" operation. That's because some of the suspects we encounter have guns.) 
"Mas lugi pa nga kami kasi naghihintay kaming barilin eh. Naghihintay kami na may action kami bago kami gumalaw eh," he said. 
(We're on the losing end here because we have to wait to be shot at before we can act. We have to wait for the action before we can respond and defend ourselves.)
http://assets.rappler.com/E81DC9303606466D98F3C541E472C0EC/img/C17C94191CC745F290C77EA6D41048D7/alecs-ongcal-drugs-and-death-20160721-13.jpg"/>


"
This is also scary for us. But this is our job, so we risk our lives." 





The PNP intensified its campaign against illegal drugs after Duterte vowed to suppress crime and drugs within 3 to 6 months. 

Oplan Tokhang was also launched, wherein police officers literally knock on the doors of suspected drug users and pushers to give them a chance to change their ways.

Blood has since been spilled on the streets on a daily basis as more suspected drug personalities are killed in police operations nationwide and in vigilante-style attacks. (READ: War on drugs: While you were sleeping) 

In defending the killings, police officers commonly say that the suspects  fought back while resisting arrest – "nanlaban."

"Mahilig kasi tayo sa aksyon, 'yung may blood and gore, kaya 'yun ang naha-highlight ng media. Nakakalimutan nating bilangin ang mga buhay na nag-surrender, nakakulong, or nasa rehab na 'di hamak na sobrang marami kumpara sa mga namamatay," said Sabulao, who claims to have convinced 300 drug suspects to surrender to authorities during Oplan Tokhang's first month alone. 

(We love action, the one with blood and gore, that's why the media highlights these things. We forget to count those who surrendered, were arrested, or are in rehabilitation, whose numbers are far higher than those who were killed.)

From July 1 to August 15, the PNP conducted 5,632 police operations that led to the arrest of 8,623 drug suspects. The fatalities reached 612. (READ: Dela Rosa: PNP investigating 899 drug-related deaths) 

Independent groups have tallied more than 100 dead in apparent extrajudicial killings around the country as well. (READ: Dela Rosa: We have 'scientific evidence' syndicates behind killings) 

A total of 576,176 have surrendered under Oplan Tokhang, leaving the Philippine government struggling for their rehabilitation because of the lack of facilities. Philippine prisons can no longer keep up with the spate of detainees.

 

Local and international critics say Duterte has created an atmosphere in the Philippines that is ripe for vigilantism and citizens' disrespect for the sanctity of life, all done in the name of the war on drugs. 

'We don't wish you dead' 

Despite the criticism from some quarters, Sabulao draws confidence from the support of Duterte and PNP chief Director General Ronald dela Rosa in the ongoing war against crime and illegal drugs. 

Under the proposed 2017 budget, the Duterte administration is allocating P110.4 billion ($2.37 billion) to hire 10,000 police officers, acquire more guns and patrol vehicles, and finance other activities "for more effective crime suppression."

The President also gave his marching orders to the police during his first State of the Nation Address. He made it clear that the war on drugs also requires a clean and disciplined police force. 

Duterte had earlier named 5 retired and current police generals who were allegedly tied to the drug trade. During his first speech as PNP chief, Dela Rosa gave cops who allegedly "recycle" drugs they seize during operations a 48-hour deadline to surrender.

"You are with me or you are not with me. If you are with me, then let's do it. If you are not with me, then you are finished," said dela Rosa.

The PNP has since dismissed 18 police officers and suspended two more for their involvement in the drug trade. Thirty-seven cases have also been filed against cops who allegedly have links to illegal drugs.

 

"Oo, kasi ang pinag-uugatan ng mga crime incidence sa mga kalsada, ito rin 'yung mga addict na 'di natutulog sa gabi. 'Pag walang pambili ng drugs, ito rin 'yung mga nangho-hold up," said Sabulao.

(Yes, because the drug addicts who don't sleep at night are also behind the other crimes on the streets. They don't have money to buy drugs so they resort to holdups.) 

"Bumaba tayo sa lahat ng mga [crime] incidence. Halimbawa, nakaw, hulidap, rape, bumaba tayo dun. Tumaas naman tayo sa homicide, murder. Pero na-lessen naman 'yung mga nabibiktima," added Sabulao. 

(We reduced the crime incidence for theft, holdups, rape, for example. We did see an increase in homicide, murder. But the number of citizens victimized in other crimes was lessened.) 

Dela Rosa said on August 19 that the daily average crime volume since July 1 had gone down to 49%.

An investigator for the Homicide Division of the Manila Police District's headquarters also said no police officer is looking forward to play another part in the rising body count.

"Mas matrabaho na ngayon. Mas nakakapuyat na. 'Pag lumalabas kami, ibig sabihin laging may patay. 'Di kami humihiling na may patay. Hangga't maaari, ayaw naming lumabas," said the investigator who refused to be named. 

(Work is more hectic now. We get less sleep. When we go out, it means someone is dead. We do not wish for someone to be killed. As much as possible, we do not want to be deployed.)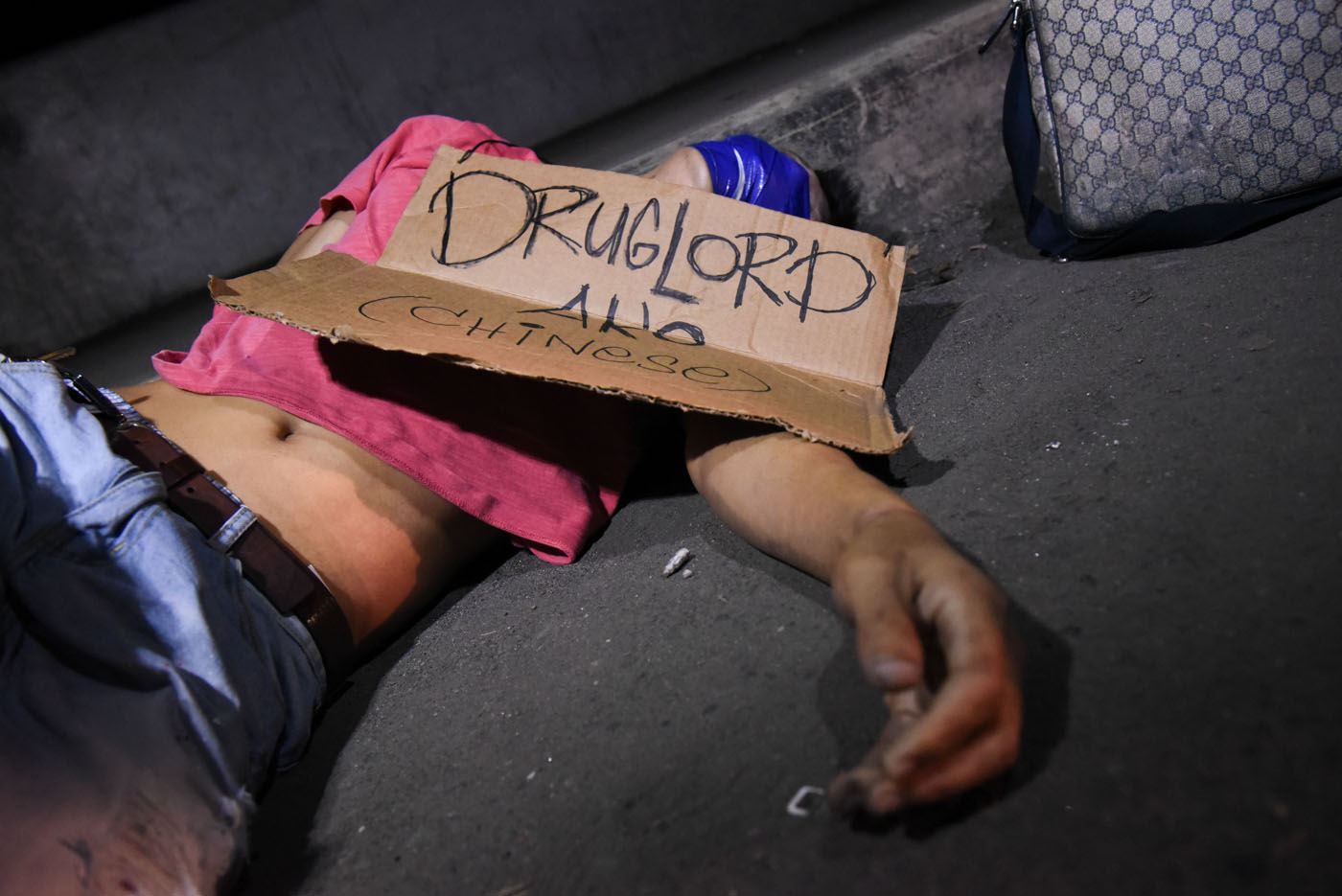 "Lahat naman ng namamatay ay nanlaban."

Police said their rules for engagement remained the same: 
Demand surrender
Arrest
Prosecute
Jail or rehabilitate
And if these don't work, eliminate 
Sabulao explained that a police will only fire his or her gun as a last resort – when the life of a citizen or even the police officer himself or herself is already in danger. 
"It's a legal operation. Wala naman sigurong gagong pulis na gustong pumatay lang. Lahat naman 'yan ay dumadaan sa proseso. At lahat naman ng namamatay ay nanlaban," he said.
(It's a legal operation. There's no foolish police officer who just wants to kill. Everything goes through a process. Those who died resisted arrest.) 
Sabulao said this is why the PNP is conducting Oplan Tokhang – to validate claims that an accused person is involved in illegal drugs. 
A medal and a gun for a kill 
Shootouts with suspected criminals are a scenario every police officer cannot avoid.
In the ongoing war on drugs, police officers themselves were injured or perished during buy-bust operations.
Senior Inspector Mark Garcia, intelligence special operations chief of the Rizal Provincial Police, died after a shootout with drug suspect William Malana in Barangay Inarawan, Antipolo City.
In another alleged shootout at Dinalupihan town, Bataan, an undercover cop was killed alongside drug suspects Rolando and Arnel Cayanan.
Sabulao said this is why the experience is difficult for them every time. 
"Talagang kasi nandudoon pa rin 'yung natatakot ka pa rin at nasa-shock sa mga pangyayari. Kung bago ka, siguro one week bago mawala 'yung [trauma]," said Sabulao.  
(The fear and shock are still there. If you're new, it may take up to one week to get over the trauma.) 
But as a police officer for 23 years now, Sabulao said he is used to it. He was part of the Special Action Force and was deployed in Basilan, Negros Occidental, and Bacolod. He was transferred to the Manila Police District in 1999. 
Sabulao admitted to killing several holduppers, but he said he does not keep count. He has not committed any drug-related killings yet. 
"Eh ako naman, matagal na ho akong pulis. Balewala na lang ho sa 'kin…. Maraming beses na ho akong nakapatay at nakahanda naman," he said.  
(I have been a police officer for a long time. This is nothing to me…. I have killed many times and I'm ready for it.) 
Sabulao even made the news himself. In a CCTV footage, Sabulao asked 3 men riding a motorcycle to stop by a sidewalk along Aragon Street in Malate because they were suspected to be holduppers.
As Sabulao approached them, one of the men brought out a gun. Sabulao immediately fired his gun, injuring the gun holder and killing one of his accomplices. The two suspects who were still alive, however, got away.
The video spread on social media, and it got the attention of no less than the PNP chief himself. 
Dela Rosa conferred a medal of merit to Sabulao. The head of the PNP also gave him a glock 30 gun as a "grateful recognition of [his] invaluable contribution to the fight against illegal drugs and criminality."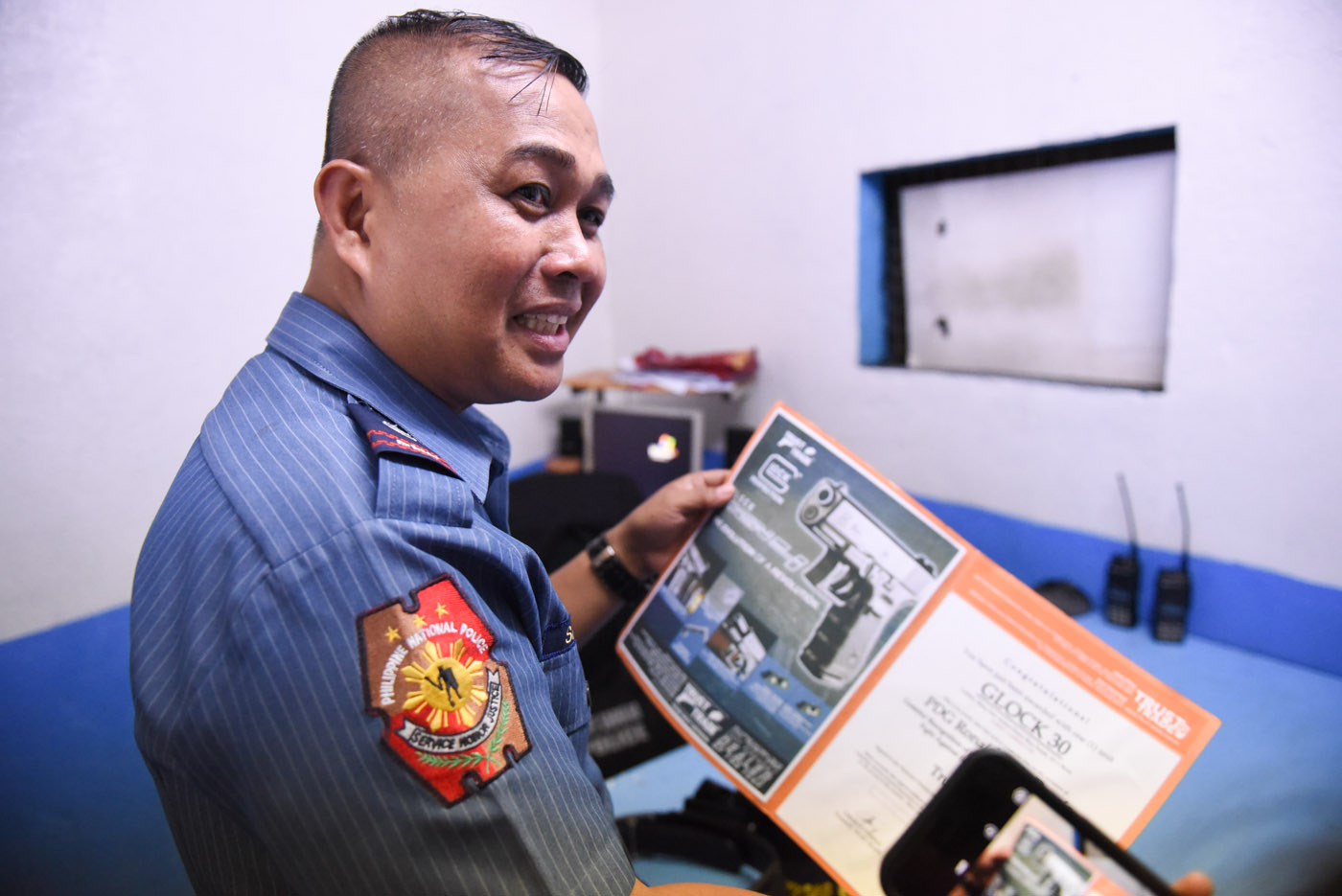 "It felt good because I wasn't expecting a reward. I was just doing my job."

'Nothing personal' 
Asked about the rising number of drug personalities killed, Sabulao said things will not be this way had people avoided drugs in the first place. 
"Siguro hindi tayo aabot doon kung ang tao naman is willing magbago, sumurender. Kaya nga kami dito, 'yung process natin sinusunod natin. Kasi nakahanda ang ating gobyerno na tulungan sila [kaya dapat] tumigil sila. Maging seryoso sila dun sa kanilang sinasabi na, "Di kami gagamit, 'di na kami babalik doon sa pagdodroga,'" he said. 
(We probably will not reach this point if people were willing to change, to surrender. That's why we follow the process. The government is ready to help them so the drug personalities should stop. They should be serious when they would say they are turning away from drugs, or not going back to drugs.)
He is frustrated at how some of those who have surrendered – if they do not end up dead – later go back to using or peddling illegal drugs. For Sabulao, the real victims are the families of drug suspects. 
"'Di nila iniisip 'yung magiging kinabukusan ng pamilya nila, ng mga anak nila. Ang nagsasakripisyo talaga ay 'yung mga anak ng tulak na namamamatay. Dapat iniwasan na ho 'yung drugs na 'yan," said Sabulao. 
(They're not thinking about the future of their families, of their kids. The children are really the ones who end up sacrificing. That's why drugs should be avoided.) 
He added that he is not bearing any grudges against drug pushers and users. 
"'Di ako galit sa mga addict kasi may chance pa 'yan para magbago…. Ang una lang muna nilang sinasaktan at sinisira ay ang buhay nila. Kaya ako, gusto ko silang tulungan," said Sabulao.
(I am not mad at drug addicts because they have a chance to change… The first thing they destroy is their own lives. That's why I want to help them.) 
Amid the controversies surrounding the war on drugs, he reminds Filipinos that the police force is there to protect them. Sabulao wants people to know that when a person dies, they get hurt too. 
"Tao lang din naman kami. Kung ano ang nararamdaman ng sa inyo eh ganun din naman kami. Nasasaktan din naman kami. Pero trabaho lang ho 'yan, walang personalan."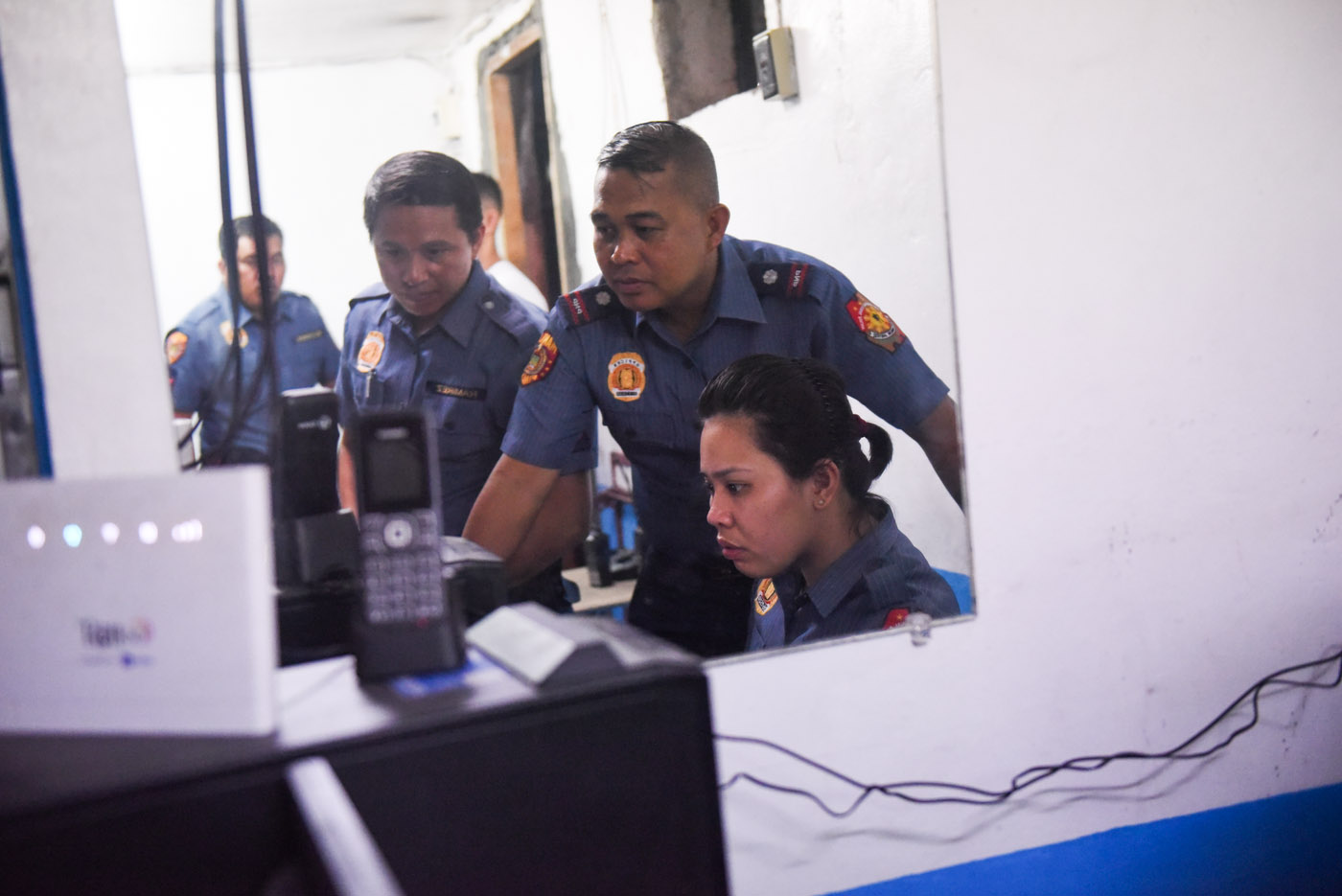 "We are humans, too. We feel what you feel. We get hurt also. But this is work, nothing personal."
– Rappler.com
$1 = P46.55