Kerwin Espinosa – the 'key' to uncovering the illegal drugs trade in Eastern Visayas, according to authorities – returns to the Philippines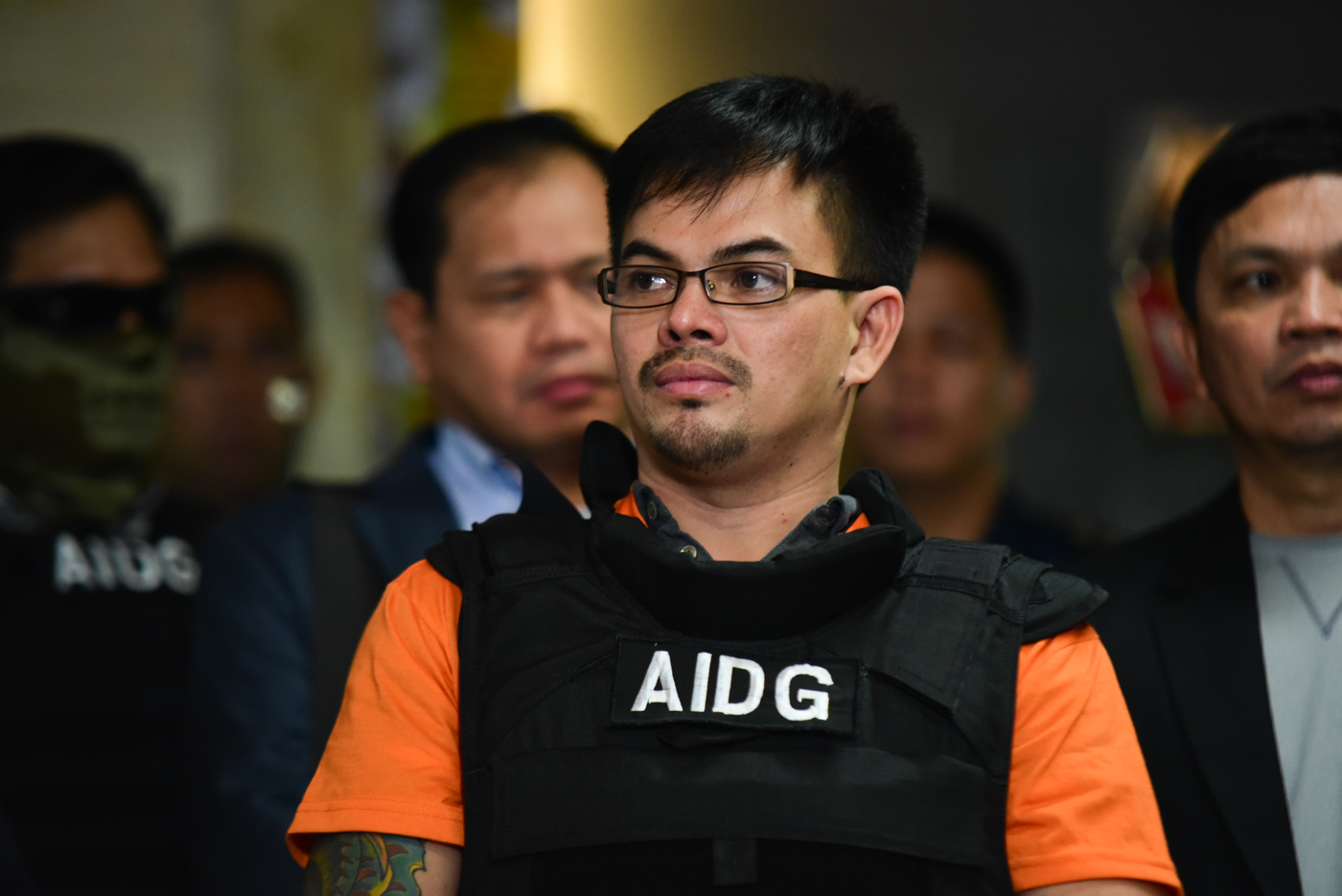 MANILA, Philippines – More than 3 months after President Rodrigo Duterte gave him two choices – surrender or face a "shoot on sight" order – alleged Eastern Visayas drug lord Kerwin Espinosa landed on Philippine soil on Friday morning, November 18.
Espinosa is at the center of one of the major subchapters in the Philippines' ongoing war on drugs. Son of slain Albuera mayor Rolando Espinosa Sr, he was among the first high-profile personalities named in Duterte's popular but controversial campaign against the illegal drug trade.
He arrived in the Philippines almost two weeks after his father was killed in a police operation inside a Leyte sub-provincial jail in Baybay City on November 5. He called it a rubout.
Under pressure from the government, the slain mayor had spilled the beans on his own son.
In an affidavit before the Albuera police, he said his son was a "big time drug lord" operating in the region. The mayor was privy to his son's operations and even delivered protection money to key politicians, police, and even media personnel, according to his initial affidavit.
While the younger Espinosa, speaking to ABS-CBN inside the plane that took him to Manila, admitted involvement in the illegal drugs trade, he debunked his father's claims, insisting he's not a drug lord. 
Here's what we know about Rolan "Kerwin" Espinosa, based on the affidavits executed by his late father, and public interviews with police officials and the older Espinosa himself.
Links to other drug lords
Kerwin supposedly sourced his drugs from "Lovely," who allegedly also supplied drugs to New Bilibid Prison (NBP) detainees Peter Co and Peter Lim. Co was among those injured in a brawl inside his prison cell that coincided with an attempt on the life of alleged drug lord Jaybee Sebastian – supposedly to keep him from testifying against Senator Leila de Lima. Initially described as a "riot", a police investigation showed that these were two separate incidents, and there was no evidence to prove De Lima's involvement.
Peter Lim, meanwhile, is an alleged drug lord based in Central Visayas. After Duterte named Lim as among the big-time drug lords in the country, the Cebu-based businessman called on him in Davao City to personally deny the allegation. The President told him to clear his name before the National Bureau of Investigation.
Mayor Espinosa said he met "Lovely" in November 2015 at an Albuera hotel owned by his son. But he also said in his affidavit that he had never met Lim and Co.
"I haven't met them personally but I have heard their names being mentioned by my son. Our personal driver and bodyguard, Marcelo Adorco y Labay, once told me that he had personally met this 'Peter Lim' in Thailand together with my son sometime in the year 2014 and he confirmed to me that indeed Peter Lim is an illegal drug supplier of Kerwin," said Espinosa in his affidavit.
"Lovely" had supposedly introduced Kerwin to Co because she was unable to pay her P10-million debt to the alleged drug lord. Kerwin reportedly then took over the illegal drug trade in Eastern Visayas.
Where did the drugs come from?
Mayor Espinosa supposedly sourced illegal drugs from Hong Kong and Thailand via a plane. The illegal drugs would be brought to Manila and transported to the Ninoy Aquino International Airport.
"From Manila, the drugs are brought by the personnel of either Peter Lim or Peter Co to a place in Bulacan and said items are then exchanged/switched along the 'Skyway' of the said place between the 'biyahedor' (Labay, the close-in bodyguard of my son) and a personnel of either Peter Lim or Peter Co on board a private vehicle," Espinosa said in the affidavit he executed before his death.
The haul would be brought to his son's "Makati Dela Rosa" home in Makati City. The drugs would then be brought to Ormoc City either through bus or private vehicle, according to the late mayor.
Around 30 to 50 kilos of shabu would be brought to Ormoc monthly for distribution throughout the region. A kilo of shabu prior to the war on drugs cost roughly P1 million.
In his supplemental affidavit, the late mayor Espinosa named several Ormoc-based personalities – from police, politicians, and even media – as recipients of "protection money" from his son.
He also named at least 50 persons who supposedly got money from his son, among them De Lima.
Speaking ahead of Kerwin Espinosa's return to the Philippines, De Lima said she would not be surprised if she was tagged as his protector.
Journey to Abu Dhabi 
The younger Espinosa has been on the run since late June, when he fled Albuera.
He first flew to Kuala Lumpur, Malaysia, then to Phuket in Thailand. He then went to Bangkok and Hong Kong before settling in Abu Dhabi.
Abu Dhabi police nabbed him in mid-October through an alert of the Philippine National Police (PNP) via Interpol. Kerwin had a standing warrant for violating the Philippines' firearms and illegal drugs laws.
Espinosa also underwent plastic surgery on his nose, according to Dela Rosa. But Espinosa said he had this done long before he was outed as a supposed drug lord. 
It was a Filipino worker in Abu Dhabi who tipped the PNP about the whereabouts of the alleged drug lord. According to an ABS-CBN report, Kerwin tapped the help of an ex-girlfriend working in Abu Dhabi so he and his family could stay there. The woman is supposedly the sister of one of his close-in security aides.
His wife and 3 young children stayed behind in Abu Dhabi but are expected to fly to the Philippines soon. 
Espinosa said Friday he is ready to "tell all" but claimed he wants to be placed under the Philippines' Witness Protection Program. Justice Secretary Vitaliano Aguirre II has offered to put the alleged drug lord under the program, provided he agrees to cooperate with probers looking into the illegal drug trade.
The younger Espinosa is now detained at Camp Crame, where he would be asked to execute his own affidavit detailing his transactions with personalities linked to drugs.
It won't be lost on him that just a few months ago, one suspected drug lord did the same – thinking that a signed confession would save his life. He was killed in jail. – Rappler.com