The proposal to change the Philippines' system of government – a cornerstone of President Duterte's campaign – may have widespread support in the House of Representatives, but may face challenges in the Senate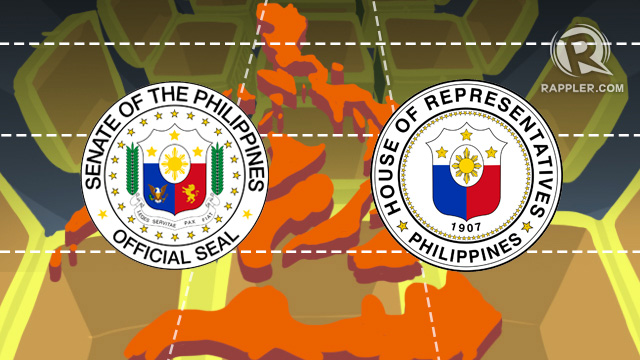 MANILA, Philippines – Although it is one of the cornerstones of President Rodrigo Duterte's campaign and government, the proposed shift to federalism faces a bleak future in 2017, according to lawmakers.
Federalism is such a complicated arena that Congress has to first settle several contentious issues before deciding on whether to change the system of government.
Who are in favor of or against the measure? What type of federal government should the country adopt? How would the Constitution be amended? 
Politicians, by practice, also take into consideration public sentiment in their decisions. Results of a Pulse Asia survey in August 2016 show that 44% of its 1,200 respondents nationwide oppose charter change while 37% are in favor of it.
With Duterte's still high approval ratings as political capital, it is expected that he would further rally his allies in Congress around this initiative. It's hardly a problem in the House of Representatives filled with newfound allies. But in the Senate, where the "supermajority" is only a name, Duterte's proposal might have an extra difficult time.
Strong support from the Speaker 
In the House, Duterte counts 267 congressmen as his allies. They are the lawmakers who are the President's party mates at the Partido Demokratiko Pilipino-Lakas ng Bayan (PDP-Laban) and the congressmen whose respective political parties signed coalition agreements with the ruling party.
It is no wonder that the committee on constitutional amendments easily approved the concurrent resolution calling both the House of Representatives and the Senate to convene as a constituent assembly. 
A constituent assembly is one of the 3 modes the 1987 Constitution provides to amend the charter. Under it, lawmakers turn themselves into a body to propose amendments, which will then be subjected to a plebiscite.
The two other modes are via a constitutional convention (Con-Con) – wherein a separate body will be created through popular vote or presidential appointments – and a people's initiative, which until now awaits an implementing law.
Duterte had initially preferred a Con-Con, but later opted for a constituent assembly because it is cheaper. 
Like his party mate Duterte, Speaker Pantaleon Alvarez is a longtime champion of federalism. Under Alvarez' leadership, the House has appointed 13 deputy speakers tasked to represent their regions as envisioned should the Philippines become a federal state.  
Alvarez even helped Malacañang draft the executive order that formed the Constitutional Commission (Con-Com), a council of experts and constitutionalists who will study possible amendments to the charter and submit their report that will serve as a guide for a constituent assembly.
"The cornerstone of the shift to federalism is clarity in the sharing of powers between the national government and the local states. If done prudently, it will clean up jurisdictional overlaps and duplication of functions, and harmonize tension points," said Alvarez.
"No more need to play tug-of-war with the national government. No more unnecessary strings from faraway Manila that strangle and suffocate," added the representative of the 1st district of Davao del Norte.
In his New Year message, Alvarez also said it is "only through federalism that we can break the barriers of a fatally flawed Manila-centrist government to one that grants political and economic autonomy to all of our country's regions."
The House constitutional amendments panel, chaired by Southern Leyte Representative Roger Mercado, has been consulting with various sectors since the latter half of 2016 to determine what amendments they prefer should the Philippines shift to federalism.
'Open' to debates
Unlike the Speaker who strongly believes federalism will happen under the Duterte administration, Majority Leader Rodolfo Fariñas remains open to any outcome that will come out after legislators – and even the public – debate on charter change. 
"Magkakaroon ng broad hearing here in both houses. Wala kaming timeline," Fariñas told Rappler. (There will be broad hearings here in both houses. We don't have a timeline.)
"You don't have a quick and fast solution here. So ide-debate 'yan (So we will put it up for debate)…. We have to put it on the table para mag-evolve (so it will evolve). Bandang huli, baka malaman natin hindi rin pala pupuwede, pero kailangan umpisahan mo ito (In the end, we might even find out that it is not possible, but you have to start somewhere)," said the Ilocos Norte 1st District representative. 
Still, Fariñas described federalism as the "highest kind of decentralization," citing how federal states become primarily responsible for their own laws, finances, development, infrastructure, culture, education, and industries. (READ: Federalism's implications on our legal and judicial systems)
The Majority Leader also fired back at critics of the constituent assembly, who said that lawmakers cannot be trusted to amend the 1987 Constitution without putting their interests ahead of the nation's. (READ: The problem with Con-Ass? Distrust of Congress) 
"Congress cannot be trusted? So we should close Congress already. Who would be appropriating funds if we cannot be trusted? How can we be interested in impeaching everybody if we cannot be trusted? Mga cynics na 'yung nagsasabi ng ganyan (The people saying that are cynics)," said Fariñas. 
"It is only Congress [which] can pass laws and can even make proposals to amend the Constitution. Whether constitutional convention or not, it's the call of Congress. If Congress cannot be trusted, then you don't trust the people because tao naman ang naglagay sa amin diyan eh (it is the people who put us in office)," he added. 
Uphill battle in the Senate?
While charter change and federalism may have a smoother track in the House, they are likely to face an uphill battle in the Senate.
The leadership is generally in favor of a shift to federalism, but the primary and secondary committees tasked to study charter change are known critics of President Duterte and members of the former ruling party, the Liberal Party (LP).
The main panel is the Senate committee on constitutional amendments and revision of codes headed by Senate President Pro-Tempore Franklin Drilon. His vice chairpersons are senators Francis Pangilinan, acting president of the LP, and Leila de Lima, Duterte's fiercest enemy. 
De Lima also leads the secondary committee – electoral reforms and people's participation.
Drilon has not yet publicly given his definite stand on the issue, while Pangilinan and De Lima have expressed doubts over Duterte's plans, especially after his statements favoring martial law.
"We are still undertaking hearings, but offhand, given the current political uncertainty as to other charter change issues, such as the proposal to remove constitutional safeguards on the imposition of martial law, I believe it would be unwise to proceed with amendments," Pangilinan told Rappler in a message.
It is too big a risk, De Lima said. The principle of checks and balances might be weakened once the Constitution is amended under the present government.
She added that safeguards against martial law and term limits could be removed under charter change.
"These are not ideal circumstances. It's the worst time to tinker with our Constitution. It's too big a risk, especially given the kind of power-hungry, abusive, and morally bankrupt leaders calling the shots these days. I cannot trust a regime with authoritarian and oppressive tendencies and propensity to engage in outright lies and deceptions to initiate changes in our Constitution," she said.
SC to decide constituent assembly voting?
Another contentious matter for senators is the mode of amending the charter, with some senators opting for Con-Con than constituent assembly.
For senators, there is a far more complex issue than the budget to be spent under each mode – that is, whether the two chambers would vote jointly or separately. As expected, the 24-member Senate is pushing for the latter so as not to render themselves irrelevant alongside hundreds of congressmen.
The 1987 Constitution is silent on whether the two chambers convening in an assembly should vote together or separately on the constitutional amendments.
Some senators have said the issue would likely reach the Supreme Court. Another high-ranking source, who refused to be identified, said the Senate would surely bring it up to the SC, especially if Duterte, known for flip-flopping on his statements, would change his mind – again.
As early as August 2016, Senator Panfilo Lacson said that he sees the SC's role pivotal in the process.
"'Yung [constituent assembly], sabi ko most controversial kasi hindi klaro sa 1987 Constitution, ang sinasabi dun, three-fourths votes of all the members. Hindi naman sinabing voting jointly or separately so magkakaroon ng debate and ang nakikita ko aabot at aabot sa Supreme Court so lalong matatagalan," the senator said in a television interview.
(Constituent assembly is most controversial because it is not clear in the 1987 Constitution. It says there, three-fourths of all members. It didn't say whether voting jointly or separately, so there will be a debate on that. I can see that it will eventually lead to the Supreme Court, so it will all the more be delayed.)
Senate Majority Leader Vicente Sotto III also said it would take a while before federalism sees fruition in the chamber. At the most, the measure would only be discussed but not approved.
"Malamang [constituent assembly], mabilis kasi at mura. Voting separately 'yun or nothing. Mahirap, hindi kaya mapasa in 2017," Sotto said in a text message. (More or less it's going to be constituent assembly because it's fast and cheap. It should be voting separately or it's nothing. It's going to be difficult. We can't pass it in 2017.)
Despite this, Senate President Aquilino Pimentel III – a staunch advocate of federalism – is confident that federalism would be approved in 2017.
"The mode is [constituent assembly] voting separately. There will never be voting jointly because we will never agree. Sure na this 2017," Pimentel said.
A lot of things and surprises could still happen, however, especially in the volatile political grounds of the Senate halls. (READ: Duterte and the Senate: Of allies, critics, and in-betweens)
The power to decide
But if there is one thing lawmakers are sure of, it is that they hold the power to amend the 1987 Constitution.
Public consultations and debates may be done, but only congressmen and senators are constitutionally mandated to pass the law that would make the Philippine shift to federalism. 
Fariñas said that not even the presidential appointees under the Con-Com have true leverage on what lawmakers, most of whom are Duterte allies, will ultimately decide. 
"They cannot decide that. It's us who will decide that. They can only recommend. The constitutional commission has no power. It will only study…. The commission, not even the people, can say, 'Don't change it (Constitution).' The people cannot vote on it directly," said Fariñas.
"It has to be us. They entrusted to us the power to decide how to amend the Constitution." – Rappler.com