This is AI generated summarization, which may have errors. For context, always refer to the full article.
The Metro Manila Accident Recording and Analysis System says there were 109,322 road crash incidents in the National Capital Region in 2016, a 14.33% increase over 2015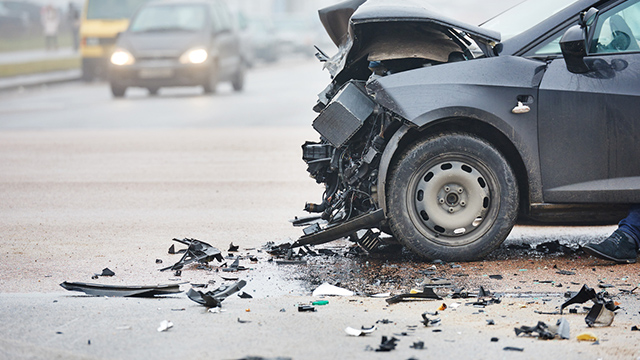 MANILA, Philippines – The Metro Manila Accident Recording and Analysis System (MMARAS) reports an average of 299 road crash incidents every day in Metro Manila.
MMARAS also says there were 109,322 road crash incidents in the National Capital Region in 2016, a 14.33% increase from the 95,615 incidents recorded in 2015.
Based on MMARAS reports from 2010-2016, human error has been the top cause of road crashes in Metro Manila. Human error, as defined by the MMARAS, refers to the different forms of negligence and physical challenges or distractions that a driver faces, leading to road crashes.
Examples of these are inattentiveness, counterflowing, bad turning, losing control of the vehicle, speeding up, and sudden stopping. 
In the 2016 MMARAS report, some human error examples included drivers suffering medical problems such as dizziness and asthma; drivers who are tired or were asleep at the wheel; and drivers under the influence of alcohol.
The top identified human error for fatal injury, nonfatal injury, and damage to property is driver error.  
Aside from human error, other top causes of road crashes in 2016 are vehicle defect and road defect.
The chart below breaks down the causes of road crashes reported under the MMARAS:
According to Richard Domingo, road safety unit officer of the Metropolitan Manila Development Authority (MMDA), 80%-90% of the causes labeled as "No Accident Factor" is human error. This makes human error responsible for 87% of fatal injuries, 85% of nonfatal injuries, and 87% of damage to property. Overall, 90% of road crash accidents are caused by human error. 
Fixing human error
Domingo explained how miscalculated movements or even vehicle malfunction caused by negligence also fall under human error.
"Gumagawa tayo ng mga engineering solutions pero ang kailangan natin solusyunan ay ang tao. Halimbawa, ang sabi nila 'pag inayos mo ang mga kalsada, bibilis lang [ang takbo ng] sasakyan….Ngayon, lalagyan ng speed limit. Pero kapag wala na 'yung bantay, wala na rin. Attitude rin kasi ng Pilipino na kung naka-adapt na sila sa system, lalaruin na lang nila," he said. 
(We create engineering solutions, but what we need to solve are people's attitudes. For example, when you widen the roads, cars will still speed. You implement speed limits, but people will not follow them if there are no traffic enforcers. It's also part of Filipinos' attitudes to try to game the system.)
Human error, Domingo said, is also influenced by drivers' behavior.
"Lahat ng feelings can affect your driving. Masaya ka, ma-affect driving mo. Malungkot ka, ma-affect driving skills mo (Feelings can affect your driving. Whether you're happy or sad, it will affect your driving skills)," he added.
Former Land Transportation Office spokesperson Jason Salvador cited several factors that affect road safety. "One is the road condition, the driver condition, and of course, the vehicle condition. We have to study all of this," he said.
The Global Road Safety Leadership Course lists different factors that influence road user behavior: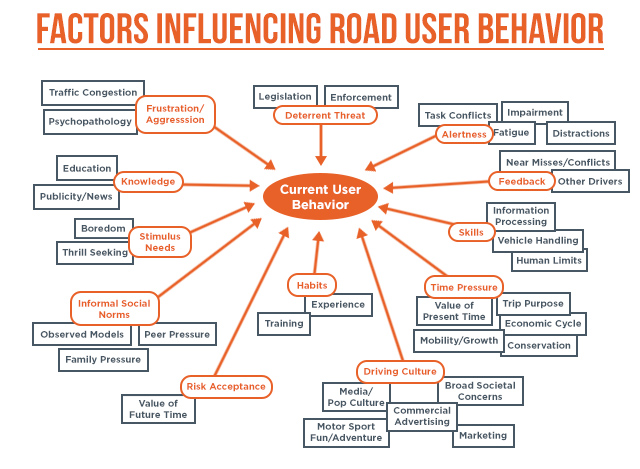 Words inside the orange chart show the main and most common factors that influence current road user behavior followed by the more specific factors in black boxes that contribute to the direct influences to road behavior.
Being aware of these factors is important to note when understanding data on road crashes because these can explain "why" road incidents occur, aside from the "who," "what," and "where."
Academics Marc Green and John Senders explain this further in their research on Human Error in Road Accidents. They point out 3 main reasons for road crash incidents:
1. Perceptual error that is below the threshold for seeing. Examples of these are if the driver is blinded by glare, light is too dim, or pedestrians crossing the road cannot be easily seen because their clothes had low contrast.
2. When the driver could have detected critical information, but failed to notice these because his attention was focused elsewhere. This can be seen in instances when drivers would claim not to "see" the visible pedestrian or car, or how they would not notice the red lights or traffic signs.
3. When drivers correctly process critical road information but fail to react or respond accordingly. One example is a driver who reacts to skidding on the road by turning away from the skid. Another example would be when they make the correct decision yet fail to carry it out ("I meant to hit the brake, but I hit the gas").
Road violations
The lack of discipline among drivers is also reflected in the number of traffic violations they commit on the road.
In 2016, the MMDA recorded 250,219 apprehensions in Metro Manila, while the Land Transportation Office (LTO) recorded 710,759 traffic violations out of more than 5 million licensed drivers nationwide.
This is a 22.98% increase from the 577,958 traffic violations recorded in 2015 and 19.95% from the 208,602 apprehended vehicles in 2015.
2016 LTO records show that the top 3 violations are driving without carrying the certificate of registration or receipt, driving without a license, and reckless driving.
Apprehensions from MMDA statistics also include failure to use the seatbelt, not wearing a crash helmet, overspeeding, driving under the influence of liquor, and using mobile phones or handset radio.

The accumulation of these violations and factors contribute to the 426 fatal injuries and 16,416 nonfatal injuries recorded in Metro Manila in 2016.
Of those fatally injured, 43.5% are vehicle drivers, 43.72% are pedestrians, and 12.78% are passengers.
Drivers are also the most prone to non-fatal injuries at 49.02%, followed by passengers and pedestrians at 27.45% and 23.53%, respectively, in Metro Manila last year. (READ: Road deaths in PH: Most are motorcycle riders, pedestrians)
To curb road crashes, Domingo suggests improving public awareness through education, decreasing the number of private vehicles by improving the mass transit system, and most importantly, having road discipline.
The MMARAS report also included the MMDA's commitments to reduce road crashes, such as improving sidewalks for pedestrians; installing various traffic aid like signages and see-through fences; applying lane markings for vehicles and pedestrians; installing steel barriers along sidewalks to separate vehicles from pedestrians; and strict enforcement of road rules. – Rappler.com