This is AI generated summarization, which may have errors. For context, always refer to the full article.
The Iloilo city government temporarily suspends the enforcement of the speed limit ordinance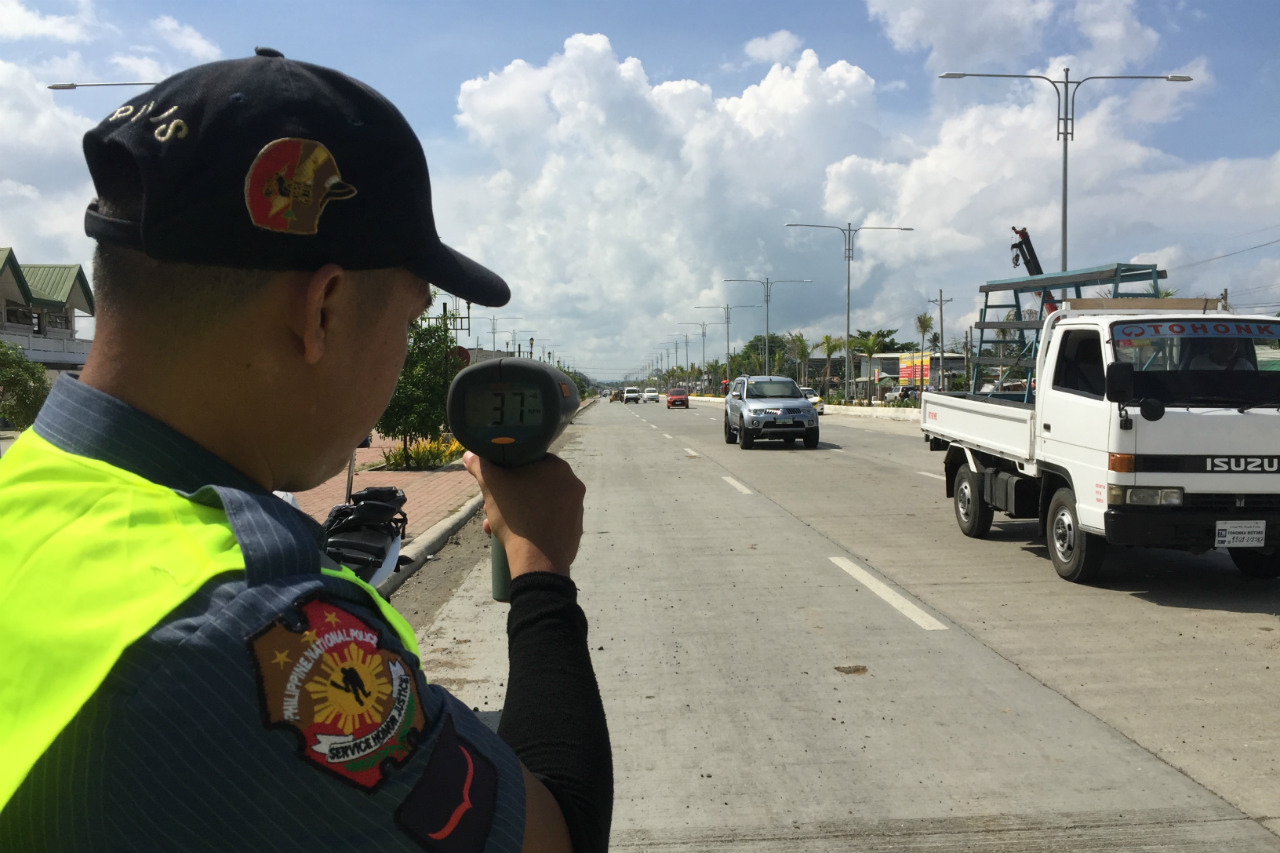 ILOILO, Philippines – The usual drive from Pavia town to Iloilo City takes around 30 to 45 minutes. But on June 1, it took longer than usual for motorists.
On June 1, the city government of Iloilo enforced Ordinance No. 2015-283 or the Speed Limit Ordinance. (READ: What laws help keep road users safe in the Philippines?)
"I was pulled over by a member of the traffic management personnel along Barangay Sambag, Jaro, for my speed registered at 61 to 62 km/hr. In my speedometer, I was speeding at the usual 60 km/hr," said April Sobrevega.
"I was confident, driving on my usual 60 km/hr along the highway, being in the fast lane," she added.
Sobrevega is among the thousands of motorists who pass through the 5.84-kilometer Senator Benigno Aquino Sr Avenue, commonly known as Diversion Road, from their homes to various destinations.
However, she lamented that she did not know about the implementation of the ordinance. She did not hear about it from the news or from other sources.
From June 1 to 15, there were 495 first-time offenders apprehended under the speed limit ordinance. (READ: IN NUMBERS: Road crash incidents in the Philippines)
Data from Philippine Statistics Authority in 2014 showed that 733 people died from motor vehicle crash incidents in Region VI.
If population is taken into account, Western Visayas is the most affected region in the island of Visayas in terms of road crash deaths.
Late implementation
The ordinance was passed June 2, 2015, but was only implemented two years later.
On the first day of enforcement, 40 motorists were apprehended for going over the speed limit. (READ: What's lacking in our road safety laws?)
City Administrator Hernando Galvez explained that the delay in implementation was caused by lack of equipment and trained personnel.
"The City Government's inability to enforce the legislation was due to lack of proper equipment like speed guns, deficient support materials like speed limit signages, and lack of trained field personnel," Galvez said.
Category

Name of Highway, Thoroughfare,

Street, or Road

Maximum allowable

speed (km/hr)

Automobiles & motorcycles

Trucks and buses

1. Major roads and highways

Gen. Luna St to Diversion Rd up to Brgy Ungka Jaro

60

50

Circumferential, Radial and Coastal Roads

60

40

2. City roads

Brgy Sambag, Jaro, to Fort San Pedro and from Iloilo Provincial Capitol up to Brgy Mohon in Arevalo.

40

30

3. Other roads

Highways, streets, or roads whether national or local

30

20
The speed limit ordinance was passed "to regulate speed limit due to the numerous road incidents that have resulted to physical injuries, damage to property, and even death."
The ordinance set a maximum of 60 km/hr on major roads and highways while the minimum is 20 km/h for other roads.
Violators face the following penalties and jail time:
First offense: P200 and/or imprisonement of 1 day minimum to 2 months
Second offense: P500 and/or imprisonment of 2 months and 1 day minimum to 4 months
Third offense: to pay P1,000 and/or imprisonment of 4 months and 1 day minimum to 6 months maximum, at the discretion of the court
Sobrevega, a road crash survivor herself, said more information should have been disseminated before the ordinance was enforced.
Many road users also complained about the lack of early warning signs, substandard sizes or poor visibility of speed limit signages, and the absence of traffic enforcers at night among others.
"Ensuring that roads are safe requires a mix of intervention from the local government like proper determination of fast lane and slow lane, appropriate information dissemination drive among the public, and supporting enforcement with proper facility like signages that will help remind vehicle owners to observe the speed limit," Sobrevega said.
Is speeding the culprit?
Data collected by the city government showed that there are a total of 3,983 "traffic-related accidents" from January 2016 to May 2017.
But the reports, however, could not help point out which incident resulted from speeding.
"Physical Injury are cases involving vehicles and persons while damage to property involve vehicles and another vehicle or properties," explained Susan Bedonia from the Records Section of the Iloilo City Police Office-Traffic Investigation and Enforcement Unit (ICPO-TIEU).
Traffic violation records of the city do not identify whether speeding is the cause of a road mishap as well. (READ: Road crash numbers: Looking at the data sources)
From January 2015 to April 2017, the Transport Management and Traffic Regulation Office (TMTRO) of the city recorded a total of 97,248 traffic violations.
But the current city government is addressing the issue now through the adoption of an intelligent traffic system (ITS), said Galvez. 
The ITS will include related legislation on traffic, procurement of equipment on projects, as well as other interventions.
"We are mindful of public safety yet we have recognized the complexity of interventions that are needed and we are taking one step a time to address it," said Galvez, who is also a lawyer.
On June 20, the Iloilo City Council issued an order to temporarily suspend the implementation of the speed limit ordinance.
This was done to give way to amendments and revisions set by the legislation. Considerations for amendments include the following:
Review of speed limit set on different category of roads
Conformity of size of speed limit signages to international standards
Conduct public hearing
Some of these may address the concerns of pedestrians, commuters, and motorists but it seems road safety in the city has a long way to go. – Rappler.com
Learn more about Filipinos' safety on the road by visiting the Road Safety Awareness microsite.