This is AI generated summarization, which may have errors. For context, always refer to the full article.
The Land Transportation Franchising and Regulatory Board has stopped processing new applications for TNVS permits since July 2016. What exactly are the requirements for these permits?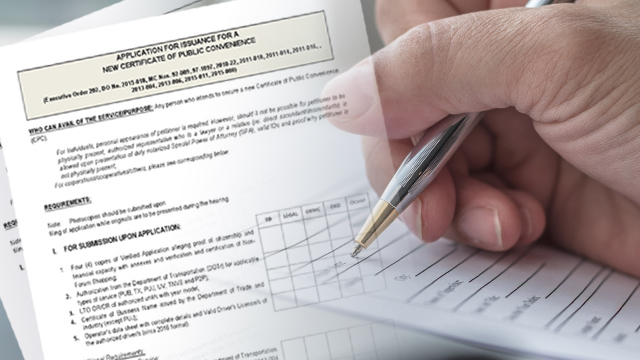 MANILA, Philippines – The Land Transportation Regulatory Franchising Board (LTFRB) recently raised issues against Grab and Uber drivers over franchising permit violations.
What does the LTFRB need from these transportation giants?
It all started in July 2016, when the LTFRB, through Memorandum Circular No. 2016-008, suspended the acceptance of new applications for transportation network vehicle service (TNVS) permits of transportation network companies (TNC) like Uber and Grab.
The Department of Transportation (DOTr) said the circular was issued due to the rising volume of TNVS applications and the government review of the fare scheme.
On July 23, the Department of Transportation (DOTr) released a statement on its Facebook page and cited issues of "accountability of TNCs to passengers and operators alike, and the problem of fare surging scheme."
"Equally important issues for compliance is to make sure that TNCs and TNVS contribute their fair share of taxes to the government, and for TNVS to have the required garages to avoid illegal parking on streets to prevent traffic congestion," the DOTr said.
TNVS permits are legal papers given to accredited TNCs.
These are the qualifications for aspiring TNVS applicants prior to the moratorium: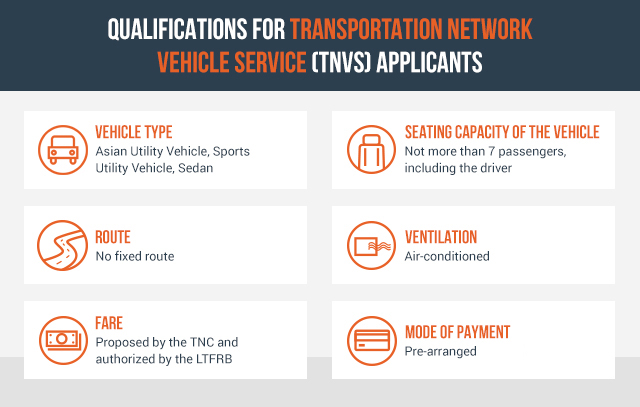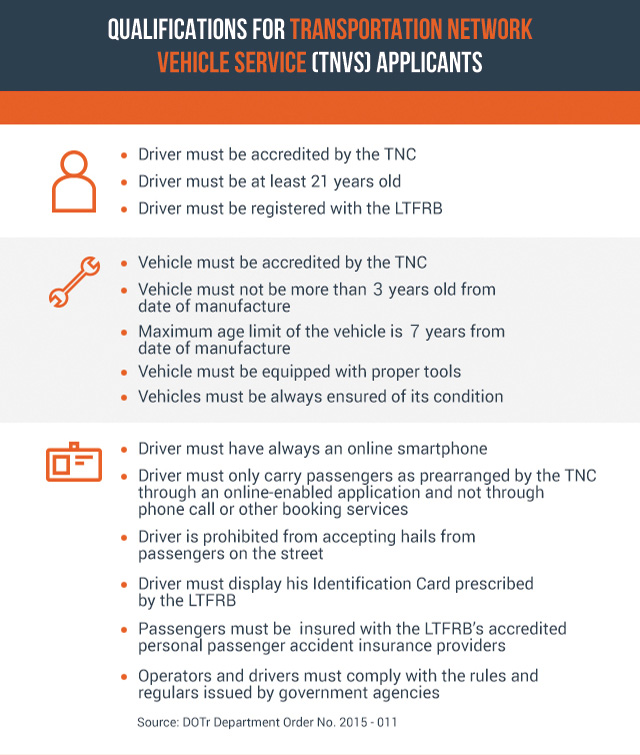 LTFRB gives two kinds of permits to TNVS drivers: the provisional authority (PA) permit valid for 45 days, and the Certificate of Public Convenience (CPC) franchise valid for one to two years. (READ: LTFRB fines Grab, Uber P5M each for permit violations)
The requirements for a CPC permit are as follows:
New Certificate of Public Convenience by Kimiko Sy on Scribd
 A CPC permit usually takes more time to process. While waiting for the CPC permit, LTFRB gives out a PA permit which is processed just for 7 to 10 days.
Here is the cost for filing permits:
Filing for a CPC – P520
Renewal of CPC – P520
Filing for motions (PA permits, motions for reconsiderations, etc) – P260
Renewal for filed motions –  P260
Filing for a motion to get a PA permit requires a motion for extension of provisional authority to be executed by a lawyer, OR/CR from LTO Registration, receiving copy of the application for CPC, government-issued ID, special power of attorney (for a representative), and the receipt of the payment for motion.
No more permits
Since the suspension last year, LTFRB has not processed a single application for TNVS permits. However, Grab and Uber have admitted that 80% of their drivers are driving without either a provisional authority (PA) permits or a certificate of public convenience (CPC) franchise.
Those whose status have been held following last year's suspension order can continue to file for PA permits until their CPCs are released. 
The LTFRB's latest estimate is that of the 42,000 Grab and Uber drivers,15,400 at most have adequate papers to operate.
Discussions of Grab and Uber's suspensions raised numerous complaints from commuters, especially those taking metered taxis. (READ: #CommuterWatch: 'Choosy' taxi drivers and other transport woes)
The suspension dilemma is also heavily reflected on 50,000 Grab and Uber drivers operating around the country. "Hindi ko naman po alam na kailangan naming kumuha ng ganoon sa LTFRB kasi hindi malinaw ang instructions nila sa amin, ang hirap po kasi lahat kami mawawalan ng trabaho," said Grab driver Dodie Cabatu.
(I didn't know that we had to get [those forms] from the LTFRB because their instructions weren't clear to us. It's hard because a lot of us will lose our jobs [because of this])."
Grab and Uber have filed separate motions for reconsideration. Pending the LTFRB decision on the MRs, the TNCs' undocumented drivers can continue their services. The LTFRB has also ordered the Grab and Uber to deactivate drivers who registered with the TNCs after June 30 this year. – with reports from Hannah Mallorca/Rappler.com