This is AI generated summarization, which may have errors. For context, always refer to the full article.
EXCLUSIVE: The two contracts obtained by Rappler acknowledge that the Chinese citizen 'is aware of the sensitivity of the information he may have access to'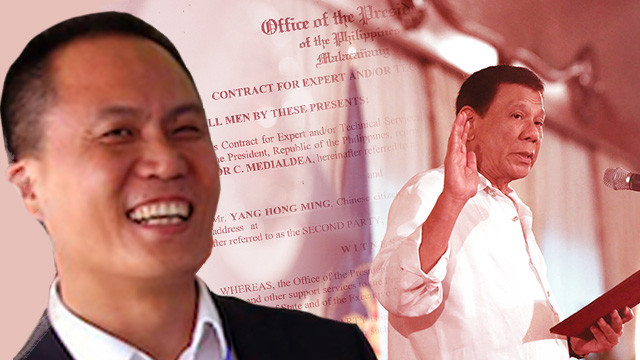 MANILA, Philippines – Though President Rodrigo Duterte denied Chinese national Michael Yang was his economic adviser, records from Malacañang show the Palace entered into two contracts with Yang, giving him the title of "Economic Adviser to the President."
The two contracts, both titled "Contract for Expert and/or Technical Services," were obtained by Rappler from the Malacañang Records Office (MRO) through the Freedom of Information system, on Monday, November 5.
The earlier contract states that Yang, identified in the document by his Chinese name Yang Hong Ming, is "contracted as Economic Adviser to the President for the period January 1, 2018 to June 30, 2018."
A second contract gives Yang this same designation from July 1, 2018 to December 31, 2018.
These documents show that while Duterte denied Yang was his economic adviser, Malacañang in fact even renewed Yang's contract as economic adviser.
The second contract, which renewed Yang's title, was signed by Yang himself and Executive Secretary Salvador Medialdea only last August 31 – or a little over a month before Duterte's denial.
Duterte denied Yang was his economic adviser during a press conference on October 9, when he said, "Cannot be, because he is a Chinese."
What's in the two contracts? The first contract bears no date when it was signed and when it was notarized. It, however, has the signatures of Yang and then-senior deputy executive secretary Menardo Guevarra. Guevarra is now justice secretary.
The original copy was received by the MRO on March 7, 2018, as indicated by a stamp on the upper left corner of the first page of the document.
It states that Yang, referred to as the "Second Party," has agreed to "devote his technical knowledge, training and skill in the employ of the First Party (Office of the President as represented by Guevarra) as Economic Adviser to the President, in the Office of the President not presently undertaken by any regular personnel of the First Party."
Yang is to be given compensation of "one peso (P1.00) per annum, chargeable against the Maintenance and Other Operating Expenses of the Office of the President."
Yang, states the contract, also "agrees to observe the same decorum as that expected of regular employees and submits to be bound by the Office and Civil Service rules and regulations, and that any violation merits appropriate disciplinary action."
Despite the provision of compensation, the contract states that it "does not create an employer-employee relationship" between Malacañang and Yang.
The second contract is practically identical to the first, except it was Medialdea, not Guevarra, who signed in behalf of Malacañang. It was received by the MRO on September 4.
Both documents identify Yang as a Chinese citizen.
Guevarra, in a text message to Rappler, said "there is no prohibition" against the contract with Yang.
"It's a purely advisory function," he said.
He said he does not recall signing the contract.
Is this legal? The documents sound like a consultancy contract or contract of service, according to a former top government lawyer.
The Government Procurement Reform Act (RA 9184) allows government agencies to hire foreign consultants but requires public bidding for it.
"There is no prohibition for a foreigner to be a consultant to any government agency provided it is reasonable and necessary, following Commission on Audit (COA) rules," former Civil Service Commission chairperson Corazon Alma de Leon said in a message to Rappler.
However, COA rules state that hiring a foreign consultant must be justified. For instance, in 2015, it called out the Department of Trade and Industry for hiring a foreign consultant. The DTI, said COA, should have shown documents proving that no Filipino consultant was capable of providing the services being offered by the foreign national, according to a PhilStar report.
In the Implementing Rules and Regulations of the procurement law, there is such a thing as "highly technical consultant." This refers to individual consultants hired to do work that is "highly technical or proprietary" or is "primarily confidential or policy determining, where trust and confidence are the primary consideration…"
The term of such consultants must be for a maximum of 6 months. Yang's designation as economic adviser was set to last for 6 months in both contracts.
But for Yang to have been tapped as consultant without public bidding, the Bids and Awards Committee (BAC) should have issued an approval based on sufficient justification that the hiring of Yang met specific requirements.
Government Procurement Policy Board guidelines, for instance, state that foreign consultants may be hired "if local consultants do not have the sufficient expertise, capability and capacity to render the services required under the project."
Law professor Tony La Viña, meanwhile, said foreign consultant services are usually tapped by the government on a per-project basis, not for a general role.
Yang's contract with  Malacañang gives him the title of "economic adviser," which is not common for contracts with consultants.
"A consultant for a project, yes [allowed], but not like an overall adviser," said La Viña.
The procurement law defines consulting services this way:
Consulting Services – refer to services for Infrastructure Projects and other types of projects or activities of the Government requiring adequate external technical and professional experts that are beyond the capability and/or capacity of the government to undertake such as, but not limited to: (I) advisory and review services; (ii) pre investment or feasibility studies; (iii) design; (iv) construction supervision; (v) management and related services; and (vi) other technical services or special studies.
What kind of technical expertise does Yang provide Malacañang that no Filipino can provide? The contracts did not mention this.
Consultant or public officer? But what's clear is the 1987 Constitution requires public officers and appointees to pledge allegiance to it. 
Section 9 of the Constitution states: "All public officers and employees shall take an oath or affirmation to uphold and defend this Constitution."
The Administrative Code also says, "Public officers and employees owe the State and the Constitution allegiance at all times." The code deems Philippine citizenship for public officers as critical, since it adds that "any public officer or employee who seeks to change his citizenship" will be "dealt with by law."
But Yang is a Chinese national and thus likely did not pledge allegiance to the Philippines' charter.
Is Yang a mere consultant or a public officer? His title of economic adviser to Malacañang makes it sound like he belongs to the "Presidential Assistant/Adviser System," which typically covers appointive posts.
For instance, musician and businessman RJ Jacinto is "Presidential Adviser on Economic Affairs and Information Technology Communications." Allen Capuyan is "Presidential Adviser for Indigenous Peoples' Concerns, and Jose Maria Hernandez is "Presidential Adviser for Southern Tagalog."
All 3 are listed in the Office of the President's directory of officials. All 3 were appointed by Duterte. Yang's name, meanwhile, is not in the OP directory.
Yang, however, uses the Malacañang seal on his calling cards, as Rappler first reported. He also has a lavish Makati office devoted to his role as presidential adviser on economic affairs.
What's the definition of a public officer? RA 3019 (Anti-Graft and Corrupt Practices Act) states that a public officer "includes elective and appointive officials and employees, permanent or temporary, whether in the classified or unclassified or exempt service receiving compensation, even nominal, from the government."
Yang clearly receives compensation, though just one peso, from Malacañang.
The Revised Penal Code, meanwhile, defines a public officer as, "any person who, by direct provision of law, popular election or appointment by competent authority, takes part in the performance of public functions in the Government of Philippines, or performs in said Government or in any of its branches public duties as an employee, agent or subordinate official, of any rank or class."
The Administrative Code defines public officer as a person whose duty "involves the exercise of discretion in the performance of the functions of the government. When used with reference to a person having authority to do a particular act or perform a particular function in the exercise of governmental power, officer includes any government employee, agent or body having authority to do the act or exercise that function."
What Yang's role means for Malacañang independence from foreign influence. Senator Leila de Lima, a fierce critic of the President's, has emphasized the conflict of interest arising from Yang's engagement as economic adviser, given that he is a Chinese citizen.
His supposed appointment puts into question Malacañang's independence from foreign control.
"The independence of the State from foreign control necessitates that the questionable citizenship of a presidential adviser be authenticated, and the nature and scope of his influence over foreign policy be fully disclosed," she said in an October 19 press release, which also called on the Senate to probe Yang's "official engagement" with the government.
De Lima particularly stressed the need to determine "the extent of his (Yang's) access to sensitive state information," read the press release.
Malacañang's contracts with Yang in fact mention such sensitive information. 
"The Second Party (Yang) is aware of the sensitivity of the information he may have access to and therefore expressly warrants and agrees, that he shall not, during the existence and after the termination of this Contract, disclose or reveal to any authorized person or any other entity, foreign, or local, confidential work-related information gained or entrusted to him by the First Party (Malacañang)," the contracts say. – Rappler.com