Pollsters have said that survey results a year before cannot predict who will win as president in 2016 as it is way too early, but campaign strategists and media handlers will be watching very closely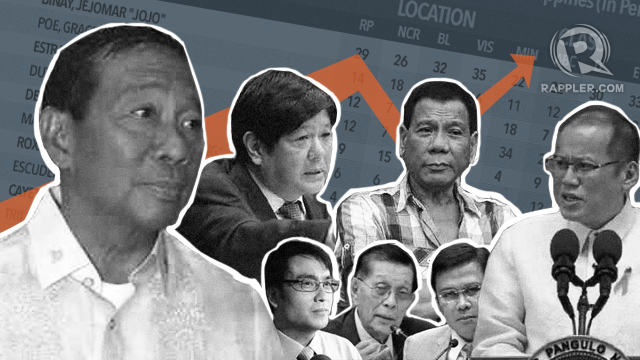 MANILA, Philippines – A year since presidential preferences among voters were tracked by polling firm Pulse Asia, Vice President Jejomar Binay appears to be significantly ahead of other presidential contenders.
After dipping to his lowest at 26% last November 2014, the Vice President's numbers picked up in the latest March  1-7, 2015 survey, hitting 29%. This is, however, still far from his highest rating of 41% recorded in the June 24-July 2, 2014 poll.
In that same survey, the rest of the other presidential candidates were clustered below double digits, except for Senator Grace Poe who registered 12%.
At the time of the June-July survey, the 3 senators charged with plunder in relation to the pork barrel scam were arrested – Juan Ponce-Enrile, Jinggoy Estrada, and Bong Revilla. The Supreme Court also declared some acts related to the Development Assistance Program unconstitutional. All these events did not have any negative impact on Binay.
By the next survey period, however, September 8-15, 2014, Binay drastically dropped by 10 percentage points to 31%. It was during this time that the Senate had ongoing investigations into the alleged overpriced Makati City Hall Building II. Reports of Binay receiving kickbacks from various projects when he was mayor of Makati made a dent on voter preferences.
An apparent beneficiary of Binay's drop was Interior Secretary Mar Roxas who registered 13%, the very first time he obtained a double-digit rating. This also marked Roxas' highest increase (6 pecentage points) in the entire one-year period.
The next survey period, November 14-20, 2014, coincided with, among other key events, the continued Senate investigation into Binay's alleged corruption, the cancellation of his debate with Senator Antonio Trillanes IV, and revelations by former Makati vice mayor Ernesto Mercado about Binay receiving condominium units in exchange for tax or permit concessions.
These events pushed Binay further down in the surveys as he got an even lower 26% rating. But Poe rose above the heap during this same period, recording her highest increase of 8 percentage points, resulting in her 18% rating. Poe's rise however brought down Roxas, who returned to single-digit 6%, reflecting a drop of 7 percentage points. The survey period also coincided with the one-year anniversary of Super Typhoon Yolanda (Haiyan), which reminded people about inadequate government response and leadership.
(For those on desktop, track the ratings of each of the possible presidential candidates by hovering over the dots in the interactive chart below.)
Sole gainers
By March of this year, the only gainers compared to the previous survey were Binay, former president Joseph Estrada, and Senator Ferdinand "Bongbong" Marcos Jr – all belonging to the opposition.
The March survey mirrors public dissatisfaction with the January 25, 2015 Mamasapano operation that left 67 dead and the future of the Bangsamoro Basic Law uncertain.
Described as the biggest political crisis to hit President Benigno Aquino III, even worse than the DAP controversy, Mamasapano gave Aquino his lowest public approval and trust ratings ever. As Pulse Asia's research director Ana Maria Tabunda put it, "This is the first time the President has posted non-majority national approval and trust ratings" in the surveys since he was first rated as president in October 2010.
His approval rating dove from 59% in November 2014 to 38% in March 2015, while his trust rating plunged from 56% to 36%. (READ: LOOKING BACK: How Aquino fared in past surveys)
Roxas, too, dropped further in March to 4%, even lower than where he started out a year ago at 6%.
In a span of a year, compared to March 2014, Binay has dropped the most (from 40% to 29%), followed by Senator Francis "Chiz" Escudero (9% to 4%), and Roxas (from 6% to 4%). Nominal drops were recorded by Poe (15% to 14%), Senator Miriam Defensor-Santiago (10% to 9%), and Senator Alan Peter Cayetano (from 4% to 3%). Only Marcos rose from 5% to 6%.
Duterte
Davao City Mayor Rodrigo Duterte, who appeared in the list of voter preferences for president for the very first time registered 12% in this year's March survey. That rating was never achieved by other contenders long visible on the national stage such as Marcos, Escudero, and Cayetano.
A year ago, a Pilipinas 2016 Duterte Movement led by Davao City village captains collected 4 million signatures to convince Duterte to run. He has played coy about whether or not he will seek the presidency but has been going around the country on a "listening tour" to talk about the merits of federalism, which the Partido Demokratiko Pilipino-Lakas ng Bayan (PDP-Laban) has also been pushing for. Duterte recently re-joined PDP-Laban, which could be his vehicle for the presidency if he decides to pursue it.
The long-time mayor of Davao City known to rule with an iron-fist and associated with vigilantes who neutralized suspected criminals and drug-pushers, equalled the rating of Estrada in that same survey. He reigns in his bailiwick, Mindanao, where he has surpassed Binay and Estrada as the top preferred presidential candidate of Mindanao voters.
Starting with the June-July 2014 survey, Estrada has remained constant, keeping a 9%-10% rating that rose only in March 2015 to 12%. Like Duterte, this has landed him on the 3rd spot of voter preferences, the closest Estrada has ever been to No. 1.
Too early
Pollsters have said that survey results a year before cannot predict who will win as president in 2016 as it is way too early.
Anything can happen in a span of a year, and the memory of what happened in 2010 can only be a stark reminder of how true this is – when Roxas was defeated by Binay for the vice presidency just when Roxas thought he had it in the bag. And when Aquino, too, snatched the presidency from Roxas on account of the demise of his mother, former president Corazon Aquino. And when Aquino himself warded off former Senate president Manuel Villar Jr, who had an arsenal of funds.
The succeeding survey results in the run-up to 2016 will be monitored closely by both campaign strategists and media handlers. They will likely watch out for answers to the following:
Has Binay survived the worst of the corruption scandals or is the worst yet to come?

Does the rise in the March 2015 survey mark the start of an upward trend for Binay?

At what point will Poe's volatility stabilize? When will it be too late?

Will Estrada seek the presidency again?

If Estrada decides not to run, who will inherit his core supporters – Binay or Poe, or someone else?

Will Duterte be the dark horse in the 2016 elections? 

Will Mindanao, the country's second largest island group, be a factor in the elections, especially if the Bangsamoro Basic Law becomes such a polarizing issue?
At this point, anyone's guess is as good as everyone else's. – with Reynaldo Santos Jr and Michael Bueza/Rappler.com
Share your thoughts and your forecasts in the comments section below.