People close to the President continue to evade accountability for using smuggled vaccines as the government struggles to build public confidence in its vaccination drive
As the government finally kicked off its official COVID-19 vaccination drive, a controversy that President Rodrigo Duterte would rather be swept under the rug continues to bug Malacañang.
Questions about the illegal vaccinations of people close to the chief executive were still pelted at Presidential Spokesman Harry Roque, even as he declared a "successful" rollout of the country's first vaccines.
"What would happen, sir, to the people who shipped and got them (vaccines) illegally? Will the government be running after them?" asked CNN Philippines' Triciah Terada on Monday, March 1, the first day of the government's official vaccination program.
"Well, I don't know quite frankly," was Roque's response.
The day before, Duterte himself spoke of trying to get a "personal" supply of a Chinese vaccine for him and his family.
"Ako, naghingi ako, personal. Wala silang stock na ano eh. Naghingi ako para sa pamilya ko, pati sa akin," he said after welcoming the arrival of donated Sinovac vaccines from China.
(Me, I asked for it, personal. They don't have stock. I asked for my family, also for me.)
Only a week before, Duterte's former special envoy to China, Ramon Tulfo Jr, bared that he himself had gotten vaccinated with jabs from Sinopharm. Members of the Presidential Security Group (PSG), a "Cabinet member," a senator, and several other government officials had gotten Sinopharm vaccines from the same source, he said.
Tulfo further claimed that Duterte had personally asked a Sinopharm representative to get vaccines for him and his family and that he would even write to the Chinese government just to make it happen.
Opaque Malacañang
The only other issue Malacañang has been obstinately opaque about is Duterte's unpublicized statements of wealth – or his Statement of Assets, Liabilities, and Net Worth (SALN). ([PODCAST] Duterte's secretive Malacañang)
Despite pummeling from news anchors, opposition lawmakers, and even concerned medical frontliners, the Palace has kept mum about an issue Duterte appears particularly secretive about.
"As far as the PSG is concerned, the President has been clear, there should be no questions anymore about the PSG because the PSG acted out of self-defense and out of necessity, full-stop," said Roque on February 25.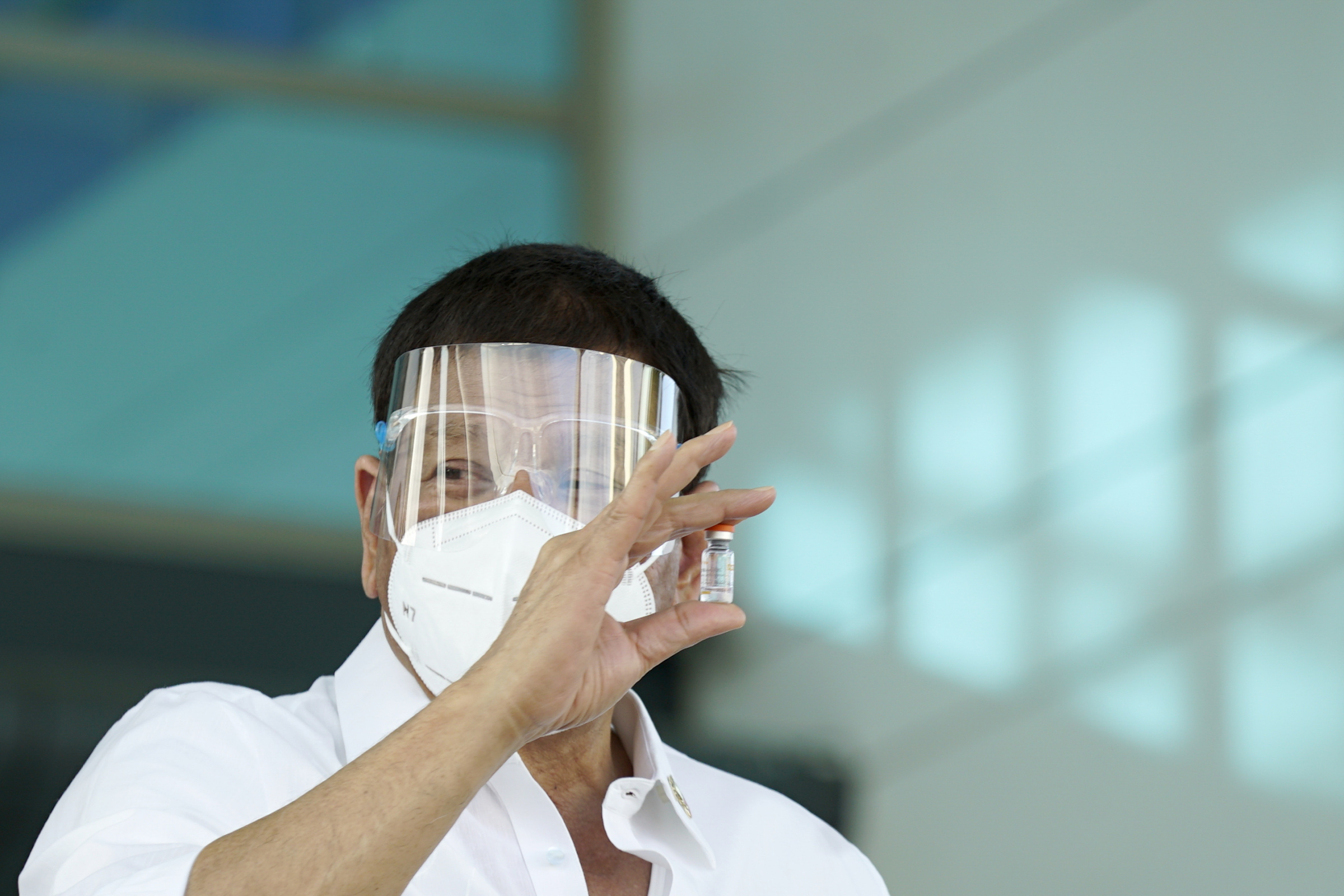 It's clear Roque is just trying to be consistent with the President's gag order to the PSG. Duterte has ordered PSG chief Brigadier General Jesus Durante not to divulge any information about the donation of unregistered Sinopharm vaccines, which Food and Drug Administration (FDA) Director General Eric Domingo himself said, violated laws.
Roque tried to downplay Duterte's shielding of his body guards by saying they would cooperate in probes by agencies of the executive branch, like the FDA and National Bureau of Investigation. But the PSG has also resisted the investigation of the FDA. In Domingo's words, the regulatory agency faces a "blank wall" where the PSG is concerned.
But Malacañang has been worse than secretive. It's been ambivalent about how the rule of law must apply to the illegal entry of vaccines amid a raging health crisis.
"Government refusing to investigate these cases and penalize possible wrongdoers is abuse of authority."
When pressed if the Palace would compel Tulfo, high-ranking government officials, and the PSG to cooperate in investigations, Roque merely said, "The President is a president, not a policeman, not an NBI agent. We leave that to the police and to the NBI."
This, despite Malacañang and Duterte himself issuing strong statements about other controversies involving NBI or police investigations.
For example, Duterte promised justice and an impartial probe into the shootout between cops and anti-drug agents last February 24.
There was no wishy-washiness there. In contrast, Roque, when asked if Tulfo's use of unregistered vaccines merited a Palace-backed investigation, said Duterte is "not in a position to compel" his former special envoy and that, because Tulfo is a private citizen, "he can do as he pleases."
It's an interesting position to take from a Malacañang occupied by a President elected on the promise of being a strict guardian of the law who sides with the poor and not the privileged rich.
Double standard
Ela Atienza, political science professor from the University of the Philippines, is not surprised by how Malacañang is handling the controversy. It's consistent with the "double-standard approach" of the Duterte government since the start of the pandemic, she told Rappler.
"They are very hard on critics, swift to judge and file cases against the latter, but very defensive and do not act quickly when their own people and allies are involved," said Atienza.
Duterte's staunch defense of the PSG, despite flagrant violations of laws, is an echo of his defense of then-Metro Manila police chief Debold Sinas who took part in a birthday celebration (the infamous "mañanita") that violated ordinances banning mass gatherings during the pandemic.
Rather than reprimand Sinas, Duterte took his side, praised him for being a "good officer," and eventually made him chief of the entire Philippine police.
The leeway given to Sinas was not given to 21 urban poor residents of Sitio San Roque who spent 5 days in jail for gathering outside their homes to ask for food. Feeding program volunteers in Marikina and a fish vendor in Navotas were all similarly detained without warrants for being outside their homes during lockdown.
Aside from showing a lack of accountability and failure to live up to Duterte's own promise of a clean government, Atienza said such actions by the administration "condition" Filipinos to "think that there will be a cover-up."
Senator Risa Hontiveros, an opposition lawmaker who persistently asked questions about the illegal PSG vaccination during Senate hearings, said Malacañang is sending the "wrong signals."
"It's wrong that our government officials themselves and the highest-ranking ones at that are those allowing this use of contraband," she said in Filipino in an ANC interview.
Melay Abao, a political science professor at the Ateneo de Manila University, said the Palace is misusing its powers in protecting whoever is behind the illegal vaccinations.
"To me, government refusing to investigate these cases and penalize possible wrongdoers is abuse of authority," she told Rappler.
Given Malacañang's refusal, she said Ombudsman Samuel Martires should step up.
"Investigation must be impartial. But there seems to be no such thing anymore in this country. It should be the Ombudsman's job," she said.
Saving his guards at the risk of his government
Duterte has spun his PSG gag order as his way of protecting them from "threats" by senators. He has defended their illegal vaccinations by saying they were merely protecting themselves from a deadly virus, never mind that millions of other Filipinos also need protection but have been willing to follow vaccine regulations.
But by protecting his security team, Duterte is undermining the rest of his government, specifically the very officials he had tasked with addressing the pandemic, said Abao.
Vaccine czar Carlito Galvez Jr, working non-stop and under immense pressure to get vaccines into the Philippines, now has to deal with criticisms that powerful people are cutting the line, criticisms now fueled by the Palace's own ambivalence.
"The IATF said medical frontliners will go first but Malacañang and AFP (Armed Forces of the Philippines) are not following this. The FDA and Customs said the entry of vaccines was illegal. Harry Roque said nothing illegal happened," said another opposition lawmaker, Senator Francis Pangilinan last December 31.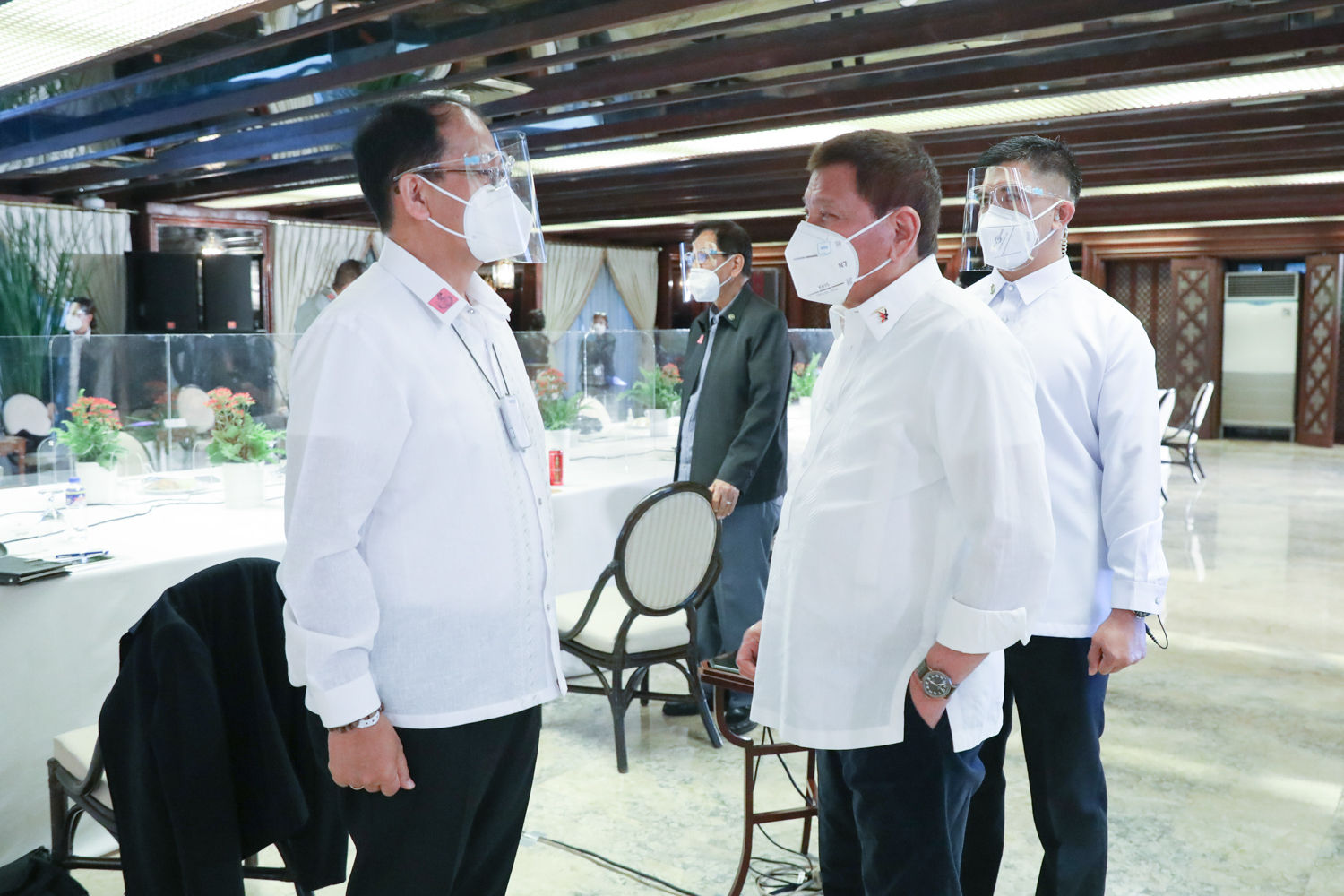 Senate Minority Floor Leader Franklin Drilon said the Duterte government's failure to hold anyone responsible for the illegal importation of the unregistered Chinese vaccines "enhances" an "environment of impunity."
Roque, asked by Rappler if the Palace thinks Duterte's stance undermines executive agencies, could only deny it and point to a dubious silver lining.
"I don't think it undermines anything. If at all, we've all become experts on the FDA process and I think that's one good thing that came out of this pandemic," he said on February 24.
The FDA process, according to Republic Act No 9711, prohibits the "importation" and "distribution" of "any health product which, although requiring registration, is not registered with the FDA."
FDA's Domingo, working double time to quickly approve emergency use authorization for urgently needed vaccines, along with the Department of Health, are also caught in a bind.
On one hand, they are duty bound to ensure compliance with vaccine approval processes. On the other, a gag order from their boss keeps them from enforcing those same processes.
"I don't have any useful information. I'm not getting any useful information," was all Domingo could say about developments in the FDA probe on the PSG vaccinations in his The Chiefs interview aired on February 16.
While Malacañang has deployed obscurity to muddle the PSG and Mon Tulfo Sinopharm vaccine controversy, vaccine confidence among Filipinos has dropped ever lower.
In September 2020, a Social Weather Stations survey found that 66% of Filipinos were willing to get vaccinated. A few months later, in December, a Pulse Asia survey with a slightly different methodology, found that only 32% of Filipinos were willing to vaccinated.
Come January, an Octa Research survey found an even smaller figure: 19%.
If the Duterte government continues to let the unregistered vaccinations of the well-connected slide, Duterte's promise of leadership without fear or favor may yet prove to be an empty one. – Rappler.com