If they had a fighting chance of making it in the Philippines, why would teachers and other overseas Filipino workers choose to leave behind family?
A bare mattress lying on the floor. This was where dozens of Filipino teachers trafficked to America in the early 2000s would rest their heads and sleep, in an empty apartment they would call home only days after arriving in a foreign country.
Many of these teachers had been promised lucrative teaching jobs in Texas after paying thousands of dollars in fees to a Houston-based recruitment agency called Omni Consortium, according to US federal court records.
Instead, the teachers found themselves unemployed, low on funds, unable to buy food and clothes, and forced to share cramped living quarters. Many of them also did not know how to drive, an effective death knell for newcomers trying to adjust to the car-driven culture of America.
The 2003 Omni Consortium case represents the first reported case of Filipino migrant teachers being trafficked in America, according to a 2009 American Federation of Teachers (AFT) report.
This decades-long story recently resurfaced online after acclaimed Fil-Am essayist Jia Tolentino, who writes for the American literary publication The New Yorker, came under fire in late May for defending, in a personal blog post, her father and grandmother for their involvement in the Texas scheme.
Omni Consortium owners Noel and Florentina Tolentino both pleaded guilty to conspiracy to defraud the US government in 2008. Some now believe the US government's lengthy prosecution of the Tolentinos was overzealous and politically-motivated, given the political climate hostile towards immigrants after 9/11 in America. The Tolentinos were left bankrupt as a result of the litigation.
In 2001, Omni recruited more than 200 Filipino teachers to work in rural Texas school districts in much the same way that another Fil-Am recruiter, Lulu Navarro, would later do in Louisiana, as Rappler's report in Part 1 documented.
Scheme
Omni's scheme involved charging the recruits excessive fees, encouraging them to take risky, high-interest loans, and threatening to confiscate their passports or deport them if they complained. Out of the 273 recruits, fewer than 100 had an actual teaching job waiting for them when they arrived in Texas, court records showed.
"I think it's somewhat disingenuous to make it seem like her parents were being altruistic and were doing this to give these Filipino teachers a better life," said Ethel Tungohan, a migration and labor expert who teaches at York University in Toronto.
"If you read actual case documents, [Jia's] parents profited tremendously. They're not really doing this out of the goodness of their hearts, they're doing this because it's a business."
While recruiting healthcare workers from the Philippines has been around since the 1940s (READ: Why Filipino nurses are a huge presence in US healthcare), the last two decades have seen a loose string of US-based recruitment agencies starting to focus on teacher recruitment.
These efforts mushroomed in the early 2000s in response to growing teacher shortages in hard-to-staff rural and urban public school districts in US states, including Texas, Louisiana, Maryland, and California. This was largely due to American teachers' issues with the low pay and emotional labor associated with working in high-poverty areas, according to the AFT report.
"You're not going to get a lot of [Americans] take those jobs," said Jim Knoepp, an immigrant rights attorney for the Southern Poverty Law Center (SPLC), an American nonprofit law firm. "So the solution that employers have found is importing teachers on temporary visas from these Third World countries, who will take those jobs and those wages."
Dangerous areas
Over 2,300 kilometers northeast of Texas, roughly around the same time US authorities indicted the Tolentinos, Baltimore City public schools also hired about 100 Filipino teachers to work in understaffed urban schools that were labeled "persistently dangerous" by the state of Maryland.
Their numbers grew exponentially in subsequent years, and to this day, Filipinos remain an essential part of the Baltimore area's educational workforce.
The Pinoy community in Baltimore County has seen its fair share of challenges. For example, the unexpected suicides of two teachers in 2008 sent shockwaves throughout the tight-knit group, raising questions about mental health issues and the intense culture shock that Filipino teachers typically face in adjusting to American classrooms and culture. Complaints around excessive recruiter fees have come up as well.
Many Filipino teachers have, however, struggled to make their visa situations more permanent, despite years of living and teaching in the Baltimore area. As recently as last year, dozens of longtime Filipino teachers were forced to return to the Philippines because they could not get visa extensions.
"If what [these temporary visa programs] are saying is that we don't have enough labor here in the US to do these jobs, then that's fine. We should import that labor, but we should make them permanent members of our communities, not temporary workers," Knoepp said.
"We should put them on a path to legal, permanent residency."
Question of culture, loyalty
In 2010, over 200 Filipino teachers trafficked to work in Louisiana public school districts filed a US federal class suit against United Placement International, a California-based recruitment agency owned by Lulu Navarro.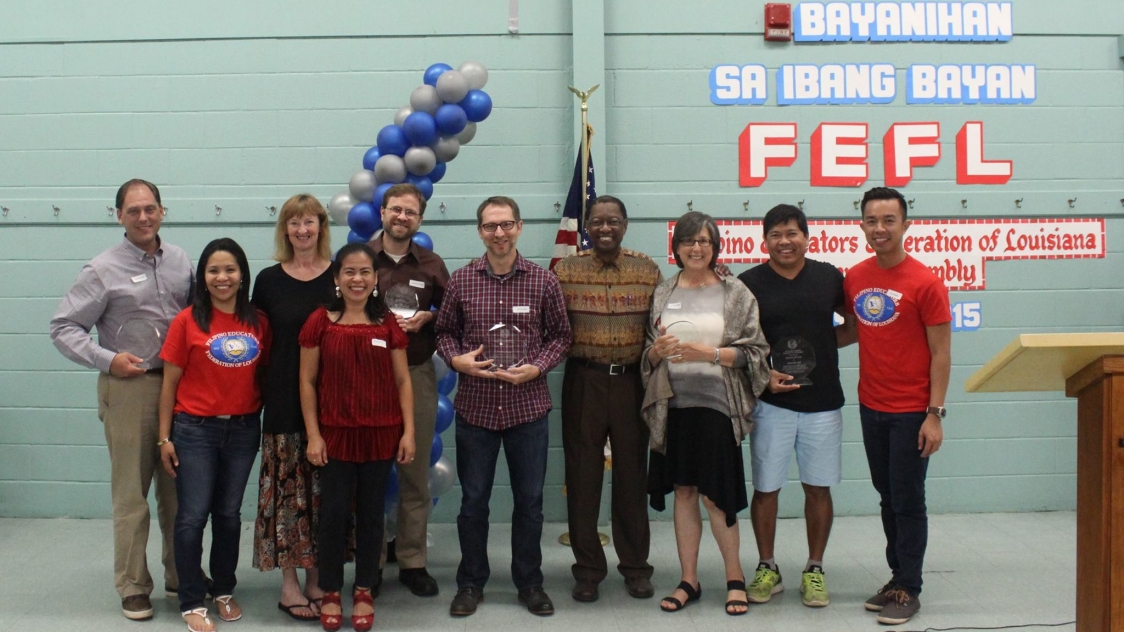 It was the first litigation of its kind to address the expansive nature of migrant teacher abuse, revealing the sheer number of victims affected by the scheme. Backed by high-profile human rights attorneys at the SPLC and two powerful teachers' unions in the US, it was also the first to secure a favorable ruling that could be legally enforced on the victims' behalf, Knoepp said.
However, for some teachers, the very real concerns around losing their temporary work visas and the idea of being deported back to the Philippines scared them away from the suit.
"Ganun talaga. Magbabayad ka talaga," recalled Mairi Nunag, one of the lead plaintiffs in the Louisiana case who helped organize her fellow teachers against Navarro. (You have to pay. That's just how it works.)
She said this group of teachers also sent a manifesto to their employers hoping to distance themselves from the litigation.
"Some of them told me upfront: 'Mairi, we cannot support you. We're here to work. We don't wanna take the risk of being sent home,'" Nunag added. "And that utang (debt), we have to pay it, whether it was disclosed to us or not," Nunag recalled them telling her.
Tungohan said that the dynamic between Filipino recruiters and migrant workers is often more complicated than it appears.
"Recruiters, even the good ones, are aware of this discourse of utang na loob (debt of gratitude): of bending your head down and just working really hard. And they deploy that to their ends," she said. "It's difficult because you can't really remove these beliefs that are so deeply embedded in the Filipino psyche."
"I don't necessarily agree with folks who say [utang na loob] is a form of Stockholm syndrome, because that isn't right," Tungohan clarified. "It [represents] my gratitude for my parents and my ancestors. It's me recognizing the bonds of family, ancestry, and community. But at the same time, people also deploy these traits in a negative manner."
Ultimately, the American jury that convicted Navarro for the Louisiana scheme did not consider the teachers as human trafficking victims. Nunag said this may have been because they technically could have left their jobs if they wanted to.
Knoepp maintains that Navarro's actions constituted trafficking, because the recruits had accumulated so much debt under her demands, they had no choice but to keep working to pay her back.
You're not holding a literal gun to their head, but it's a very similar situation
Jim Knoepp, Immigration rights lawyer
The story of the OFW who leaves their family back home in search of greener pastures abroad is a common one. Over two million Filipinos leave the Philippines each year to work as construction workers, domestic helpers, seamen, and nurses all over the world, most commonly in the Middle East, Europe, and other Southeast Asian countries, according to the Philippine Statistics Authority.
Exporting labor
But for many Pinoys, America has always been the "land of milk and honey." And for the lucky few hundred who are issued the rare, coveted temporary working visa that allows them to work in the States for a number of years, the US is also the final destination, indicating to their loved ones back home that a Filipino has finally made it.
"I understand why the migrants, even knowing the risks, would leave," Tungohan said. "And maybe they knew what they were getting themselves into. But at the same time, what are the alternatives to that, right?" About 17% of the Philippines' 106 million population suffers from poverty, according to the Asian Development Bank.
The desire to migrate for many of our kababayan is likely also the byproduct of larger economic troubles that plagued the Philippines back in the mid-1970s, Tungohan pointed out.
Then-president Ferdinand Marcos saw an opportunity to stimulate the struggling domestic economy and help address record levels of unemployment by encouraging young Filipinos to work abroad, according to the Migration Policy Institute.
Subsequently, the Marcos government established an official labor export policy that continues to this day, where millions of OFWs send over P200 billion in remittances each year that help prop up the Philippine economy in a steady stream of income.
Today, OFW remittances account for over 10% of the Philippines' total GDP, raising questions about the ongoing brain drain of Filipino professionals leaving the country, and whether the government is doing enough to invest in the local economy.
Favor or exploitation?
"It's not the Filipinos' fault," Nunag said, pointing out that she would have stayed back home had the right opportunities existed at the time. She's been in the US for the last 10 years and has since relocated to New Mexico, where she continues to teach and advocate for Filipino migrant workers.
"We were raised to think that the best thing to do is to go out and have more professional and financial opportunities outside the Philippines," Nunag said.
Yet even after arriving in the US, Filipino workers still face rampant job discrimination, with some American employers looking down upon Filipino credentials, Tungohan pointed out.
This could be part of the reason why most recruiters think they're doing migrant workers a favor by simplifying the job application and recruitment process.
"The company's open, earnest, lawful work helping fellow Filipinos move to America for good jobs in teaching had been swiftly reframed [by the US government] as hideous criminal activity," Jia Tolentino wrote in a May 20 blog post on her website regarding her family's involvement in the Omni Consortium scheme.
"(Seeing people on the internet gleefully call my parents 'human traffickers' has been a reminder of the vast, brutal gap between those initial charges and the reality they purported to describe – a gap in which my parents have to live every day.)"
Indeed, there are no easy answers. As OFWs in the US and around the world continue to navigate the dual pressures of financial need and opportunity, facing the realities of a global migration economy that sometimes churns and grinds through workers, Filipinos hold on to an unmistakable love for their homeland.
As Nunag put it, "If we have a chance in the Philippines, why will we go out? Why would you leave your family?" – Rappler.com
Maki Somosot is a Filipino-American journalist who was born and raised in Manila. She is now based in the States where she reports on human rights issues, including Fil-Am and Filipino communities in the diaspora. Her work has appeared in a variety of outlets, including The Guardian, Fast Company, Reuters TV, Rappler, and Newsbreak Magazine.