This is AI generated summarization, which may have errors. For context, always refer to the full article.
Given the postponement, teachers and parents can only hope the Department of Education will be able to address school readiness issues to ensure the delivery of safe, accessible, and quality education for all students
As the Philippines continues to struggle with the coronavirus pandemic, a heated debate about when and how to reopen schools continues to rage. And it is playing on the anxieties of teachers.
It appears that modular learning – an alternative to the traditional face-to-face classes supposedly meant to eliminate the risk of contracting the deadly virus – could turn out to be unsafe after all.
The Centers for Disease Control (CDC) said in a news release, "Based on data from lab studies on COVID-19 and what we know about similar respiratory diseases, it may be possible that a person can get COVID-19 by touching a surface or object that has the virus on it and then touching their own mouth, nose, or possibly their eyes."
Teacher Diane Cruz*, a public school teacher in Albay, fears she would contract the virus when she goes out to distribute and retrieve the modules to and from parents of students when classes start on October 5. She has to travel for almost two hours just to get to school.
"Si teacher exposed sa lahat ng gawain na ito," she said. (The teacher is exposed to all these things.)
The Department of Education (DepEd) earlier said they would coordinate with the local government units (LGUs) for the distribution of the learning modules, especially in high-risk areas, but teachers would still have to retrieve them in designated pick-up points. This means they would have to go out and expose themselves to their communities.
"On the first day po ng classes, mga magulang muna ang kukuha ng mga modules. During the retrieval, si teacher po ang babalik sa school para kuhanin ang mga [activity sheets] na binalik ng mga magulang," Cruz said.
(On the first day of classes, the parents are the ones who will get the modules. During the retrieval, the teacher will go to school to get the activity sheets returned by parents.)
Teacher Angel Tan*, a public elementary teacher in Laguna, is also apprehensive about this kind of setup as each week they would have to go to school every Thursday or Friday to receive the activity sheets of the students.
"'Yung pag che-check ko sa mga output ng mga bata, 'yung mga papers kasi iba't iba na ang humawak niyan. Hindi natin alam kung sino nagtuturo ng bata. Hindi ko alam kung saan nagtatrabaho ang parents," Tan said.
(When I check the output of the students, I will be holding papers what had been touched by different people already. We don't know who teaches the students at home. I don't know where the parents work.)
Modular learning is the most preferred by parents for distance learning for the coming school year, according to a DepEd survey released on July 30.
DepEd said that its survey of parents about their preferred alternative learning mode revealed the following below. The survey was conducted during the remote enrollment period from June 1 to July 15. (READ: FAST FACTS: DepEd's distance learning)
Printed modules – 8.8 million
Blended learning or the combination of learning through modules, online classes, television, and radio – 3.9 million
Online learning – 3.8 million
Educational TV – 1.4 million
Radio-based instruction – 900,000
Other modalities not specified by the agency – 500,000
In a surprise move on Friday, August 14, DepEd postponed the class opening for the school year 2020-2021 from August 24 to October 5, 2020, pursuant to Republic Act No. 11480
Several groups and lawmakers had earlier called on DepEd to delay the opening of classes, as more time is needed to prepare for the transition to the overhauled education system. (READ: No student left behind? During pandemic, education 'only for those who can afford')
Mother fears safety
In an interview with Rappler on Friday, August 14, Rose Garcia*, a mother of 4 kids all enrolled in a public school in Quezon City, said having to submit the activity sheets of students once a week would pose risks to parents and teachers alike.
"I was aghast that once a week, I would need to retrieve my kindergartener's module at a designated time and submit what he had finished answering. Of course, I raised the point that all public schools have a lot of sections multiplied by the grade levels. The teacher said it's okay because the transaction will be fast. I told her that the plastic envelopes from parents would expose them," Garcia said.
Garcia also said she was instructed by the teacher to buy plastic envelopes where the activity sheets would be placed once they submit them to teachers at designated pickup points.
"So weekly, alam mo 'yun, magpapalitan kami ng pawis, over the plastic folder. 'Di ba? Alangan namang isprayan ko nang isprayan ng Lysol 'yung bawat pagkuha namin," Garcia said.(So every week, we would trade each other's sweat over the plastic folder. Right? Would I have to spray Lysol each time I retrieve the plastic folders?)
Lifespan of coronavirus on surfaces
Professor Marilen Balolong, a microbiologist and scientist at the University of the Philippines Manila, told Rappler in a previous interview that a recent study revealed that the virus could remain viable for up to 72 hours on plastics, 48 hours on stainless steel, 24 hours on cardboard, and 4 hours on copper. (WATCH: EXPLAINER: Can you contract coronavirus disease just by touching surfaces?)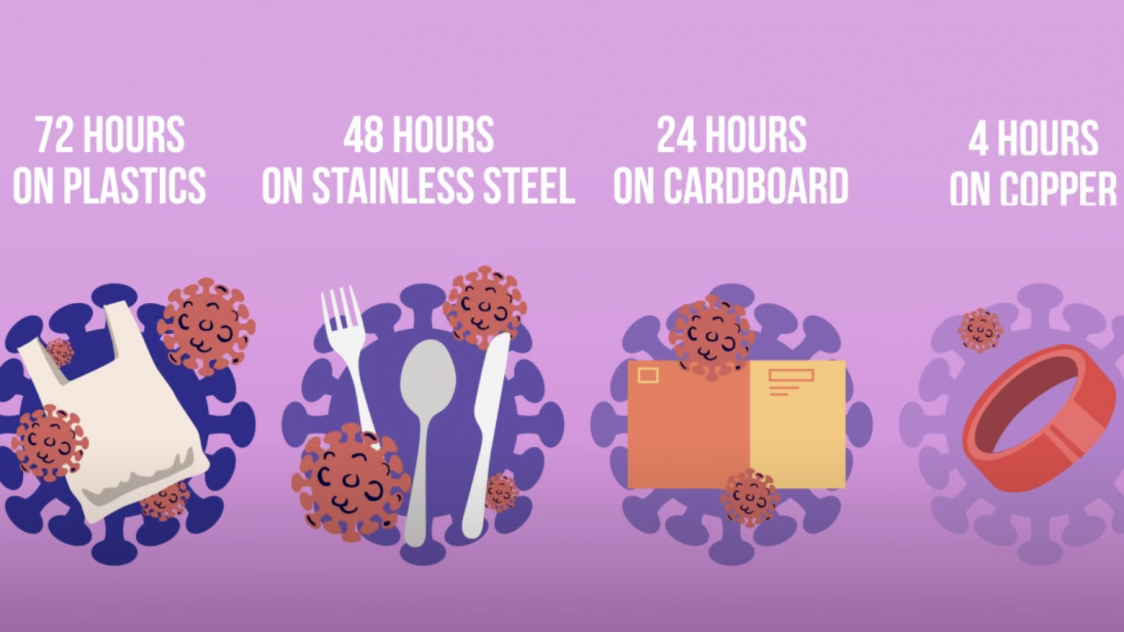 According to the CDC, the primary and "most important mode of transmission" for COVID-19 is still close contact with another person. 
As Bololong earlier said, exposure in hospitals where coronavirus patients are being treated still poses the highest risk.
But aside from the fear of contracting the virus from contaminated surfaces, Tan also worries about home visitations they would have to do for "struggling learners." (READ: DepEd assigning 'learning facilitators' to help students without guides at home)
"Pinag ho-home visit kami kasi may mga parents kami na hindi nakapagtapos so ayun nga 'yung priority namin na i-visit, 'yung mga students na hindi kaya mag aral independently," Tan said.
(We were asked to do home visitation because there are parents who are not capable of teaching their students at home, so those would be our priority for visits – for students, who cannot study independently.)
Tan said they were assigned one to two students per teacher. How do they reach the houses of these students? She said they're supposed to be accompanied by an official from their LGU.
But because of safety concerns, Tan prefers to be accompanied by her brother or anyone available from their house rather than by an LGU official.
"Nag-iingat na lang rin ako kasi. As much as possible gusto ko i-limit ang interaction ko sa mga tao," Tan said. (I am taking extra precaution. As much as possible, I want to limit my interaction with other people.)
No budget for COVID-19 treatment
Teachers' anxieties over the opening of school only worsened when DepEd said it has no budget allotted for the treatment of teachers who contract COVID-19. (READ: No budget for treatment of teachers with coronavirus – DepEd official)
In a virtual press briefing on August 10, Education Undersecretary Anne Sevilla said that what has been allowed to be charged to DepEd funds are the supplies needed for compliance with minimum health standards.
"COVID medication and treatment funding budgets are not present or appropriated in the existing budget of DepEd. And I think it is true for all national government agencies," said Sevilla.
She then clarified in a Viber message to reporters the following day that her statement was a "specific reply" to a question about the availability of funding under the DepEd budget for the treatment of teachers who contract COVID-19.
"It is only [the] DOH (Department of Health) which has a mandate to use government funds for hospitalization and treatment…. Even if we want to assist and support our employees, we don't have the budget [to] cover and authority to use DepEd budget for such," Sevilla said.
She, however, noted that all government employees, including DepEd employees, are covered by PhilHealth. But PhilHealth has been the subject of massive scrutiny after allegations of corruption recently surfaced following the resignation of one of its officers. (READ: PhilHealth execs misspent, stole P15 billion, says resigned anti-fraud official)
In a Senate inquiry on August 4, PhilHealth acting senior vice president Nerissa Santiago also said that the agency could go bankrupt by 2022. PhilHealth chief Ricardo Morales two days later, however, said the state insurer has sufficient funds to pay for the benefits of members even with the ongoing pandemic. (READ: With looming deficit, PhilHealth to 'collapse' by 2022)
DepEd employees who opted to be treated in private hospitals, according to Sevilla, also got DepEd assistance – "not from the government funds but from the personal contributions and collective efforts of the DepEd family."
Funding requirements for teachers' welfare are also in place, Sevilla announced during a virtual press briefing on Tuesday, August 17. Teachers will each be receiving P500, which is targeted for release in September for their annual medical examination.
Government school personnel who physically report for work in an area under enhanced community quarantine (ECQ) will also be entitled to a hazard pay of P500 per day.
This development came after a teachers' group demanded assistance from the department following reports that several teachers had contracted the virus while being asked to report physically in schools amid the rising COVID-19 cases.
"We've been in and out of schools and learners' communities since June, but DepEd still refuses to ensure screening before reporting, mass testing, and full treatment subsidy for infected personnel – costing already the health and lives of one too many teachers and staff," said Alliance of Concerned Teachers secretary general Raymond Basilio in an August 8 statement.
In an interview with DZMM on August 16, Education Undersecretary Nepomuceno Malaluan said that DepEd has so far recorded 669 cases of COVID-19 among its teaching and non-teaching personnel. Of this number, 21 have died and 360 have recovered.
Education Secretary Leonor Briones herself contracted the virus in April and has since recovered.
Since last week, Rappler has been asking DepEd for data on the number of teachers who have contracted the virus, but was told they are still in the process of validating information.
'No need to worry'
During Monday's virtual briefing, Briones said that teachers, especially in high-risk areas such as Metro Manila and Calabarzon, should not be going out, given strict quarantine measures.
She gave little assurance, however, to teachers anxious about contracting the deadly virus when they step out, in line with the modular learning setup.
"In places like NCR (National Capital Region) and Region IV (Calabarzon), teachers should not be going out because they are prevented from going out. The other regions are low-risk. If you're worried about exposure, you figure that out. The rest of the country is low risk assessment lalo na ngayon (especially now)…. Uulitin ko, hindi sila pinipilit (I repeat, they are not being forced). Skeleton force is also being implemented and there will be pickup points. Sometimes we are so worried about the negative things that would happen and we don't look at the positive things," Briones said.
As of Monday, the Philippines recorded 164,747 cases of COVID-19 – the highest among ASEAN countries – and registered 2,681 deaths and 112,759 recoveries.
Some 23.3 million public and private schools students have signed up for the school opening as of August 17. This is 4 million lower than last year's 27.7 million enrollees.
Given the postponement of classes in public schools, teachers and parents can only hope DepEd would be able to address school readiness issues to ensure the delivery of safe, accessible, and quality education for all students. – Rappler.com
*Names have been changed to protect privacy