'Baka i-atras ko na kaso ko. Konti na lang bola,' says opposition Senator Antonio Trillanes IV in response to Assistant Secretary Mocha Uson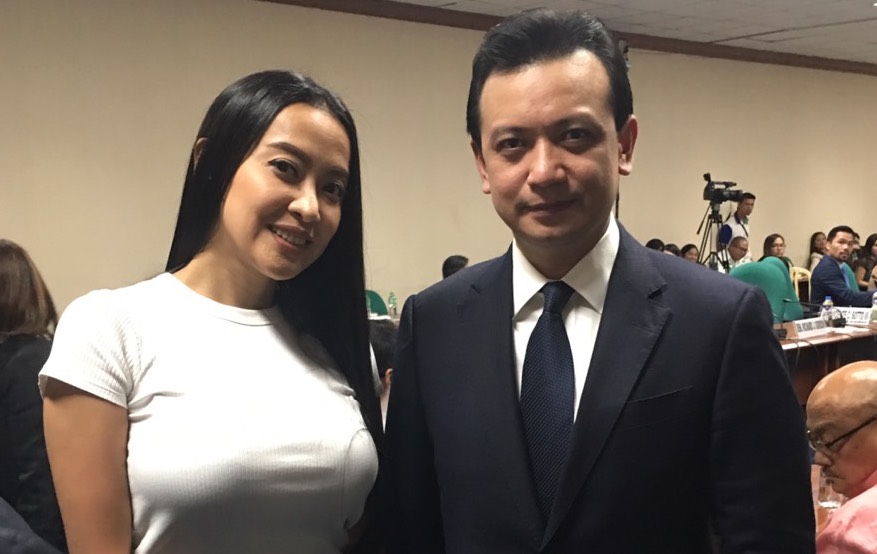 It was their first time to meet face to face but Senator Antonio Trillanes IV and Communications Assistant Secretary Mocha Uson made fun of it.
This, despite a pending case filed by Trillanes against Uson before the Office of the Ombudsman for graft and libel.
During the early part of the hearing, Trillanes was not present, which prompted Uson to say, "First time ko po kasi maka-attend at medyo malungkot ako wala po dito si Senator Trillanes (It's my first time to attend and I'm kind of sad because Senator Trillanes is not here)."
The audience laughed at her remark.
Upon learning about Uson's comment, Trillanes attended the Senate hearing. When it was his time to question the government official, the senator said in jest that he had no plans to attend until Uson looked for him.
"Wala na talaga akong balak umattend kaso na-miss ako ni Ms Mocha (I did not plan to attend, but I was told Ms Mocha missed me)," Trillanes said. 
Uson responded, "Guwapo po pala kayo sa personal. 'Di po 'yan fake news (You look handsome in person. That's not fake news)."
Senate public information committee chair Grace Poe interjected and teased her colleague. "Nadi-disarm na si Senator Trillanes (Senator Trillanes is slowly getting disarmed)," she said.
Trillanes rode with the joke and said he might withdraw the case against the sexy star turned blogger.
"Baka i-atras ko na kaso ko. Konti na lang bola  (I might withdraw my case, just flatter me a little more)," the senator said in jest.
Trillanes then lectured Uson and the Presidential Communications Operations Office on the need to uphold their office's integrity, as information coming from them is considered official.
"Ito lang suggestion ko sayo. Gamitin mo in a positive way, be a good influence to those following you. You can promote, defend, and explain, that way hindi hateful yung cyberspace natin. Dahil sa inyo yan, susunod magiging hateful sila," he said. (May I suggest. Use your blog in a positive way….In that way cyberspace will not be filled with hate. Because they follow you, your followers will also be filled with hate.)
Uson maintained she was just exercising her right to freedom of expression and questioned why government officials are not allowed to have their own opinions.
Trillanes said that unlike elected officials, Uson is in government to toe the administration line. She could do this, he said, by explaining the policies of the government, without encouraging and promoting the culture of hate online.
"I'm going to consider all his suggestions sa approach sa pagba-blog (in approaching my blog)," Uson said.
On Wednesday, Uson claimed she was a victim of fake news even as she herself hah been repeatedly caught spreading inaccurate or wrong information on social media.
She also said the rules of fairness do not apply to her, as she was a blogger and not a journalist. – Rappler.com