His revised resumé shows he did not obtain a Bachelor of Arts in Philosophy, Politics and Economics; only a 'special diploma' in Social Studies. What is confusing is the reference to a 'Graduate degree'.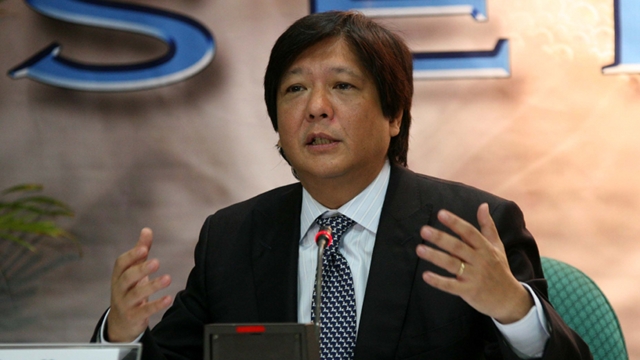 Senator Ferdinand "Bongbong" Marcos Jr, quietly acknowledging the false claims he made about his undergraduate and graduate degrees, recently corrected his resumé.
This came weeks after Rappler's fact-checking showed that Marcos Jr did not complete his courses in Oxford University and The Wharton School of the University of Pennsylvania.  (READ: EXCLUSIVE: Did Bongbong Marcos lie about Oxford, Wharton? and Oxford University confirms Bongbong Marcos got only 'special diploma')
In his new resumé, uploaded on his Senate website, Marcos Jr lists the following entries:
These new entries replace the previous degrees in his old resumé.
Marcos Jr finally admits that he did not take a Bachelor of Arts degree. As for his graduate course, he had earlier confirmed in a statement that he did not finish his MBA.
Philosophy, Politics and Economics (PPE) is said to be a very prestigious course with more rigorous standards and tougher, grueling examinations than a diploma course. Prime Minister David Cameron, among other leaders in the UK, holds a PPE degree from Oxford. 
Notice, however, that Marcos Jr doesn't drop "Political Science, Philosophy and Economics" which he encloses in parentheses. This is the course he first enrolled in but did not continue. However, it is not the accurate name; it should be "Philosophy, Politics and Economics". Nevertheless, it is unnecessary to include it as an appendage to his Special Diploma. 
Notice, too, that he uses "Graduate degree" in the revised resumé. This remains unclear and confusing although that is how the Oxford Degree Referrals office describes it. Earlier, the University of Oxford spokesperson told us that the "special diploma in social studies" is not a degree, which we had reported.
Trip to Oxford
Marcos Jr made these changes after he visited Oxford University. There, he obtained a certificate from the Registrar, dated March 31, 2015, saying he pursued a "Special Diploma in Social Studies." 
This is uploaded in the visual timeline of his website, including a photograph of him showing the certificate, playfully posing with one of his sons.
This was taken the same date the certificate was issued.
In an interview with dzMM on March 21, Marcos Jr announced his trip to Oxford. Replying to a question from Henry Omaga Diaz on the controversy over his Oxford degree, the senator said: "Siguro ang pinakamadali, kaya binubuo ko lahat ng papeles, lahat ng dokumento, at itong Holy Week pupunta ako dun, kukunin ko lahat ng ano…para tapos na. Nagsimula na. Kasi nga nangyari nga itong kinukwestyon itong kung ano-ano, ang ginagawa ko dinadahan-dahan nakuha ko na yung file… Para pagka tinanong ulit ito ipapakita ko na lang lahat yung papel, para hindi na kailangang magpaliwanag. 
(The easiest thing is to complete my papers, all documents. I am going to Oxford this Holy Week, I'll get everything, to put an end to this. I've started already, slowly putting my files together because of these questions. So that when I am asked again, all I will do is show the papers, so that I do not need to explain.)
When reporters asked Marcos Jr about the certificate he posted on his website, he replied: "That's my diploma." Pressed to elaborate, he said: "Ayoko nang pag-usapan. Nakuha ko na yung aking dokumento. Tingnan na lang ninyo sa Facebook ko. It's all self-explanatory." (I don't want to talk about it. I got my document. Just look it up in my Facebook page.)
London lawyers
Marcos Jr tapped a law firm in London to clear up the status of his "special diploma." Alen-Buckley LLP wrote the Oxford Degree Conferrals Office to inquire about the "difference between a BA (Bachelor of Arts), a Diploma, and a Special Diploma."
In its April 1, 2015 letter, the law firm explained: "Our query has been prompted by a former Oxford University student who has been described as having a 'BA: Special Diploma Social Studies'. We have been asked what that means…" 
Jeremy Drew, manager of the Degree Conferrals Office, said in an e-mail response to Alen-Buckley that the "Special Diploma in Social Studies is a graduate degree." 
This communication can be found in Marcos Jr 's timeline on his website.
The Oxford University spokesperson, however, earlier told us that "a Special Diploma is not a degree," which we had reported. This was contained in the e-mail of Clare Woodcock of the University of Oxford News & Information Office on March 6, 2015. 
To clarify the contradicting responses from Oxford, we sent e-mails to two offices, that of the spokesperson and the degree conferrals office. We have yet to receive their replies.
The "special diploma in social studies" was abolished in 1999. Here's an explanation from the Oxford University Gazette: 
"The following decree…abolishes the Special Diplomas in Social Studies and in Social Administration with effect from 1 October 1999. The faculty board has reviewed the purpose and standing of these qualifications, which are open to non-members of the University… It is clear that the special diplomas are now, with the development of other forms of qualification for those with non-conventional backgrounds, less appropriate than hitherto…"
An Oxford graduate whom we consulted said that the confusion may stem from the fact that the course has ceased to be offered. Current university officials may not have enough information on  "this beast."
Still, this puts to rest the crux of the issue: that the senator did not graduate with a Bachelor of Arts in Philosophy, Politics and Economics, as he had always claimed. – Marites Dañguilan Vitug/Rappler.com