(UPDATED) 'We have 4 witnesses for this non-Napoles related pork barrel scam. Initially, we are tagging 20 legislators,' Baligod says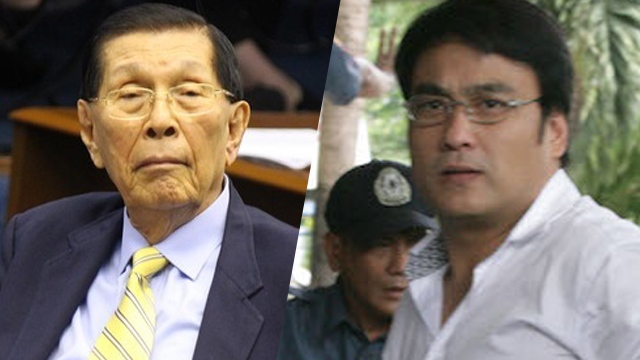 MANILA, Philippines (UPDATED) – He's out on bail for the pork barrel scam, but Senator Juan Ponce Enrile is about to face new charges before the Ombudsman for the abuse and misuse of his Priority Development Assistance Fund (PDAF).
After more than a year of hiatus, lawyer Levito Baligod, who spearheaded the pork barrel cases against Janet Napoles and several other lawmakers, is seeking the indictment of additional legislators and new NGOs for the pork barrel abuse.
"We have 4 witnesses for this non-Napoles related pork barrel scam. Initially, we are tagging 20 legislators," Baligod said in an interview.
"In this new case, we might involve some officials of the Commission on Audit," he added.
In the case of Enrile, the lawmaker was found to have awarded P15 million to Kagandahan ng Kapaligiran Foundation Inc under SARO No. ROCS-09-04956.
Former Senator Edgardo Angara also allegedly awarded P20 million to Kagandahan ng Kapaligiran Foundation Inc, while Revilla reportedly gave P10 million of his PDAF to St James the Apostle Multi-Purpose Cooperative.
Baligod's prime witnesses in this new pork barrel abuse case are Victor Roman Cacal and Rhodora Mendoza, former officials of the now defunct National Agribusiness Corporation (Nabcor).
Cacal and Mendoza are already facing graft charges before the Sandiganbayan for alleged misuse of pork barrel funds involving Napoles.
In this new complaint, however, it is not clear if Cacal and Mendoza are applying as state witnesses. 
Other lawmakers
Apart from Enrile, identified in the alleged abuse of PDAF are Senator Ramon "Bong" Revilla, former Senator Edgardo Angara, former Davao Representative Prospero Nograles, former Catanduanes Representative Joseph Santiago, former Bohol Representative Roberto Cajes, and former Aklan Representative Alan Miraflores.
Other lawmakers named in the complaint include former representatives: Neil Tupas of Iloilo; Carol Lopez of  Yacap party list; Edgar San Luis of Laguna; Arturo Robes of San Jose del Monte City; Emmanuel Joel Villanueva of CIBAC party list and now TESDA chief; Rodolfo Antonino of Nueva Ecija; Reno Lim of Albay; Evita Arago of Laguna; Rachel Arenas of Pangasinan; Alfonso Umali of Oriental Mindoro; Marina Clarete of Misamis Occidental; current Albay Representative Al Francis Bichara and Negros Occidental* Representative Julio Ledesma IV.
Deputy minority floor leader Lopez said in a statement she has already taken steps to clear herself before the COA. "And we really have to go after the fake NGOs. Madami na sila nabibiktima na mabubuting kongresista. Grabe ang pag-fake nila ng papeles pati na ang mga signatures (They have victimized a lot of good members of Congress. They have faked so many documents and signatures)," she said.
Undue pressure
In a joint affidavit, Cacal and Mendoza tagged former Nabcor president Alan Javellana as the mastermind in the misuse of PDAF in the agency. 
"Mr Javellana exerted undue pressure upon us to ensure that the funds are released to the NGOs selected by the legislators. Once the letter of the legislator designating a favored NGO is received by our office,  he would already pressure us into facilitating the processing of the release of the funds," the complaint said.
"According to Mr Javellana, the letter of the legislator is enough to award the project to the selected NGO. Thus the implementation of the PDAF-funded projects were marred by irregularities," the complaint said.
Cacal said that when he told Javellana that the NGOs should at least comply with the documentary requirements before any check is released, his former boss gave him a verbal reprimand.
"Ako ang presidente. Pag sinabi ng presidente dapat sundin, huwag ka na magpalusot. O gusto mo mawalan ng trabaho? To follow na lang mga document, kailangan na ma-release ang mga tseke. (I am the president. What the president says should be followed, don't give me excuses. Or you want to lose your job? The documents will follow, the check needs to be released.)
Cacal and Mendoza said the malversation in the PDAF was blatantly carried out because of Javellena's connection with certain officials of the COA. Cacal said that as ordered by Javellena there was an instance where he met with two officials of COA to discuss NGOs that have documentary problems.
Baligod said these COA officials involved will be identified by Cacal if and when the Ombudsman formally takes over the case.
Same scheme with Napoles
In their affidavit, Cacal and Mendoza categorically tagged lawmakers as active participants in the misuse of their PDAF allocation.
"The legislators apparently transacted with their respective PDAF allocations with certain individuals who appear to the persons in actual or constructive control of the NGOs, because they are the one who were constantly following up and receiving the checks for these NGOs. The scheme that they used to steal the PDAF allocations are strongly similar with that of Mrs Janet Napoles," they said.
In the pork barrel scam involving Napoles, the lawmakers receive from her in cash a percentage of their PDAF allocation as advance payment. In most cases, Napoles advances 40-50% of the PDAF allocation to the lawmaker.
Napoles has other competitors.
Other NGOs that operated like Napoles that were mentioned in the complaint include: Kapuso't Kapamilya Foundation, Aaron Foundation Philippines Inc, Kabuhayan at Kalusugang Alaw sa masa Foundation Inc, Ikaw at Ako Foundation Inc, Buhay Mo, Mahal Ko Foundation Inc, Kasangga sa Magandang Bukas Foundation Inc, Kabuhayan at Kalusugan Alay sa Masa Foundation Inc, Uswag Guimaras Foundation Inc, Center for Mindoro Integrated Development Foundation Inc, among others. – Rappler.com
Editor's Note: In an earlier version of this story, we said Representative Julio Ledesma IV was from Negros Oriental. This has been corrected to say Negros Occidental.