This is AI generated summarization, which may have errors. For context, always refer to the full article.
[EXCLUSIVE] Documents obtained by Rappler show executives of RCBC Securities knew of irregular transactions by a rogue trader early on, but failed to take action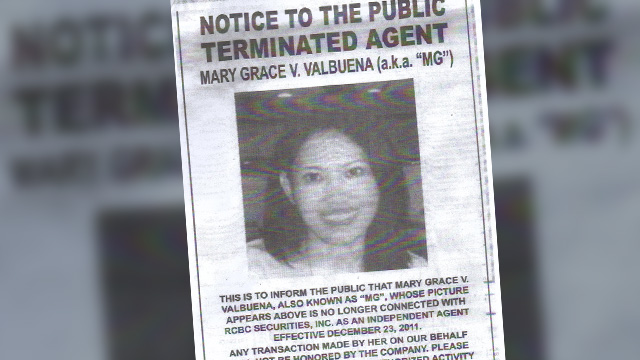 MANILA, Philippines – A young executive of the Rizal Commercial Banking Corporation (RCBC) drowned in Subic on June 23, 2012.
Only 47 at the time of his death, Jerome Tan was the president of RCBC Securities (RSEC), the bank's stock brokerage subsidiary. While yachting, Tan and his businessman friend, Michael Bautista, reportedly jumped off to swim toward the shore but Tan was said to have been sucked underwater by the strong current.
Bautista was able to make it to shore, according to a police investigation, but not Tan.
It was a tragic end for the RCBC Securities president who was forced to go on leave after tens of clients lost a significant amount of their savings and stocks in an investment scam during his term.
The scam, pegged to have stolen at least P1 billion from its clients, was allegedly executed by a rogue trader, Mary Grace Valbuena, who joined RSEC first, as a consultant in 2001, before becoming an "independent agent" in 2002. 
While Tan was RSEC president, Valbuena managed to manipulate for many years the Statement of Accounts (SOA) of her clients, transacting under their name without their consent, selling their stocks behind their backs, and depositing their checks to her brother's account. By the end of it, Valbuena zeroed out portfolios of some of her clients, stealing their life savings.
Valbuena's scandalous scam exploded in late December 2011 when she was dismissed by RSEC. Six months later, Tan would die in the yachting accident.
Philrem links
Tan's yachting buddy, Michael Bautista, is the listed treasurer of PhilRem Service Corporation – the same company that made headlines recently, in connection with the Senate investigation of the RCBC money-laundering scandal. 
PhilRem was the money transfer firm used by RCBC to convert into pesos part of the $81-million funds stolen from Bangladesh Bank.
It was Bautista's wife, Salud, also PhilRem president, who delivered P600 million and $18 million in cash to Weikang Xu, an alleged casino junket operator.
PhilRem said it had been doing business with RCBC for 3-5 years. Senator Teofisto Guingona III has said his committee would also "look into" the possible link between RCBC and PhilRem.
Similarities
The recent money laundering scam is not the first time checks and balances have failed or been insufficient at the Yuchengco-owned companies, according to interviews and documents obtained by Rappler.
Several similarities between the 2012 RSEC scam and the current RCBC scandal stand out. 
In 2012, the blame was pinned solely on Valbuena. This, despite evidence that shows Tan and other RSEC executives, who were Valbuena's superiors, appeared to know about the irregular transactions early on before they belatedly took action. 
Similarly, RCBC Jupiter-Makati City branch manager Maia Santos-Deguito is being blamed for the money laundering scam the bank is currently embroiled in, raising questions as to how she could have pulled off an $81-million Bangladesh Bank fund heist without the knowledge of her superiors.
And in both scandals, RCBC controls and procedures appear to have fallen through, resulting in criminal activity. 
According to a court document, RSEC filed a case against Valbuena in 2012 – after she was dismissed. She was accused of "fraudulent and deceitful acts," compelling RSEC to pay 16 of her clients an aggregate amount of P67.9 million as negotiated settlement.
In a September 25, 2012 affidavit obtained by Rappler, Diosdado Salang Jr, who was RSEC's vice president, head of operations, and chief financial officer at the time, testified against Valbuena.
Second in command to Jerome Tan, Salang said it was his duty "to oversee (RSEC's) day-to-day operations" – which included "monitoring securities transactions between the clients and the independent agents who handle the clients' trading accounts with RSEC."
RSEC, however, pinned the blame solely on Valbuena. 
Her modus operandi appeared generally similar, although it slightly varied per client. 
Below is a summary of Valbuena's irregular transactions, using the accounts of 16 of her clients. The information is based on Salang's affidavit.
| | | | |
| --- | --- | --- | --- |
| Name of client | Finding | Amount lost | Amount settled |
| Socorro P. Lim | Valbuena falsified RSEC trade documents by removing transactions from Lim's SOA that she did not authorize | Not determined | P40,209,137.40 |
| Atenogenes M. Maslog | SOAs did not reflect 580,000 CPG shares and 75,000 CHIPS shares; RSEC found shares were credited to account of her brother JV | P493,000 check payment for CPG shares; P152,981.25 check for CHIPS | P409,386.69 |
| Rene Gerard B. Gozum | SOA did not reflect 39,000 GMA shares; shares were transferred out by Valbuena to account of JV | 39,000 GMA shares | 39,000 shares in the amount of P373,548.74 |
| Amerigo L. Santos | SOA did not reflect 89,000 GMA shares; shares were transferred out by Valbuena to account of JV | 89,000 GMA shares | 89,000 shares in the amount of P852,457.97 |
| Roderick de los Santos | SOA did not reflect 17,000 GMA shares; shares were sold by Valbuena without de los Santos' authorization | 17,000 GMA shares | 17,000 shares in the amount of P162,828.95 |
| Agnes M. Espinas | SOA did not reflect her 5,000 GMA shares; shares were sold by Valbuena without Espinas' knowledge | 5,000 GMA shares | 5,000 shares in the amount of P47,925.17 |
| Marco B. Bachini | SOA did not reflect 10,000 GMA shares and 100,000 PA shares; shares were sold by Valbuena without Bachini's knowledge | 10,000 GMA shares and 100,000 PA shares | 10,000 GMA shares and 100,000 PA shares in the amount of P102,250.68 |
| Dennis B. Gatchalian | SOA did not reflect his 5,000 GMA shares; shares were sold by Valbuena without Gatchalian's knowledge | 5,000 GMA shares | 5,000 shares in the amount of P47,925.17 |
| Joaquin P. Santibanez | SOA did not reflect his 12,000 GMA shares; shares were sold by Valbuena without Santibanez's knowledge | 12,000 GMA shares | 12,000 shares in the amount of P114,938.07 |
| Corazon B. Zamora | SOA did not reflect her 1,000 GMA shares; shares were sold by Valbuena without Zamora's knowledge | 1,000 GMA shares | 1,000 shares in the amount of P9,549.41 |
| Fernando Fidel C. Aracama | Check payments worth P6,817,169.41 for the purchase of stocks were not credited to his account, but were instead credited to JV's account  | P6,817,169.41 | P6,272,944.53 |
| Hubert S. Cochien | Outstanding shares were sold by Valbuena without Cochien's knowledge; P442,000 check payment not credited; trading of PCP shares suspended | Shares and P442,000 check payment | P442,000 for check payment; P51,250 for suspended PCP shares; outstanding shares returned worth P7,252,851.17 |
| Rosemarie N. Javier | P8,000,000 check deposit to open RSEC trading account was instead credited to account of one of Valbuena's clients, Mr. Vicente Villalon | P8,000,000 | P8,000,000 |
| Joseph Felix Marie "Ace" H. Durano | Check payment of P1,000,000 for 1,000,000 LC shares and second check of P1,000,000 for additional shares; both checks were credited to JV's account | P2,000,000 | P2,000,000 |
| Ramon Felicisimo M. Lopez | SOA did not reflect 380,000 RFM shares and 5,500 SMPH shares; shares were sold by Valbuena without Lopez's knowledge | 380,000 RFM shares and 5,500 SMPH shares | P666,870.000 |
| Felicisimo M. Nacino, Jr | 646,000 RFM shares were sold by Valbuena without Nacino's consent | 646,000 RFM shares | 646,000 RFM shares in the amount of P840,772.99 |
The total settlement paid by RSEC because of Valbuena's schemes amounted to P67,856,636.94. But RSEC did not settle with all clients who lost money through Valbuena.
The affidavit did not mention how many clients actually lodged complaints with RSEC. 
Blame on Valbuena
But while RSEC executives blamed Valbuena, the Philippine Stock Exchange (PSE) felt it was not she alone who was at fault.  
In March 2012, the PSE fined RSEC P5 million because of its failure to supervise Valbuena and its failure "to implement effective internal control procedures to prevent the unauthorized use and disposition of funds and securities entrusted by clients," it said in a statement.  
It also recommended the suspension of the SEC license of RSEC's compliance officer, Rhodora Alberto, for her failure to supervise Valbuena. 
The PSE said RSEC paid the fine on March 21, 2012. The PSE also ordered RSEC to raise P300 million in fresh capital to cover the claims of its clients. At that time, RSEC said the claims already amounted to P126 million. 
But it appears RSEC was not completely honest with the PSE either.
Rappler was able to track down Valbuena's other RSEC clients who were also duped but did not get settlements. The clients, who spoke to Rappler on condition of anonymity, said their cases were similar, if not identical to, the cases mentioned above. 
"All payments I made were all to RCBC Securities. I never issued any other checks except to RCBC Securities, but those shares never made it to my portfolio," one client told Rappler.
Their concerns and complaints were – and have repeatedly been – ignored by RSEC officials, they said. 
The clients showed this reporter copies of checks issued to RSEC and fake provisional receipts issued to them by Valbuena, reflecting shares they supposedly bought. Added together, along with the amounts lost by the 16 mentioned above, the amount is equivalent to at least P1 billion – almost 8 times more than the amount RSEC told PSE was the cost of the claims (P126 million).
The clients said they spoke to RSEC officials in late 2011 or early 2012 – so that RSEC was aware of their claims before March – yet RSEC stuck with its estimate of just over P100 million worth of claims. 
Clients also told Rappler that when they tried to speak with RSEC, higher-ups were initially helpful but eventually told them Valbuena had taken everything they had and that they could no longer do anything. RSEC did not offer them settlements.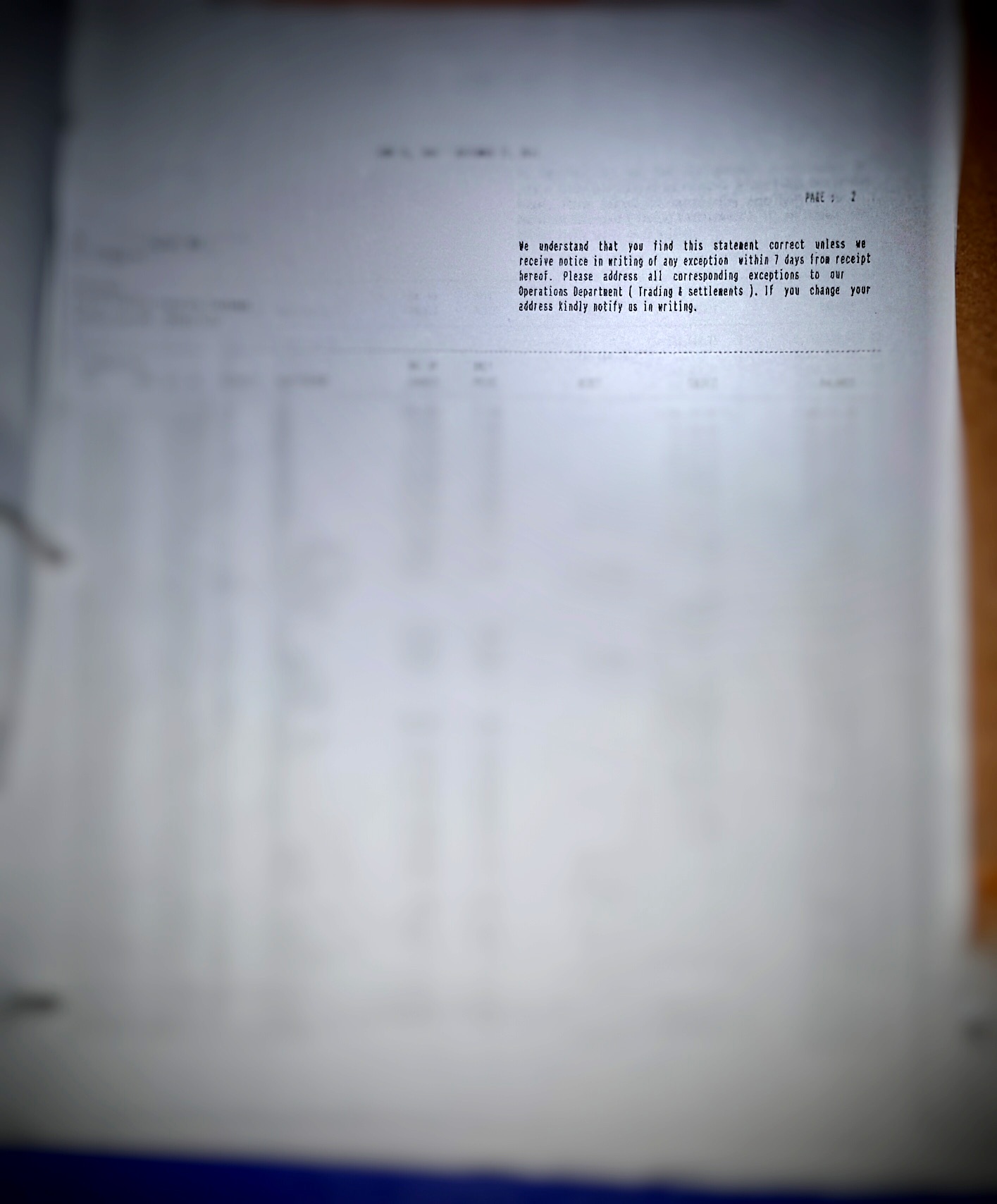 The cost of the scam, in fact, could be even more than the P1-billion estimate.
In several group emails to all her clients before the scam broke, Valbuena cc'd a total of 28 individual clients. The email list is an incomplete count of her clients, however, since of the 16 whom RSEC settled with, only 4 names appeared on the email list.
It is unclear how many clients Valbuena had in total, or how many of her clients were duped. Rappler spoke with only a handful of the 28 counted, indicating that the amount could well exceed a billion pesos.
Inaction
Documents also showed that higher-ups knew of the scam early on and acted slowly, failing to prevent further loss.
Salang himself in his affidavit admitted that RSEC knew of irregularities as early as November 2011.
"Beginning November 2011 up to March 2012, RSEC received several complaints from MGV's clients regarding irregularities and anomalies in their RSEC securities accounts," Salang's affidavit said. MGV is Valbuena's initials. 
"These irregularities concerned unauthorized transactions, discrepancies and inaccurate stock and cash positions reflected in their Statement of Account, unreflected and unimplemented securities transactions and unauthorized transfers of shares."
But if RSEC had received complaints in November, why did higher-ups choose not to act on them immediately or even suspend her activities? 
Valbuena was not dismissed by RSEC until December 23, 2011 and was actively transacting even after the initial complaints.
A timeline of events also proves knowledge on the part of Valbuena's superiors, including Jerome Tan.
In early December 2011, authentic SOAs reflected shares of some clients being completely withdrawn by Valbuena, drying up their accounts. This could have been prevented had her superiors acted immediately on the complaints the month before.
On December 7, Salang and Tan released an interoffice memo outlining "control procedures," further proof they were aware of the irregularities. 
The memo, obtained by Rappler, said "monthly statement of account invoices and other pertinent documents of agent's clients will be directly mailed or delivered to client's address."
It also said "we will not accept cash and check deposits from this party to be credited directly to the trading account of other RSEC clients unless supported with authorization letter and Quit Claim."
Clients told Rappler the memo was also worrisome since the guidelines, they said, constituted basic protocol and should have been observed since the very beginning.
The full memo, seen below, outlined much of the techniques Valbuena used in her modus operandi. The memo was signed by both Tan and Salang.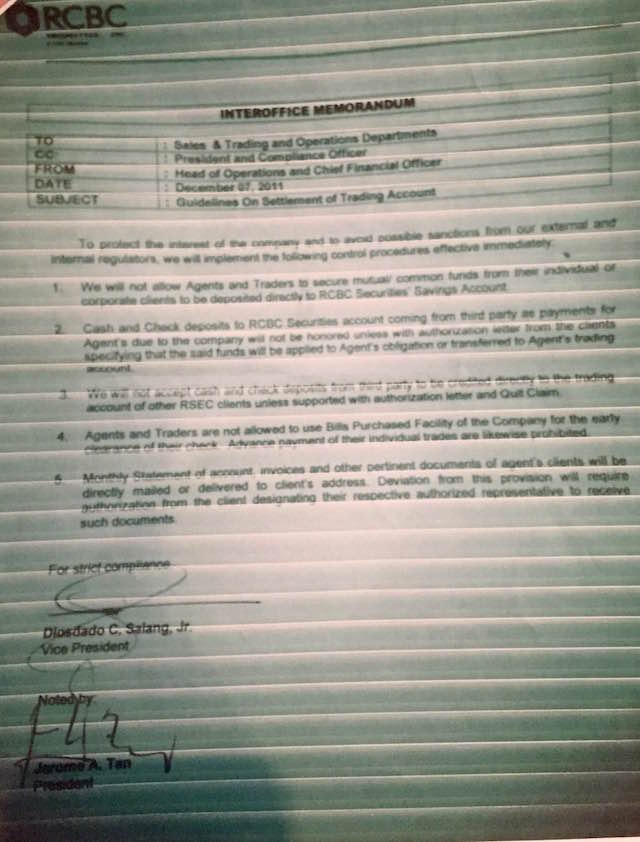 Despite the memo on December 7, however, Valbuena again was still able to transact and take money from clients after that date, as shown in the fake provisional receipts issued by her, which clients showed us.
It was not until December 23, 2011 when Valbuena was finally dismissed. 
In classified ads blasted on newspapers, RSEC announced that Valbuena "is no longer connected with RCBC Securities, Inc. as an independent agent effective December 23, 2011." It added, "any transaction made by her on our behalf will not be honored by the company." It also called on the public to report to the company any unauthorized activity.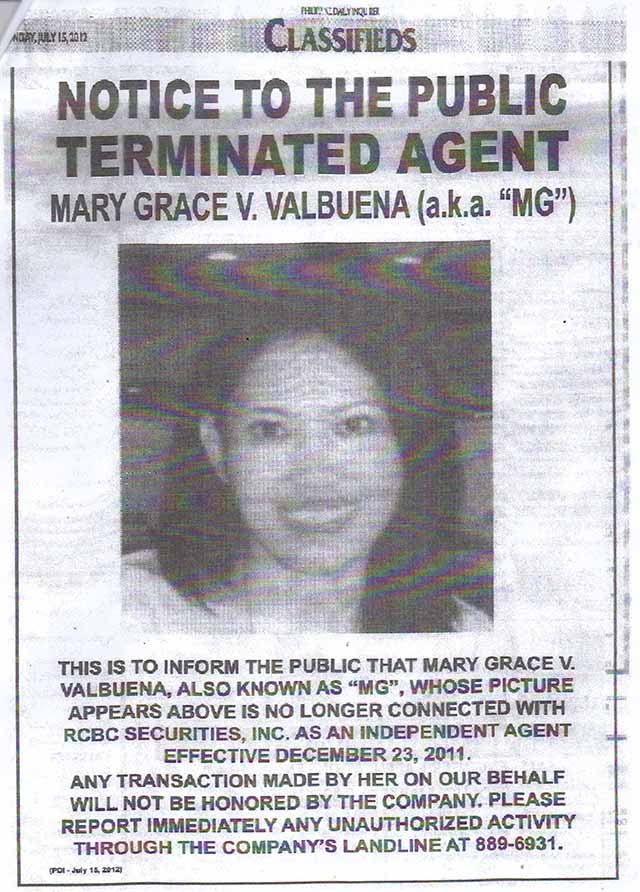 Systems failed, negligence
Valbuena's dismissal came over 4 years since the earliest irregular transaction, in October 2007, according to the affidavit.
In the affidavit, Salang said RSEC's investigation revealed that one client, Rene Gerard B. Gozum, had 39,000 GMA shares that were "'transferred out' by MGV from his securities account on 31 October 2007 without his knowledge and authorization, and placed into the CVALB trading account of her brother, JV." 
Thus, if there were irregular transactions as early as 2007, how could Valbuena's superiors have overlooked them for over 4 years? How did they repeatedly get past internal and external audits?
A closer scrutiny of RSEC's process shows that the negligence of Valbuena's superiors contributed to the problem.
According to a source familiar with the process, system-generated SOAs are printed and checked by the RSEC operations department before being sent directly to the dispatcher, who then sends the SOAs to clients. 
So for Valbuena to manipulate the SOAs, Valbuena would have had to somehow intercept the system-generated SOAs from the operations department before sending them out.
In the affidavit of Salang, Valbuena is only ever referred to as "independent agent," but business cards Valbuena used and distributed to clients, indicated "Sales Director" as her title.
RSEC business cards are issued only by the operations department, said the source. Salang was head of the department at the time. 
It is also Salang and Tan, in their respective positions, who were required to sign every check paid out by RSEC, or all checks, before they are credited to accounts.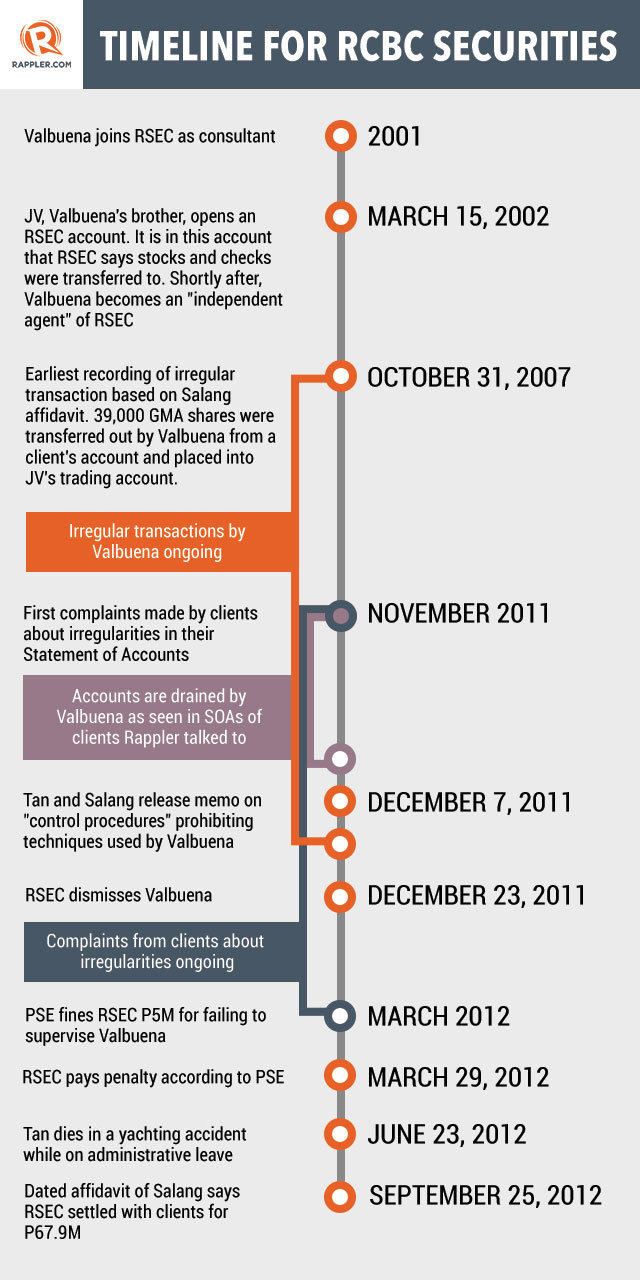 Lost trust
Tan died months after the scam broke, while Salang left his position in RSEC after the incident. He was cleared and soon took on a job at BPI Securities Corporation where he became senior director and chief operating officer.
Rappler reached out to Salang for questions but in a text message, Salang said he is "no longer connected with RCBC." 
"Sorry, the case is already in court. I can't give any comments," he said.
Clients said this is the same type of silence they have grown accustomed to with RSEC.
Until now, they said they do not know what happened to their stocks, where their checks addressed to RSEC went, or who benefitted from their shares and savings after they were deposited to the account of Valbuena's brother. 
What they do know, is that they lost their life's savings to RCBC Securities.
"I was depressed for years," one client told Rappler. "They could not tell us where our money went. We trusted them. But their protocols are clearly not enough."
"There is a pattern, there is a history. Our problem is with the whole institution. They are either involved or consistently not vigilant with their fiduciary responsibilities." – Rappler.com

If you have tips or information to share, you may email investigative@rappler.com.