What is Trending News Portal (TNP) and what kind of content does it produce? Here's a closer look at the data.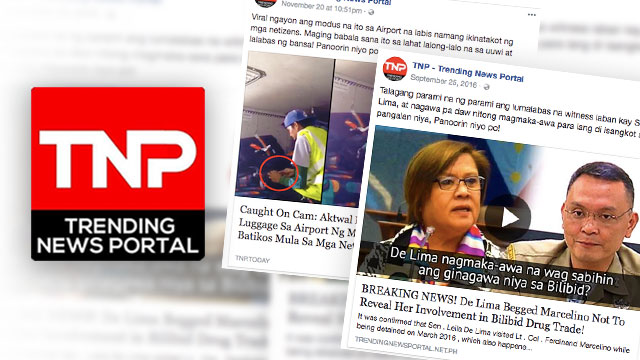 (PART 2: 'The success, influence of Trending News Portal' )
MANILA, Philippines – Presidential Communications Operations Office Assistant Secretary Mocha Uson constantly accuses legitimate news organizations of bias and being purveyors of fake news.
Yet her account, which has 5 million followers, posts a number of misleading content from dubious sources, including what appears to be her favorite, going by the number of times she has shared their content in a span of one year: Trending News Portal (TNP). (READ: 'MOCHA USON: Fake news victim or fake news peddler?' )
In just one year, Uson has shared TNP content more than 500 times, way more than any other website whose content she has disseminated.
What is TNP and what kind of content does it produce and spread? Here's what we found:
TNP's brand of news
On its website, TNP describes itself as "a digital news outfit specializing in trending news that become viral sensations online."
It produces thousands of online content every year. The data on TNP's Facebook page recorded at least 769 posts in the year it started. This catapulted to 3,041 posts in 2015, and 4,025 in 2016. As of November 2017, it has recorded more than 3,300 posts already.
Its content is categorized into different sections: News, entertainment, buzz (trending stories), lifestyle, and health. But since the site does not have reporters actually covering these beats, they simply source their stories from news organizations and social media.
This was confirmed by their managing director, Mike de Jesus. When we asked for the name of their editor-in-chief, he said that they currently don't have one, "since we only reblog existing materials found online."
Scraping the headlines of all the content posted on its Facebook page shows the following as the top 20 key words every year since 2015:
Entertainment stories seem to be TNP's forte in its first two years of existence.
Some of its earliest content featured updates about the Youtube couple Jamich and hit television show Pinoy Big Brother. They also write about celebrity gossip and interviews, sourced from other media organizations and social media.
For TNP, social media is a treasure trove of content. It blogs about anything that goes viral, from inspiring photos and stories to cringe-worthy, caught-on-cam footage. It also produces original memes and viral content.
Its most shared posts in 2014 for example, were all stories about viral posts and video sourced from social media.
But indiscriminately reporting viral content, without verification and checking the credibility of its source helps spread misinformation online.
TNP, for example, recently wrote about a viral post by the Facebook page 'Tulfo Action Agad.' It showed video of an airline crew caught opening passengers' luggage.
Neither the post nor the report provided any detail about the supposed crime – they failed to mention where and when it happened. TNP said "this case is not so new in the Philippines," then cited two instances of baggage theft that happened in the country.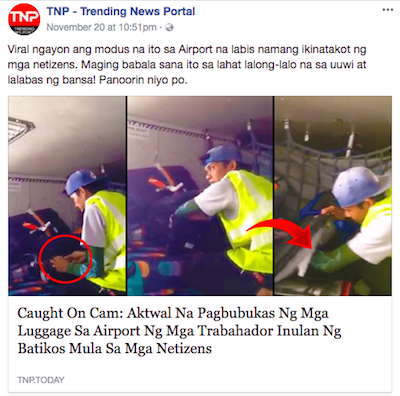 The truth, however, is that the incident actually happened at the Phuket International Airport in Thailand, involving crew who stole a camera from a Jetstar luggage. But both the report and the post went viral anyway, with many netizens being misled to think that it happened in the Philippines.
It was in 2016 when TNP started to adopt a more political tone. President Rodrigo Duterte and detained senator Leila de Lima have become two of their most written about figures.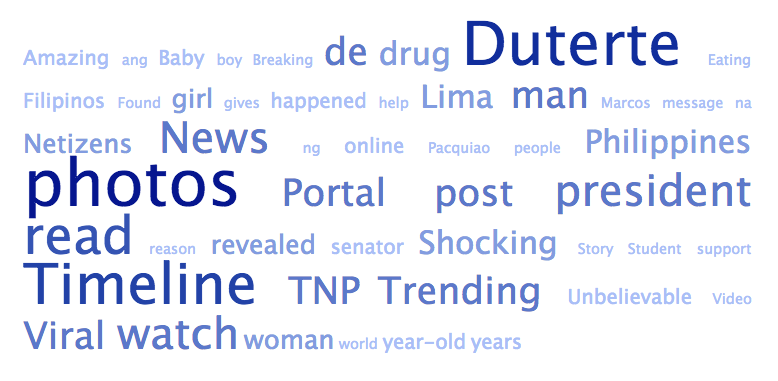 But the penchant for reporting anything viral without actual verification also amplified black propaganda campaigns against those regarded as critics of the president.
On June 25, 2016, for example, TNP published a story reporting a viral photo of Leni Robredo and an alleged "leftist" she married before Jesse Robredo. It had the headline, "Leni Robredo's Alleged Wedding Photos To Her First Leftist Husband Before Jesse Robredo Goes Viral Online!"
The photo, however, was not of Robredo. It was instead taken from an unknowing netizen who posted it to greet his parents on their wedding anniversary.
In another instance, TNP published a "breaking" story with the headline, "De Lima Begged Marcelino Not To Reveal Her Involvement in Bilibid Drug Trade."
The story referred to Lt Colonel Ferdinand Marcelino who was arrested during a raid on a shabu warehouse in Manila in January 2016. The story, however, just mentioned De Lima visiting him in prison just before the elections in 2016, without stating the reason for the visit.
As it turned out, Marcelino's affidavit – released after charges against him were dropped in May 2016 – indicated that he and De Lima discussed the raid and dismantling of a shabu laboratory in Camiling, Tarlac when she visited him in prison.
The posts have already been deleted.

Just as they published stories against the President's critics, they also published several stories in 2016 that expressed strong admiration for Duterte.
"Talagang hindi natatakot si President Duterte sa mga Threats na kanyang natatanggap dahil malakas ang paniniwala niya sa ating Poong may Kapal. Kaya mahal na mahal namin kayo President (sic)," TNP wrote in a post in July 10, 2016. This came with a story with the headline, "Duterte Unafraid of Threats Says 'God will Decide.'
(President Duterte is really not afraid of the threats he has received because he has strong faith in our God. This why we love you so much, President.)
"Napaka humble talaga ni President Duterte kahit isa na siyang ganap na Presidente ay ganito parin siya manamit," they said in another post in the same month. Their story had the headline, "The Humble President Wears His Slippers In Bahay Pangarap. Must See!"
(President Duterte is so humble. Even if he is already a president, this is still how he dresses.)
"Talagang parami na ng parami ang sumusuporta kay Duterte pagdating sa pagsugpo sa krimen sa bansa, Iba talaga ang Duterte Effects sa lahat ng Filipino," they wrote in a post on July 4, 2016.
(Duterte is surely getting more and more supporters when it comes to fighting crime in the country. There really is something about the "Duterte effect" on all Filipinos.)
A closer look into their 2016 posts shows that content about Duterte started as early as March 2016, during the campaign period. Duterte was consistently their top topic starting April.
Uson also started sharing content from TNP in April 2016, a month before elections.
Good move?
Shifting their focus from entertainment to politics, whether deliberate or not, proved to be beneficial for TNP.
Its Facebook page's engagement, or the total number of reactions, comments, and shares of posts saw its biggest increase in 2016, the year President Rodrigo Duterte won the election and spent his first months in office.
Their total engagement increased 5 times in just one year, from 2015-2016. 
The followers of TNP's Facebook page – in existence since May 2014 – have since risen to over 3.7 million in November 2017.
In the last 6 months alone, Tnp.ph has been enjoying an average of 1,440,150 website visits every month, according to SemRush, a digital marketing suite that provides competitive traffic analysis, among others.
Network of pages
TNP's reach on Facebook extends beyond its own page because it has been given a boost by several fan pages for celebrities and pro-Duterte pages such as:
Jamich (8.2 million followers)

Unofficial: Maja Salvador (5.5 million followers)

Barkada FM (2.4 million followers)

Ronald "Bato" Dela Rosa Supporters (932,000 followers)

Pinoy Radio (913,000 followers)

Kitty Duterte Supporters (625,000 followers)

Alan Peter Cayetano Supporters (353,000 followers)

Alex Gonzaga (191,000 followers)

Jam Fernando Sebastian (127,000 followers)
In many cases, TNP's content was posted on these pages with the same caption and within minutes of posting on TNP's Facebook page. Sometimes, they were posted at the exact same time.
For example, TNP's story about a supposed "political scientist" slamming former President Fidel Ramos, when he criticized President Duterte, was posted on Facebook pages TNP, Ronald "Bato" Dela Rosa Supporters, and Alan Peter Cayetano Supporters on May 29, 2017 at exactly 2:30 am.
Not only were they posted at the exact same time but also with the exact same caption: "Wala akong masabi dito! Basahin niyo po ang kanyang pahayag tungkol kay Ex. President Ramos! Ano po ang masasabi niyo?" (I'm speechless! Read ex-President Ramos' statement! What can you say?)
The posts on the 3 pages have already been deleted.
This has been happening since 2014, where the same content is posted in various pages within a minute or less. For example:
It is organically impossible for two Facebook page administrators to share the same link with the same caption at exactly the same time. This either shows there is a connection between these pages or that they are managed by the same people.
Each one of these groups has a huge following, ranging from over 8 million to over 120,000. Combine all these groups together and they make a network far wider than TNP's reach of 3.7 million followers – all the more reason why it should be more responsible for their content.
Deleting past posts
But accountability is also an issue with TNP.
Checking their posts and past content has also been tricky because there appears to be unwillingness on their part to be transparent.
For instance, they regularly migrate to a new domain and make their old domains inaccessible. The domain for TNP's website has been changed several times in the following order: trendingnewsportal.blogspot.com, trendingnewsportal.com, trendingnewsportal.net, trendingnews.portal.net.ph.
As of Friday, December 8, content on tnp.ph was already gone. They are now using a new domain: tnp.today.
TNP also has an exclusion protocol (robots.txt) installed in their past domains which blocks crawlers from the Internet Archive.
It's not only their websites that have been taken down: many of their posts in 2015 and 2016, especially political ones, have already been deleted. This shows a deliberate effort to hide previously published content.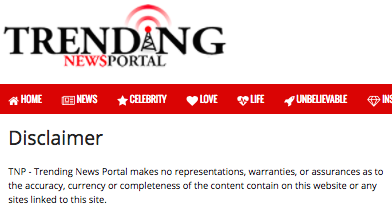 Their editorial process is also undisclosed. The TNP site does not show who is on the editorial board, although it has started to use bylines for stories. In the early versions of their site, a disclaimer said they can't vouch for the accuracy of their reports.
Asked about details pertaining to their editorial process – how they gather news and verify their information before posting – their managing director said, "The inquiry is too expansive to address given the lack in time and some difficulties in coordination" as their "key people are abroad for a two-week trip." – Rappler.com
To be concluded