Part 2: TNP appears to be doing well, not just online but in the real world too. But without verification of published content, the dangers are apparent.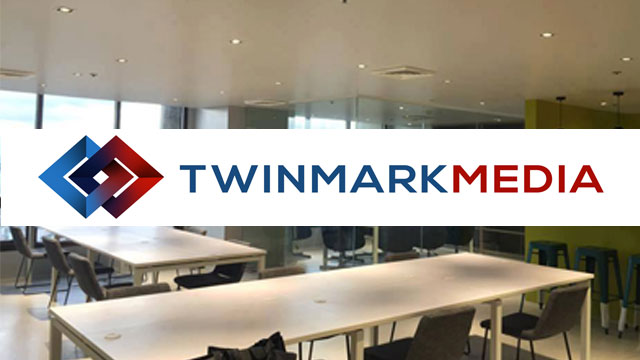 READ: PART 1: A closer look into Mocha Uson's top source of news
MANILA, Philippines – In the first part of our report, we showed how Trending News Portal, a "digital news outfit", quickly rose to prominence by shifting the focus of their content from entertainment to politics.
It has proven to be effective in increasing TNP's reach: their total engagement has grown 5 times more in just one year.
But this rise to success doesn't seem to be limited online. TNP appears to be doing well in the real world too.
Twinmark Media 
TNP is owned by a company called Twinmark Media Enterprises Inc (Twinmark).
While its website says it was founded in 2014, Twinmark was officially registered with the Securities and Exchange Commission only on October 6, 2016.
According to its website, Twinmark is a young, digital company based in the Philippines. Other than TNP, they have other digital assets: Healthy Digest, Kikay Department, Techie Talk, and Wonderer. Like TNP, they all produce online content, each one targeting a unique market.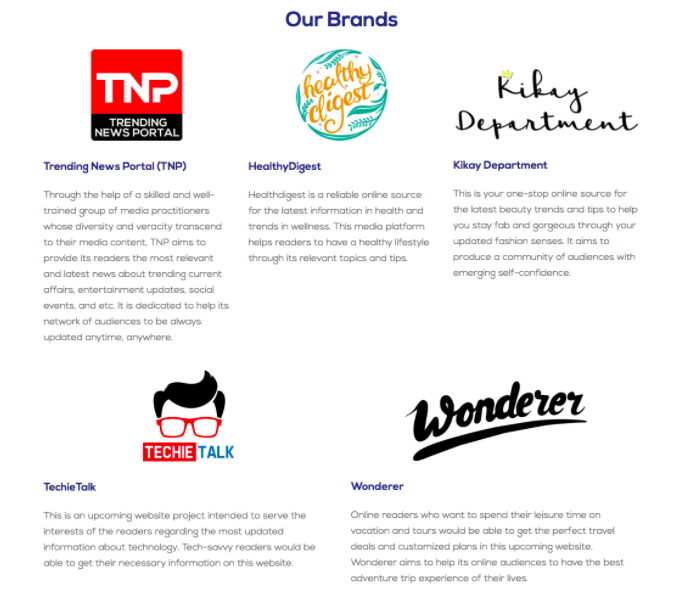 According to their SEC registration, the following are Twinmark's incorporators: 
Fernando Hicban Jr I

Fernando Hicban Jr II (also known as Ken)

Mark Anthony Hicban

Ma. Teresita M. De Jesus

Alyssa O. Bajar
The 3 Hicbans are brothers (Fernando and Ken are twins). After looking into their and Twinmark employees' social media posts, it appears that the first 3 are the most involved in Twinmark's operations, frequently referred to as the company bosses. The 3 Hicbans rarely go to the office, a staff member said.
Mark*, (not his real name), shared his experience as a former writer for Twinmark. He described what it's like to work for the Hicbans' social media empire.
Work environment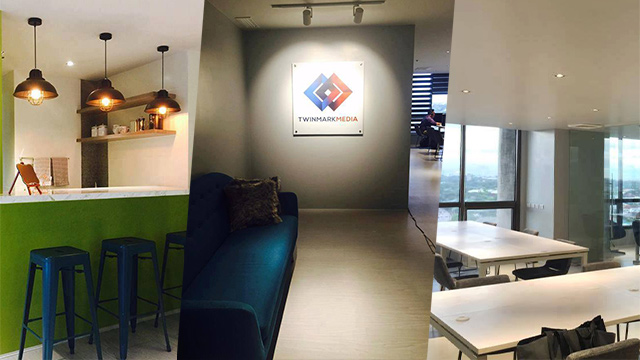 Twinmark's office at the Galleria Corporate Center in Ortigas does not disappoint. Run and operated by millennials, the office exudes coziness and fun. 
Checking listings available online, the running rate for an office at the Galleria Corporate Center is around P500 to P550 per square meter per month, exclusive of cooling fees, value-added tax, and other dues. According to Mark, their office space is about 100 square meters, translating to about P50,000 per month in rent.
"Mainit nga lang pag weekend. Nakapatay ang aircon – building policy," Mark added. (But it's hot on weekends. They turn off the aircon – building policy.)
Mark said Twinmark employs around 50 to 60 people. According to one of their job listings in 2016, a junior web content writer for Twinmark receives the following: "P15,000 monthly salary, government-mandated benefits, performance incentives, and miscellaneous employee perks (free food, company trips, etc)." A full-time writer in TNP, with or without experience, can get P16,000 per month.
Going by social media posts of Twinmark and TNP employees, the company is pretty generous. Office parties – occasional celebrations, anniversary, Christmas, and thanksgiving parties – are not lacking. There are company trips too to tourist destinations like Boracay and Batangas.
In 2017, employees even flew to Hong Kong. One batch left last November and will be followed by another batch in 2018. Transportation and accommodation expenses are handled by the company, according to Mark.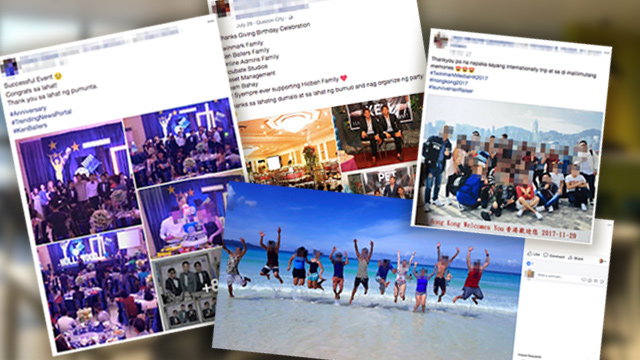 'Poor editorial process'
Despite the work environment, Mark didn't stay for too long because he started doubting the kind of content they produced. According to him, the content they published on their site went through practically zero verification.
Unlike other news outfits, TNP does not have reporters who get news directly from their sources. Instead, Mark said, the company has a "social media team", a group of people who scour the internet for news reports, viral social media posts, and other content online.
They upload the links to Vtiger, their content management system, where "content writers", whose sole job is to rewrite, pick them up. The rewritten stories are then sent to their "editors" who provide the final touches, fixing grammar and format. Little to no verification happens in this whole process, Mark said. 
Their team, composed of 4 writers, was expected to have a daily output of 25 stories, which they called "tickets". 
No one among the writers have a background in journalism. "Tinitingnan lang nila kung mabilis magre-write at mabilis mag-isip," he added. (They only look at speed in rewriting and thinking.) 
These stories are then disseminated by a team that manages TNP's social media accounts.
Ad revenues
Twinmark seems to be doing well, profit-wise.
Just like other online news outfits, its main source of income is advertising. Ads are spread out in Twinmark's websites.
Citing website statistics and analytics tool Hypestat.com, a blog by Alvin and Noemi Nieto estimated the value of tnp.ph at US$22,717.38 (P1,142,457). Monthly revenues were pegged at $22,717.38 (P82,978). 
Hypestat estimated the value of a website based on different factors: number of visitors, backlinks, Google PageRank, Alexa rank, social media reputation, and page speed, among others. 
It may not look like much, but these are ad revenues for tnp.ph alone and exclude income from their other websites. Other than tnp.ph, both Kikay Department and Healthy Digest have active websites. Kikaydepartment.com, healthydigest.ph, trendingnewsportal.com.ph, trendingnewsportal.com and teamangel.ph (a fan website for actress Angel Locsin), are all registered under Fernando Hicban Jr I's name. They have programmatic ads running on these sites.
A reverse WhoIs search also showed that Fernando is associated with at least 9 domains. 
The following websites also use the same Adsense ID for the ads on healthydigest.ph and kikaydepartment.com:
This means that ad revenues for these websites are channeled to the same people behind Twinmark's Healthy Digest and Kikay Department. Some of these websites were also dug out by Alvin and Noemi's blog which reverse-searched netcitizen.co's Adsense ID.
While some are already conspicuously inactive, the rest are "news" sites focusing on viral internet content. There are ads all over these websites. Mark said he wrote for both socialpees.com and chismix.com during his stint at Twinmark.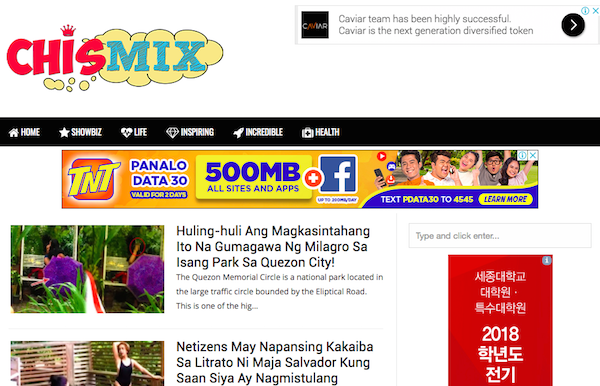 In our previous report, we said that netcitizen.co was among the sites PCOO Assistant Secretary Mocha Uson frequently shares on her Facebook page. She started frequently sharing their content in September 2017, just a month before she stopped sharing TNP's content.
Just like TNP, Netcitizen produces news content sourced online and from news reports, seemingly focusing on political and viral stories.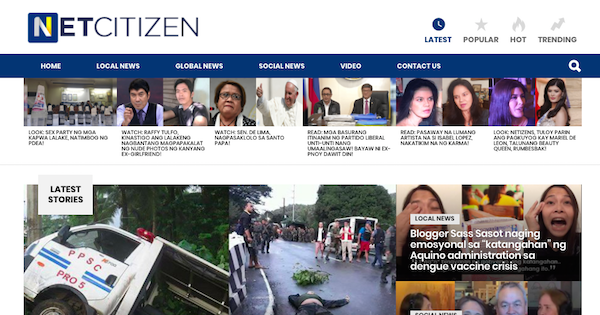 If all these websites were all Twinmark's assets, their combined reach can compete with some of the country's top news organizations.
This makes it imperative for Twinmark to strive to be more responsible about what it publishes on these sites and to be more transparent about its editorial processes. Otherwise it becomes just another vehicle to spread wrong, if not unverified, information. – Rappler.com