This is AI generated summarization, which may have errors. For context, always refer to the full article.
The embattled senator's image turned from dignified to dishonorable in just 3 years. Here's how social media had a hand in all of it.
This compilation was migrated from our archives
Visit the archived version to read the full article.
MANILA, Philippines – Philippine opposition senator Leila de Lima marked her 1,000th day in prison on November 20, 2019. 
Prior to the 2016 elections, it didn't seem likely that she would spend years in jail. After all, she was a seasoned lawyer who served as the chairperson of the Commission on Human Rights (CHR) until 2010 and as secretary of the Department of Justice (DOJ) until 2015. This track record helped her secure a senatorial seat in the 2016 elections.
But a lot has changed in that span of time – not only in the country's politics but also on social media. 
Networked websites on social media spread numerous claims discrediting De Lima's credentials and ethics. While many of these claims have been found false or misleading, they were nevertheless deliberately amplified by the same set of connected Facebook pages. 
These viral claims against De Lima that were often disguised as "news" started sprouting in 2016. That year, the aspiring senator was a rising opposition figure against Rodrigo Duterte, a popular presidential candidate at that time – one who had secured millions of supporters despite allegations of having a hand in extrajudicial killings in Davao City when he was mayor.
The online attacks against De Lima became even more rampant after both she and Duterte were sworn into office. In fact, the negative propaganda against the neophyte senator often came from websites and pages that shared pro-Duterte content, many of which were meticulously fabricated.
One that stood out was Facebook page Pinoy Republic (facebook.com/pinoyworldofficial), which amassed tens of thousands of online engagements just by creating a manipulated video to spread false allegations against the senator.
Deceit, concerted effort
In August 2016, the page posted a video of De Lima titled, in all caps: "PLEASE WATCH AND SHARE!!! UMAMIN NA! (Finally admitted!)"
The video, which lasted 1 minute and 28 seconds, showed De Lima speaking during what looked like a Senate press conference. "I am a drug lord coddler," the senator supposedly said.
In August 2019, 3 years after it was originally posted, the video again spread like wildfire on Facebook. Facebook Claim Check flagged the post – which, by then, already had 2.8 million views and over 88,000 shares – for fact checkers to verify. (Claim Check is Facebook's tool that identifies suspicious posts spread across the platform. Facebook's fact-checking partners have access to this tool. – Editor)
The video, however, was manipulated. It was spliced and edited to make it appear like De Lima was admitting to being a protector of drug lords when, in fact, she was delivering a privilege speech to criticize the rise of extrajudicial killings under the Duterte administration that resulted from his war on drugs. (FALSE: Video of De Lima 'admitting' she's a drug lord coddler)
Both the manipulated video and the page are no longer available on Facebook. Pinoy Republic's last online activity was recorded on September 4, 2019.
Facebook confirmed to Rappler that the page was taken down for violating their spam policies. The social networking company defines spam as "content that is designed to deceive, or that attempts to mislead users to increase viewership."

In October 2018, Facebook took down a network of 95 pages and 39 accounts in the Philippines that violated their spam and authenticity policies. These pages were found to be sharing "links to the same advertising click farms off Facebook." (READ: Facebook removes pro-Duterte pages for violating policies)
Among the 4 fact-check articles published by Rappler that concern De Lima in 2019, the video posted by Pinoy Republic is an interesting one because of two reasons. One, it was originally published in 2016 but was again circulated in 2019; two, it was a deliberate effort to deceive the viewers and injure the senator's character.
"Share natin 'to guys! Umamin na ang De Lima na isa siyang protektor ng druga. Ano kayang magandang hatol sa kanya! (Let's share this, guys! De Lima already admitted that she's a drug protector. What should be a fitting verdict for her?) COMMENT and SHARE!" the caption read.
A scrape of the video showed that it already got high engagements when it was first posted in 2016, garnering a total of 86,567 shares, comments, and reactions.
It was also posted around the time when the President linked De Lima to the drug trade inside the New Bilibid Prison (NBP), prompting the House of Representatives to seek a probe into her alleged involvement in the proliferation of drug syndicates in the national penitentiary during her time as justice secretary. (EXPLAINER: What is Leila de Lima being accused of?)
This was amplified to over 100,000 engagements when it became viral again in 2019.
Pinoy Republic's content shows it used a lot of material sourced from different websites – some of which have posted information that Rappler had previously fact checked. Among the websites that Pinoy Republic often shared content from was showbiztrends.info, which, despite its name, does not post entertainment industry-related information, but rather articles related to politics and current events.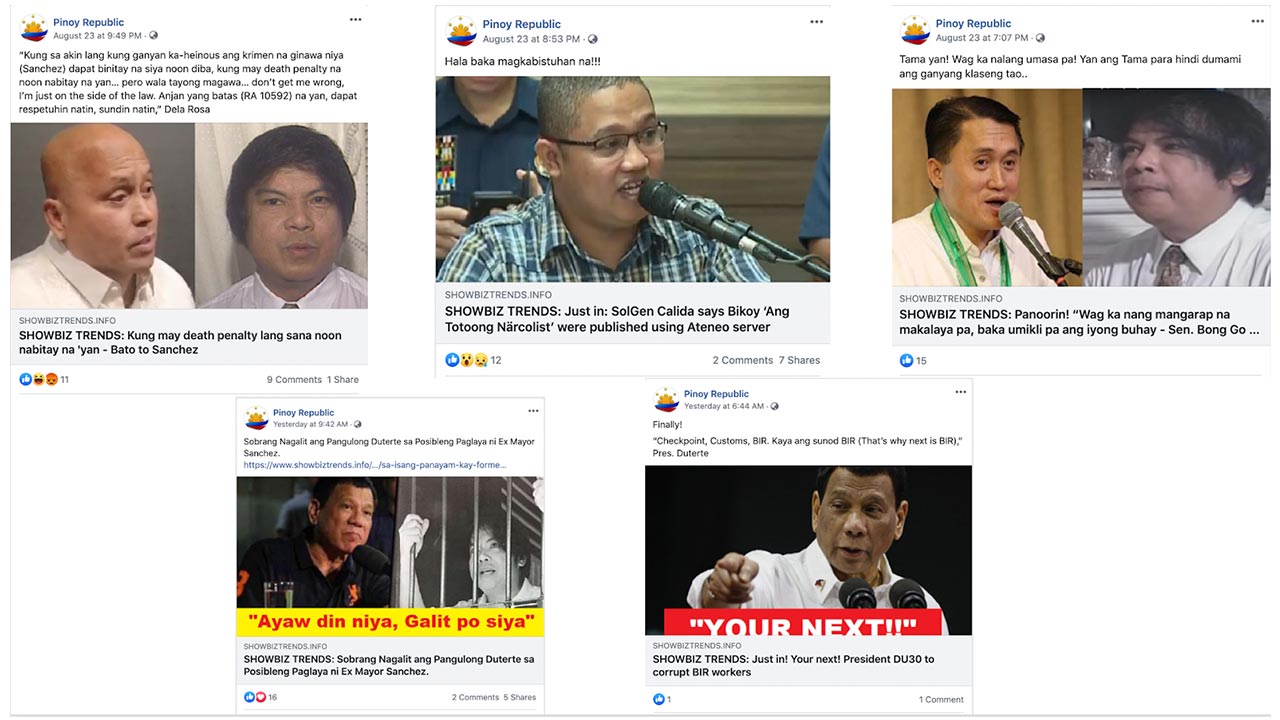 From July 2018 to June 2019, Pinoy Republic shared about 996 links from showbiztrends.info and got a combined reaction count of 52,744 from these posts. The page also regularly posted articles from newsglobal.info during the same period, garnering 23,838 reactions from 596 different posts.
Both showbiztrends.info and newsglobal.info are part of a larger network of websites and pages that systematically share and amplify each other's content that pose as "news."
Here is the network of such Facebook pages and websites connected to Pinoy Republic from January to March 2019, or the period when the page started gaining significant engagement. This period marked the lead-up to the 2019 elections, when posts almost regularly reached at least 1,000 engagements each.
The network graph above visualizes how Pinoy Republic is connected to the Facebook pages and groups that systematically share each other's content. It also shows links from dubious websites (labeled as external). If an arrow from node A points to node B, it means node A shares content posted by node B. Click on the circles to see the name and URL of each channel.
Content from showbiztrends.info and newsglobal.info were still being amplified by Pinoy Republic at least a month before it was taken down. Both websites were also found to be still live as of December 6, 2019, and are still posting content related to current events.
Created in 2014, Pinoy Republic went by several names on Facebook. It was originally called Pinoy Magazine when it was created on November 19, 2014, then became Pinoy World on December 19, 2014. It adopted its current name, Pinoy Republic, only on May 6, 2016, days before the 2016 presidential elections. The page had 197,680 followers as of August 25, 2019.
Becoming a target of disinformation
The discord between Duterte and De Lima had long existed – even before they were both elected to national positions. When De Lima was CHR chair, she had always been critical of the governance style of Duterte, who was then mayor.
In 2009, she launched a probe into the notorious Davao Death Squad, which was said to be a group of vigilante killers under Duterte. (TIMELINE: Probing into the Davao Death Squad)
Shortly after Duterte came to power in 2016, De Lima became embroiled in issues related to illegal drugs.
"She said that she has something on me. Why, does she think I don't have anything on her? I have something better; it will make her cry. Be very careful, you know, life can be unpredictable," President Duterte warned in a press conference in August 2016, his second month in office. (READ: Duterte attacks 'politicking, posturing' De Lima)
Fast forward to February 2017: De Lima was arrested over drug charges filed against her by the DOJ before a court in Muntinlupa. This came 8 months after she was sworn into office as senator on June 30, 2016. (TIMELINE: De Lima – from drug probe to arrest) 
The attacks on De Lima did not stop even after she surrendered in 2017. In 2019 alone, Rappler fact-checked at least 4 false claims targeting the senator.
Since April 2018, when Rappler officially partnered with Facebook for its fact-checking program, there have been at least 10 fact-check articles debunking claims that either attacked or mentioned De Lima.
One of the first claims Rappler fact-checked, and which appeared in May 2018, said De Lima would soon be transferred to the NBP. This was not true, because the senator had always been detained at Camp Crame.
Another video involving De Lima circulated on Facebook in 2019, which was claimed to be proof of her "partying in Bilibid." This was also false because the footage was of the senator's birthday in 2015 that took place at the quadrangle of the DOJ.
The other claims were an attack to show how De Lima, along with her colleagues from the Liberal Party and other political allies, were allegedly corrupt, "destabilizers" of the government, and linked to communists.
A claim that went viral in August 2018 said De Lima, along with other members of the opposition, were involved in taking "Marcos gold bars" and illegally funneled them to Thailand. There was another claim in December 2018 that said opposition senators filed a bill to abolish the 13th month pay and tagged De Lima as one of the bill's endorsers. None of these claims were true.
Even prior to the launch of Facebook's fact-checking initiative, there had been many false or misleading claims about the senator that spread online since 2016.  (State-sponsored hate: The rise of the pro-Duterte bloggers)
In October 2016, there was a claim that she purchased a $6-million mansion in New York. This was later debunked because the address provided in the claim led to the location of the historic Bartow-Pell Mansion Museum. There was also a claim that said she committed suicide in prison in 2017, but this was also debunked by the very-much-alive senator herself. These claims were often posted by supporters of the Duterte administration.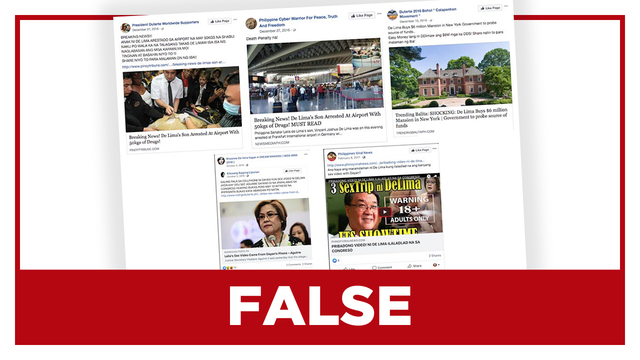 But perhaps one claim that became most widespread was her alleged sex video with her former bodyguard Ronnie Dayan which surfaced around mid-to-late 2016. The video, said to be recorded in 2012, became viral not only on social media but was spread on the ground, too, when physical copies made the rounds. (READ: Convicted cop links De Lima, Ronnie Dayan to drug lord 'Jaguar')
De Lima never confirmed the video was real, but she publicly admitted that she had a years-long affair with Dayan. The senator also said she had ended things between them before she ran for the 2016 elections, and that Dayan had been estranged from his wife long before their relationship.
Even congressmen feasted on the supposed video and the senator's affair, which became important topics during the hearings. Male members of the Congress even grilled Dayan with nonsense and highly sexist questions during the interpellations – which observers called out for "crossing the line." (The House's 'climax' congressmen: Who are they?)
Regardless of its authenticity, the purported sex video bred a number of salacious posts online that trampled on the senator's dignity. Duterte himself even brought this up again in November 2019, during De Lima's 1,000th day in prison.
It may take a long while, if at all, before De Lima's public image recovers from all this, but the senator is not taking things sitting down.
In November, De Lima launched the True Leila Project, her own website dedicated to debunking false or misleading claims made about her. She is fighting back. ('Slap them with the truth': Fact-checking website to fight 'fake news' about De Lima)  – with Gemma Bagayaua-Mendoza and Vernise Tantuco/Rappler.com