EXCLUSIVE, Part 2: Sometimes school administrators don't make it easy for student victims to come forward and file complaints of sexual harassment against their teachers
At a glance:
More reports of sexual harassment surface on social media than what schools investigate.
Two girls dared to file complaints, but felt their school administrators would side with their abusers.
School administrators appeal to students to file complaints so they can investigate, but the law says they can initiate probes on their own.
Trigger warning: This story contains descriptions of sexual harassment and predatory behavior.
In 2020, a number of girls came forward on social media with stories of being harassed by their teachers, even posting screenshots of the perpetrators' messages.
Using the hashtag #DoBetter, plus the names of the institutions, these students, alumni, and their supporters told schools they had fallen short of protecting the young people in their care. Among those mentioned in the posts were St. Theresa's College-Quezon City (STCQC), Miriam College, St. Paul College Pasig, Ateneo de Manila University, School of the Holy Spirit of Quezon City, Marikina Science High School, and Bulacan State University.
In response, schools posted official statements on the issue, usually saying they heard the concerns and didn't tolerate sexual abuse, and encouraged students to report their concerns through official channels.
Not much is known, however, about how individual schools handle cases of sexual harassment. Of the names dropped on social media, how many teachers are dealt with administratively, if at all? How many continue teaching and preying on more students? How are the victims taken care of?
We go back to the stories of Meulin*, Crystal*, and Jastine Yap, whose high school teachers groomed them for exploitation. Their experiences with how STCQC handled their complaints can be instructive. If anything, they show some small wins, but a battle that was far from easy.
The STCQC administration declined an interview with Rappler about these specific cases, as well as other reports circulating on social media. Instead, they outlined their efforts to curb sexual harassment in school.
Jastine of STCQC: Asked to apologize to her abuser
The "relationship" that Mr. Morales* had with Jastine and Meulin from his Grade 11 philosophy class changed when the girls learned that he had also been communicating in flirtatious ways with other students.
Jastine told Morales that she wouldn't rat on him if he promised to stop talking to all the other girls. Meulin, meanwhile, threatened to cut ties with him. But Morales emotionally blackmailed Jastine, threatening suicide. "I'm walking along Maginhawa [Street] now and I hope I get hit by a car," he told Jastine in a text message. She caved.
The STCQC administration eventually found out about what was going on between teacher and students when screenshots of their exchanges spread. Jastine and Meulin spoke to school officials initially without their parents' knowledge.
But rather than focusing on the teacher's alleged predatory behavior, as indicated in the exchanges, STCQC seemed more interested in finding out who circulated the screenshots and how scandalous the students' behavior had been, Jastine said. Administrators even asked Jastine to write an apology letter to Mr. Morales.
The school gave Jastine a failing grade for behavior for allegedly "lying" in the school's investigation into the screenshot incident. Jastine said she wasn't given the chance to confirm or deny the "relationship" because the administrators took the teacher's word denying that there was something between them. She told them she didn't understand how she got involved in the "scandal" and why she was the one being bullied by her peers.
Eventually, Jastine opened up to her mother Christine Yap. But it was already October 2016, the end of the first semester – "already late in the game," as Christine described it.
The teacher had resigned, but Christine was determined to go after him.
Jastine's parents appealed the failing grade. But in a letter dated March 8, 2017, a copy of which was provided by the family to Rappler, STCQC directress Josefina Nebres upheld the grade and insisted due process was followed.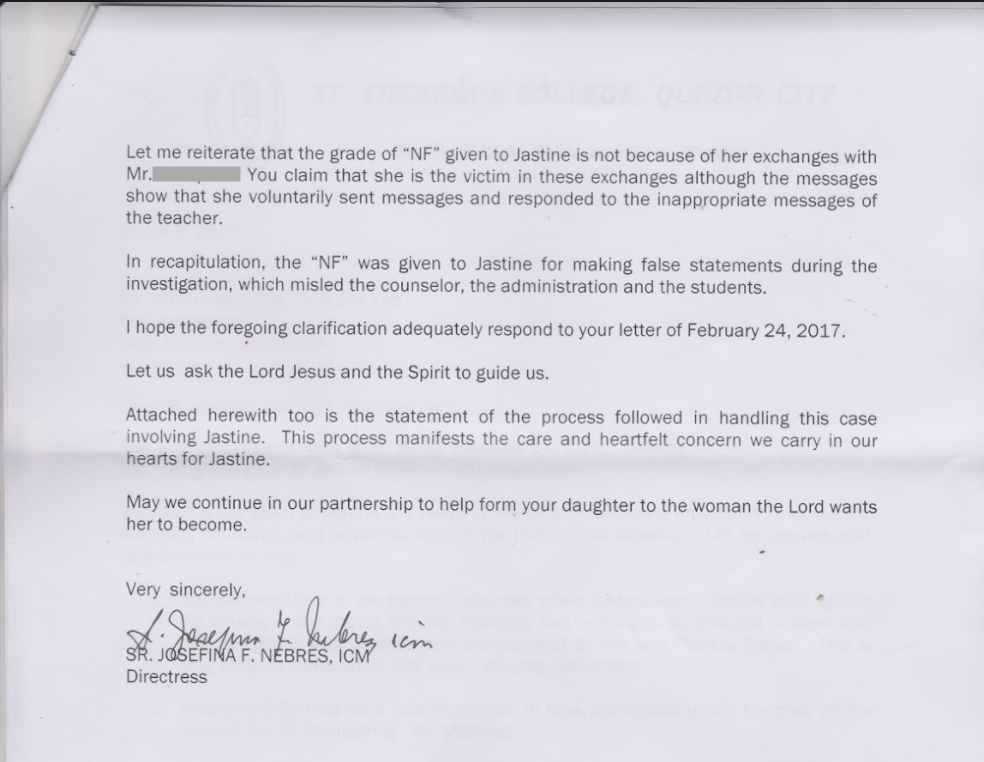 Jastine's family elevated the case to the Department of Education (DepEd), alleging Jastine was deprived of child protection and that Morales was favored. After two years, the DepEd ruled in the Yaps' favor.
The Yap family provided Rappler a copy of DepEd's February 2019 resolution, which ruled that STCQC:
Failed to protect Jastine from bullying
Held an investigation that was "tainted with irregularities and procedural defects"
Failed to provide Jastine psychosocial intervention
Failed to forward all records of the case to DepEd
"As alleged by Jastine, she was influenced by Mr. [Morales] to lie [about] their relationship. And there was nothing on the records which would show that said allegation was denied by Mr. [Morales]. As said, one cannot expect a minor to make the right decision especially when prodded by a teacher who has moral ascendancy over her person," the DepEd decision read.
The DepEd voided Jastine's failing grade, although STCQC claimed in a motion for reconsideration that DepEd didn't have such power. The administration changed her grade anyway after making her do community service.
The Yap family still thinks the penalty on STCQC was a "slap on the wrist," as they were told to simply revisit their anti-bullying policies.
"It was like no one was held accountable. The paper was just paper. I don't feel like we won," Christine said in Filipino.
Crystal of STCQC: Teacher terminated, but no apologies
Nine years after the abuse by her teacher in high school, Crystal gathered the courage to come forward.
Mr. Duico*, her abuser, was still teaching at STCQC.
After #STCDOBETTER trended on Twitter, Nebres released a statement on June 26, 2020, saying the administration wasn't "turning a blind eye" to the grievances aired online, and that it shared in the "sadness, pain, and hurts" of their students and alumni.
Students and alumni criticized the statement because it failed to properly apologize to the students. On the same day, the Theresian Student Council said the administration asked student leaders to "initiate dialogue" about the reports.
On July 3, 2020, Crystal filed an administrative complaint against Duico with STCQC. On July 9, STCQC announced the creation of its Student Care Council (SCC) – composed of administration, faculty, parents, lawyers, alumnae, and student representatives – which would process cases. Crystal's was "Case #1."
On August 5, STCQC terminated Duico for violating the anti-sexual harassment law, the teachers' code of ethics, and the school's policy against engaging in sex out of wedlock.
According to the decision, a copy of which Crystal provided Rappler, Duico didn't address any of the allegations and only mentioned that he had been "subjected to public ridicule."
To inform Crystal of the termination, STCQC emailed her a copy of the decision addressed to Duico. The school also wrote to her: "We commend you for your bravery and courage, and for shining a light to your trauma so that it does not happen again to another Theresian. Justice has been served today. We only wish you the very best in the days and years to come."
Crystal told Rappler via Facebook Messenger: "But it was super dragging. I kept on following up through emails and they took so long to provide details about the investigation. I formally asked for an apology from the school and the teacher, but I did not receive any."
STCQC declined an interview with Rappler, but reiterated the creation of its SCC, which it said was "fully compliant" with the Safe Spaces Act (SSA). The administration also mentioned that it held a 5-day webinar for the "whole STC community" on the SSA, gender sensitivity, sexual harassment, and bullying.
The administration said these webinars "provided enough guidance and direction for the next steps undertaken by the STCQC administration to ensure a safe learning environment for all our students, and personnel as well."
But if you asked the victims who came forward, they pursued their complaints while in constant fear that the schools would side with their abusers. Aside from this, the school didn't announce the creation of the SCC until after Crystal filed her case, despite a 1995 law already mandating all schools to have an anti-sexual harassment council.
The SCC has since received and processed at least five cases of sexual harassment, where all respondents are male teachers. Three of the cases – including Crystal's – have been resolved in favor of the complainants, as of February 28, 2021. Anonymous complaints have been submitted, according to the SCC website, and the administration is working with the alumni support group TASHA (Theresians Against Sexual Harassment and Abuse) in gathering more details to be able to pursue these.
How Miriam College handled cases
Miriam College (MC) president Laura Quiambao del Rosario was willing to talk about their school's experience with sexual harassment allegations. They, too, trended on Twitter with the #MCHSDOBETTER hashtag.
Out of around 3,000 relevant tweets, the administration identified 30 possible cases to pursue. Eleven filed formal complaints, some of which were not sexual harassment but verbal harassment by teachers, like shaming during class. Only one teacher mentioned in the social media reports was terminated.
Another case, Del Rosario said, was so serious that the school wanted to refer it to an external law firm. The teacher involved was found to be engaging in "verbal innuendos and casual touching of the body."
However, none of the five to six girls he victimized wanted to pursue a case.
When somebody speaks up, that person is more likely to become revictimized by the environment around her. So she's already a victim, and, if she speaks up, she'd be victimized again by public opinion. And the effect of that, generally to all women who try to speak up, is to keep quiet.
Aurora de Dios, MC Women and Gender Institute
"Rather than the perpetrator being afraid of the consequences of his action, the opposite happens. It's the victim who becomes scared of the consequences she might experience if she speaks up," De Dios added.
The teacher Del Rosario referred to had already resigned in 2019, before the allegations surfaced on social media, and MC was unable to trace him. If the teacher would try to seek clearance when applying for a new job, Del Rosario said they would not provide it, and inform his prospective employer of his case.
Schools must not wait for formal complaints
Del Rosario highlighted the importance of the need for formal complaints, and the involvement of parents. One common reason students did not want to come forward was because they did not want their parents to know. The cases would stop there, even if administrators badly wanted them to push through.
But, according to the Safe Spaces Act, one of the duties of schools is to investigate sexual harassment cases even if there are no formal complaints filed – for as long as they have reasonable knowledge of possible abuse.
Do Twitter call-outs count as reasonable knowledge? Sentro ng Alternatibong Lingap Panligal (SALIGAN) lawyer Juan Carlo Tejano says it depends on each case.
"The standard under the Safe Spaces Act is whether the school authorities have actual knowledge or reasonably should have known of the incident of sexual harassment," he said.
At the same time, "schools should not make it difficult for victim-survivors to file complaints," said Tejano.
Schools can take steps to check on them, provide them with support and a gender-sensitive environment to tell their stories, and assist the survivor in drafting a complaint.
Fixing a flawed system
The passage of the Safe Spaces Act, while providing more support mechanisms for survivors than its forerunner law from 1995, is nothing without proper implementation, Tejano said.
De Dios said policies in line with the laws must be articulated "at the highest level" of every school. There must also be continuous training and education on gender issues for students, teachers, administrators, and non-teaching personnel, and mechanisms to monitor the policies' implementation, like gender audits.
As for the predators that are able to teach in new schools, De Dios recommended a large-scale referral system where schools can flag that a teacher has a record of sexual harassment. DepEd and the Commission on Higher Education could take charge.
The concept is similar to the United States' Sex Offender Registry. Nationwide, the Philippines does not have one yet.
Parents: First line of defense
When a teacher resigns before a case is closed, is it a dead end? Definitely not. The families can take the abusers to court.
This can be done with the help of anti-sexual harassment desks in barangays and in city and municipal halls. The Philippine National Police also has women and children's desks in local stations.
Jastine's mom Christine also emphasized the need for parents to be open with their children. Looking back, she felt guilty that she wasn't aware of everything. She thought, maybe Jastine grew close to her teacher because he appreciated her.
"I won't let this pass. I know all parents would do this for their children. Maybe parents need more strength to speak out. I may not be always available physically, but…I find time. If I can't find time, I make time." – with reports from Leika Golez/Rappler.com
*Names have been changed.