December is the 'Month of Overseas Filipinos'. Do you know enough about our country's 'bagong bayani'?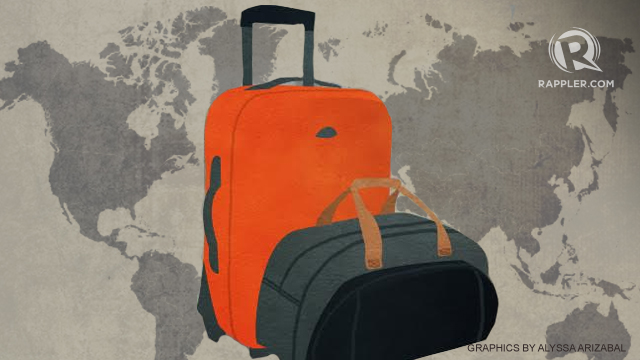 MANILA, Philippines – The sacrifices overseas Filipino workers (OFWs) make just to provide a better life for their families earned them the title of the nation's bagong bayani (new heroes).
In recent years, the improvement of the economy often attributed to their remittances further cemented their mark in the Philippines. (INFOGRAPHIC: Getting to know the OFWs)
To recognize their invaluable contribution to the Philippines, December each year is marked as the Month of Overseas Filipinos through Proclamation No. 276 signed by President Corazon Aquino in 1988.
Here are important facts about the Philippines' bagong bayani:
1. Number of OFWs deployed are increasing each year.
According to the Philippine Overseas Employment Administration (POEA), there were a total of 1,844,406 OFWs in 2015 – 1,437,875 land-based and 406,531 sea-based.
Data over the years suggest that there is an increasing trend in the number of deployed OFWs. 
When it comes to land-based workers, compared to new hires, there are more rehires – OFWs signing another contract with, or returning to, the same employer.
However, the number of new hires increased in 2015 from 2014, while rehires declined within the same period.
| | | |
| --- | --- | --- |
|   | 2014 | 2015 |
| Rehires | 943,666 | 922,658 |
| New hires | 487,176 | 515,217 |
There are slightly more female OFWs than males, results of the 2014 Survey on Overseas Filipinos by the Philippine Statistics Authority (PSA) revealed. However, male OFWs are comparatively older than females.
At least 43.9% of OFWs come from only 3 regions in the Philippines.These are Region IV-A with 17.9%, Region III with 15.5%, and the National Capital Region with 10.5%.
Region VIII, meanwhile, had the least number of OFWs in 2014 with only 1.1%.
2. Saudi Arabia is still top OFW destination in the world.
POEA data show that for over 5 years, the highest number of OFWs was deployed in Saudi Arabia, followed by the United Arab Emirates.
In 2015, most of the countries belonging to the top 10 destinations of OFWs were in the Middle East and Southeast Asia.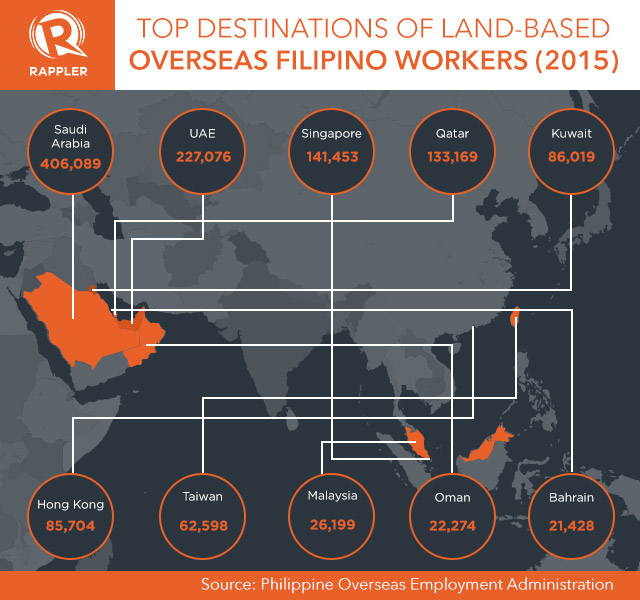 The start of migration to the Middle East dates back to the early 1970s when countries rich in oil resorted to recruiting "guest workers" from other countries – including the Philippines – to work on infrastructure projects, among others. (INFOGRAPHIC: A history of migration)
In 1975, President Ferdinand Marcos implemented the so-called "Development Diplomacy" which saw the influx of Filipinos deployed abroad – mainly to the Middle East.
Decades later, countries located in this region still belong to the list of top destinations with 885,541 OFWs.
| | |
| --- | --- |
|  Destination | Number of land-based OFWs |
| Middle East | 913,958 |
| Asia | 399,361 |
| Europe | 29,029 |
| America | 17,234 |
| Africa | 18,226  |
| Oceania | 18,850 |
| Trust territories | 4,777 |
 3. OFW remittances boost PH economy.
The National Economic and Development Authority (NEDA) in 2012 said that the Philippines cannot do without the cash remittances from OFWs. This is true as cash sent to the country by OFWs, according to the World Bank, is a "key factor" for the resilience of the Philippines. It has been able to withstand recession amid the economic crises of the previous years.
According to the Bangko Sentral ng Pilipinas (BSP), OFW cash remittances from January to August in 2015 reached $16.21 billion (P764 billion)*.  
In 2014, personal remittances from OFWs hit almost $24 billion (P1.178 trillion). The major sources were the United States, Saudi Arabia, the United Arab Emirates, the United Kingdom, Singapore, Canada, Japan, and Hong Kong. (READ: Which countries sent the most OFW remittances?)
The results of the PSA survey found that 64% of OFWs send money through banks, while the rest prefer their own agencies, door-to-door delivery, or friends or co-workers vacationing in the Philippines. 
The same survey said the average cash remittance per OFW is P65,000 ($1,378). Two in every 5 OFWs are still able to have savings beyond the money they send back to their families.
4. Most of new hires in 2014 were household service workers.
There are at least 7 major occupational groups of Filipinos deployed abroad and these are: 
professional, technical, and related workers
services and sales workers
elementary ocupations
craft and related trades workers
plant and machine operators and assemblers
clerical support workers
managers
Several type of jobs are under these groups, according to the POEA.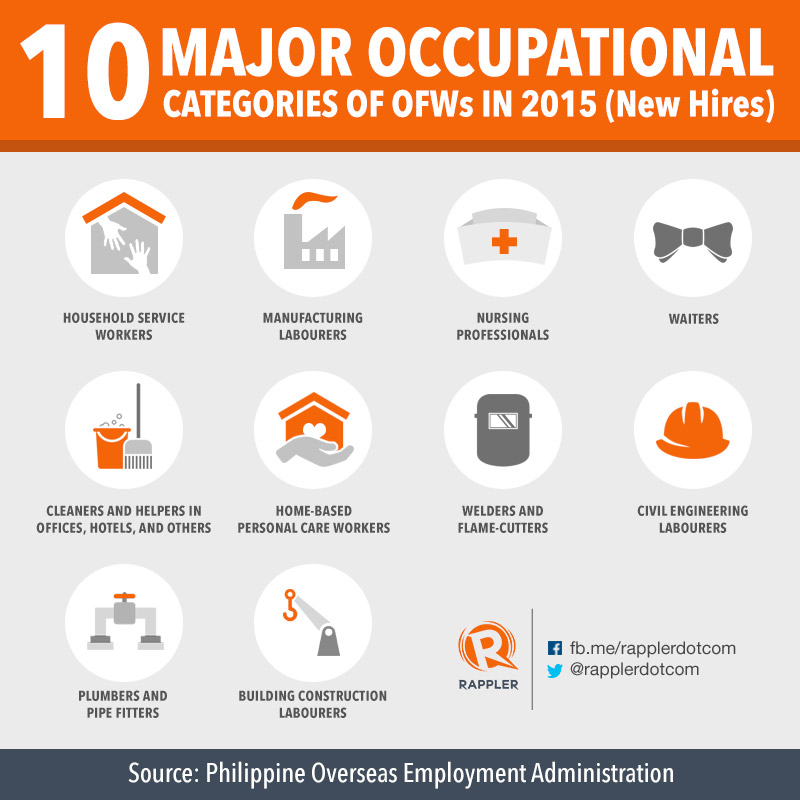 In 2015, at least 183,000 newly-hired OFWs were household service workers. Manufacturing labourers placed second with 41,038 workers.
| | |
| --- | --- |
|  OCCUPATIONAL CATEGORY | NUMBER OF OFWS |
| Household service workers | 194,835 |
| Manufacturing Labourers  | 41,038 |
| Nursing Professionals  | 22,175 |
| Waiters  | 18,352 |
| Cleaners and helpers in offices, hotels and others  | 14,116 |
| Home-based personal care workers  | 10,181 |
| Welders and flamecutters  | 8,156 |
| Civil engineering labourers  | 7,286  |
| Plumbers and pipe fitters  | 6,629 |
| Building construction labourers  | 5,870 |
 5. The number of OFWs in jail is increasing. 
There were a total of 5,478 OFWs jailed in 2014, according to the annual accomplishment report of the Department of Foreign Affairs (DFA). The latest available figures are 2,324 higher than 2013's 3,154.
The countries where most OFWs are jailed are Malaysia and the Gulf countries.
The DFA added that it closely monitored 1,288 drug smuggling cases in 2013 through its Task Force Drug Couriers and other law enforcement arms in the Philippines and abroad. 
Empowering OFWs
Beyond these figures, however, lies the undeniable truth that Filipinos face a lot of challenges as they seek a better opportunity abroad.
Some were exposed to violence from abusive employers, exploitation, incarceration which sometimes leads to death sentences, and worst, death itself.
But amid hardships are the efforts to make things better: OFWs helping each other, several non-governmental organizations acting as support groups, and an entire nation seeking to save a fellow Filipino.
As the country continues to laud its citizens who seek greener pastures abroad, overseas Filipino workers should be prioritized through policies and programs that can adequately protect them. – with reports from Don Kevin Hapal/Rappler.com
*$1 = P47