The Constitution remains in effect even in times of emergency, such as during martial law. This means that rights during arrest or detention remain in place.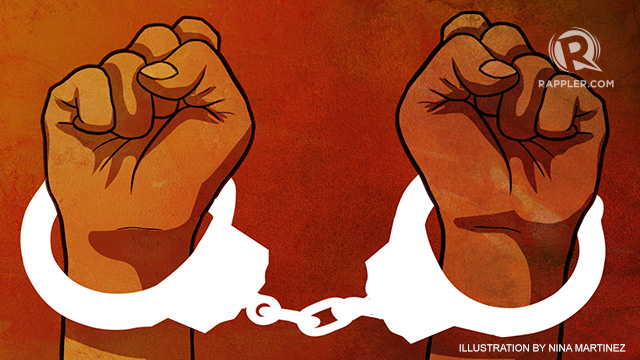 MANILA, Philippines – The 1987 Constitution guarantees that no Filipino shall be deprived of life, liberty, or property without due process of law. 
As long as a citizen abides by the law, he or she should not be in trouble.
But what if you're apprehended by authorities for some reason – or in times of emergency, like the recent declaration of martial law in Mindanao – you're picked up due to supposed security concerns?
Remember, the Constitution remains in effect – even during those times. Along with relevant laws and issuances, the Constitution makes sure citizen's rights continue to be respected.
Article III, Section 12 of the 1987 Constitution (also known as the Bill of Rights) states that any person under investigation for the commission of a crime or offense "shall have the right to be informed of his right to remain silent and to have competent and independent counsel preferably of his own choice." 
If you can't afford a lawyer, the state will provide you with one. 
The right to remain silent is emphasized because any statement you give can be used against you in court.
Likewise, it is your right to call or have access to a lawyer at all times throughout the ordeal of arrest or detention.
These rights cannot be waived "except in writing and in the presence of counsel," says the Constitution.
More rights
If you're being arrested you should know these additional rights:
Know the reason for your arrest at the time of your arrest via an arrest warrant, which you should ask for 
Ask for the identity and authority of the arresting officer
Be promptly brought before a judge and be "entitled to a trial within a reasonable time" or to be entitled to release subject to guarantees to appear for trial
Demand physical examination by an independent and competent doctor of your choice before and after interrogation, as stated in Republic Act 9745 or the Anti-Torture Act
A manual on law enforcement for citizens prepared by the Philippine National Police, in fact, says that prior to release or any change of custody, "you will…be physically examined."
Lawyer Marlon Manuel of the Alternative Law Groups, a coalition of legal resource non-governmental organizations, said that physical examination is already part of the police's booking procedures immediately after an arrest.
The Free Legal Assistance Group (FLAG), in its primer on human rights, also recommends that you stay calm, not resist arrest or offer any physical resistance, and ask a relative, friend or even anybody to witness the arrest. Make sure to get the witness' name and address.
FLAG also suggests you ask the arresting officer where you will be brought, and be accompanied by the witness of your arrest. Do not agree to be blindfolded.
If authorities invite you for questioning, say you will first consult your lawyer, who will arrange a date, time, and place for your questioning. If they insist on taking you with them, their acts become tantamount to an arrest.
This is different from custodial investigation, where you are taken into police custody for interrogation because you are "considered a suspect, and therefore are being investigated as a potential accused in a criminal case," said Manuel. "Usually, custodial investigation follows warrantless arrest."
"In short, if the invitation [for questioning] is not really an invitation but more of a deprivation of liberty, it becomes equivalent to custodial investigation," he added.
Warrantless arrest 
Authorities may conduct a warrantless arrest, but only on the following grounds:
When the person to be arrested has committed, is actually committing, or is attempting to commit an offense in the presence of an arresting officer
When an offense has just been committed and the arresting officer has probable cause (based on personal knowledge of facts and circumstance) to believe that the person to be arrested has committed a crime
When the person has escaped prison/detention, or escaped while being transferred to another facility
If you're arrested without a warrant, you can only be detained for:
12 hours, for light offenses, which are punishable by light penalties
18 hours, for less grave offenses, punishable by correctional penalties
36 hours, for grave offenses, punishable by capital penalties
As a general rule, inquest proceedings – where a civilian prosecutor determines the legality of an arrest – are included in these time periods.
During detention
If you are arrested or detained, you are entitled to the following rights, according to FLAG:
Be treated as a human being
Due process, including being informed of written regulations in the detention center, and not being subjected to harsh, excessive or inhuman punishment such as corporal punishment or solitary confinement
Receive visits from family, friends, and lawyers
Practice your religion
Adequate food, clothing, and healthful accommodations
Be furnished with or to procure reading or writing materials
Be kept separate from convicts serving sentence
Speedy, impartial, and public trial, as likewise provided by the Constitution
According to Republic Act 7438, a person arrested, detained or under custodial investigation shall be allowed visits by:
Any member of his/her immediate family
A doctor/priest/religious minister chosen by him/her, the immediate family or by his/her counsel
Any nongovernmental organization accredited by the Commission on Human Rights (for national NGOs) or the Office of the President (for international NGOs)
RA 7438 defines a person's immediate family as "his or her spouse, fiancé or fiancée, parent or child, brother or sister, grandparent or grandchild, uncle or aunt, nephew or niece, and guardian or ward."
Illegal acts
The following acts are illegal, according to the Bill of Rights of the Constitution:
Unreasonable searches and seizures
Use of torture, force, violence, threat, intimidation, or any other means which vitiate or impair the free will
Use of secret detention places, solitary, incommunicado, or other similar forms of detention
Use of a confession or admission obtained in violation of Article III, Section 17 of the Constitution, which says, "No person shall be compelled to be a witness against himself"
Detention solely by reason of his political beliefs and aspirations
Involuntary servitude in any form (except as a punishment for a crime whereof the party shall have been duly convicted)
Imposition of excessive fines
Infliction of cruel, degrading or inhuman punishment
– Rappler.com
References: 1987 Constitution, International Covenant on Civil and Political Rights, Republic Act 7438, Republic Act 9745, a 2001 advisory of the Commission on Human Rights, "Know Your Rights" primer by the Free Legal Assistance Group (FLAG), "Know Your Rights: A Citizen Primer on Law Enforcement" by the Philippine National Police and Hanns Sidel Foundation