(UPDATED) Is the Philippines' graphic health warning law anything close to guidelines set by the World Health Organization?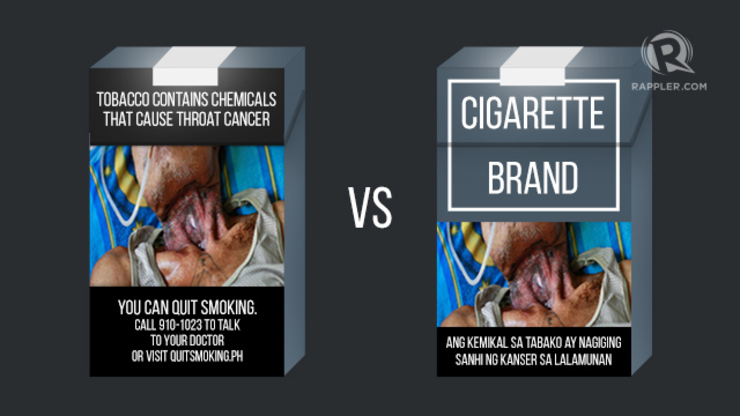 MANILA, Philippines (UPDATED) – Last July 18, President Benigno Aquino III signed Republic Act 10643 – the law that will require cigarette packs to contain graphic health warnings – after 7 years in the legislative mill.
The Philippines is a signatory to the Framework Convention on Tobacco Control of the World Health Organization (WHO), which requires the implementation of "large, rotating health warnings on all tobacco product packaging and labeling." 
With 240 Filipinos dying every day due to major tobacco-related diseases, health advocates say picture-based warnings are needed to warn Filipinos who cannot read or understand the text warnings printed on cigarette packs. (INFOGRAPHIC: Imagining a world with no tobacco)
According to WHO standards, graphic health warnings should be placed on 50% or more – but not less than 30% – of both front and back display areas of a cigarette pack.
The Philippines' An Act to Effectively Instill Health Consciousness Through Graphic Health Warnings on Tobacco Products meets this standard. RA 10643 requires that warnings occupy 50% of both front and back panels.
They will, however, be placed on the lower portion of a cigarette pack and not at the top as suggested by WHO.
Once the law is fully implemented, Filipino health advocates vowed to prove that graphic health warnings at the upper portion of cigarette packs are more effective. (READ: PH a step closer to graphic health warning on cigarettes)
Is the Philippines' graphic health warning law anything close to guidelines set by WHO? Below is an infographic that compares the measure to international standards. (READ: Look, mate, scary cigarette packs!)
Are you satisfied with how cigarette packs in the Philippines will soon look like? Tell us in the comments section below. – Rappler.com