(UPDATED) From a much-ridiculed motorcycle barrier requirement to changing rules on salons and gyms reopening, here's a compilation of government decisions that confused the public
In a crisis like the coronavirus pandemic, predictability and consistency in government policies are not only ideal, they're a lifeline.
All – from the jeepney driver hoping to get back on the road, to the business owner losing money every day, to the high school student adjusting to online classes – are affected by rules issued by the Inter-agency Task Force on Emerging Infectious Diseases (IATF-EID), the top policy-making body for pandemic measures in the Philippines.
But in the months of the pandemic, Filipinos have had to deal with confusing decisions by the task force and President Rodrigo Duterte. In many instances, rules are announced, only to be taken back a few days later because of concerns raised by certain sectors, often health experts.
In some cases, the confusion arises from one department taking a different stance on a policy pushed by another department or official.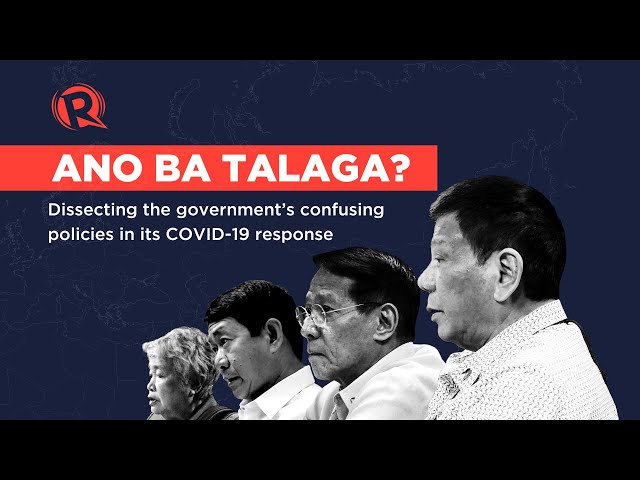 The contradictions and overturning of decisions already announced to the public create uncertainty at a time when people want clarity from their leaders. But they've also led observers to criticize how decisions are being made. Are concerns of all sectors really discussed during the weekly task force meetings? Are decisions based on evidence and rigorous analysis? Are important aspects of proposed rules explained comprehensively to Duterte who has the final say on big decisions like quarantine classifications?
Adjustments in rules can't be avoided in such an unpredictable crisis as the pandemic. The changes made could also reflect a government open to suggestions or responsive to backlash against a controversial rule.
Still, constant changes to decisions could be symptomatic of a flaw in the process – which ideally should have accounted for the very concerns that caused the government to revisit its policies.
The many walk-backs give the impression that decision-making is "urong sulong" or wishy-washy.
Let's look back at some of these confusing or contradictory task force decisions:
1. Physical distancing in public transportation
Much controversy surrounded the IATF's decision on September 7 to approve the Department of Transportation's proposal to reduce the required physical distance between public transport riders from one meter to 0.75 meter.
Health Secretary Francisco Duque III himself cautioned against the idea. But IATF spokesman Harry Roque claimed the proposal was approved without any opposition from the DOH, represented in the meeting by Duque staff.
Still, Duterte himself brought up the issue because of concerns similar to Duque's that were relayed to him by the Philippine College of Physicians, through a letter.
On September 17, Transportation Secretary Arthur Tugade announced that the 0.75-meter rule would be suspended while Duterte makes a final decision on the matter.
To aid him, the task force asked for inputs from doctors. Some of these doctors said the reduction in physical distancing can be made safe by requiring face masks, face shields, and prohibiting commuters from talking or eating while in transit.
Duterte is expected to announce his decision on Monday, September 21.
2. Home quarantine ban
Disbelief was the reaction of some when they heard national task force vice chairman Eduardo Año say they were thinking of requiring all COVID-19 cases to stay at government-approved isolation facilities, instead of allowing self-isolation in their own homes.
This was again contrary to the health department's position that encourages home quarantine when the house of the COVID-19 patient allows for proper self-isolation – meaning the patient would have his or her own bedroom and bathroom.
Eventually, the proposal was "held in abeyance" until the task force gets the opinions of local government chiefs.
3. Balik Probinsya
What started out as a new pet project of Senator Bong Go quickly became a headache for the coronavirus task force.
The "Balik Probinsya, Bagong Pag-asa" program was meant to provide Metro Manila residents who originated from the provinces a chance to return to their hometowns to decongest the capital region. But task force officials quickly realized that the program's beneficiaries just added to the already huge number of locally-stranded individuals and returning overseas Filipino workers who had to be brought back to their provinces despite the possibility of them bringing COVID-19 to their hometowns.
At least two Balik Probinsya beneficiaries ended up bringing the virus to previously virus-free towns in Leyte. The government suspended Balik Probinsya trips in June.
4. Salons and barbershops
Economic managers got the task force to allow the reopening of salons and barbershops in general community quarantine areas back in April because some people considered them "essential services." But they soon took this back, realizing it was difficult to ensure physical distancing in these establishments.
Finally, in June, salons and barbershops got the green light. This was after the trade department witnessed satisfactory demonstrations by salon owners of how they would ensure safety measures for customers and employees.
5. Motorcycle barrier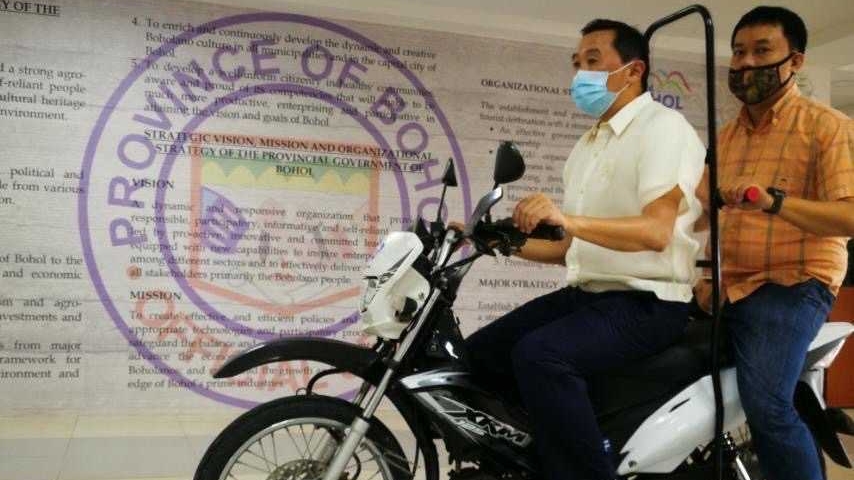 The motorcycle barrier set by the task force as the standard for all motorcycle riders to follow was much derided by the public for being pointless and even dangerous.
The "protective shield," proposed by Bohol Governor Arthur Yap and adopted by the task force, was initially required for all riders, including those who live in the same house. This prompted much head-scratching from the public, including local government chiefs, who wondered what the point of the barrier was if the two people they separated during a motorcycle ride slept in the same bed a few hours later.
After public ridicule, the task force changed the rule. It now only requires an IATF-approved barrier for drivers and riders who live in separate houses.
6. Gyms
Some gyms were gearing up to reopen in general community quarantine (GCQ) areas on August 1 after Roque announced they would be allowed starting on that date. But that same day, in a meeting called by Executive Secretary Salvador Medialdea, the task force decided to "defer" the reopening of gyms and other establishments, given the plea of medical workers for Metro Manila to be reverted to modified enhanced community quarantine (MECQ).
But the deferment was announced only on August 18, bad news for the gyms that had already gradually resumed operations. Then a week later, gyms were once again allowed to open starting September 1.
7. Rapid test vs swab test
Back in March, the Department of Health already said it was against the use of rapid antibody tests for the detection of COVID-19. Despite this, the task force, with the blessing of Duterte, had promoted its use.
In early August, when medical frontliners asked the government to stop depending on rapid tests, the IATF stuck to its guns, with its spokesman Roque saying there was still some value in this type of test.
To assuage the health workers, the IATF just acknowledged that RT-PCR (reverse transcription polymerase chain reaction) testing or swab testing remains the "gold standard" of coronavirus testing.
8. Mega Manila reverted to MECQ after frontliners' plea
Though health experts and doctors' associations had long warned that coronavirus hospital facilities were nearing critical levels, Duterte and his task force retained Mega Manila's GCQ status for August 1 to 15.
But the day after Duterte made his decision, doctors' groups held press conferences in a last-ditch effort to convince the Chief Executive to reconsider. Unable to ignore pleas that were heavily covered by media, Duterte grudgingly gave in. He tightened Mega Manila's classification to MECQ until August 18.
But if he had properly listened to the concerns of the doctors' groups before his meeting with the task force, there would have been no need for him to backtrack.
9. School opening moved from August to October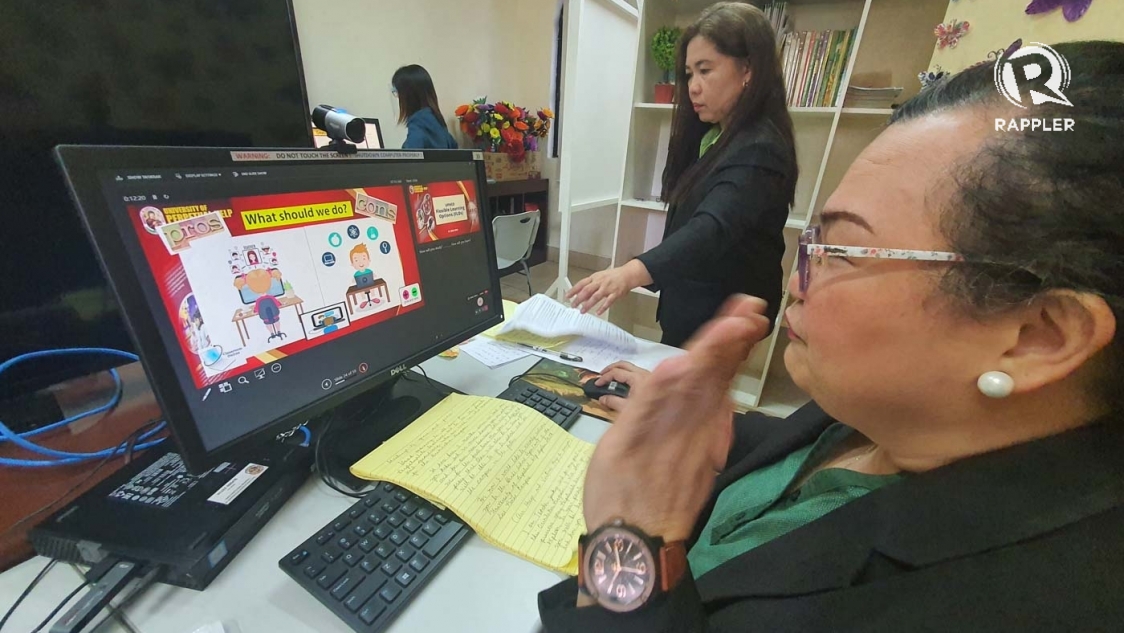 Education Secretary Leonor Briones was adamant that public schools push through with their opening on August 24, despite teachers saying they weren't ready.
Lawmakers even reminded the government that a new law allows school openings even past August during calamities. When August arrived, technical glitches ironically marred the virtual launch of a program showcasing the country's readiness to conduct distance learning.
Finally, 10 days before August 24, Duterte decided to move the school opening to October 5. – Rappler.com