Arturo Lascañas' written testimony to the ICC shows a never-before-seen level of detail on the Davao Death Squad operations, which Rodrigo Duterte supposedly wanted to replicate on a national level when he became Philippine president
"President Rodrigo Duterte has publicly encouraged extrajudicial killings in a way that is incompatible with a genuine law enforcement operation."
When the pre-trial chamber of the International Criminal Court (ICC) took note of the Philippine chief executive's public statements in relation to his war on drugs carried out across the country, it was also aware that the said campaign was linked to "the killings in the Davao area" when Duterte was mayor.
Self-confessed Davao Death Squad (DDS) hitman and retired cop Arturo Lascañas provided the ICC with a rich and detailed account of how vigilante kill groups supposedly operated upon the orders of then-mayor Duterte in a new affidavit submitted in October 2020.
The document was used by the ICC's Office of the Chief Prosecutor as it readied a request from the court's pre-trial chamber to begin a formal investigation into the drug war, which the chamber ultimately approved.
The 186-page affidavit, obtained by Rappler and confirmed by Lascañas to be authentic, lists the original members of the DDS – its hierarchy and structure – and details how assassinations were allegedly carried out and covered up.
It also details how Duterte supposedly wanted to replicate DDS operations on a national scale upon his assumption of the Philippine presidency in 2016. This shows how the Davao killings that began in the late 1980s are directly linked to drug-related vigilante-style killings during his presidency, which human rights groups want the ICC to hold Duterte accountable for.
Lascañas' new account shows a never-before-seen level of detail on DDS operations. It explains everything – from the secret language used internally by hitmen to its organizational hierarchy to specific instances of Duterte and his aide, now-senator and presidential aspirant Bong Go, allegedly ordering killings.
While some information in the affidavit was previously mentioned by Lascañas in his first press conference as a whistleblower and in a 2017 Senate hearing, it's the first time they have been offered to the ICC as evidence.
We were able to independently verify Lascañas's accounts about the group's original composition, its members reporting to city hall, and financial reward given to them in exchange for their killing criminals and contributing to Davao City's prosperity.
Lascañas' account is also consistent with numerous reports and testimonies about death squads in Davao City which had been based on accounts of anonymous insiders, family and friends of hitmen, and family and friends of victims, among others.
The 2009 Human Rights Watch report on the DDS, for instance, matches many of Lascañas' claims – such as those about the DDS' origins, its members, the involvement of Duterte as mayor, the structure and evolution of the group, specific assassination incidents, the tools used for killings, and the involvement of barangay officials and police officers.
Lascañas said in his affidavit that he spoke directly with Duterte or Go about killing operations. He also said he was responsible for high-profile killings of political enemies, enemies of businessmen close to Duterte, even enemies of fellow hitsquad members. He likewise detailed the origins of their group and who was responsible for issuing kill orders. From the Mayor's Unit, the group would evolve into the Anti-Crime Task Force Office (1988-1998) when Duterte was mayor, then became known as the Heinous Crime Task Group or the Heinous Crimes Investigation Section from 2001-2016. This covered Duterte's second period as mayor and vice mayor after his stint as a congressman.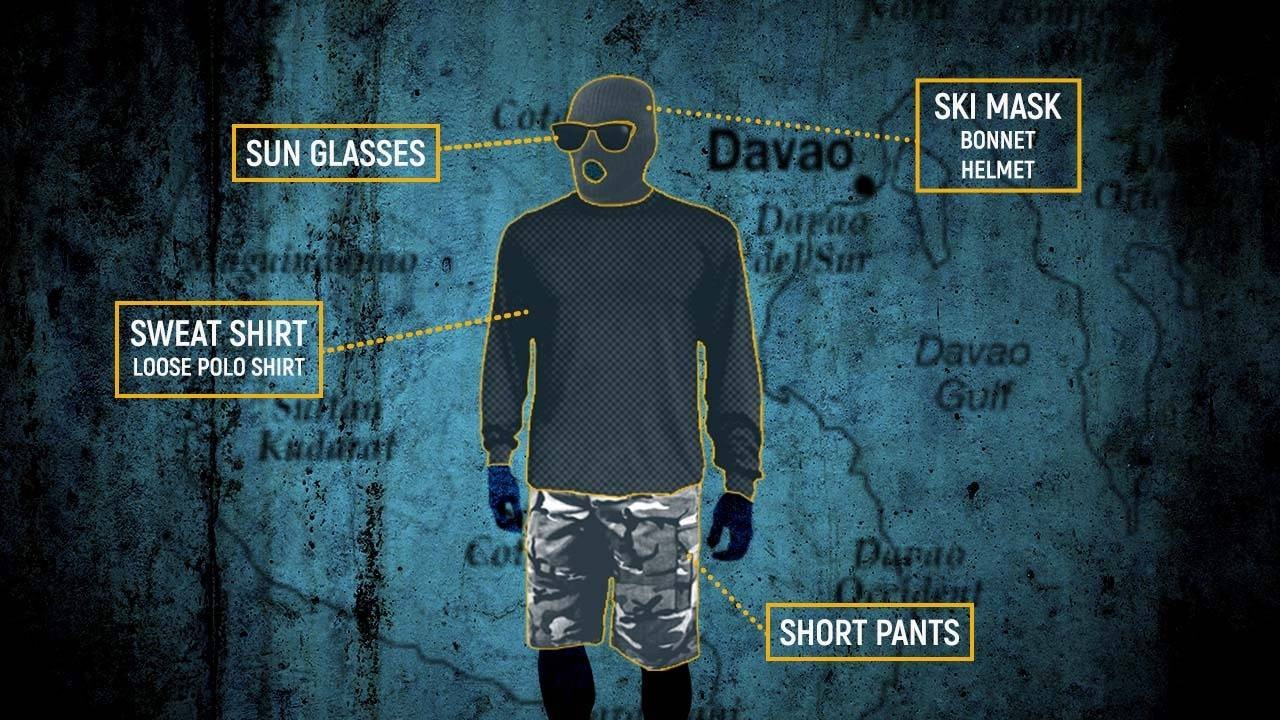 Who gave the kill orders
Final orders to kill emanated from Duterte himself, said Lascañas. But the following aides communicated the mayor's orders to the hitmen:
Sanson "Sonny" Buenaventura – a policeman who was Duterte's driver and bodyguard, gave orders since the group was called Anti-Crime Task Force Office
Bong Go – Duterte's aide beginning in 1999, started relaying orders when the DDS was known as the Heinous Crime Task Group
Ernesto Macasaet – commander of the Anti-crime Task Force from 1989 to 1998. According to Lascañas, Macasaet already passed away, while the Davao City Police Office told Rappler he retired.
Desiderio Cloribel – former cop who eventually led Davao City's Traffic Management Center
Ronald dela Rosa – chief of the Eastern Mindanao Presidential Anti-Organized Crime Task Force and then-Davao City police chief
Senators Dela Rosa and Go refused to comment on the questions we sent, while we could not trace the whereabouts of the DDS members identified by Lascañas on this list.
They tapped others as "force multipliers" who were paid P3,000 to P5,000 for every person they killed. Lascañas described these as "reward money from Mayor Rodrigo Roa Duterte," money that was taken from city hall.
Intertwined with police stations
It was in the DDS' period as the Heinous Crime Task Group (2001-2016) when it swiftly increased in membership and involved the active participation of police commanders all over the city.
Duterte ordered "select Police Station Commanders" to "create and organize their own death squads," narrated Lascañas.
This was supposedly how then-Senior Superintendent Ronald dela Rosa came up with his tokhang operations after he was appointed Davao police chief in 2012. The result: the task group's membership became bloated – and so did Duterte's "peace and order" and intelligence funds.
How Davao city hall funded vigilante killings
Funding for the DDS came from Davao City's "peace and order" or intelligence fund, said Lascañas. Some of the items it paid for were:
Weekly allowance for gas
Monthly cash allowance of members (called "pakurat")
Meals and drinks in various restaurants which were paid for through "signing authority"
Maintenance and expansion of mass grave area in Laud quarry
Vehicles, guns, cellular phones, and handheld radio communication devices were also provided by Duterte, but it was not clear where funds for these were taken from.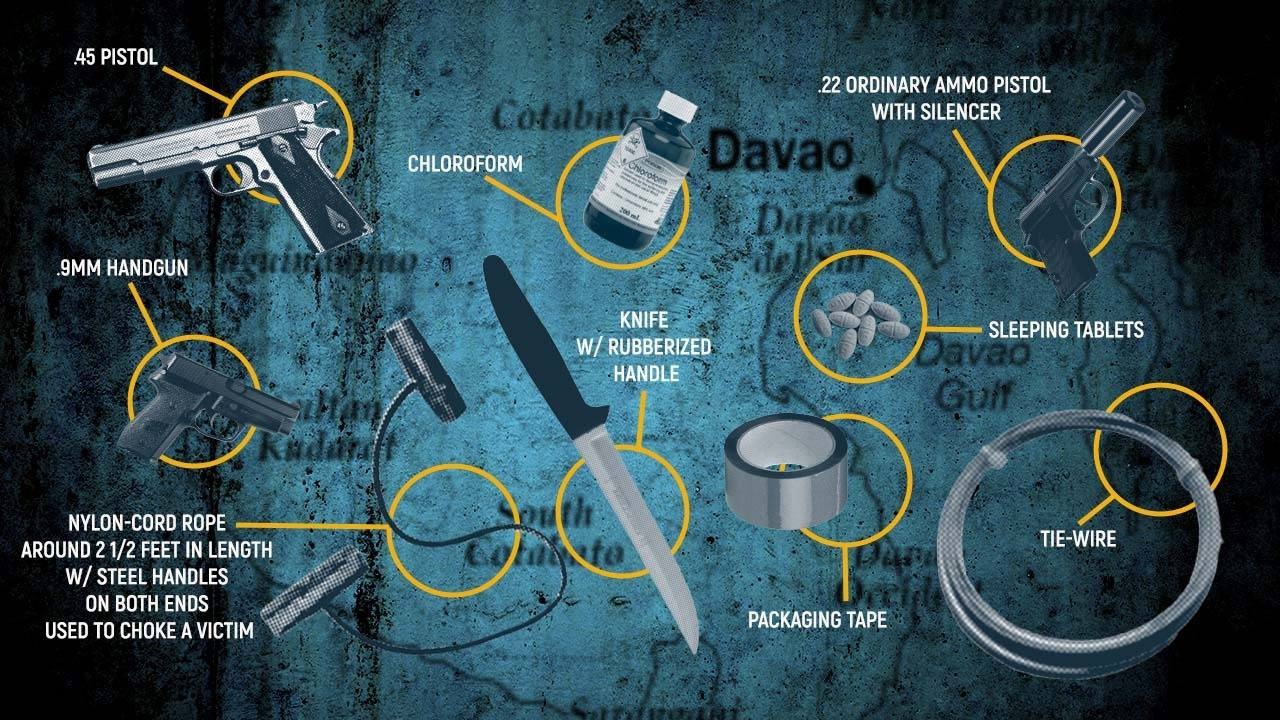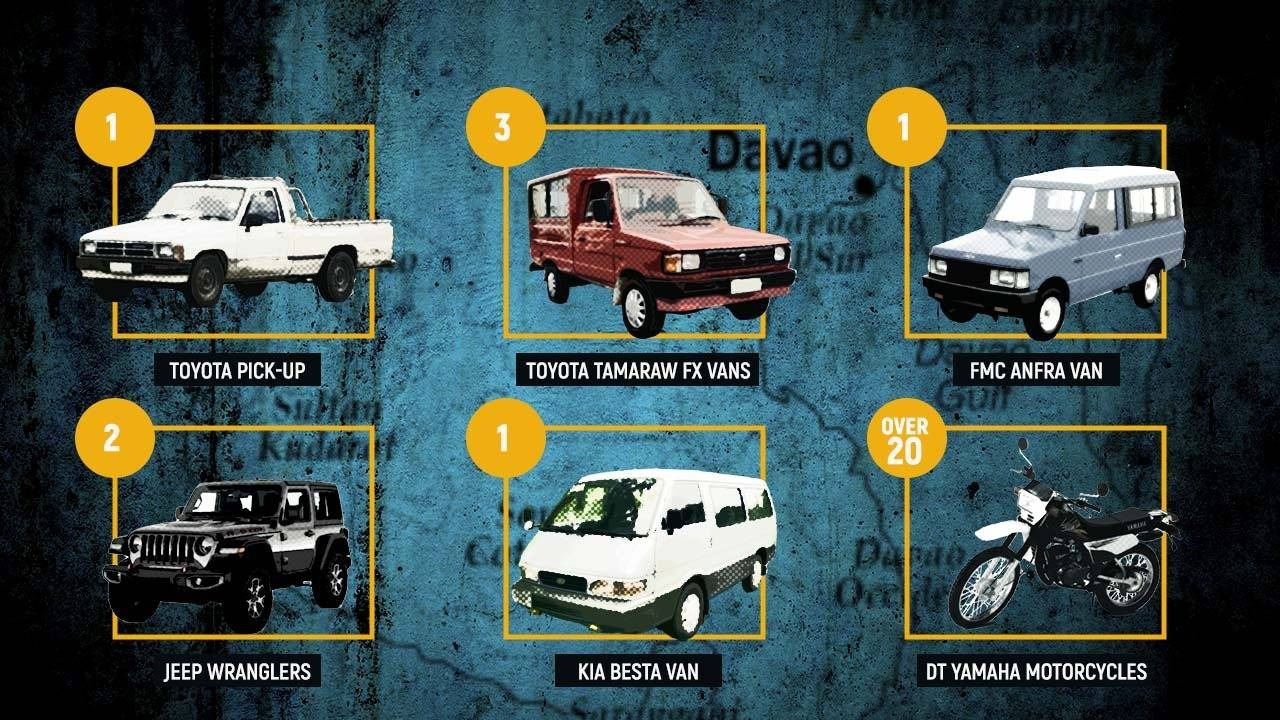 The hit squad also followed a process in their killing operations – from the time the order to kill was issued all the way to getting rid of bodies.
DDS lingo
The DDS used code names and jargon to be able to discuss targets and operations without fear of arousing suspicion. It was supposedly Duterte himself who advised the group to use a special language.
Here are some words in the death squad's parlance:
Agriculturist – Someone who would plant evidence so that a victim would look like they had fought back
Atab – informer
Bagahe or basura – corpse delivered to a mass grave
Balite Tree – Office of Davao City Mayor or Davao city hall
BongLo – to bury a victim in one of the DDS mass graves
Bonlot – to abduct
Butang – shabu
Gilok – to rob or stage a hold-up
Hapon – Ernesto Macasaet
Hipos tanan or Erase – to kill all persons in a group, often used by Duterte in orders
Kabayo – motorcycle
Karabao or Kabaw – 4-wheeled vehicle
Labyog – to kill and dump a victim's body after covering their eyes, mouth, and nose with packaging tape and tying arms and feet with tape and tie-wires. Sometimes a cardboard with writings claiming the victim was a criminal was placed near the corpse.
Manho na – the act of successfully burying a victim's body in a mass grave. This phrase was used by hitmen to inform Buenaventura of the success of the operation.
Neutralize – to kill in any manner, often used by Duterte in orders
Pakurat – allowance
Pintik – to kill by shooting
Player or abantero – hitman or shooter
Salida – a staged shoot-out (nanlaban)
Salvage – to kill in any manner
Superman – Mayor Rodrigo Duterte
Swimmer – person who buys shabu
Tosok – to kill by stabbing
– Rappler.com
Contributors to "THE LASCAÑAS AFFIDAVIT | 'I KILLED FOR DUTERTE'" series: Lian Buan, Jodesz Gavilan, Glenda M. Gloria, Chay F. Hofileña, Pia Ranada, Rambo Talabong
Read and watch the stories in this series: 
NEXT: Duterte promotes alleged key Davao hitmen to national posts