Here's a look at how different parts of the country have gone through varying degrees of restrictions and what ECQ, MECQ, GCQ, and MGCQ now mean
It was exactly a year ago, on March 12, 2020, when President Rodrigo Duterte declared the first pandemic-related restrictions – then called Strict Social Distancing Measures covering Metro Manila.
Days later, on March 17, an enhanced community quarantine (ECQ) took effect in the entire region of Luzon. It was the first time Filipinos heard what have since become familiar terms – "quarantine classifications," "social distancing," "ECQ and GCQ."
Pandemic restrictions have evolved in the year that has passed. ECQs, or lockdowns with absolute stay-at-home rules, now reign only in pockets, and are often declared by mayors or governors in what are now called localized lockdowns.
Most of the country is under the most lax quarantine mode, modified general community quarantine (MGCQ). But a handful of places, like pandemic epicenter Metro Manila, remain under GCQ. There also remains an absolute ban on face-to-face classes, courtesy of President Rodrigo Duterte, despite guidelines saying some physical classes should be allowed in MGCQ areas.
How the Philippines transitioned through restrictions
Here's a look at the changes in quarantine restrictions all over the country from March 2020 to March 2021.
Some localized lockdowns may not be reflected in the graphic, which is based on IATF-EID resolutions and local government announcements.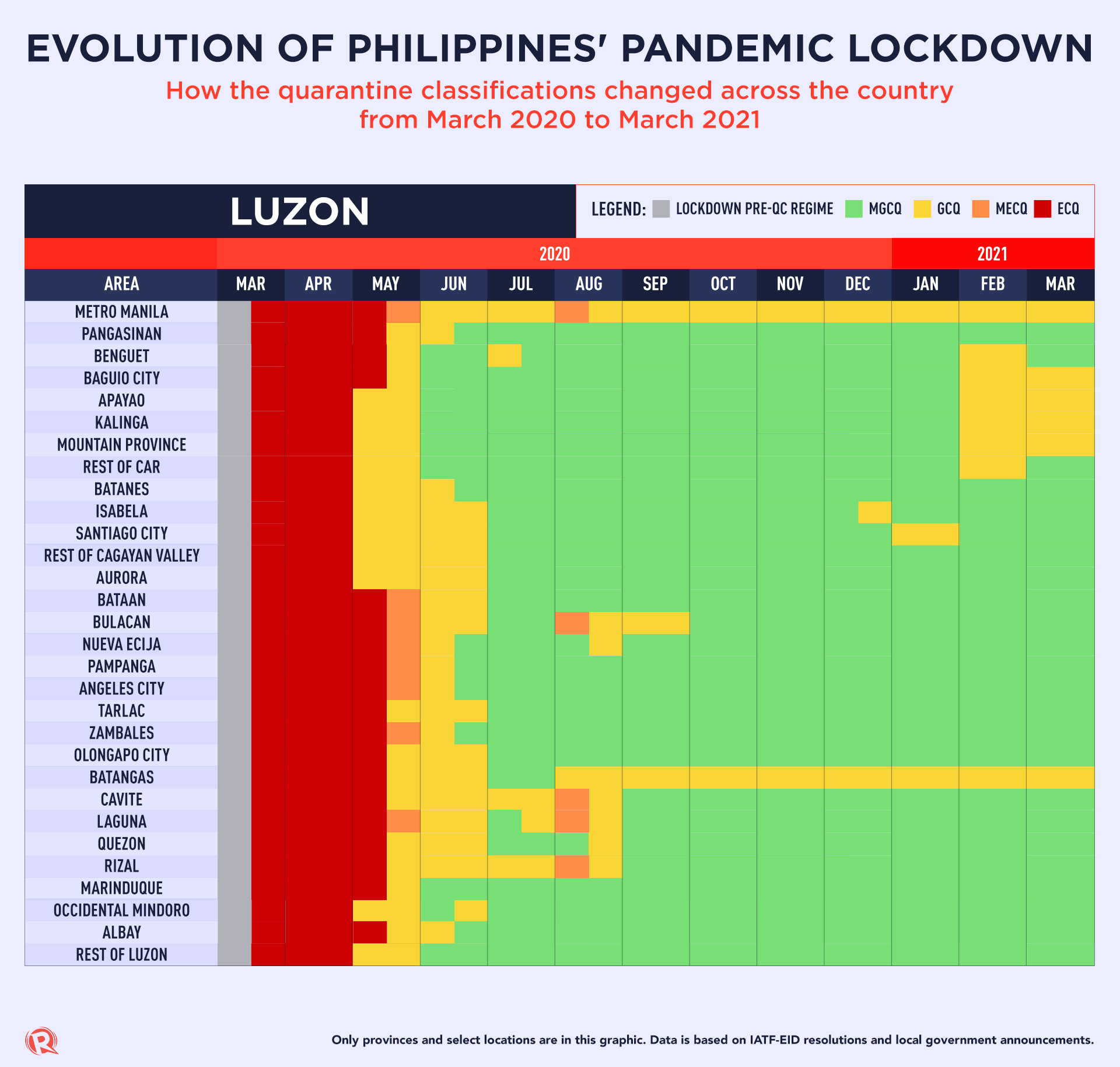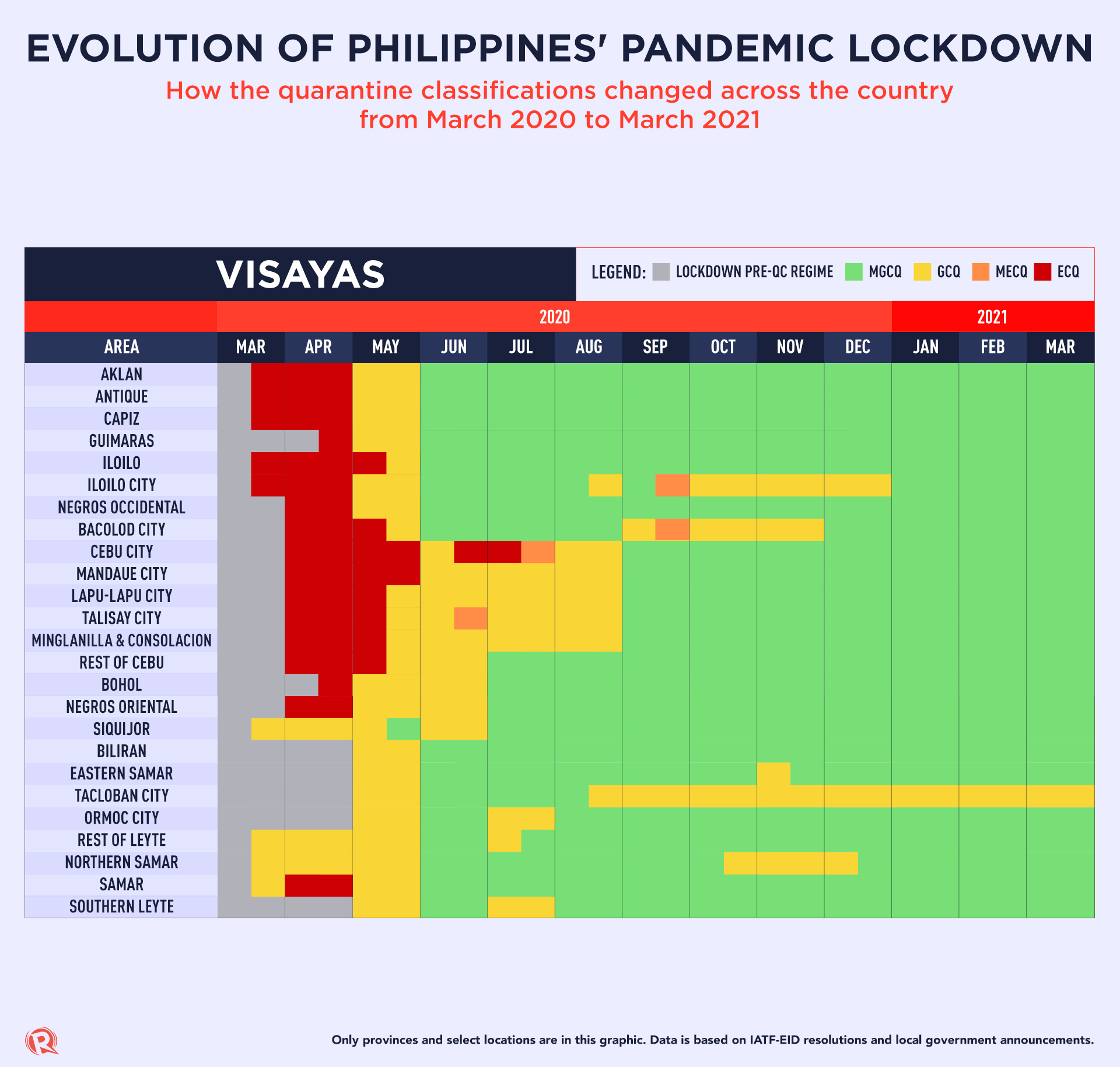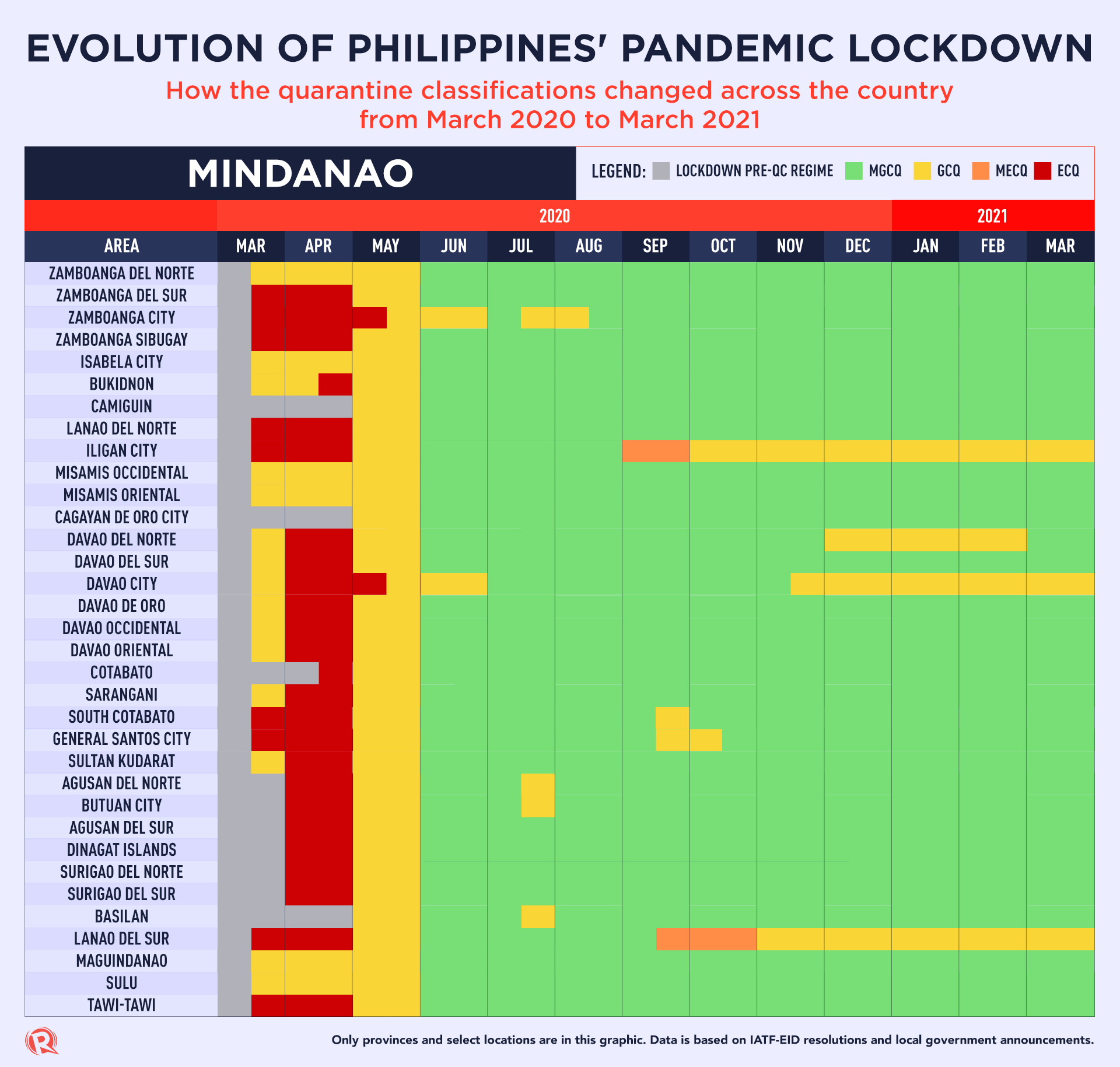 The data shows that most of the country was under ECQ from March to at least the first weeks of May – a mix of declarations by the national government and local governments.
Metro Manila and Batangas are places in Luzon that have stayed the longest under a stricter form of quarantine. In the Visayas, Tacloban City has this distinction despite it not being under strict lockdown in March and April of 2020.
In Mindanao, Iligan City and Lanao del Sur in the Bangsamoro region, have stayed the longest under GCQ when most of the southern region was already under MGCQ.
What restrictions are like now
The government, cognizant of the blow the harsh early lockdowns dealt on the economy, have repeatedly changed what constitutes the various quarantine classifications, to the point that the labels themselves have been called "obsolete."
The GCQ of today is not the GCQ as defined a year ago.
Many travel restrictions have also been lifted by the national government, but local governments have been given the power to impose their own travel requirements. (READ: What's new in Philippine travel restrictions after a year in lockdown)
Here's a primer of what pandemic restrictions look like now in the Philippines, based on the Omnibus Guidelines on community quarantine (February 11 version) and memorandum circulars of the Department of Trade and Industry.
NOTE: Under all quarantine classifications, wearing of face masks, face shields, and social distancing is still required.
ECQ
Stay-at-home orders for everyone, except for obtaining essential goods and services and for work in "essential industries" (hospitals, agriculture, fisheries, courier services, food and water, hygiene and cleaning products, groceries, pharmacies, accredited media, vets, money services, capital markets, power, construction works suppliers, telecommunications, airlines, postal service, Philippine Statistics Authority, business process outsourcing)
Skeletal workforce for government offices
Public transportation prohibited
Face-to-face classes prohibited
Mass gatherings prohibited (except for humanitarian missions, government services)
MECQ
Stay-at-home orders for everyone, except for obtaining essential goods and services and for those in allowed industries expanded to include manufacturing, real estate, office support, legal, accounting, architecture, engineering, science and technology, job recruitment (including for overseas work), advertising and marketing, computer programming and information services, publishing, film, music, production, photography, fashion, design, vehicle repair, hardware stores, bookstore and office supplies, baby and kid products, pet products, flower, jewelry, novelty shops
Malls can open but only shops listed above can operate
Restaurants for take-out and delivery allowed
Religious ministers like priests or imams allowed to provide home services
Ban on mass gatherings under ECQ applies but religious gatherings of up to 5 people allowed
Public transportation prohibited
Face-to-face classes prohibited
Essential and priority public and private construction allowed, except those considered "small-scale" by Department of Public Works and Highways
Individual outdoor exercise like jogging, biking, and running allowed. Persons below 15 years-old and above 64 years old allowed to exercise outside.
GCQ
Stay-at-home orders for everyone, except for obtaining essential goods and services and for those in allowed industries further expanded to include barbershops and salons
Government offices can operate at full capacity
Ban on mass gatherings under MECQ remain but religious gatherings and conferences of up to 50% venue capacity allowed with approval of local government
All public and private construction projects allowed
Face-to-face classes prohibited
More forms of exercise allowed like swimming, badminton, tennis, equestrian, range-shooting, golf, diving, skateboarding and other similar non-contact sports allowed. Persons below 15 years old and above 64 years old allowed to exercise outside.
Gyms with basic operations allowed
Driving schools allowed
Dine-in in restaurants allowed with maximum capacity decided by local governments
Video and interactive game arcades, libraries, archives, museums, cultural centers, parks, theme parks, natural sites, historical landmarks allowed at 50% capacity
Limited social events allowed at 30% venue capacity
Traditional cinemas allowed at 25% capacity, subject to local government approval
Public transportation allowed
Visit to cemeteries allowed, but only 10 people in the same group can enter
MGCQ
Stay-at-home orders for everyone, except for obtaining essential goods and services and for work
All industries allowed for physical reporting to office at full capacity
Mass gatherings allowed at 50% venue capacity, including movie screenings, concerts, entertainment activities, sports events, religious services, conferences
Limited face-to-face classes in higher education institutions allowed (However, President Duterte says he won't allow face-to-face classes until the country has a significant amount of vaccines)
Forms of exercise allowed in GCQ still allowed for all persons, regardless of age
Gyms allowed
Dine-in in restaurants allowed
Video and interactive game arcades, libraries, archives, museums, cultural centers, parks, theme parks, natural sites, historical landmarks allowed at 75% capacity
Limited social events allowed at 50% venue capacity
Traditional cinemas allowed at 50% capacity, subject to local government approval
Public transportation allowed
– with reports from Michael Bueza/Rappler.com