With the continuous Chinese threats in Philippine waters, Roberto Ballon's victory will serve as an inspiration and an eye-opener to decision makers that Filipino fisherfolk need support
As threats from foreign ships heightened against Filipino fisherfolk in Philippine waters, a Mindanaoan fisher just got his biggest catch – a different kind of catch – after decades of perseverance and hard work.
Roberto "Ka Dodoy" Ballon, a fisherman from Zamboanga Sibugay, was named as one of the recipients of the 2021 Ramon Magsaysay Award, considered as Asia's equivalent of the Nobel Prize.
What got him into fishing
Having been born to a fisherman father, Ballon learned to value the richness of marine resources even at a young age.
Due to poverty, Ballon was not able to attend college. With rich waters surrounding their province, Ballon decided to pursue the same path as his father: the art of fishing.
For decades, Ballon mastered his craft and inspired fellow fisherfolk to reform the fishing habits in their area and conserve their source of livelihood.
Why he got the Magsaysay Award
The Ramon Magsaysay Award Foundation is recognizing Ballon for his "inspiring determination in leading his fellow fisherfolk to revive a dying fishing industry by creating a sustainable marine environment for this generation and generations to come, and his shining example of how everyday acts of heroism can truly be extraordinary and transformative."
In 1986, Ballon and 30 other fisherfolk started the Kapunungan sa Gamay nga Mangingisda sa Concepcion to address the rampant conversion of fishponds and how the abandonment of these ponds destroyed mangrove forests.
They focused on mangrove reforestation to preserve the aqua-culture. In early 2000, they were granted tenurial rights to the reforested land under a government forestry co-management program.
The 50 hectares they reforested in 1994 had expanded to 500 hectares of mangrove forests by 2015. Their project improved the fish harvest from an average of 1.5 kg per fishing trip of eight hours, to as much as seven kilograms in just three to five hours.
There was a time when their groups dwindled to only three members. However, Ballon persisted, and now their group has 320 members. At present, he serves as the organization's chairman.
What recognitions came before this
He was the Gawad Saka awardee in Zamboanga Sibugay in 2003 and 2004.
The Department of Agriculture gave him the National Gawad Saka Awards in 2005.
In 2006, he was the awardee of Quedan and Rural Credit Guarantee Corporation for the self-resilient team program in the fish culture category.
In 2006, his home province named him the most outstanding fisherfolk in Zamboanga Sibugay.
The Ateneo de Zamboanga School of Medicine in 2011 awarded Ballon as the most outstanding fisherfolk organization leader.
The Bureau of Fisheries and Aquatic Resources, the main government arm responsible for the preservation of the country's marine resources, awarded Ballon the National Gawad Natatanging Parangal under fish conservation in 2019.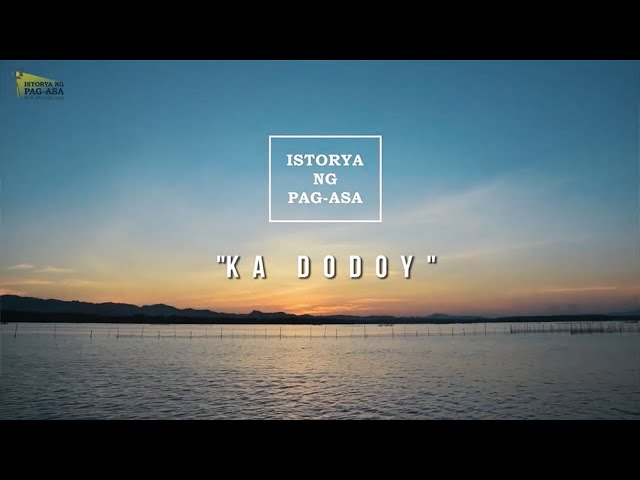 A film titled Ka Dodoy was made based on his life story. It was adjudged as the best film and grand winner in the Istorya ng Pag-asa Film Festival 2019 organized by the office of Vice President Leni Robredo.
Why his recognition matters
With the continuous Chinese threats in Philippine waters, Ballon's victory would serve as an inspiration and an eye-opener to decision makers that Filipino fisherfolk need support.
For fisherfolk relying on the bounties of the West Philippine Sea, Chinese presence in the area means limited fish catch. Marine biology expert Hazel Arceo of the University of the Philippines Cebu says that, due to threats in Scarborough Shoal, fisherfolk in the area are being deprived of access to sea resources.
Aside from barring Filipino fishermen from harvesting water resources inside the country's very own waters, the Chinese encroachment destroys the environment. And worse, the fishing industry might collapse, said the experts.
AGHAM – Advocates of Science and Technology for the People, a national group of science and technology professionals, says Chinese activities in Philippine waters resulted in at least 16,000 hectares of destroyed reefs, as of 2017. The damage is estimated to reach up to P33.1 billion per year if the encroachment continues.
– Rappler.com