The Department of Health always mentions the need to follow 'minimum health standards.' Here's what that actually means.
Over half a year since the coronavirus crisis began, countries around the world, including the Philippines, continue to grapple with outbreaks. Areas earlier hailed to have model responses to the disease, such as Hong Kong, confront new surges in cases while other countries like the United States are still struggling to beat back the virus.
In the Philippines alone, a significant rise in cases has been reported in the past weeks after transmission of the virus continued, threatening hopes for a much sought-after economic recovery.
Dealing with an unknown virus and a quickly changing situation, experts' advice at the beginning of the crisis was more absolute: stay home, as much as you can, avoid going out, and try to avoid contact with those you don't live with.
But as the pandemic lingers and a viable vaccine to prevent the disease is still out of reach, governments around the world find themselves facing the question of how to safely restart activity and avoid extending damage to livelihoods.
The answer isn't clear cut and still varies across countries. Despite this, each response shares enough similarities that offer ways how to stay safe during the pandemic, like wearing a mask and practicing physical distancing.
For the Philippines, health officials call these "minimum public health standards" or the basic practices people need to follow to keep themselves and communities safe.
Department of Health Undersecretary Maria Rosario Vergeire earlier described these health standards as the "specific condition" health officials required of each individual as quarantine restrictions were eased.
It's important to note these health standards go hand-in-hand with wider efforts like contact tracing, wide testing, and treatment of patients that are largely government-led.
But while agencies struggle to implement a strong response in all 3 areas of a "test, trace, and treat" strategy, public health experts say these daily health measures should not be neglected if we are to limit the spread of the disease.
Rappler compiled "minimum health practices" people can take to stay as safe as possible during the pandemic from the DOH's administrative order on these, the World Health Organization, guidelines from the US Center for Disease Control and Prevention (CDC), and Johns Hopkins University and Medicine coronavirus resource center
Here are key takeaways:
Guidelines from these sources cover 8 must-do's for everyone.
1. Wear a mask
Just how effective are masks in preventing the spread of the disease? Early in the pandemic, evidence had experts agreeing that if you were sick, you should wear a mask especially when outside your house as it keeps germs from spreading.
But as new evidence emerged that the coronavirus could be spread by people who were not showing signs of the disease, advice from the WHO and other experts wasn't as quick to catch up.
Nevertheless, the WHO and other bodies have endorsed the use of masks as increasing evidence and studies have shown these can protect people wearing them from getting infected, and can prevent those who have symptoms from spreading the disease.
Citing studies, the DOH added that wearing masks lowers the chance of transmission by up to 85%. For medical workers treating COVID-19 patients, the DOH said N95 masks offer the best protection while surgical or medical masks should be used by those caring for the sick.
When out in communities, cloth masks will still offer protection for regular use, they added. What's important is that the mask covers the nose and mouth when worn.
Masks should also be coupled with other preventive measures, such as frequent hand-washing and physical distancing, to further help slow the spread of the virus.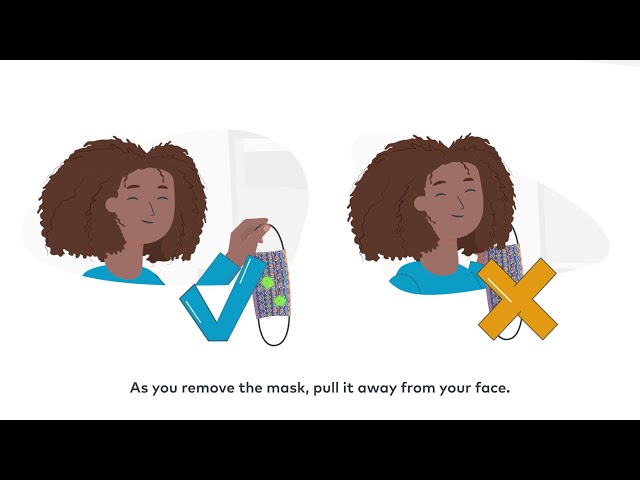 2. Practice frequent hand washing
Even if you wear a mask, you should avoid touching your face and still wash your hands regularly. The CDC recommends washing your hands with soap and water for 20 seconds to kill the virus.
Studies have shown the virus can survive on different surfaces for different lengths of time, so if you touch those and then touch your face, the virus may spread to your nose, eyes, and mouth, risking illness.
If soap and water are not available, you can use a hand sanitizer with at least 60% alcohol which can help you avoid getting sick and spreading germs to others.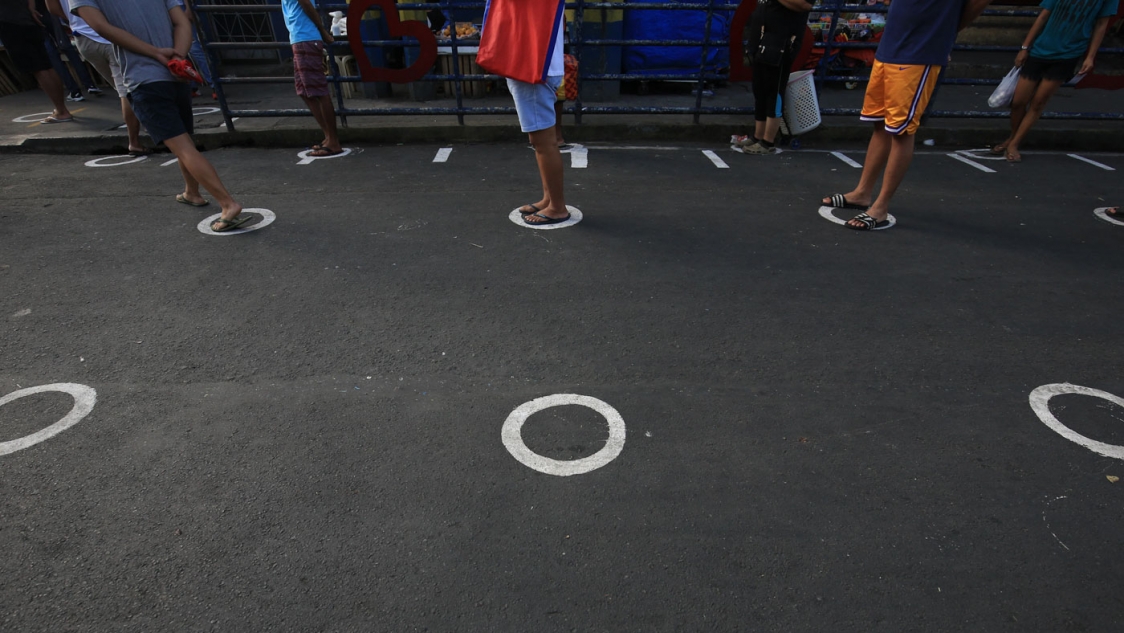 3. Practice physical distancing
Maintain a distance of at least one meter or 3 feet, to be exact. The DOH said this can lessen the chance of transmission by about 80%, and when coupled with frequent hand washing and mask wearing, it can greatly reduce the risk of you getting the disease.
But aside from keeping a distance between you and the next person, physical distancing also includes avoiding spending time in crowded places or in groups, limiting social gatherings, and refraining from making close contact with other people.
This may be more difficult for certain cultures like in the Philippines where handshaking, hugs, and kisses are greeting norms. It can also be a serious challenge for cities like Manila, which is among the most densest cities in the world.
Still, experts urge people to observe this whenever possible.
Recent studies have shown that these 3 acts of wearing masks, washing hands, and practicing physical distancing are effective in helping stop the large outbreaks of the disease.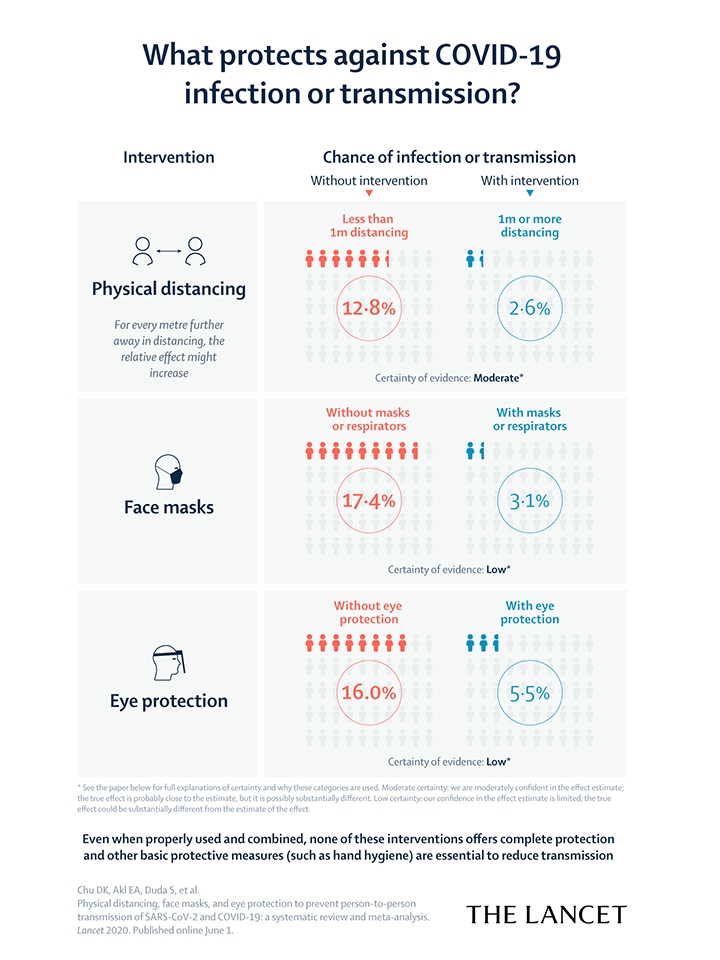 4. Isolate if experiencing symptoms
Self-isolation is an important measure to break chains of transmission if you are unsure you have the disease or may have been in contact with someone confirmed to have COVID-19.
According to the WHO, most common symptoms for COVID-19 are fever, dry cough, and tiredness. Few patients may experience the following symptoms as well:
aches and pains
sore throat
diarrhea
conjunctivitis
headache
loss of taste or smell
a rash on skin, or discoloration of fingers or toes
Some serious symptoms include:
difficulty breathing or shortness of breath
chest pain or pressure
loss of speech or movement
The DOH advises those who are self-isolating with other people at home, to make sure they have access to a separate bathroom and room.
If you are an asymptomatic or mild coronavirus patient, you can complete treatment in temporary quarantine facilities managed by the government. This is done if home quarantine is not possible, and when referred by hospitals for treatment.
5. Disinfect surfaces
The DOH said "high touch" areas like toilets, door knobs, and switches should be disinfected every two hours while workstations and other areas should be disinfected at least once every day.
The DOH's Department Memorandum 2020-0157 goes into extensive detail on how to do this in different settings and the types of solutions that can be used to properly disinfect surfaces.
It's important to do this since we know by now that one way by which the coronavirus may spread is through touching contaminated surfaces and then touching your eyes, nose, or mouth.
6. Reduce exposure of vulnerable individuals
Individuals considered to have a a higher risk of contracting a severe form of COVID-19 are those 60 years old and above, and those who are immunocompromised or have underlying health conditions.
The safest thing to do for those who fall in this group is to be extra careful and to religiously follow official advice on how to keep safe from the virus.
Those living with vulnerable individuals also need to do their part and follow health practices to protect those most at risk.
7. Follow cough etiquette
It bears reminding: covering your nose and mouth when coughing or sneezing can help prevent the spread of illnesses.
The DOH lists specific actions to take to observe proper cough etiquette:
Cover mouth and nose using tissue or sleeves or bend of the elbow when coughing or sneezing
Move away from people when coughing or sneezing
Do not spit
Throw away used tissues properly
Always wash your hands after sneezing or coughing
Use alcohol or hand sanitizer
8. Promote mental health
Public health experts emphasize the need to take care of one's mental health as the pandemic has increased levels of stress and anxiety among people.
Some tips the WHO recommends to promote better mental health include having and keeping up with a routine as much as possible, or making new ones if needed. This can include going to bed and getting up at similar times every day, eating healthy, exercising regularly, and allocating time for working and resting.
Watching and reading things that make you feel anxious can also be done at specific times of the day to limit stress. The WHO likewise suggests reaching out to friends and family to keep contact and lessen feelings of isolation, to be mindful of the time you spend online and to reach out for help if needed.
The United Nations earlier underscored the importance of caring for one's mental health, saying it must be "front and center of every country's response to and recovery from the COVID-19 pandemic."
The National Center for Mental Health can be reached at the following numbers 24/7 for free:
Mobile: 09178988727
Landline: 02-7-989-8727
Landline to landline: 1553
For more details on how these can be adapted to different settings and what other specific measures can be taken, read the DOH's Administrative order on minimum health standards:
– Rappler.com