(UPDATED) On March 1, the Philippines finally begins to legally roll out COVID-19 vaccines, with the first doses from Sinovac
For nearly a year, President Rodrigo Duterte used speech after speech to claim that salvation from the pandemic would come from one thing only: vaccines. Now, the Philippines is just weeks away from starting an immunization campaign that aims to deliver exactly that.
Vaccine czar Carlito Galvez Jr outlined the ambitious targets the government had for its vaccine program: secure at least 148 million vaccine doses and inoculate 50 million to 70 million Filipinos within 2021 – just enough to reach the recommended 60% of the population scientists estimated was needed to reach herd immunity against COVID-19.
In reaching these goals, Galvez, along with other pandemic and health officials face challenges that have stumped even the wealthiest of countries when distributing vaccines to the public.
With the distribution of the country's first vaccine doses slated for February, the Duterte government's timeline for its vaccine plan in 2021 hinges on many things – including delivery, storage, local government plans, and drawing up of masterlists – going right.
Where things stand now
On Monday, March 1, the Philippines officially began rolling out COVID-19 vaccine doses. 
At 9:40 am, the first COVID-19 vaccine in the country was legally administered by nurse Sherlock Cruz to Dr. Gerardo Legaspi, director of the University of the Philippines-Philippine General Hospital (PGH), one of the few coronavirus-designated hospitals in the country.
Along with Legaspi, Food and Drug Administration Director General Eric Domingo, government medical adviser Dr Edsel Salvana, vaccine czar Carlito Galvez Jr, and deputy chief implementer Vince Dizon were also vaccinated.
To secure vaccines, the Philippine government has been in talks with at least 7 companies, including Pfizer, AstraZeneca, Moderna, Novavax, Sinovac, Gamaleya, and Johnson & Johnson (Janssen Pharmaceutica).
Galvez said of the 7 companies, there were 5 with whom term sheets have been signed.
Term sheets are the second to the last document that needs to be signed. It sees companies commit to supplying doses for Filipinos.
Actual delivery and use will depend on details agreed upon in supply deals and whether the vaccine is granted emergency use authorization from the Philippine Food and Drug Administration.
As the main person in charge of vaccine negotiations for the Philippines, Galvez said supply deals were scheduled to be signed by the end of February. All contracts for vaccines were expected to be finalized by mid-February, he added.
In terms of preparations for the actual deployment of vaccines on the ground, various local government units (LGUs) have been running simulation exercises to rehearse their plans for storing, transporting, and distributing vaccines in their communities.
The Department of Health, along with task force officials, approved the vaccines plans of several LGUs in Metro Manila, with more expected to be cleared in the coming weeks.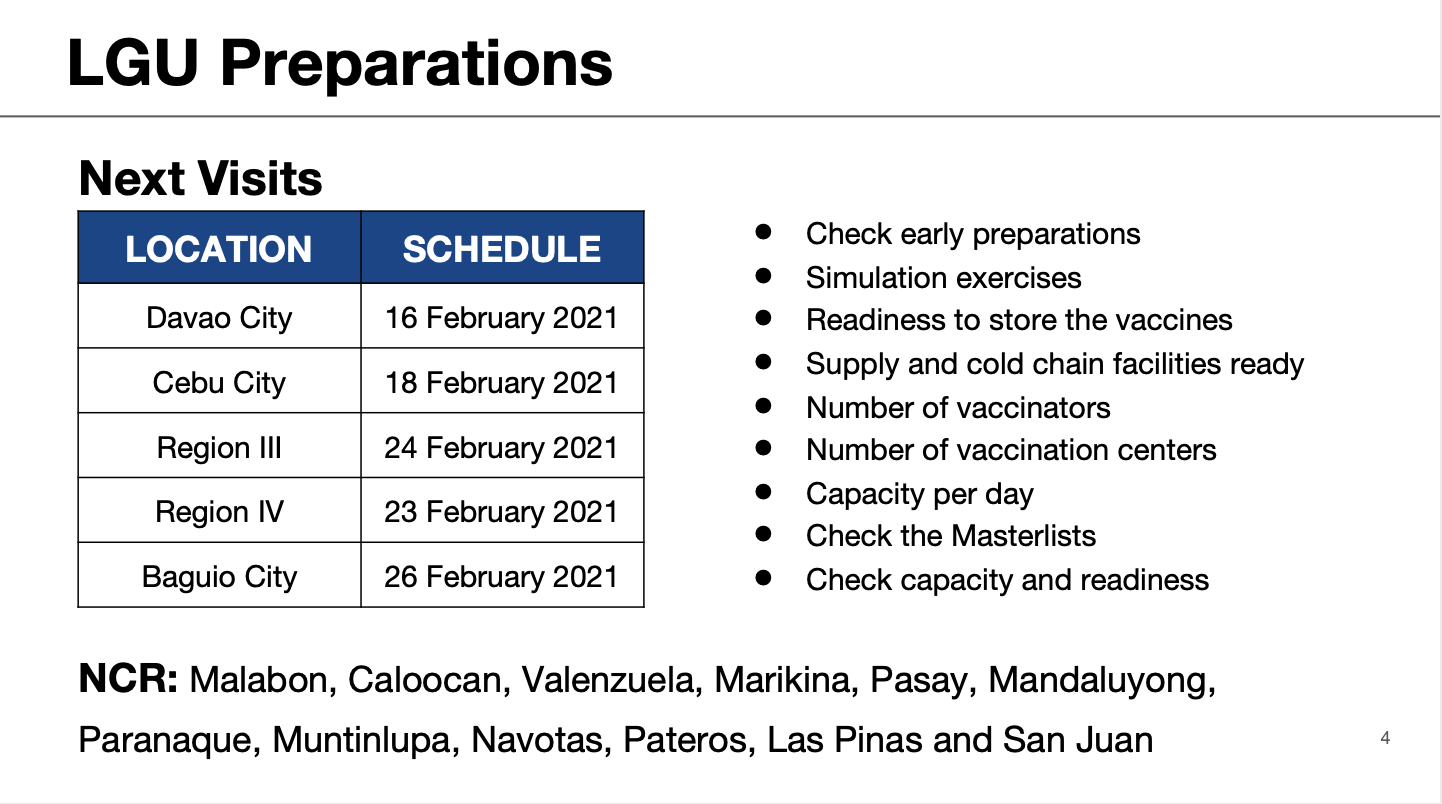 1ST QUARTER: 'Mini rollout'
The first 600,000 doses of Sinovac's vaccine donated by the Chinese government arrived in the Philippines on February 28.
Sinovac was the latest to be granted emergency approval in the Philippines, following Pfizer and AstraZeneca. Sinovac's vaccine was the first to arrive after delays in paperwork stalled vaccines from the global COVAX Facility, which were initially supposed to arrive in mid-February. This included 117,000 doses of Pfizer and BioNTech's vaccine and 525,600 doses of AstraZeneca's vaccine earlier expected to arrive courtesy of the COVAX facility led by the World Health Organization (WHO).
COVID-19 referral hospitals in Metro Manila – the epicenter of the pandemic in the country – will be prioritized for the initial vaccine supplies. The following hospitals were listed:
Philippine General Hospital
Lung Center
Dr Jose N Rodriguez Memorial Medical Center and Sanitarium (Tala)
Veterans Memorial Medical Center
Philippine National Police General Hospital
Victoriano Luna Medical Center
Other vaccines like AstraZeneca which were expected to arrive in the first quarter will likewise be prioritized for frontline health workers caring for patients in high-risk areas or places where infections rates were still high. (The Philippines expected to receive at least 5 million doses of AstraZeneca's vaccine from COVAX.) 
Galvez said this phase of the government's vaccine plan will be considered a "mini rollout" as it will cover some 1.7 million healthcare workers, along with other government frontliners who will be responsible for mounting the vaccine rollout in the coming months.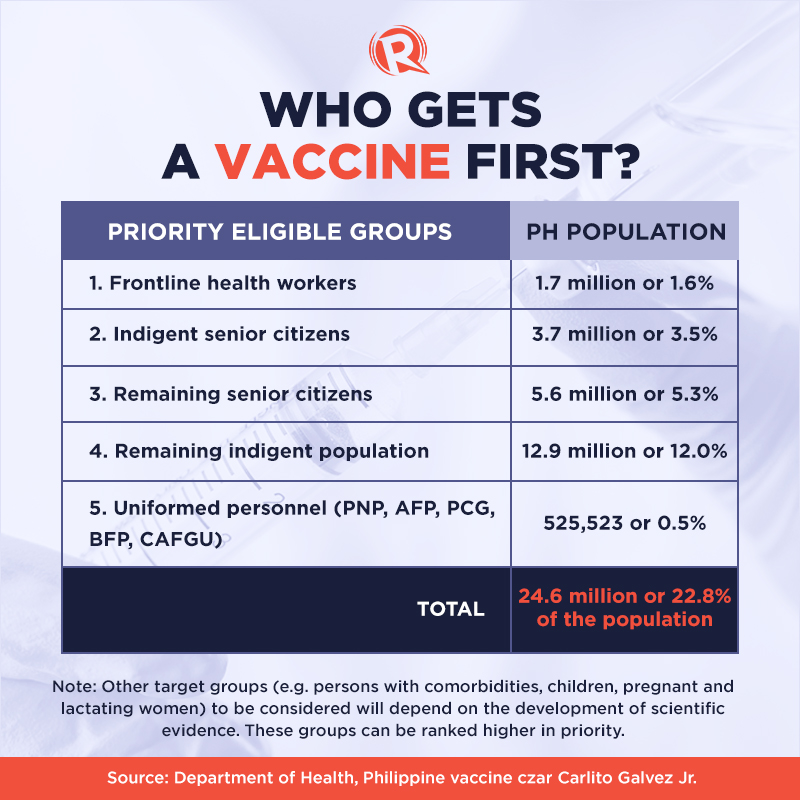 2nd QUARTER: Vulnerable sectors, 'economic frontliners'
By this time, the government expects 10 to 15 million doses of vaccines to arrive in the country, on top of more vaccines to be supplied by COVAX.
WHO Philippines Representative Rabindra Abeyasignhe said the country is potentially looking at receiving a maximum of 9.2 million doses by March or April, while the remainder of the 44 million doses it was entitled to through COVAX will come at the end of the year.
The 9.2 million doses will be AstraZeneca's vaccine manufactured in South Korea, though the actual amount will depend on manufacturing capacity, Abeyasinghe said.
Galvez said these vaccines will be used to inoculate members of vulnerable sector such as senior citizens and indigent Filipinos. The government is also eyeing to start the vaccination of "economic frontliners."
During these months, supplies of AstraZeneca's vaccine ordered by the private sector and local government units are also expected to start arriving in the country.
3rd QUARTER: 'Massive rollout' begins
At this point, we should expect the Duterte government's vaccine rollout to be in full swing as bulk of vaccines purchased should start arriving in the Philippines.
The number of doses to be made available in these months was somewhere between 30 million to 50 million, Galvez said. The amount would be enough to start inoculating about 25 million Filipinos.
Based on negotiations, some of the vaccines that may be delivered during these months include those developed by US pharmaceutical firms Moderna and Novavax.
Galvez earlier signed a term sheet securing at least 30 million doses of Novavax vaccine to be manufactured by the Serum Institute of India, while Philippine Ambassador to the US Jose Manuel "Babe" Romualdez said Moderna was among companies willing to supply doses to the Philippines by mid-2021.
4th QUARTER: Targets reached?
In the latter months of the year, what Galvez described as the "full rollout" of vaccines will continue as bulk of vaccines procured through negotiations will be delivered.
These months will be crucial if the Duterte government is to reach its goal of inoculating 50 million to 70 million Filipinos. Galvez spelled out the stakes in the campaign, saying the country needed to reach this number if it is to achieve herd immunity and jumpstart economic recovery. – Rappler.com
Read Rappler's series of explainers on the Duterte government's vaccine program below: