Here are the things you need to know about P3, the new COVID-19 variant found in the Philippines
On Saturday, March 13, the Department of Health (DOH) confirmed the detection of a COVID-19 variant, called P3, which was found in local samples in the Philippines.
The DOH, however, said that it is "more accurately described as a variant first reported in the Philippines" not yet a "Philippine variant."
"The WHO [World Health Organization] discourages use of places to identify variants. The so-called UK and South African variants were tagged so because these variants were first reported in these countries," the DOH said.
Scientists have said that viruses naturally mutate because, just like humans, they also need to undergo structural changes for them to adapt to their host body. Viruses that would have the same mutations will form a variant.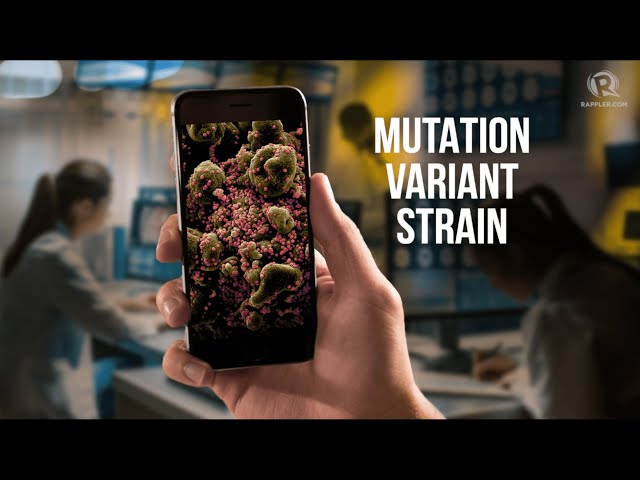 To date, the Philippines has reported 3 "variants of concern" (VOCs) in its coronavirus-positive samples. These are the United Kingdom (B117) and South African variants (B1351), with 177 and 90 cases, respectively, and the Brazil variant (P1), with only one case, so far.
A VOC means that researchers have not yet identified its difference in terms of transmission and intensity compared to foreign variants.
All 3 VOCs have the N501Y mutation, which is linked to increased transmissibility. Meanwhile, B1351 and P1 variants have the mutation E484K, which may affect vaccine efficacy.
While the P3 variant found in the Philippines also contains these two mutations, health officials said that it still is "not identified as a variant of concern as current available data are insufficient to conclude whether the variant will have significant public health implications."
"The reported variant carries multiple mutations in the spike protein of the virus that are likely to have functional significance. In particular, the E484K, N501Y, and P681H mutations have been previously associated with known SARS-CoV-2 variants of concern and, together with a 3 amino acid deletion at spike positions 141 to 143, have been linked to possible increased transmissibility and immune escape in some studies," the PGC said in its March 13 bulletin.
The health department reported 98 cases of this virus type, whose first cases were detected in Central Visayas.
Here's what we know so far about the P3 COVID-19 variant:
'Locally developed'
In an interview with TeleRadyo on Sunday, March 14, Philippine Genome Center executive director Cynthia Saloma said that the P3 variant is "locally developed" because "it is really a local variant of origin."
"We have not seen that in the 600,000 deposits in the database. So, we believe that it developed locally," she added.
Saloma also said that though there is not yet enough evidence to say that it has an impact on public health, P3 might also be more transmissible than the original version of the SARS-COV-2, the virus that causes COVID-19. She cited the presence of the N501Y mutation in the P3 variant.
"Hindi natin sinasabi na mabilis siyang makahawa but 'yung kanyang mutation suggests na puwede talaga siya na mabilis makahawa," she said.
(We're not saying that it is more infectious, but its mutation suggests that it's possible that it is more transmissible.)
The presence of the E484K mutation in P3 is also a concern as it dodges a person's immune system, but Saloma said that further studies are still needed.
"That one has been associated with immune escape whether that is true for our local detected variant, that remains to be seen," she said.
In a virtual press briefing on Monday, March 15, Dr Beverly Ho, director of the DOH promotion and communication unity, said that they are still working with the WHO to determine whether there has been a community transmission of the P3 variant after 98 cases were reported.
Is it more deadly?
Saloma said that what's good about all VOCs detected and the P3 is that they are not linked to increased pathogenicity.
"'Yung sinabi natin na increased pathogenicity parang hindi lumalala ang symptoms, hindi nakakamatay kung hindi ka naman immunocompromised… Ang ating binabantayan dito ay 'yung increased transmissibility nga," she said.
(What we're saying about increased pathogenicity is that symptoms will not worsen, it's not deadly if you're not immunocompromised.)
Prior to the confirmation of the P3 variant by the DOH, Japanese health officials reported on Friday, March 12, that they found this new virus type in a passenger from the Philippines who arrived in Japan on February 25.
But local experts said that they have been looking into it since the early part of March. Saloma said that they got the confirmation that it was a new variant with the assigned name P3 on March 10.
"'Yung gusto ko lang po sabihin sa inyo na 'yung report ng Japan, huli na 'yon. Mas nauna po tayo," she said in a CNN Philippines interview on Saturday. (What I wanted to say is that the report of Japanese officials was already late. We were first to know about it.)
Although they had found out about the new variant on March 10, the DOH, however, confirmed its detection only after Japanese officials announced it on March 12.
Reporters had repeatedly been asking about the new variant since morning of March 12, because Dr Edsel Salvaña, a member of the technical advisory group, had posted this information on his Facebook account that same day. – Rappler.com