This is AI generated summarization, which may have errors. For context, always refer to the full article.
(UPDATED) A lawmaker suggests the Philippines postpone the 2022 elections due to the pandemic – but other countries like Singapore, Sri Lanka, South Korea, and Belarus have been able to carry on elections despite the virus threat
Pampanga 2nd District Representative Mikey Arroyo on Thursday, September 24, asked the Commission on Elections (Comelec) to consider postponing the 2022 elections due to the coronavirus pandemic.
The lawmaker – former president Gloria Macapagal Arroyo's son – said that people from his district said they would opt to not vote in the May 2022 elections because they'd be "scared to vote during that day."
"But I hope that thought will linger in their minds. I'm not saying you should do it. Just consider it," added the congressman.
The Constitution sets the terms of the president and vice president at 6 years.
Comelec Executive Director Bartolome Sinocruz Jr said they are preparing to hold the 2022 polls even if a COVID-19 vaccine may not be readily available by then.
Despite the pandemic still unfaltering around the world, some countries have been able to push through with their elections. Here are some of them:
South Korea
South Korea's left-leaning ruling party won by a landslide on April 17, after the pandemic turned the political tide in President Moon Jae-in's favor. Turnout was at 66.2% – the highest in a parliamentary election since 1992.
By that day, confirmed cases of COVID-19 had already breached the 10,000-mark, and South Korea came in second to China to have the most coronavirus cases in the Western Pacific Region, according to WHO numbers.
However, the country had already flattened its epidemic curve. Fewer than 40 new coronavirus cases were recorded on each of the 6 days up to and including the Monday before the elections.
South Korea was among the first countries with a major virus outbreak to hold a national election since the pandemic began. Safety measures like compulsory face masks, gloves, temperature checks, and physical distancing were in place.
Even those who had fever were allowed to vote – but they had to cast their ballots in separate booths to be disinfected after each use.
The vote was seen as a referendum on Moon's relatively quick and effective handling of the pandemic.
United States
The United States proceeded with their highly anticipated November 3 polls between Democrat Joe Biden and Republican President Donald Trump.
Under President Trump's watch, the US failed to keep coronavirus infections under control as it remained the country with the worst COVID-19 outbreak in the world.
More than 50 million Americans voted early in the 2020 election to avoid crowding polling centers in fear of catching the virus. According to a tally run by the University of Florida, more than 35 million voted by mail, and more than 15 million left their ballots in drop boxes.
Democrats urged people to vote early as a health precaution. Meanwhile, Trump insisted, without evidence, that mail-in voting was prone to fraud. According to the Brennan Center for Justice, it was more likely for an American to be struck by lightning than to commit mail voting fraud.
Biden was eventually proclaimed the winner.
Myanmar
Myanmar's ruling party led by Aung San Suu Kyi claimed victory in a November 8 general election.
While Suu Kyi's reputation had been questioned over Myanmar's crackdown on Rohingya Muslims, she remained popular at home. Crowds voted on election day despite coronavirus fears.
Suu Kyi's government faced the task of stemming a detected rapid increase in cases. In a Brookings Institution report, researchers found that Myanmar's weaknesses in its pandemic response included an inadequate testing capacity and an unprepared health system.
Indonesia
With more than 100 million registered voters among them, Indonesians lined up to vote in December 2020. By this time, the country struggled with Southeast Asia's worst COVID-19 outbreak, nearing 600,000 confirmed cases.
The regional polls were postponed once, but the government ignored calls from experts for a second postponement. Epidemiologist Pandu Riono warned "it's very likely that new clusters will emerge," but Chief Security Minister Mahfud MD disputed these warnings.
A number of regional candidates and incumbent leaders were exposed to COVID-19. In South Sulawesi, for example, Barru regency candidate Malkan Amin died from the disease on December 9, the day of the election.
Two regional heads in East Java also died of COVID-19.
Burundi
Burundi's ruling party candidate Evariste Ndayishimiye was declared the winner of the country's presidential election on May 25 – notwithstanding the opposition's allegations of a flawed election. It was a triple-voting election that included votes for the president, the parliament, and the communal council.
Ndayishimiye, 52, is a former army general who was handpicked by the ruling CNDD-FDD to replace former president Pierre Nkurunziza, who was in power for 15 years and whose final years in office were wracked with turmoil.
The East African country largely ignored the coronavirus outbreak by the time the election took place. The country had confirmed 42 cases by May 25.
According to the World Bank, COVID-19 is expected to have repercussions on Burundi's economy, as all productive sectors are expected to contract, including agriculture, an important pillar of the Burundian economy.
The World Bank lists Burundi as one of the least developed countries in the world.
Mongolia
On June 24, Mongolia elected 76 members of parliament, where the governing Mongolian People's Party won a resounding victory with 62 seats.
It had at least 215 confirmed "sporadic" cases by that time, according to the WHO. No one had died of the coronavirus yet.
Voters stood two meters apart while waiting in lines at polling stations in the capital, Ulaanbaatar. Election workers checked their temperatures and distributed hand sanitizers.
About 8,000 Mongolians were stranded abroad at the time, and protests inside the country calling for their return were broken up by authorities for breaking social distancing rules.
Sri Lanka
On August 7, Sri Lanka President Gotabaya Rajapaksa and his brother, Prime Minister Mahinda Rajapaksa, secured a two-thirds majority in a parliamentary election.
The election was postponed twice because of the pandemic, but turnout still ended up with more than 75% of the 16 million electorate. The government enforced strict social distancing measures.
The brothers are viewed as heroes by the country's Sinhalese majority for crushing Tamil separatists, ending a decades-old conflict in 2009.
The new government faces huge economic challenges, with the Asian Development Bank estimating a 6.1% contraction of the economy this year.
Belarus
On August 10, an exit poll showed strongman Belarus President Alexander Lukashenko overwhelmingly beating main opposition challenger Svetlana Tikhanovskaya. Thousands took to the streets in protest, claiming the election was rigged.
The massive protests have seen violence, hundreds of arrests, and alleged abductions of opposition figures.
Confirmed coronavirus infections in Belarus neared 70,000 the day Lukashenko claimed victory. In the weeks leading up to the election, Lukashenko dismissed the pandemic as a hoax, and refused to impose a lockdown or postpone the election.
He offered dubious tips on avoiding the virus, like driving tractors in the countryside, drinking vodka, and taking steam baths.
Lukashenko held his presidential inauguration in secret on Wednesday, September 23.
Singapore
Sinaporeans in face masks and disposable gloves observed physical distancing as they lined up to vote on Friday, July 10. They used hand sanitizer and had their temperatures checked before receiving their ballots. 
There was also a rare extension of voting hours. They were supposed to close at 8 pm, but safety measures led to long waits and prompted authorities to extend voting by two hours.
The ruling People's Action Party – while experiencing a drop in support compared to previous years – retained power, with a 61% popular vote. Voters were concerned about job security and the economy during the pandemic.
The leading opposition party, meanwhile, took a record 10 of the Parliament's 93 seats.
Confirmed coronavirus cases were at 45,423 by July 10, and 26 had died.
Poland
Polish President Andrzej Duda won a reelection on Monday, July 13, with a narrow victory of 51% against Warsaw's liberal mayor Rafal Trzaskowski.
Duda's support was particularly strong in rural areas and small towns and in the east of the country, while Trzaskowski has performed well in larger cities and western regions on the border with Germany.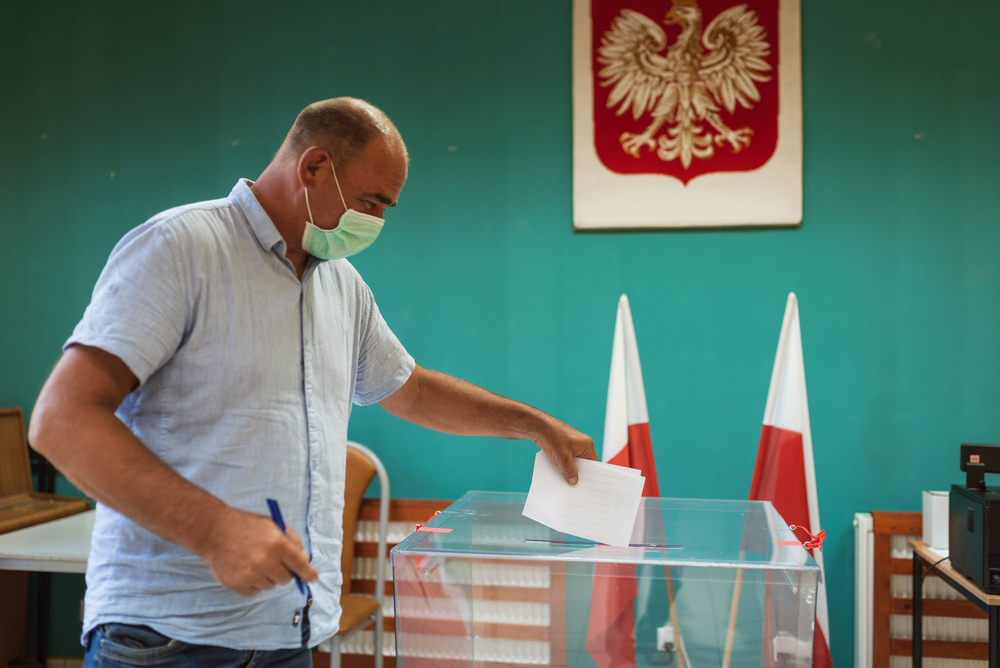 By the election, the coronavirus pandemic had already been pushing Poland into recession, which was the eventual case in August. Duda promised to defend highly popular social welfare payments.
The country had confirmed almost 38,000 cases by July 13, with more than 1,500 dead due to the virus. – with reports from Agence France-Presse and Reuters/Rappler.com