While privacy is an individual's inviolate right, especially so in a democracy, that right ends where public interest begins
In a demand letter dated Aug 1, 2013, the lawyers of Janet Lim-Napoles led by Lorna Kapunan, threatened to file "criminal and civil actions" against "Rappler Beta" over "inaccurate, reckless and unfair articles" relating to the lavish lifestyle of the Napoleses.
Rappler and the Philippine Daily Inquirer will be charged with libel — supposedly for our "disregard for the truth." Rappler is being singled out for stories on the lavish lifestyle of Jeane Napoles, daughter of Janet, while the Inquirer is being targeted for its reports on the alleged fund scam involving legislators and fake NGOs.
Rappler's Natashya Gutierrez, according to the demand letter, "disregarded the right to privacy of our clients, exaggerated details about their lifestyle, sensationalized half-truths and gossips relating to their properties, spread lies about them and published very personal details that seriously impact on their security."
Below is the Demand Letter from the Kapunan Law Office:
We take exception to the accusation because while privacy is an individual's inviolate right, especially so in a democracy, that right ends where public interest begins.
Reporting the truth is a preoccupation of journalists. Corruption and misuse of public funds demand the attention and the obsession of the media — journalists in particular — because these issues strike at the heart of accountability on the part of elected officials.
Public-private
The Napoles lawyers say in their letter: "While the law provides for an exemption for the public to intrude into one's privacy, such as when the person scrutinized is a public figure, the fact of the matter is that Ms Napoles and her family members are not public figures. They have lived away from the public's prying eyes and have maintained private lives. They went into private businesses and never dabbled into politics."
Yet Ms Janet Napoles' business, according to documents and several accounts, involved dealing with a lot of local officials, legislators and their pork barrel. Because billions of pesos in public funds and how they are spent are the core issue, this ceases to be a private enterprise exempt from journalistic scrutiny.
This calls to mind the case involving Rose Marie "Baby" Arenas, the rumored ex-paramour of former President Fidel V. Ramos. The story published in 1993 and written by Marites Dañguilan Vitug and Glenda M. Gloria, stirred a hornet's nest because it supposedly delved into the private life of a private individual. Even then, it merited a story because Ms Arenas, now a Pangasinan Representative, was reported to be exerting influence on state affairs.
The media also did stories on the children and wife of retired Maj Gen Carlos Garcia who was accused of plunder. His sons were arrested in 2003 at a US airport for smuggling dollars. This exposed systemic corruption in the military and later led to a restructuring of financial units. Garcia remains behind bars.
Private persons whose lives intersect with public persons and issues of public interest are certainly not exempt from the "prying eyes" of the media. It was true then, as it is now.
Lifestyle checks are perhaps one of the more difficult stories to write precisely because personal information is not readily available to the public. The Napoles daughter was an exception. Photos and video of her lifestyle were flaunted on social media, the living room of this generation. We all know that for the selfie generation, whatever they post on social media they know to be public.
We are trained to follow the money and people trail in trying to exact accountability from officials and even the private individuals they deal with. Natashya Gutierrez wrote her stories based on public documents made available online by the Office of the Assessor of Los Angeles County and records of the Recorder's Office. Reports were neither pulled from thin air or fabricated. In the same way that lawyers are guided by a blindfolded Lady of Justice in their pursuit of what is just, journalists are guided only by their passion for the truth.
READ: Napoles daughter owns P80M LA property
READ: Napoles' daughter blogs about lavish lifestyle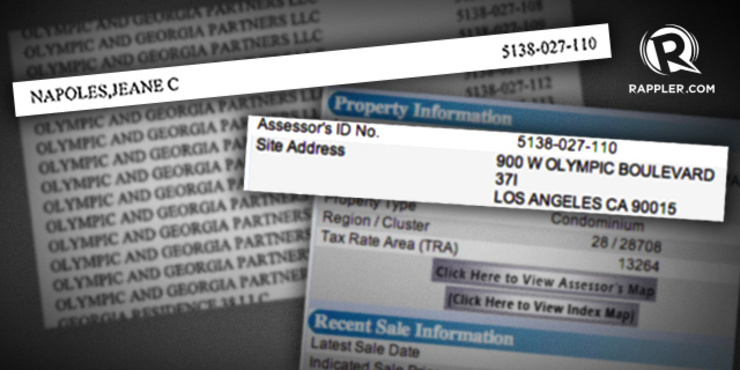 Intimidation
A libel case is perhaps the most common, if not easiest, form of intimidation against journalists because in the Philippines it is a criminal offense. It will require a journalist to post bail, appear in a police station, hire the services of a lawyer, and appear before court whenever there is a scheduled hearing. All these require financial resources and take away precious time that would have otherwise been spent pursuing stories.
That libel here is a criminal offense — meaning, it can merit imprisonment and heavy penalties — is already evidently threatening. It is clearly intended to stop journalists like us from continuing with our reports and dropping our investigations.
For libel to prosper, complainants must be able to prove 4 things: falsity of the report, harm caused, inadequate research, and malice or reckless disregard for the truth.
In their letter, the Napoles lawyers ironically indulge themselves when they say, "The unethical and malicious behavior or Ms Gutierrez, which could be rooted from (sic) jealously dating back to the time that she was a schoolmate of Ms Napoles in International School, has caused our clients so much anguish, serious concern for their safety, serious anxiety, besmirched reputation, wounded feelings, social humiliation." We ask, isn't this accusation of jealousy itself speculative, malicious and libelous?
In pursuing this story about public officials who try to escape accountability by partnering with "private" individuals, journalists cannot and should not be intimidated. The amounts involved are too staggering, and the methods used to circumvent laws and mask how billions of pesos was spent, demand nothing less. – Rappler.com