In this video, the last in a series of conversations about press freedom, journalists Ed Lingao, Jason Gutierrez, Inday Espina-Varona, Ezra Acayan, and JC Gotinga speak about facing threats against the press, and why it's important to keep reporting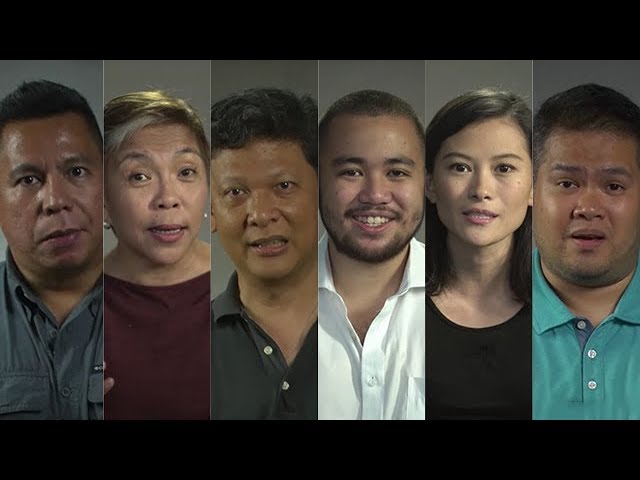 MANILA, Philippines – The threat against press freedom, say local journalists, emanates from the republic's highest office.
"Do I think the President is a threat to press freedom?" asks international broadcast producer JC Gotinga. "He has threatened press freedom – in public."
Ed Lingao, a conflict journalist who has found himself in the crossfire of anger from government supporters, characterizes the administration as one uncomfortable with criticism – "and it has taken out a very big stick."
"I think people are getting their strength in the fact that government seems very courageous in whipping up the crowd," says Lingao.
The threats online are varied, he says, and occasionally specific.
Threats
"Every day over breakfast," says Rappler Palace reporter Pia Ranada, "it's kind of a routine that I look through my Twitter feed, my Facebook messages, my emails. No fail, there will be a death threat, mixed in with those trolling. There will always be a rape threat."
Veteran journalist Inday Espina-Varona calls the attack against the press "consistent and systematic." The most dangerous threat, she says, comes from members of the propaganda machine whose goal is to "scare the media into silence."
Although she laughs off many of the insults – "they call me old, of course, I'm a grandmother of 3!" – she says it is necessary to take the physical threats seriously.
The 2018 World Press Freedom Index published by Reporters Without Borders puts the Philippines' press freedom global ranking at 133 out of 180 countries. The country is now ranked the deadliest country for journalists in Asia.
"Am I afraid? All the time," says Lingao. "Only a stupid person would be a reporter and not be afraid. So be afraid. Be very afraid. But do the job."
Attack on integrity
Freelance photojournalist Ezra Acayan, whose work covering the brutality of the drug war has seen publication in the New York Times, Le Monde, The Guardian, and The Washington Post, denies there is reason for concern when journalists stand for particular principles.
Bias is a constant refrain among detractors of critical reportage.
"When they say we shouldn't take sides, I think that's wrong," says Acayan. "We should be on the side of what's right and true."
"Before I am a journalist, I am also a Filipino," says international correspondent Jason Gutierrez. "I care about what is happening to my country. That's a large part of my being a journalist."
The trouble, says Gutierrez, is that people are locked within echo chambers constantly validating their own opinions.
Gotinga, a former local broadcast journalist himself, says part of the mandate of journalism is to provide information to protect citizens from abuse. It is the reason, he says, why news is often negative.
"Otherwise," he says, "the other word for it is propaganda." – Rappler.com
Click on the links to other parts of this series
–