[EXCLUSIVE] Chief Justice finished doctorate without required dissertation
In a special graduation ceremony last April held in the historic Puerta Real, the University of Santo Tomas (UST) conferred on Chief Justice Renato Corona his doctorate in civil law, summa cum laude. He was one of six graduates to garner top honors during ceremonies intended to commemorate the university's quadricentennial.
Kneeling before the UST rector and wearing a black robe and bright red cape, Corona received a "ceremonial declaration" of the graduation, apart from his doctoral degree, from Father Rolando de la Rosa.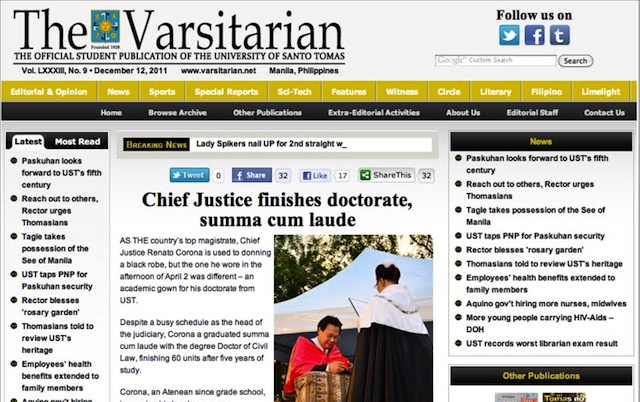 It was a proud moment for the university, the world's largest Catholic university, as it celebrated its 400th year anniversary. It was as well for Corona who, almost a year earlier, was appointed to the highest post in the Supreme Court.
"This great educational institution…the oldest existing university in Asia…has made it possible for me to realize my dream of appending the hard-earned degree of Doctor of Civil Law to my name," Corona said in his valedictory address. It was a welcome honor for the chief justice whose legitimacy was in doubt as he was appointed by then President Gloria Arroyo during the supposed ban on appointments during the election period. The Supreme Court, in a ruling, exempted itself from the ban.
(Corona now faces an impeachment trial in the Senate.)
But it turns out that UST may have broken its rules in granting Corona a doctorate in civil law and qualifying him for honors, apparently to favor the country's top judge. (Read: requirements for getting a UST post-graduate degree)
UST rules
First, UST requires a dissertation. Dissertation writing takes all of 15 units spread out in four courses.
Second, only students who complete their doctorate degrees in five years are qualified to graduate with honors: "A student who has overstayed beyond the residency limit…will also be disqualified to graduate with honors."
Corona does not have a dissertation. Neither did he fulfill the five-year residency requirement.
This unusual practice may set a precedent in UST and send a wrong signal to students that rank and influence trump academic rigor.
The UST Graduate School did not reply to our questions and repeated requests for interviews. We sent our first set of questions last Oct. 3 and again on Dec.12. On that day, they asked for one more day of extension but did not get back to us after.
Where's the dissertation?
What started out as a routine request for Corona's dissertation for a book on the Supreme Court that we are finishing led to this story.
Our search, which began last July, yielded no results, except a public lecture the chief justice delivered in November 2010 at the UST Graduate School. The Varsitarian, the official student publication of UST, reported in April that Corona's doctoral dissertation was entitled "To Every One His Due: The Philippine Judiciary at the Forefront of Promoting Environmental Justice."
Similarly, the Supreme Court Website said the chief justice's dissertation was on environmental law "which he defended and lectured on in a convocation attended by some 300 graduate school students, faculty members, and experts."
When we asked the UST Graduate School for access to Corona's dissertation, they gave us a copy of the March issue of Ad Veritatem, its multi-disciplinary research journal, wherein his lecture was published. For the full dissertation, they suggested that we ask the chief justice himself.
The UST law library does not also have a copy of the dissertation and instead referred us to the same journal where "an article based on his dissertation is available."
Similarly, the UST main library does not have Corona's dissertation. It is standard for university libraries to have files of their students' dissertations. Eight months after the graduation, Estrella Majuelo, the chief librarian, has not yet received the chief justice's dissertation.
In July, we wrote Chief Justice Corona requesting access to his dissertation. His office did not respond despite our repeated calls.
The public lecture, which was also published this year in the Philippine Judicial Academy's sourcebook on environmental rights and legal remedies, Access to Environmental Justice, is unlike a dissertation. Largely descriptive and explanatory, its main point is: "courts must administer environmental justice with the goal of giving what is due to each and every Filipino, even those who are yet unborn."
Corona ended with a promise: "That is the commitment of the Supreme Court to you."
'It's up to UST'
Pacifico Agabin, former dean of the University of the Philippines College of Law, told us that conferring doctorate degrees is completely up to the university: "The school is free to waive some requirements. Schools are given more freedom when it comes to graduate courses."
The graduate faculty, he pointed out, can pass a resolution modifying its requirements. But it's not a "usual practice," he said, and he is not aware if this has happened in UP.
We asked Antonio La Viña, a lawyer and dean of the Ateneo School of Government, to describe what a dissertation is. He said that it is "a written study, with original ideas, backed up by citations, and of publishable quality. Most, but not all, universities require a public defense for a dissertation where the student faces a panel of academic experts who can examine him or her…"
Overstaying student
Corona told reporters after his graduation that he worked on his doctoral degree for five years, attending classes whenever he could and spending much time on writing papers.
UST requires, as a general rule, that PhD programs be completed in five years. Maximum residency is seven years.
However, in an interview in 2002, after he was appointed to the Supreme Court, he told Newsbreak that he was already working on his dissertation for his doctorate in civil law: "I am doing my dissertation already. By next semester, I will present it…After my doctorate in civil law, I plan to take a PhD in history…by next March, 2003."
At the time he was working on his dissertation, Corona was chief of staff of President Gloria Macapagal-Arroyo. He enthused: "My classmates in UST are very young. They would ask: why are you still studying? You're already in the Cabinet. (I would reply) It's because of my drive for academic excellence."
This means that Corona started coursework on his PhD in 2000 or 2001 since total units required is 60. He graduated in 2011, about a decade later.
Clearly, he overstayed the residency requirement and should not have qualified for honors.
It is unclear why Corona, knowing UST's requirements, accepted the degree and the honors. Midas Marquez, Supreme Court spokesman, did not respond to our questions.
This is not the first time that questions have been raised about Corona's academic record. The book, Shadow of Doubt: Probing the Supreme Court, found that his claim that he graduated with honors from his Bachelor of Arts degree at the Ateneo University is not recorded in the university's archives. – with reports from Purple Romero
(Editor's note: The authors, in June, started to conduct research on a book on the Supreme Court, which will be published next year.)