Which team is your favorite tennis star playing for? How are the rules different? This explainer will teach you everything you need to know about IPTL.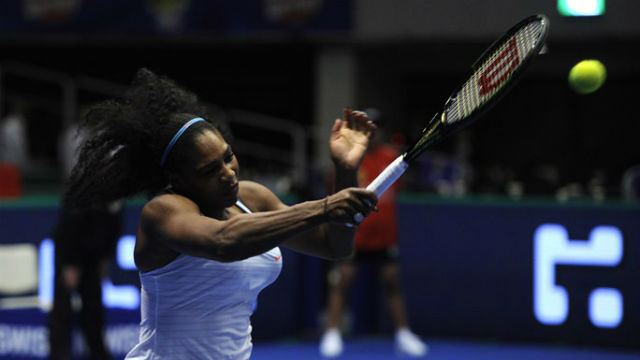 MANILA, Philippines – After a successful first go last year, the International Premier Tennis League returns for its second season in 2015 with Manila as another one of its stops.
Unlike last season when the Philippine capital was the first of 4 legs, Manila will be the second of 5 cities to play host to the IPTL this year, as some of the biggest names in tennis return for another round of group action. The tour kicks off in Kobe, Japan (December 2-4) before heading to Manila (December 6-8), then stopping in New Delhi (December 10-12), Dubai (December 14-16) before wrapping up in Singapore (December 18-20).
All 3 days of the 2015 IPTL Manila leg will take place at the Mall of Asia Arena in Pasay, Metro Manila.
How is IPTL different from traditional tennis?
First and most importantly: IPTL contests aren't your typical singles or doubles matches in tennis. While players still go either head-to-head or two-on-two, in this league, they're part of teams who win only if their cumulative points is higher than the opposing team's following 5 sets.
The 5 teams are: Micromax Indian Aces (defending champs), Legendari Japan Warriors (new team from last season), OBI UAE Royals, OUE Singapore Slammers and Philippine Mavericks.
Each matchup between two teams consists of 5 sets: the men's singles, women's singles, mixed doubles, men's doubles, and men's legend's singles. The home team gets to choose the order of set play. If there's no home squad participating in a matchup, a coin toss will determine the order.
Games are played to 4 points with no-ad scoring. A set is won when a player/pair wins 6 games, with a shoot-out taking place in the event of a 5-5 tie. For each game won, one point is awarded in the team's total. The team that has the most points at the end of the 5 sets comes away victorious.
What happens during a shoot-out?
In the event of a 5-5 tie, a 13-point tiebreaker is used to determine a victor with the first team to win 7 points (or the final point of a 6-6 tie) winning. 
What happens during a super shoot-out?
If there's a tie of points after 5 sets, a men's singles super shoot-out will take place. It's a 19-point tiebreaker, with the first team to win 10 points (or the final point of a 9-9 tie) coming away with the win.
Other important in-game details:
– A shot-clock is utilized in the IPTL: 20 seconds between service points, 45 seconds during changeover, and 3 minutes during breaks between sets. A team loses a point if the shot clock runs out on them during any of the 3 infractions.
– A player can utilize what's now called as the Cola-Cola Power Point. Doing this increases the stakes for the next service, as the reward will be two points for a score. Each team is allowed just one Coca-Cola Power Point per set.
The Coca-Cola Power Point, explained
– Time-outs are allowed, but limited to only one per set and lasts for just 60 seconds.
– Players change courts the first time after 3 games and then every after two games, with a 45-second shot clock monitoring the changeover.
– Players can call injury time-outs any time during a match. An assessment period of two minutes is given for injury, followed by 3 minutes for treatment. If a player cannot play after the 5-minute period, the team forfeits the set.
A team is allowed a limit of 3 challenges per set, but only one in the Super Shoot Out.
The 5 IPTL teams – one more from last season's total – will participate in a customized round robin schedule in each country, with the top two teams after the round robin competing in the finals.
The standings are determined by the percentage ratio of overall games won and lost. If there's a tie for second place, the one who advances will be determined by:
1. Head-to-head result
2. Largest winning margin by games in any single match
3. A coin toss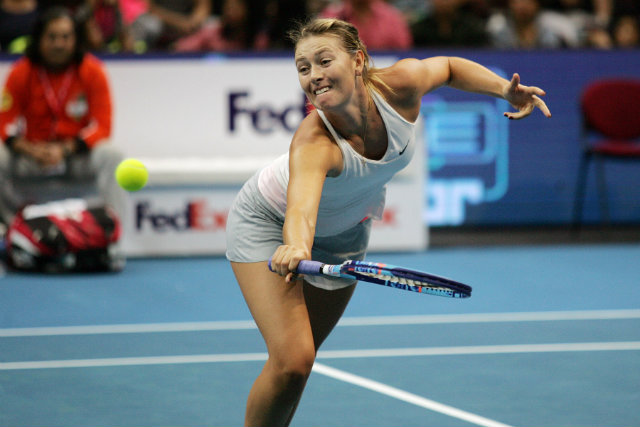 Schedule for games in Manila:
December 6:
4:00 pm: Legendari Japan Warriors vs. Oue Singapore Slammers
7:30 pm: Philippine Mavericks vs. OBI UAE Royals
December 7:
4:00 pm: Micromax Indian Aces vs. OBI UAE Royals
7:30 pm: Philippine Mavericks vs. Legendari Japan Warriors
December 8:
4:00 pm: Oue Singapore Slammers vs. OBI UAE Royals
7:00 pm: Philippine Mavericks vs. Micromax Indian Aces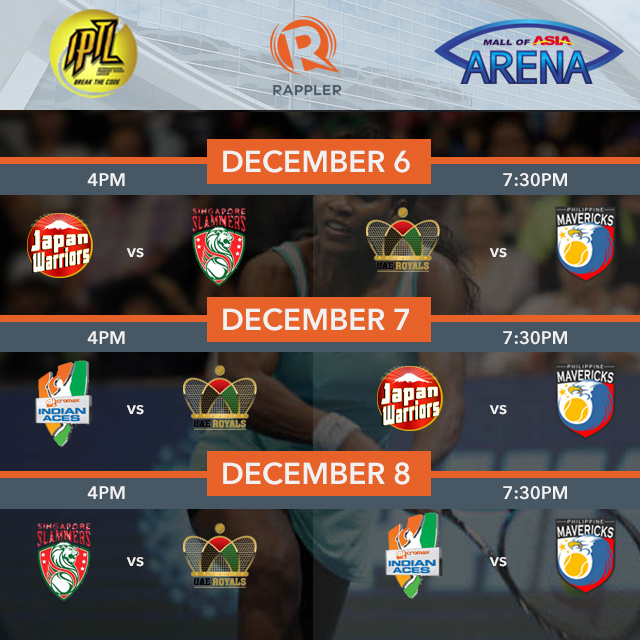 Who are the biggest names involved?
There are many names whom even non-tennis fans will know on a first or second name basis. For the men, Spain's Rafael Nadal, a 9-time French Open champion known as the King of Clay; Andy Murray of England, who has an Olympic gold medal and a Wimbledon title to his credit; and 2008 Olympic doubles champ Stan Wawrinka of Switzerland are among the more notable players.
Murray (2), Wawrinka (4) and Nadal (5) are among the highest rated tennis stars in the world today.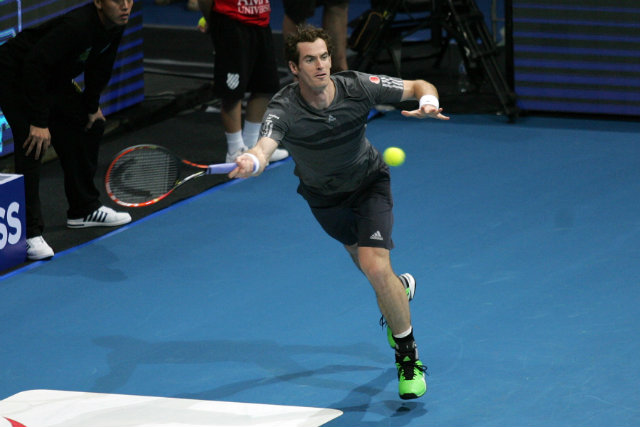 Also among the men in action is Treat Huey, a Filipino-American doubles specialist who has won 3 gold medals at the Southeast Asian Games for the Philippines.
Swiss star Roger Federer, whom some consider to be the greatest tennis player of all-time, will play select dates for the IPTL but only in the tour's final 3 stops in Dubai, New Delhi and Singapore. World number one Novak Djokovic had originally been slated to play for Singapore but withdrew citing fatigue.
On the women's side, 21-time Grand Slam winner and current world no. 1 Serena Williams will be returning to the IPTL, as is world no. 4 Maria Sharapova.
Full Rosters:
Micromax Indian Aces (defending champions): Fabrice Santoro, Ivan Dodig, Rohan Bopanna, Sania Mirza, Gael Monfils, Rafael Nadal, Samantha Stosur
Legendari Japan Warriors: Ken Nishikori, Leander Paes, Maria Sharapova, Philipp Kohlschreiber, Kurumi Nara, Marat Safin, Mirjana Lucic-Baroni, Pierre-Hugues Herbert
OBI UAE Royals: Ana Ivanovic, Goran Ivanisevic, Marin Cilic, Tomas Berdych, Daniel Nestor, Kristina Mladenovic, Roger Federer
OUE Singapore Slammers: Andy Murray, Carlos Moya, Karolina Pliskova, Nick Kyrgios, Belinda Bencic, Dustin Brown, Marcelo Melo, Stan Wawrinka
Philippine Mavericks: Serena Williams, Ajla Tomljanovic, Jarmila Gajdosova, Milos Raonic, Edouard Roger-Vasselin, Mark Philippoussis, Richard Gasquet, Treat Huey
Information from this article was taken from the IPTL's website. – Rappler.com