Sting announces his retirement while delivering his speech during the WWE Hall of Fame induction ceremony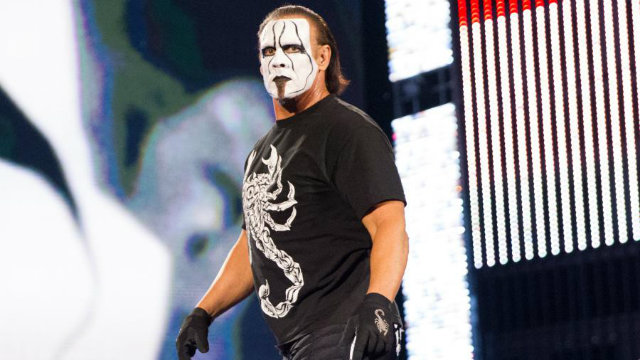 MANILA, Philippines – Professional wrestling legend Sting is hanging up his black tights and pair of boots for good after embarking on an illustrious 31-year career inside the squared-circle. 
Sting, whose real name is Steve Borden, announced his retirement while delivering his speech during World Wrestling Entertainment's Hall of Fame induction ceremony on Saturday, April 2 (Sunday, April 3 in Manila). 
"The only thing is for sure with Sting is nothing is for sure until now. On this very night [and] at this very moment, I am finishing my wrestling career under the WWE umbrella and I am so proud of that.  I am officially going to retire tonight," he said.
Newly inducted into the @WWE Hall of Fame, @STING announces his retirement from the ring. #WWEHOF #ThankYouSting https://t.co/5ru7YswgVI

— WWE (@WWE) April 3, 2016
Sting's rise to stardom began in 1987 when he joined World Championship Wrestling's predecessor Jim Crockett Promotions (JCP) following his departure from Bill Watts' Universal Wrestling Federation. 
After JCP's buyout to Turner Broadcasting System a year later, Sting became the poster boy of WCW, holding the organization's world heavyweight champion on 6 occasions and making 99 pay-per-view appearances for the sports-entertainment company. 
In addition, Sting headlined the highest-grossing PPV event in WCW history at Starrcade 1997, where he defeated Hollywood Hogan for the world title. 
Upon the acquisition of WCW by WWE in March 2001, Sting and his longtime rival Ric Flair were chosen to perform in the main event of the final episode of the organization's flagship show Nitro.
Sting chose not to join WWE, but he instead opted to sign with the upstart Total Non-Stop Action (TNA) Wrestling in 2003. 
During his 11-year run under the TNA umbrella, Sting won the NWA world heavyweight belt once and also captured the TNA's top prize 4 times. 
The 57-year-old wrestling veteran was the inaugural inductee into the TNA Hall of Fame in 2012. 
Previously described by WWE as the greatest wrestler never to have performed in a WWE ring, Sting finally joined the organization in 2014, making his first appearance at Survivor Series before having his promotional debut match at WrestleMania 31 the following year.
After the 4-month buildup for his first WWE in-ring appearance at WrestleMania 31, Sting lost the bout to Triple H.
Sting is in a WWE ring for the first time in his career. #WrestleMania pic.twitter.com/LTpv04dhWj

— NISSI ICASIANO (@Nissi_Icasiano) March 30, 2015
Sting was last seen in action when he faced Seth Rollin at Night of Champions in September 2015 for the WWE world heavyweight strap in a losing effort. 
During his match with Rollins, Sting suffered a legitimate neck injury after being thrown into the turnbuckle back-first from Rollins' shoulders.
Dave says Sting may have a career threatening neck injury sustained off the buckle bomb. pic.twitter.com/fN1yVpKziA

— DTAM (@DeathToAllMarks) September 21, 2015
To honor his legacy, Sting was included in the WWE Hall of Fame Class of 2016, along with the likes of The Godfather, Stan Hansen, Jacqueline, Big Boss Man and The Fabulous Freebirds. 
Before ending his speech, Sting quipped, "This isn't a goodbye. It's just a see you later."
"THIS ISN'T GOODBYE, IT'S JUST SEE YA LATER!" – @Sting #WWEHOF #ThankYouSting pic.twitter.com/canoPGG7W2

— WWE (@WWE) April 3, 2016
Sting will always be remembered as the face-painted and bat-swinging figure, who is highly-regarded as one of the greatest wrestlers of all time. – Rappler.com